2013 The Year of Public Awareness- ABQ Year In Review Highlight #5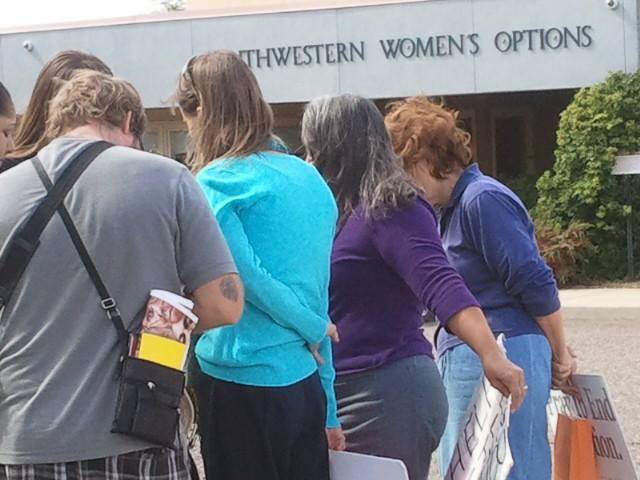 "Last but definitely not least, wrapping up our, "Top 5 ABQ Year In Review Highlights"…Its YOU, your prayers, your support, and all of your efforts to help raise awareness here in ABQ- The late-term abortion capital of the country."
This year God answered our prayer to raise up workers for the harvest here in ABQ…and He answered it in a BIG way! We never would have guessed that in just one year so many people, churches, and church leaders would be activated to stand for life here in ABQ. Numerous volunteers helped gather 27,000 signatures (most of which came from Catholic and Evangelical churches) in just 20 days, new pro-life organizations have formed, over 38,000 people took a stand FOR life on Nov. 19th in an attempt to ban late-term abortions, several volunteers were trained to offer ultrasounds and pregnancy tests at Project Defending Life and sacrifice so much of their time for women in need, several people who attended one of our sidewalk counseling training classes took their training to the sidewalk on an ongoing basis, we had great turnout to several rallies and press conferences, all three abortion clinics have consistent coverage of people sharing the love of Christ, mothers who chose life have received so much encouragement and financial assistance due to your prayers and generosity, and only God knows how many babies have been saved as a result of your faithfulness!
Here are just some of the many testimonies of bold steps of faith from the christian community here in Albuquerque, New Mexico in 2013…and to God alone be the glory:
Pro-Life Groups Submit Double the Signatures Needed to Ensure a Vote on Historic City-wide Late-term Abortion Ban
Speeches From The Heart: ABQ City Councilors Hear From Pro-Lifers
ABQ Woman Shares from Experience Why Fetal Anomalies Are No Justification for Late-term Abortion
Dec. Newsletter 2013: Campaign Season has Come and Gone…Our Work Remains
Manny is a Mighty Spiritual Warfare Warrior, Today He was Speechless
Church Outside the Box…Sunday Church Service at Late-Term Abortion Clinic SWO
Project 52 Kick-Off Rally and Press Conference
A New Season Has Begun at Southwestern Women's Options
History is Being Accomplished Today
June 2013 Newsletter: The Month of Rallies!
Rally For LIFE: Late-Term Abortion Clinic SWO June 14,2013
Special Mother's Day Event In Front Of Late-Term Abortion Facility
Great coverage by local news channel 13 KRQE and great title: "New Mexicans Protest Late-Term Abortion"
Thank you all for your continued prayer, encouragement, and support. God has used you in powerful ways this year and our city will never be the same…we look forward to what God has in store for ABQ in 2014!
"Seek the well being of the city to which I have sent you. Pray for it to the Lord. For in seeking its well being you shall find your own." Jeremiah 29:7