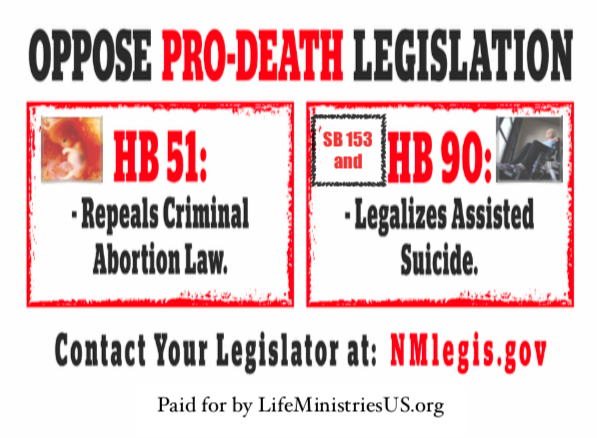 By Bud Shaver
Santa Fe, NM- This is your last chance to let your elected representatives know that you want them to OPPOSE the radical Pro-Death abortion bill HB 51 DECRIMINALIZE ABORTION before the New Mexico House votes on it. 
Whom else will be a voice for unsuspecting women and for the babies scheduled for death?
If the Criminal Abortion Law is repealed, it will leave unsuspecting women vulnerable to dangerous late-term abortions being performed outside of a hospital and non physicians will be able to perform invasive surgical procedures on women without their consent.
Abortion Free New Mexico leaders have been quoted extensively regarding the implications of HB- 51. Read about our concerns in the following news reports:
HB 51: (House Bill)  is Scheduled for HOUSE JUDICIARY COMMITTEE on Friday, February 1, 2019   – Time 1:30pm Room 309
Repeals Criminal Abortion Law.
Sponsored by:
Joanne J. Ferrary 
Georgene Louis 
Linda M. Lopez 
Deborah A. Armstrong 
Andrea Romero
PLEASE Contact the Following House Judiciary Committee Members and respectfully ask them to OPPOSE HB 51:
(Click their name for phone/email contact information)
If you would like to testify in Santa Fe: Friday, February 1, 2019 – Room 309 (TIME 1:30pm)
RELATED NEWS:
Thank you for standing with us for life and truth!
"Therefore we ought to support people like these, that we may be fellow workers for the truth." (3 John 1:8)