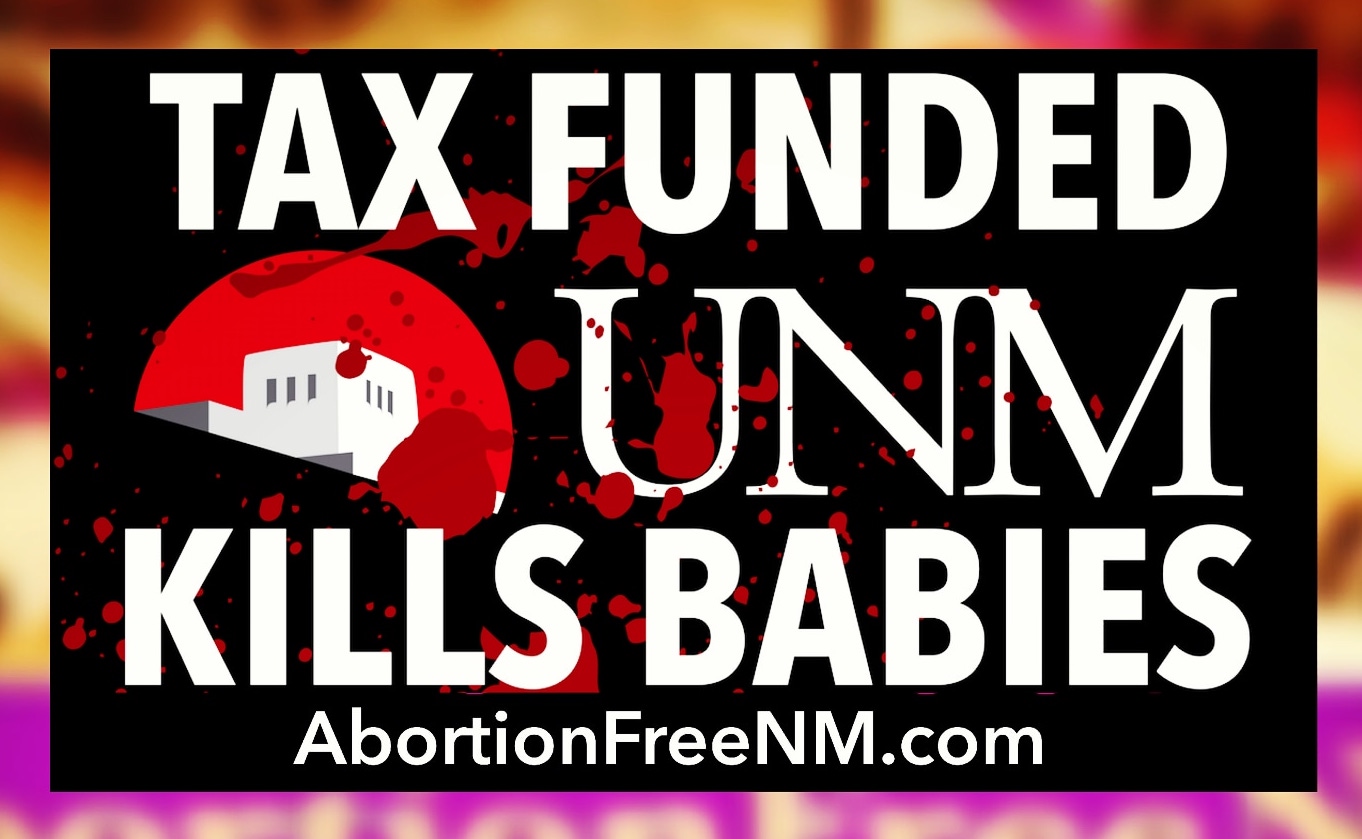 BREAKING: UNM COMMITTED TO EXPAND ABORTION SERVICES IN NEW MEXICO WITH ASSISTANCE FROM THE FEDERAL GOVERNMENT
Levine, the Biden Administration representative, spoke to KOB 4 news and revealed the federal government's radical abortion expansion agenda:
"It is absolutely critical for New Mexico to continue to allow the full range of reproductive health services that women need, including abortion services," Levine said.

​UNM officials told KOB 4 they're committed to taking on extra patients.

"If the decision follows the outline of the draft, then it's going to severely impact women's reproductive health rights and the ability to receive the full range of services in many states," Levine said. "To be able to provide those services for women in New Mexico, and for many other states, they need to look to expand those services. We'll work to support them."
​Tara Shaver of Abortion Free New Mexico issued the following statement,
"While many Americans oppose the use of federal funds to pay for abortions, and this is prohibited by the Hyde Amendment, it is egregious that the Biden administration has plans to work with the University of New Mexico to prop up the abortion industry in New Mexico that is on the verge of collapse nationwide by utilizing federal assistance to fund abortion tourism here. These actions will only serve to further the culture of death in our state and the devaluing of human life in the womb.

Just as the federal government is desperately working to enable the University of New Mexico to expand abortion in our state, Abortion Free New Mexico is equally committed to meet the real needs of women in our community. Every day volunteers prayerfully position themselves outside the University of New Mexico abortion center and are prepared to let women know that there is hope and an abundance of pregnancy resources available to them."
IN SHOCKING ADMISSION UNM CELEBRATES ABORTION
REPORTS ON UNM:
Here are 6 reports about Tax Funded abortions in New Mexico by Tara Shaver:
New Mexico Receives The Most Federal Tax Funds, Uses It to Fund Abortions
Also, Here are undercover video's revealing the shocking truth about tax funded Late-Term abortion's at Southwestern Women's Options:
UNMCRH Completely "Under the Radar"
According to Rick Pangborn, Medical Care Program Director with the Department of Health, there is no record at all of any kind of license for the UNM Center for Reproductive Health (UNMCRH). There is no record of UNMCRH ever having been inspected by any state regulator.
Read the full report here:
Abortion Injuries Documented at UNM Center for Reproductive Health
Calls From UNM Center for Reproductive Health
1. 911 Call – June 17, 2009
Written transcript of call: CAD Transcript
2. 911 Call – August 27, 2009
Written transcript of call; CAD Transcript
3. 911 Call – February of 2011
We invite the public to voice concerns about the University of New Mexico's heavy involvement in abortion to the UNM Board of Regents:
PLEASE Contact the University of New Mexico Regents and respectfully ask them to STOP ALLOWING ABORTIONISTS AT UNM HOSPITAL TO PROMOTE AND PERFORM LATE TERM ABORTIONS AT THE EXPENSE OF NEW MEXICO TAX DOLLARS. In addition, respectfully ask them to PERMANENTLY cut all ties with Planned Parenthood of New Mexico and Southwestern Women's Options.