UNM Pumps out Abortionists While the Overall Demand for Abortions Dwindle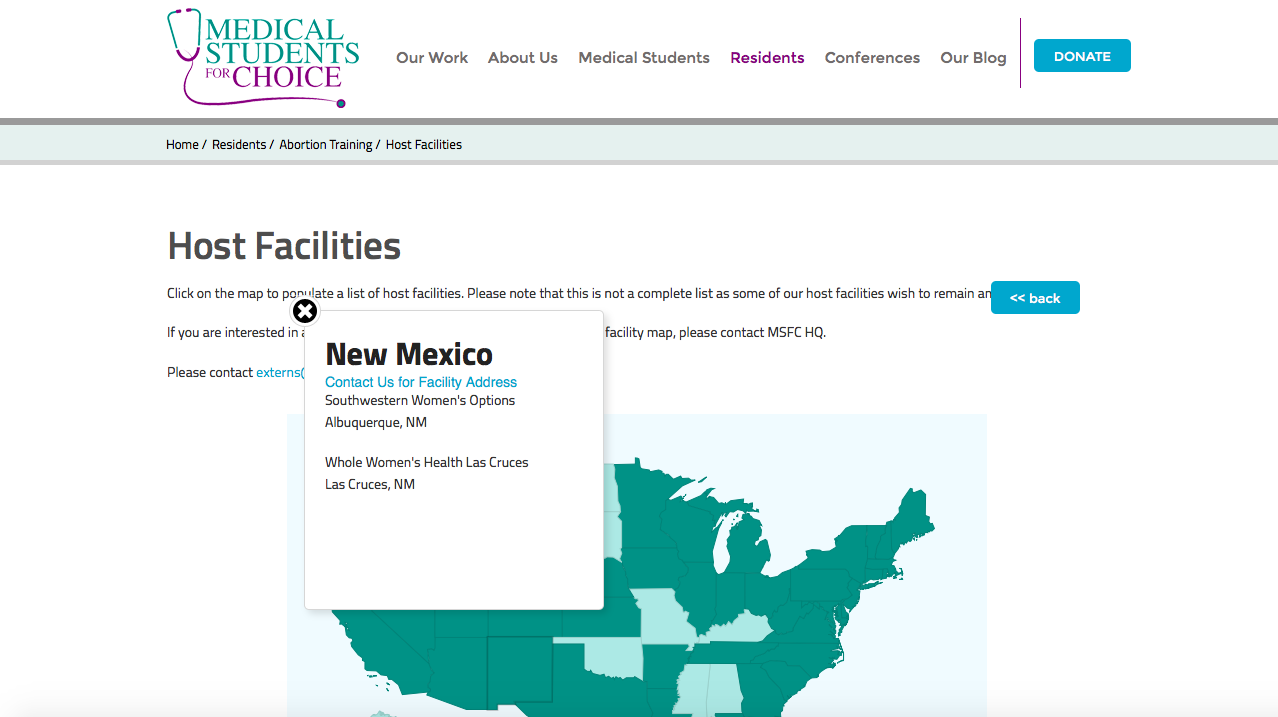 (This screenshot from Medical Students for Choice shows the link between late-term abortionist Curtis Boyd at Southwestern Women's Options and abortion training in New Mexico.)
By Tara Shaver
Albuquerque, NM- Reuters reported today that even though the number of abortion clinics is dwindling, young medical doctors who want to kill babies by abortion is on the rise due to training programs like Medical Students for Choice and the Ryan Residency Training Program. The University of New Mexico School of Medicine (UNM) is listed as a Medical Students for Choice Chapter, and as we previously reported, UNM has been listed as a Ryan Residency Training site since 2011. Both programs contribute to the radical abortion agenda that is deeply entrenched at this public university.
In 2011, the year that UNM adopted the training program, we reported, "The UNM Center for Reproductive Health is funded in part by a Ryan Residency Training grant. The Kenneth J. Ryan residency training program is a national, privately funded initiative based at the Bixby Center for Global Reproductive Health at the University of California, San Francisco. The Ryan program was founded in 1999 with the goal of improving training in abortion and contraception for ob-gyn residents in the United States and Canada."
This quote from the Ryan Residency website comes directly from the The American College of Obstetricians and Gynecologists (ACOG) Executive Board and reveals an agenda bent on raising up the next generation of abortionists. It best sums up the mission of the program, "To address the shortage of health care providers who perform abortions, the College encourages programs to train physicians and other licensed health care professionals to provide abortion services in a collaborative setting."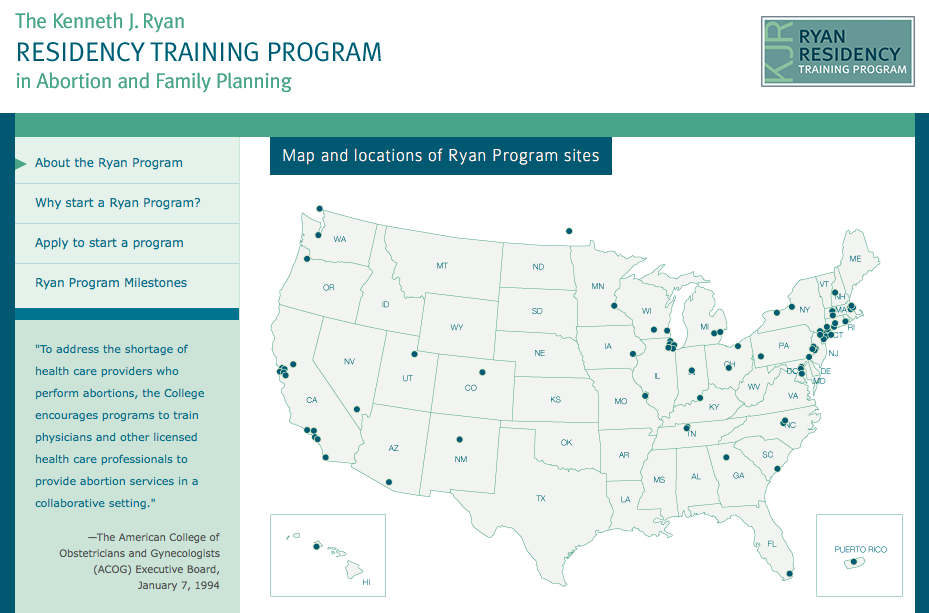 Training medical residents to kill and take the most innocent of human life, is the epitome of the betrayal of true medicine.
In addition, we reported back in 2011 that two of the trainers participating in the Ryan program at the University of New Mexico are late-term abortionist Curtis Boyd and his wife, Glenna Boyd. "Curtis Boyd has stated that he trains at UNM and other universities across the country. Documents obtained through open records requests show that Boyd's own abortion clinic in Albuquerque has been recently responsible for eleven abortion-related medical emergencies, with life-threatening injuries occurring at the rate of one every ten weeks."
Troy Newman, President of Operation Rescue released the following statement back in 2011 voicing his concerns over this troubling trend, "The number of abortion clinics has dramatically decreased by over 66% since 1991, partly because young doctors do not want to dirty themselves with the abortion business. Abortionists who quit, retire, or are stripped of their licenses are not being replaced. It is clear that, with the help of tax funding, UNM is in bed with Planned Parenthood and late-term abortionist Boyd to crank out new abortionists in order to stabilize and expand abortion services nationwide. This radical agenda must be exposed."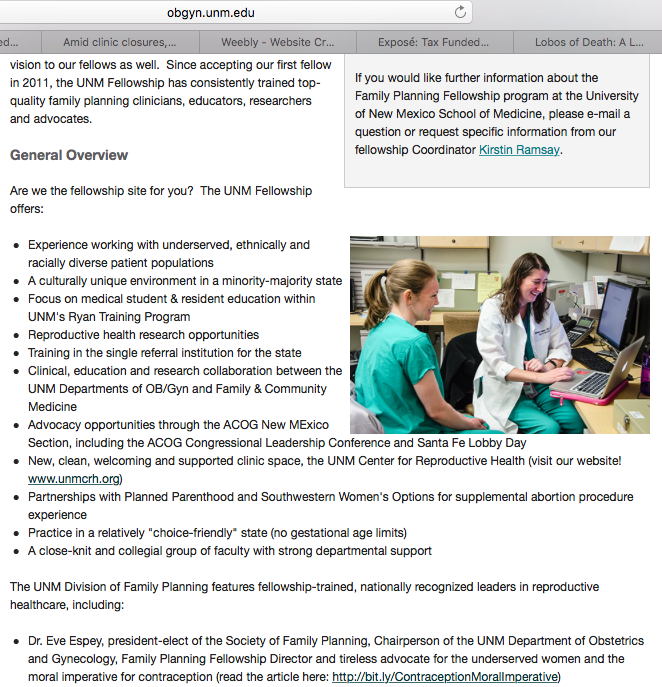 (This Screenshot was taken on April 11, 2016 and shows the partnership with Planned Parenthood AND Southwestern Women's Options continues at UNM.)
In 2014, we published a second exposé regarding UNM's abortion training involvement, "UNM is currently one of 68 universities that participate in the Kenneth J. Ryan Residency Program in Abortion and Family Planning. The Ryan Program, founded in 1999, is a national initiative whose mission is to embed abortion training into residency programs throughout the United States and Canada.
In 1996, the Accreditation Council for Graduate Medical Education (ACGME) mandated that ob-gyn residency education must include access to experience with induced abortion. This mandate has become an excuse for keeping UNM's free standing abortion clinic open.
However, ACGME Obstetrics and Gynecology Program Requirement IV.A.2.d states:
No program or resident with a religious or moral objection shall be required to provide training in or to perform induced abortions. Otherwise, access to experience with induced abortion must be part of residency education. This education can be provided outside the institution. [Emphasis added]
It is clear that UNM is not required to run their own freestanding abortion clinic.
The ACGME further states that abortion training programs are required to provide residents with the ability to "opt out" of the programs and even acknowledges that there may be instances where every resident declines to participate in abortion training."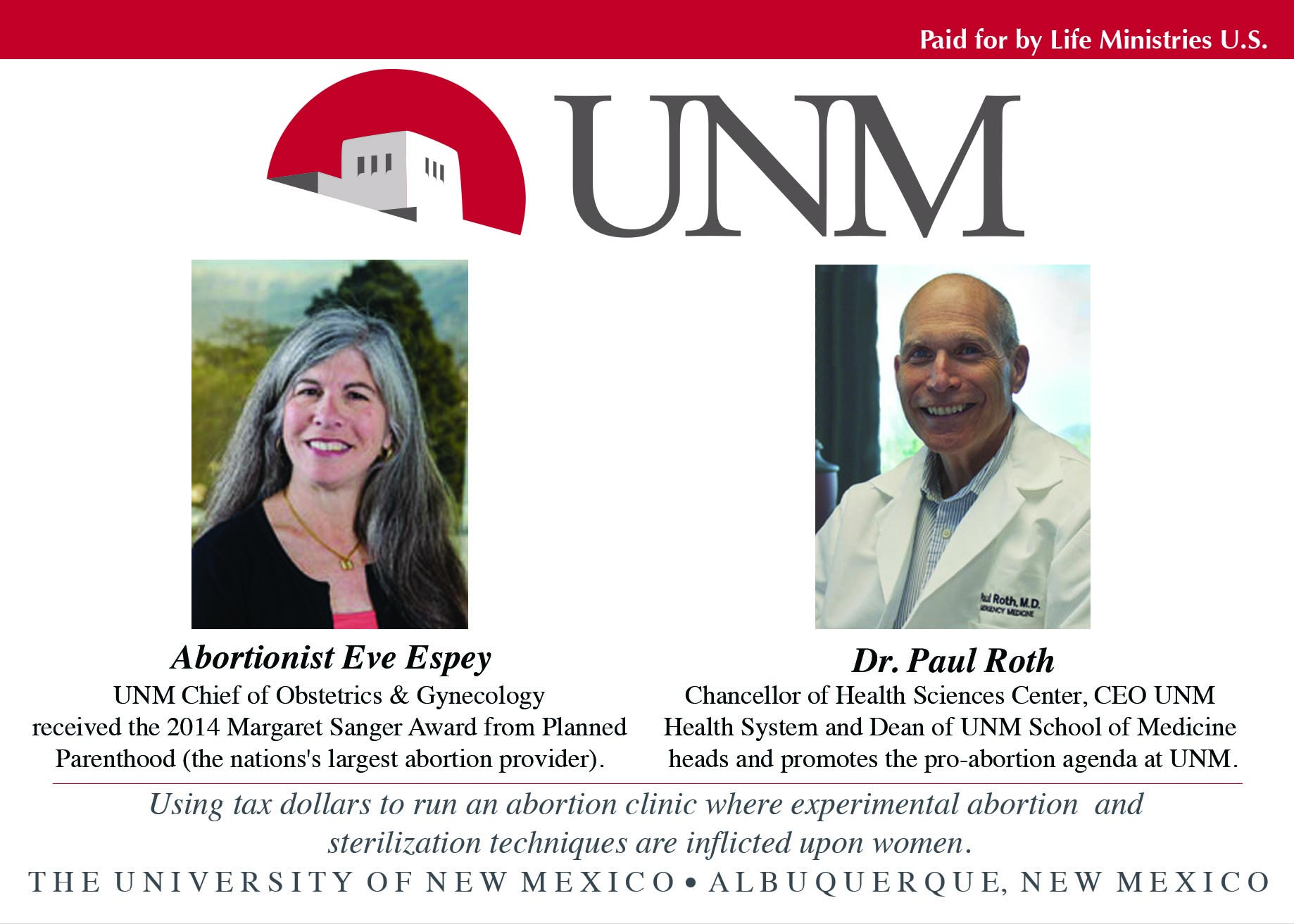 (Abortionist Eve Espey and Paul Roth are the driving force behind UNM's radical abortion agenda.)
Fr. Stephen Imbarrato: The Protest Priest, issued the following statement in reference to the recent Reuters article:
"Both of the groups that are producing this new wave of abortionists, Medical Students for Choice and the Ryan Residency Program are alive and thriving at the University of New Mexico, which is the heart of the abortion industry here in New Mexico and of course New Mexico remains the late term abortion capital of the country. Dr Paul Roth is not only the heart of the UNM abortion business, but surely is spreading abortion throughout New Mexico and the country. Dr. Paul Roth needs to be condemned by Governor Susana Martinez, the UNM Regents, the GOP Republicans, and the Catholic Democrats and their leadership.
"Dr. Paul Roth and Dr. Eve Espey need to have their employment terminated!"
Please call and email Robert Doughty III, UNM Board of Regents President,  and politely tell him that Dr. Paul Roth and Dr. Eve Espey must go, not just over troubling questions being raised by a federal investigation into UNM's research utilizing baby body parts, but for their adamant compulsion for all things abortion, which is ruining the reputation of this University."
Robert Doughty III (UNM Board of Regents President)
Email: Rob@dadglaw.com
Phone: 505-242-7070
*Reminder ACGME accreditation does not mandate UNM to have a free standing abortion facility that does 1st and 2nd trimester abortions up to 22 weeks of pregnancy.
RELATED:
UNM Doubles Down on Preventing The Truth From Coming Out About Their Abortion Involvement
This Postcard Drops Today, Contact UNM President Robert Frank 
UPDATE: The Shake Up At UNM Has Begun
EXCLUSIVE UPDATE: UNM Publicly Silent, Privately Scrambling in response to U.S. House Panel Investigation
How Much Money Does it Take For New Mexico GOP Leadership to Turn A Blind Eye?
University of New Mexico and Tax Funded Abortions in New Mexico
Exposé: Tax Funded Abortion Training and the Betrayal of True Medicine at UNM
Lobos of Death: A Look at the Radical Abortion Agenda at the University of New Mexico