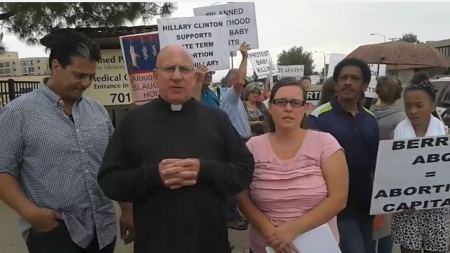 (July 17, 2015- Protest/Press Conference Calling for a Statewide Investigation into Baby Body Parts Harvesting in New Mexico)
PRAYERS ARE STILL NEEDED FOR NEW MEXICO
By, Tara Shaver
Washington D.C. – Yesterday we asked for your prayers regarding a hearing that was held today by the Congressional Select Panel on Infant Lives. At this hearing panel members were planning to consider releasing the deposition transcript of University of New Mexico (UNM) abortionist Eve Espey from May 11th of this year.
Unfortunately, Chairman Blackburn's resolution to release this deposition was removed from the agenda without explanation. Our hope is that this resolution will be considered in the future and that the public will be able to hear from Espey herself about her involvement in UNM's radical abortion agenda.
In 2011, we released our first exposé revealing Eve Espey as a key player in UNM's involvement in abortion expansion as the medical director for UNM's free standing abortion facility. In subsequent reports we documented her role as and an avid proponent of eugenics by targeting hispanic women in Mexico and Central America through the World Health Organization. In 2014 we reported that she received Planned Parenthood's Margaret Sanger award for her diabolical efforts and was also promoted by Paul Roth to chair of the Department of Obstetrics and Gynecology (OB-GYN) at UNM.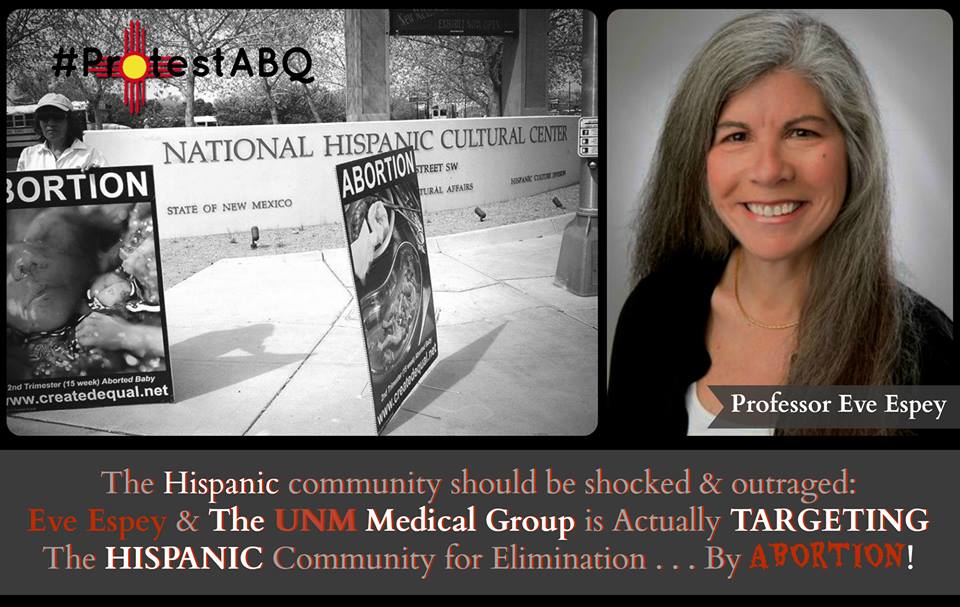 New Mexico taxpayers foot the bill for Eve Espey's annual salary of over $485,000 as she promotes and perpetuates a radical abortion agenda at UNM.

Here are some reports we have done over the years that document information about Eve Espey:
– Exposé: Tax Funded Abortion Training and the Betrayal of True Medicine at UNM
– Lobos of Death: A Look at the Radical Abortion Agenda at the University of New Mexico
– Hispanics Targeted for Death by Abortion According to 2013 New Mexico Vital Statistics
Thank you for your continued prayers for our state and all of our efforts to bring pre-born child killing to an end. 
"Ultimately, it's in God's hands," [Tara] Shaver said. "Despite the corruption and apathy in our state, we're very appreciative for the select panel for taking an interest in what's happening here. Unfortunately, most of our leaders and lawmakers really don't care."
Read National Catholic Register's report, " Congressional Investigation Documents University of New Mexico's Use of Aborted Fetal Tissue: According to the report, university and state officials do not appear to be addressing the matter."
RELATED: Live Action News Reveals UNM Abortion Masterminds
New Mexico Baby Body Parts Scandal Timeline Recap
On a more positive note, some good news did come out of the U.S. House Select Committee hearing today…
House Select Panel Votes to Hold StemExpress & CEO in Contempt in Baby Parts Investigation
"Democratic members of the select panel walked out of a meeting that eventually voted to hold Cate Dyer and StemExpress in contempt." Cheryl Sullenger, Senior Vice President of Operation Rescue
Read Operation Rescue's breaking news report: HERE
"Read them their rights and take them away!" Troy Newman, President of Operation Rescue