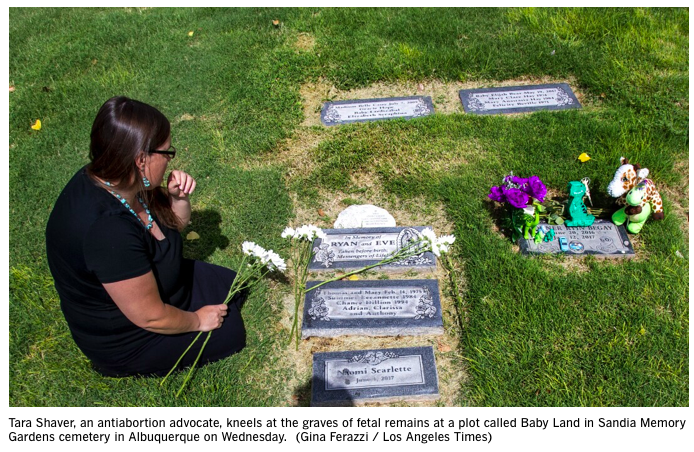 As Roe vs. Wade falls, New Mexico braces for a steep rise of abortion seekers
While abortion advocates consider the coalition a sort of underground railroad for women in crisis, those who oppose the work — such as Tara Shaver, a local antiabortion advocate — say the system affirms Albuquerque's reputation as the "late-term abortion capital of the world."

On a recent afternoon, Shaver pulled her minivan up to a cemetery plot, called Baby Land, for infants and fetal remains she'd helped arrange with a priest. "Naomi Scarlette," one of the fetal grave plaques read. "June 1, 2017. Your wings were ready, but our hearts were not."

"The term 'abortion' has lost all meaning, and this place brings it back," Shaver said. "We don't need to shuttle women into New Mexico. We need to meet these women where they are and provide enough support that they don't need to choose between their child's life and their own."

Shaver organized a schedule with other Christians to ensure that at least one person is praying during every operational hour of local abortion clinics.
New Mexico for nearly a decade has been the declared "mission field" for some of the country's most strident activists opposed to abortion.

Bud and Tara Shaver, an activist couple with ties to Operation Rescue, relocated to Albuquerque in 2010 upon invitation from Father Stephen Imbarrato, a Catholic Priest.

The Shavers publicly labeled Albuquerque the "late-term abortion capital of the world," centering many of their networked efforts on the University of New Mexico and the medical practice of abortion provider Southwest Women's Options. With a stated goal of making New Mexico "abortion-free," the Shavers have continued to work with Imbarrato, whose rhetoric and activism overlaps theirs in both urgency and focus.

"Legalized abortion in this country is a constitutional crisis for which no one in our government has ever taken responsibility," Fr. Stephen Imbarrato wrote. He added that the Supreme Court's Roe v. Wade decision 45 years ago ushered in "government-sanctioned and funded daily mass murder of thousands of innocent preborn.'

Ending what he refers to as an 'American Holocaust' has to be decisive. "Nothing is more important," Fr. Stephen Imbarrato: The Protest Priest wrote."
Bud and Tara Shaver Join the Info War
Abortion Free New Mexico leaders, Bud and Tara Shaver join the Info War to expose the atrocities of the pro-abortion policies in New Mexico and what can be done to fight back.
Albuquerque's anti-abortion crusaders: Bud and Tara Shaver take no prisoners in their 'culture of life' campaign
They have targeted administrators at the University of New Mexico Health Sciences Center for sending doctors to train at local clinics that perform abortions; they have called New Mexico the "abortion capital of the Southwest" and Albuquerque the "late-term abortion capital of the country."

"We're just Christian people who want to see babies' lives saved and moms protected," Tara said.

"We ultimately want to bring our culture and community in New Mexico to a point, not where we enforce our will on New Mexico," Bud said, "but where New Mexico understands and embraces a culture of life."
Albuquerque Becomes Latest Focal Point in Abortion Wars
Albuquerque has become the latest flash point in the abortion wars, with Operation Rescue, the militant group based in Kansas, calling it the "late-term abortion capital of the country." This is because a private clinic, Southwestern Women's Options, is one of only a few nationwide that offers abortions after the sixth month of pregnancy.
​
The drive for a city referendum has been led here by a couple who trained with Operation Rescue in Kansas and moved here three years ago as anti-abortion "missionaries."
​
"We felt called to come and serve in Albuquerque," said Tara Shaver, 29. She and her husband, Bud, moved here largely to find a way to shut down Southwestern Women's Options, she said.
A Moral Choice: As pressure mounts, faith sustains veteran ABQ doctor who performs third-trimester abortions
Bud and Tara Shaver, a Christian couple who describe their strong-willed advocacy against abortion as a calling from God, represent the face of Boyd's opposition, an ever-present foil.

So when he's asked about what he thinks when he hears Albuquerque described as "the late-term abortion capital of the nation"—a term the Shavers take credit for coining—Boyd responds wryly.

"A great sense of pride," he says.

[T]he Shavers came to New Mexico with the goal of shutting down Boyd's newly expanded practice. The couple allied with Fr. Stephen Imbarrato, a priest and then-director of Project Defending Life, and have since pushed a variety of anti-abortion efforts and causes. In 2013, they worked on a ballot initiative in Albuquerque that would have banned abortions after 20 weeks of gestation. Voters rejected it by a 10-point margin.

The Shavers now work with Abortion Free New Mexico, which focuses on using tactics outlined in a 2014 Operation Rescue manual that include undercover work to "bring accountability" to abortion.

The Shavers see no difference between abortions performed earlier and later in a pregnancy; they say both are equally wrong. Their decision to focus on the latter is a political one.

"Late-term abortion is something we can use to kind of get people to think more clearly and scientifically and logically about what actually happens in an abortion procedure," Tara says.
NEW MEXICO: "THE WORST PLACE IN HELL FOR AMERICANS" [BABIES]
"I know that in some circles [New Mexico is] considered the worst place in hell for Americans, or something like that," Penn said. "… But we've got to be damn proud that this is a place that women can look to, and where women feel safe."

On any given day, and especially on days when abortions are performed, protesters gather outside Boyd's clinic. For years, Albuquerque missionaries Bud and Tara Shaver led the protests.

The Shavers have made campaigning against abortion their life's work. Albuquerque, they often say, is "the late-term abortion capital of the world."
Vote Lands Albuquerque at Center of Abortion Battle
In 2010, pro-life activists Tara and Bud Shaver, who had trained with the Wichita-based antiabortion group Operation Rescue, moved to Albuquerque with the express goal of shutting down Southwestern Women's Options.

Albuquerque, called by antiabortion activists "the late-term-abortion capital of the country," is a natural testing ground for the nation's first municipal abortion restrictions.
Anti-Choicers' New Mexico Experiment: Can abortion opponents turn a moderate state with liberal abortion laws into the next battleground?"
Compared with its neighbors' abortion policies, New Mexico's is practically socialist.

"Bud and Tara Shaver are among the pro-life advocates who moved to New Mexico from out of state. Shortly after completing a yearlong training in Kansas with Operation Rescue they moved to Albuquerque to shut down SWO and reactivate the state's long-dormant abortion debate…

With the support of Father Stephen Imbarrato, founder of Project Defending Life, the Shavers began to try every strategy in their arsenal. For the Shavers and Imbarrato, this campaign is the beginning of a longer-term effort to carve out a place for abortion in New Mexico politics.

The immediate goal is to end the controversial practice of third-trimester abortion…"
New Mexico governor Susana Martinez has come under fire from anti-abortion groups for not doing enough to help their cause.
Tara Shaver and her husband, Bud, call themselves "pro-life missionaries." Trained by the extremist anti-abortion group Operation Rescue in Wichita, Kansas, the Shavers moved to Albuquerque, New Mexico, in 2010 with the goal of ending abortion in the state.

Since then, they have put in approximately 20 hours a week outside a number of abortion-providing facilities in the city, from Southwestern Women's Options abortion clinic to the University of New Mexico Center for Reproductive Health. They have also filed medical board complaints against one abortion provider in the state, demanding her license be revoked, filmed ambulance appearances, and filed FOIA (Freedom of Information Act) requests for emergency services records in an attempt to provoke a hearing that might revoke an abortion provider's license or shutter a clinic for good.

Their work hit fever pitch in 2013, when anti-abortion activists launched a campaign for a citywide 20-week no-exceptions abortion ban. Albuquerque is home to one of three clinics in the country that performs third-trimester abortions.
OAN: PRO-LIFE ACTIVISTS STAGE RESCUE AT ABORTION CLINIC
BREAKING: ​CHARGES DISMISSED IN WASHINGTON D.C.
Catholic Democrats Join GOP to Defeat 'Pro-Death' Agenda in New Mexico (Breitbart)
"With the Democrat party in total control of both chambers of the legislature, and the power to sign any law into effect with newly elected governor, Michelle Lujan Grisham, a radically pro-abortion Democrat, we knew that if there was to be any hope of opposing their pro-death agenda, it was vital to activate the voice of the people of New Mexico and reach the hearts of the Catholic Democrats and urge them to vote their faith," Shaver said.

He added that one of the "most encouraging developments" for members of his group during this legislative session was the connection they made with the patriot community of New Mexico.

"We were proud to stand together and protest in the capital against the push by fringe leftist democrats to destroy the values that most New Mexicans hold so dear," he said. "Patriots from all across New Mexico joined together as one voice for prayer for New Mexico and to support President Donald J. Trump, stand up for life, the Constitution, the Second Amendment, Free Speech, the wall and against illegal immigration, rigged elections, higher taxes and corruption running rampant in New Mexico!"
Late Term Abortion Death Exposed, Complaint Filed
A 23-year-old woman died after complications during a late term abortion at Southwestern Women's Options (SWO) clinic in New Mexico, an autopsy report revealed.

"We join the family of Keisha Atkins as they grieve her death from serious complications during a late term abortion at Southwestern Women's Options," Tara Shaver of Abortion-Free New Mexico said in a statement Wednesday. "She was a 23-year old vibrant woman with her whole life ahead of her that was tragically cut short."

She noted that Abortion-Free New Mexico has been working to "expose the barbaric nature of late term abortion in New Mexico and sought to bring accountability to the unregulated and unaccountable" actions of the clinic which specializes in late-term abortions.
Medical board agrees to review provider of late-term abortions
ALBUQUERQUE, N.M. — An anti-abortion group based in Albuquerque has persuaded the New Mexico Medical Board to open a formal review into the actions of the owner of one of the nation's few clinics that perform late-term abortions.

A news release Thursday from Bud and Tara Shaver, of Abortion Free New Mexico, announced the decision by the executive committee of the state board that oversees physicians to launch a "formal review" of the death of an Albuquerque woman.

The woman died Feb. 4, 2017, after she underwent an abortion at Curtis Boyd's clinic, Southwestern Women's Options.
New Mexico Baby Body Parts Scandal Timeline Recap
Tara Shaver of the group Protest ABQ said she filed a complaint with the state attorney general last week asking whether an Albuquerque abortion clinic, Southwestern Women's Options, is violating state law by having its patients sign a statement consenting to the use of fetal tissue in medical research. Shaver alleges that may not be legal under state law.
Dispute arises in fetal parts inquiry
Protest ABQ, an anti-abortion group, issued a statement that it had submitted documentation compiled over five years of research to the panel Friday to review.

"This investigation by the U.S. House Select Investigative Panel on Infant Lives couldn't be more timely as New Mexicans are consistently left with more questions than answers," the group said in a statement.
House recommends criminal charges against New Mexico late-term abortion clinic
Pro-life activist Tara Shaver of ProtestABQ brought attention to the matter when she noticed language regarding fetal tissue donation on the bottom of one of the abortion clinic's consent forms. She filed a complaint with the attorney general's office prior to the House investigation, which was ignored.

"We hope that this very heavily documented recommendation from the House Select Panel will persuade Attorney General Banderas to act to enforce New Mexico laws and stop the illegal exploitation of aborted babies for 'valuable consideration,'" Ms. Shaver said in a statement. "We also hope that he will put an end to UNM's practice of using taxpayer funds as well as UNM students to push their political agenda on abortion expansion upon an unwilling community."
"There will never be justice in New Mexico until leaders, lawmakers and law enforcers stop propping up a failing abortion industry whose grisly trade negatively effects the most vulnerable of our communities," stated Shaver of Abortion Free New Mexico.

Pro-life advocates questioned why Balderas issued his letter a year after the House committee disbanded.
Late Term Abortion Exposed Across America
Priests for Life and Abortion Free New Mexico have released a series of undercover audio recordings of abortion clinic workers scheduling procedures as late as 33 weeks of pregnancy — about a month and a half before the average delivery date of 40 weeks.
Media Matter Hit Pieces…
Meet The Group That Has A History Of Targeting Abortion Providers, Has Connections To Violent Anti-Choice Groups, And Is Now Feeding Misinformation To A Congressional Panel
Official Launch of Protest ABQ:
BREITBART: NM Gov. Susana Martinez's Campaign Strategist Calls Pro-Life Activists 'Pieces of S***'
ASSOCIATED PRESS: Abortion protesters target GOP Gov. Martinez
Women's Health Center relocates
Tara Shaver, spokeswoman for Protest ABQ, continued to insist that the ministry's protests are the reason why the center decided to relocate. She said anti-abortion activists in the city have been holding protests five days a week at the CRH's current location since November. "It confirms what we knew all along that our protest was making a difference," she said. "They're now trying to shy away, and it seems that they're trying to hide themselves even more." Shaver said she does not believe the protest did not impact UNM's decision. She said the group demonstrates in front of the center to educate women to slow down the center's business. "When a woman goes into an abortion clinic, she just gets an abortion," she said. "We're there to offer real solutions to her problems in her life… When women choose not to have an abortion, that takes away from their business. That takes away money they would have gotten if a woman decided to kill her child."

And it is unimportant whether the CRH tackle other women's health issues or not, Shaver said.

"Would we really say that we're OK with Adolf Hitler killing Jews if one day he's handing food to people?" she said. "It doesn't matter. He's responsible for killing Jews, and the University of New Mexico is responsible for killing babies… They need to stop killing babies and truly help women in their most desperate times."
Protesters Target UNMH CEO's neighborhood
Protest ABQ, an anti-abortion ministry that was launched earlier this month, organized the protest. Tara Shaver, spokeswoman for the ministry, said her organization does not aim to single out McKernan. She said the protest aims to educate residents of the area about abortions in the city and in the University. "We are in his neighborhood to not call him out by name, but to let people know that UNM is helping to keep abortion in our city," she said. "These are his doctors who are performing abortions through the UNM Health System." Members of the ministry carried placards with pictures of dead fetuses while marching silently around the neighborhood. The organization's truck, embellished with similar images, also drove around the streets slowly. "A lot of times, people just want to ignore abortion, the killing of babies, as if it doesn't exist," she said. "When we bring it out to the public eye, people have to respond one way or another … Some people just lash out at us as if we were the enemy just because we're the messenger letting people see the truth."
Abortion opponents picket UNMH boss's neighborhood
Anti-abortion activists took their protest last weekend to an upscale Los Ranchos de Albuquerque neighborhood near the home of University of New Mexico Hospital's top administrator as part of their campaign to close a UNM medical clinic that, along with other services, performs abortions up to 22 weeks. The protest is part of a "neighborhood awareness" campaign started earlier this year by Project Defending Life, which has organized six protests this year in residential neighborhoods, said Tara Shaver, a spokeswoman for the group.
Bud and Tara Shaver Named Operation Rescue's 2013 Pro-Life Persons of the Year
"Pro-life missionaries Bud and Tara Shaver, of Project Defending Life in Albuquerque, New Mexico, have been named as recipients of the 2013 Pro-life Person of the Year Malachi Award in recognition of their outstanding work in bringing the matter of late-term abortions into the national spotlight. The Malachi Award is given by Operation Rescue every year to recognize individuals who sacrificially work to advance the cause of protecting the pre-born."
National Coverage of the historic ABQ referendum. The first ever attempt to restrict abortion at the city level
Here are a few quotes from (just some of) the national news coverage regarding this ballot initiative, which has LAUNCHED Albuquerque into the national spotlight, and has helped expose New Mexico's radical abortion agenda:
"In the end, Tara and Bud were here before the ordinance, and they'll be here after it, whether it passes or not. Fetal pain, or abortion after 20 weeks, is something they can get behind, but it's not their sole mission – they want to see it all gone. 'We hope the people do rise up and vote for the ordinance,' said Bud, rounding a corner. Even if they don't, 'there's been awareness raised. And that can only produce some good stuff in the long term.'"
"While we lost this election we have won over many hearts and built amazing bridges within the community, wrote Bud and Tara Shaver. We must resolve to proclaim even louder the truth about abortion, reach even further into our community and keep coming back until we win and establish justice for the babies."
"We poured our heart and soul into this, and we believe even though we lost the election we were able to win lots of hears to our side," Tara Shaver said. Shaver and her husband, Bud, moved to Albuquerque three years ago with the sole focus of shuttering Southwestern Women's Options, one of a handful of clinics in the country that still do late-term abortions. Activists on both sides say it was the first municipal election on the issue. And despite the defeat, it likely won't be the last. "We are going to capitalize on this momentum, and we are going to keep coming back," Shaver said. "This is literally a battle between life and death."
"Compared with its neighbors' abortion policies, New Mexico's is practically socialist. Abortion is legal throughout pregnancy, and New Mexico has none of the restrictions—ultrasounds, waiting periods, building-code regulations intended to make it hard for clinics to stay open—that have swept the country in the past five years."
"Mrs. Shaver said it's called the Wild West of abortion, and she said that's why Dr. Curtis has set up in New Mexico — and why he draws from so many other states."
"Patients are drawn to the Albuquerque clinic from other states, he said, and 'it was the national implications of late-term abortions in New Mexico that brought us here. A certain amount of social tension is necessary to cause change,' [Mr. Shaver, 34] said, citing the methods of the Rev. Dr. Martin Luther King Jr."
"Three years ago, anti-abortion 'missionaries' Tara and Bud Shaver left Operation Rescue's base in Kansas with one target: a clinic that abortion opponents say has turned this southwestern city into the late-term abortion capital of America. But after a loss at the medical board and making little headway in the Democrat-controlled Legislature, their group, Project Defending Life, gathered enough signatures to place a late-term abortion ban on the municipal ballot. It is believed to be the first such referendum of its kind in the country and is being watched as a possible new front for activism in the abortion wars that have typically been waged at the federal and state levels."
"The vote — which would effectively end late-term abortions in New Mexico — has turned this low-key, progressive city of a half million people into the latest flash point in the abortion culture wars. It opens a new pro-life strategy to push abortion restrictions at the local as well as state and federal levels."
"What else can we do to save women and children from abortion?" said [Tara] Shaver, 29, who is also a spokeswoman for Project Defending Life, a Catholic group in the city that opposes the procedure. Shaver relocated with her husband to New Mexico in 2010 to be "pro-life missionaries" after interning at Operation Rescue. "We thought, let's see what we can do at the city level," she said.
"ALBUQUERQUE — A high-desert city in one of the poorest states in the nation has become the abortion debate's latest battlefield and a testing ground for whether abortion limits can be imposed on the local level. Although similar bans have been passed by state legislatures, New Mexico's largest city is believed to be the first municipality in the country to place such an initiative on a ballot."
"The failed referendum in Albuquerque, New Mexico, to ban abortions after 20 weeks of pregnancy is the first known instance of the issue being addressed at a local level, but it might not be the last. 'I think we'll see this more and more,' said Mallory Quigley, communications director for Susan B. Anthony List, an anti-abortion group. 'We're constantly doing things on the local level in terms of outreach because those methods are very effective in bringing about social change in general,' said Tara Shaver, who with her husband, Bud, is with the group Project Defending Life."
"Tara Shaver, the chairwoman of an Albuquerque group that backed the proposed ordinance, said she and other opponents of abortions have become increasingly frustrated by their inability to win votes at the state Legislature in Santa Fe. 'We were sick and tired of legislators imposing their will on us, so we decided to bring this issue directly to the people,' said Ms. Shaver, adding that she has gotten calls from people across the country who said they were interested in pushing for similar city referendums. 'Win or lose, this initiative has been what our city needed to wake them up to the barbaric practice of late-term abortions,' Ms. Shaver added Tuesday before the final votes had been tallied."
Direct attempts by the Pro-Aborts to thwart the City Referendum to Ban Late-Term Abortion
"It appears that Obama is behind an organized effort to ensure the continuation of late-term abortions up until birth, and is attempting through subterfuge to subvert the will of the vast majority of the people of Albuquerque who oppose the heinous practice of aborting babies halfway through pregnancy and up until birth," said Troy Newman, President of Operation Rescue. "These are the same leftists who are condemning support for the ordinance by national pro-life groups. The deception is appalling."
Planned Parenthood Tells Undercover Caller 'Probably Won't' Report Statutory Rape
Pro-life organization Project Defending Life has released a new video exposé featuring an undercover telephone call placed by a young woman to Planned Parenthood of New Mexico in Albuquerque. The caller, who gives her age as 14, states she is seeking an abortion and that she is concerned because her boyfriend is 21 and is "worried" he will be reported.

The Planned Parenthood employee tells the young woman that she and the doctor will discuss these issues but that the clinic "probably won't" report her circumstances, even though her pregnancy by an adult qualifies as statutory rape.

When the caller asks if her age (14) is a problem, the Planned Parenthood employee answers, "In New Mexico, there's no limit on when you can have sexual reproduction rights." The caller then tells the employee the age of her boyfriend (21) and states that he is "worried" that he could be reported.
From the video:
Caller: Well, I'm concerned because I'm 14… but my boyfriend is the one who is going to be bringing me and he is worried because he's 21.

Planned Parenthood: You need to come to your appointment and [unintelligible] that with the doctor.

Caller: Will he get in trouble?

Planned Parenthood: That's what you and the doctor would have to discuss. It just depends on what – the state law that we have to report. They probably won't. This is something we see often. You're certainly not the first one.
"It's no surprise that Planned Parenthood continues to cover up for rapists since they profit from these lucrative abortions," Tara Shaver of Project Defending Life commented.
Here are 2 national articles from the radical Pro-Aborts…TREAD LIGHTLY!
Defending Life in the Desert: The fight against late-term abortions is being pursued on the local level in Albuquerque.
Cities, not states, could be the next center of the abortion debate.

In Albuquerque, N.M., pro-life activists are trying a new strategy: Banning late-term abortions within the city limits, instead of trying for a statewide ban. Over three weeks this summer, local pro-lifers collected 27,000 signatures — 15,000 more than were needed — to place a measure that would ban abortions after 20 weeks on a city ballot on November 19.

The measure looks likely to pass: According to a September poll conducted by the Albuquerque Journal, 54 percent of city voters approve of it, while only 39 percent oppose it. "It's supported by most citizens and particularly by Hispanics," comments Marjorie Dannenfelser, president of the Susan B. Anthony List. "They outpoll the general population in their support for it. So I think it's a microcosm of what should be happening on the national level when the Republican party comes back to itself — it should emulate the same kind of strategy" when it comes to passing late-term abortion bans, which could attract Hispanic support. Right now, while the federal House has passed such a ban, the Senate has not yet acted to introduce a companion measure.
"More voters support abortion ban" – ABQ Journal
"I think the spread was a little surprising, but I wasn't shocked," Journal pollster Brian Sanderoff said. "I think that many Albuquerque voters are pro-choice; however, support for the pro-choice position evidently declines as the term of the pregnancy increases."

Support for the proposed late-term abortion ban was strongest among Republican voters, 80 percent of whom said they supported the measure.

Democratic voters represent a plurality of the voters who have historically cast ballots in city elections, but Democrats were less unified than Republicans on the abortion issue. A slight majority – 56 percent – of Democrats polled opposed the ban, while 35 percent said they would support it.

The split among Democrats is driven by a large number of Hispanic voters who frequently have a religious background and support anti-abortion polices while voting Democratic on most other political issues, Sanderoff said.

Support for the proposed abortion ban was bolstered by a large number of religious Hispanic voters who support anti-abortion policies but typically vote Democratic on other political issues.

"I think the big story is Hispanics," Sanderoff said. "Although Hispanics tend to be Democrats and tend to hold the Democratic position on economic issues, we find they differ with other Democrats on the abortion issue. Hispanic Democrats are much more likely to be supportive of this measure than Anglo Democrats."
"Defending life in New Mexico's city of death" -Alissa Robertson, WORLD Magazine
"The petition is a grassroots effort led by Bud and Tara Shaver with Project Defending Life. Organizations such as the Catholic Coalition, New Mexico Right to Life, Knights of Columbus, and Voices for Family Values also support the petition, which calls for a measure modeled after the fetal pain bill passed in the U.S. House earlier this year. The city ordinance would only apply to Albuquerque, where three of New Mexico's five abortion centers operate.

When Shaver and other supporters filed the petition on June 28, they expected to have the typical 60 days to get the 12,091 signatures needed to get their measure on the October ballot. But the city clerk wanted to take extra time to validate the signatures and gave them only 30 days to fill their petition sheets.

"Our goal was 15,000 signatures, to be safe," Shaver said. "Not only did we make our 15,000 goal, but in less than 30 days, we obtained over 18,000 signatures supporting the bill." Volunteers with Project Defending Life will turn in the signatures tomorrow before the July 28 deadline."
Abortion ban petition filed with city
Women who live in states with more restrictions on abortion already come to New Mexico, where there are no restrictions except on partial birth abortion.

One group is hoping to change the law in Albuquerque. They say that could cut down on women seeking abortions here.

If a petition circulating gets enough signatures and an initiative ends up on the ballot in October, voters will decide whether women will be banned from getting abortions after 20 weeks of pregnancy in the city of Albuquerque.

"These late term abortions are very risky for women," petition organizer Tara [Shaver] said. "So ultimately we see women and their children will be protected as a result of this initiative."

Texas Governor Rick Perry signed his state's new restrictions into law today.

"It is our responsibility and duty to give voice to the unborn and the individuals whose survival is at stake," Perry said while signing.

[Shaver] believes that could send more women from the Texas side of the border to the New Mexico side.

"Because we have no restrictions on abortion, we already don't have anything that's keeping women from coming to our state," [Shaver] said. "Every week we see women coming from all across the country specifically for late-term abortions."
Report by Erica Zucco, KOB Eyewitness News 4.
ABQ may see late-term abortion ban on ballot
Recently a press conference and rally were held at the late-term abortion facility, Southwestern Women's Options, in Albuquerque. Tara Shaver of Project Defending Life alerted New Mexicans of the similarities to the Kermit Gosnell case that are happening right now in Albuquerque. This coverage exposes the horrific consequence of Late-Term abortion…13% of the the time, the babies are born alive! Tara Shaver asks the logical question, "What happens to these babies at Southwestern Women's Option's in Albuquerque, New Mexico?"
Local CBS TV station KRQE-13 ran the following report that afternoon:
"The board began the investigation after pro-life groups filed complaints based on 911 calls for emergency transports from clinics to hospitals. Pro-life groups including Project Defending Life and Operation Rescue filed complaints with the medical board based on tapes of 911 calls involving 13 incidents dating back to 2008 that resulted in emergency transports from clinics to hospital." "Tara Shaver, a spokeswoman for Project Defending Life, said she filed 11 complaints with the medical board last year against physicians at Southwest Women's Options based on the tapes. Of those complaints, only Sella's case has resulted in a notice of contemplated action against the physician, Shaver said."
"The tape obtained by pro-life advocate, Tara Shaver, shows a 35-week abortion procedure that had dangerous complications. 'We're just really tired of seeing abortion abuses in New Mexico. We want this to come to an end,' said Tara Shaver in an interview. 'And we want those who are responsible to be held accountable.' That could happen. The doctor performing the abortion, Dr. Shelley Sella, is being investigated by the state Medical Board for gross negligence."
You know you are an activist when…Planned Parenthood protests you!
News coverage from KOAT News Channel 7 about Bud and the Truth Truck exposing the reality of Late-term abortion in Albuquerque. Graphic anti-abortion billboard drives around town. Billboard calls Albuquerque the late-term abortion capital.
FACT CHECK on this News Story from KOAT:Actually Late-Term abortion's can be done for any reason up to the day of birth in New Mexico and is funded 100% by YOU and ME the taxpayer thanks to Medicaid!
Read the following report by Tara Shaver, Project Defending Life: New Mexico forced taxpayers to fund 1,786 abortions in 2011.
Women obtaining Late-Term abortions are not doing so to save their own life, because the late-term procedure is such that, they still have to go through the pain and process of delivery! The only difference is that they give birth to a dead child…The baby was killed two-three days earlier!
The truth is, women can obtain abortion's for any reason up to the day of birth here in New Mexico! Generally, abortion's are done in the later stages of pregnancy for fetal abnormalities…such as Down Sydrome! In fact 90% of babies diagnosed with Down Syndrome, do not survive the womb…They are aborted.
A Glimpse of Persecution in America:
WND EXCLUSIVE Bull's-eye! Violence stalks pro-life protesters.
"[A] review by WND revealed that violence against opponents of abortion is not only common and widespread – it is often tolerated or even tacitly encourage by much of the media, some elements within law enforcement, and the powerful abortion industry.

The list of brutal beatings, attacks, vandalism, and other crimes perpetrated against pro-life activists, for instance, is virtually endless.

[I]n Albuquerque, New Mexico, an abortion supporter viciously attacked peaceful pro-life protesters outside a late-term abortion clinic.

One of the victims, Bud Shaver, was left bleeding profusely after suffering a deep gash on his head requiring stiches that was inflicted by the attacker, who used keys as a weapon.

The year before that attack, the same victim, Shaver, was almost deliberately run over by a longtime abortion supporter who jumped the curb with his delivery truck.

Two weeks before that, a man was arrested with weapons at the same clinic after threatening to murder two pro-life women.

"Overall, in my 20 years of activism, I've definitely seen an increase recently in violence and attacks," Mark Harrington, (Executive Director at Created Equal) said.

God says that those who hate God love death, so the enemies of God — the radical homosexuals, the God-haters, the atheists, the abortionists – they want to tear down those people who stand for what's right," Troy Newman, President of Operation Rescue said.

"Jesus said 'they hated me, they're going to hate you as well,' so don't be surprised when they do that," Newman continued. "In a sense, it's part of being a Christian."

"We're on two sides of a life and death issue, and I'm on the side of life, so I expect people who would kill a baby in the womb to use violence against those who oppose them." Joe Scheidler, founder of the Pro-Life Action League