UNM Insider Reveals Paul Roth's Deplorable Leadership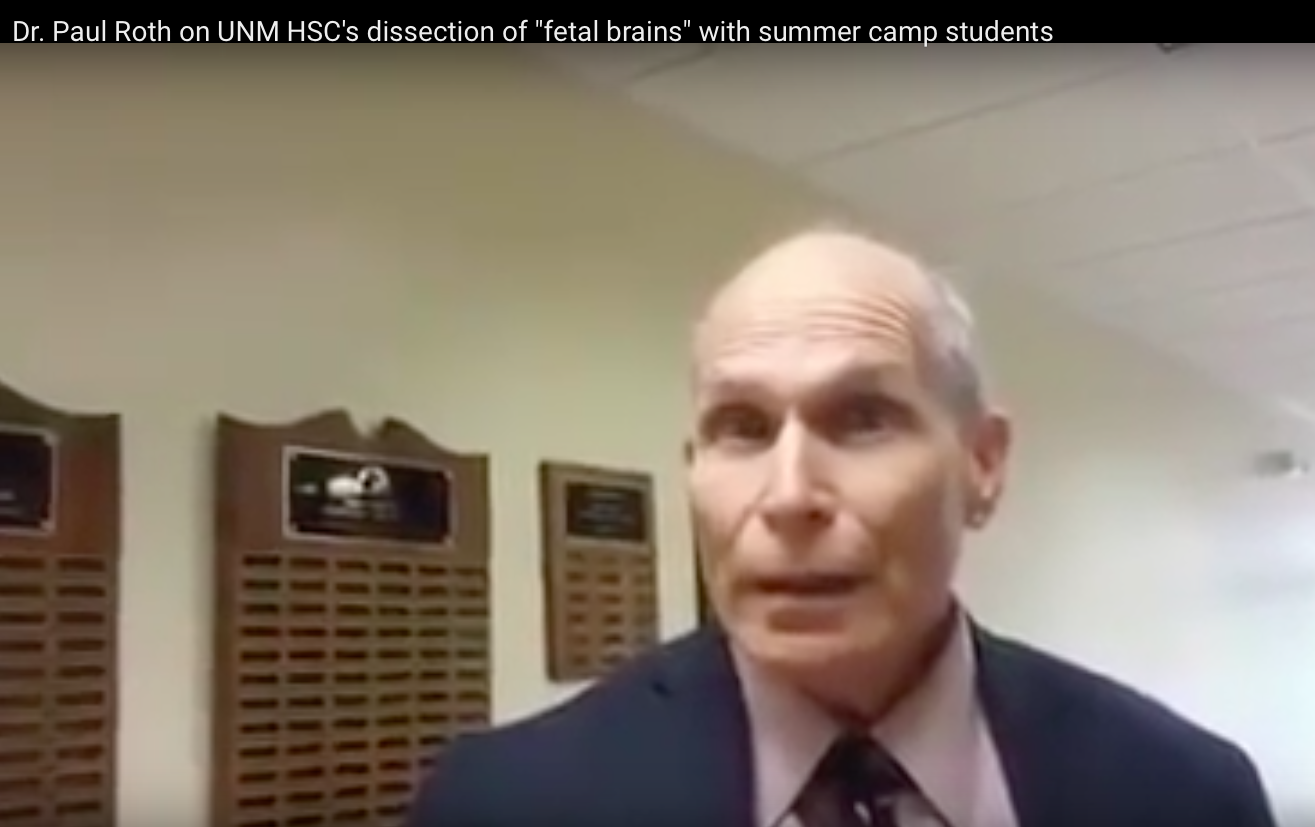 (BUSTED: Dr. Paul Roth CEO )
By Tara Shaver

Albuquerque, NM- A University of New Mexico (UNM) insider has shared an email with Protest ABQ from Paul Roth, Executive Vice President and Chancellor for Health Sciences, CEO, UNM Health System and Dean, School of Medicine, that sheds light on his apparent deplorable management of the UNM Health System.
This leak comes days after a video recording of Paul Roth admitting that aborted baby brains were dissected during a summer youth workshop hosted by UNM that was captured by local pro-life advocate Marcie May. This video has sent shockwaves through the pro-life community and has even penetrated the hearts of average Americans because of the callous disregard Roth displays on the video.
The UNM whistleblower revealed to Protest ABQ Paul Roth's desperate attempt to do damage control due to his apparent mismanagement of UNM Hospital. On August 12, 2016 Roth sent an email to Health System Leaders summarizing extremely low rankings the hospital has been given. An excerpt from Roth's email reads,
"But this past year we – and the public – saw some sobering rankings. A C – up from a D – in Leapfrog, landing in the first percentile for physician satisfaction, mediocre quality and patient safety scores at UHC, the loss of accreditation for our Dermatology residency program. And now, a one-star rating (out of five) at UNMH from the Centers for Medicare & Medicaid Services."
During the correspondence with the UNM insider, they state without mincing words,
"I'm not sure if you know, but UNMH was ranked very low by Medicaid, Medicare and other hospital ranking programs.  UNMH has a 2% physician satisfaction rating. UNM dermatology lost their residency program.  Dr. Paul Roth is not running the hospital very well. Roth should be fired for how poorly UNMH is doing as a hospital."
The UNM insider's frustration with Paul Roth's leadership continues,
"UNMH is losing a lot of doctors.  As stated, they have about a 2% doctor approval rating.  They scored very low by many organizations and had to bring a company in, costing millions of dollars, to try and make UNMH a better hospital.  Dr. Roth, based on how badly UNMH is scoring, should be fired, just like any other CEO doing a very poor job."

The company that UNM paid millions to is called the Studer Group, which works with organizations to "achieve and sustain exceptional improvement in clinical outcomes and financial results," to come and assist UNMH in turning things around. Documents regarding Mission: Excellence and the Studer Group have been removed from UNM's search portal.
Further down in Roth's email to UNM Health System Leaders, Paul Roth lectures them by saying,
"We must strive to behave professionally, with empathy and caring…"
Here is Dr. Paul Roth on video. Does Roth come across as professional, empathetic or caring to you?: Dr. Paul Roth on UNM HSC's dissection of "fetal brains" with summer camp students
From The Daily Wire: "Can I ask you to repeat what you said before about the workshop with UNM fetal remains with high school students?" May asks Roth. "Yes, we had a faculty member who obtained some tissue, and during one of these summer workshops, uh, dissected I think one or two fetal brains," answered Roth, unapologetically.   The dean did not disclose where the fetal remains were originally sourced. He also failed to show a glimmer of remorse.
Roth is clearly not doing a very good job of running UNM Hospital and as 2nd in command of the entire health system he has been given a pass for far too long.

"Paul Roth receives a salary of $656,500 paid for by New Mexico taxpayers. How is it that he maintains his position of CEO at UNM when both insiders and those outside looking in can see the problems as well as the atrocities he has brought upon UNM during his tenure? Could it be politically motivated that New Mexico legislators cover for him and support him despite the mounting evidence of his diabolical and deplorable leadership?" stated Bud Shaver, Executive Director of Protest ABQ.
[Note: Paul Roth's email to Health System Leaders is on file with Protest ABQ.]