Read the Article That the ABQ Journal Refused to Publish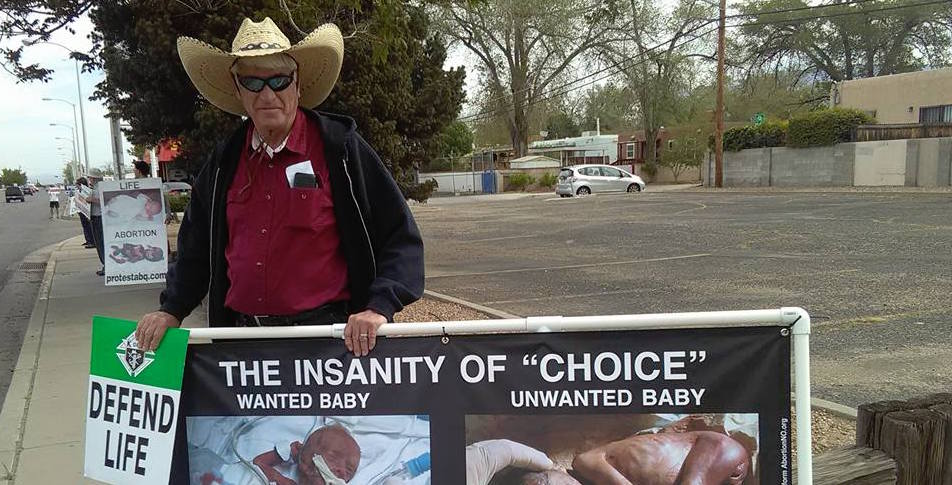 (Retired NASA Astronaut, Colonel Sid Gutierrez
Picture by Protest ABQ)
This is an editorial that my friend, retired US ASTRONAUT, SID GUTIERREZ wrote which the Albuquerque Journal refused to print. I am honored to have known Sid and his wife, Mary, the entire 11 years of my priesthood. Sid and Mary protest with me often in the greater Albuquerque area!

Fr. Stephen Imbarrato: The Protest Priest
Continuing Impact of a Deeply Flawed Ruling
By Sid Gutierrez, Retired NASA Astronaut Practicing Grandfather
Albuquerque, NM- The recent Supreme Court ruling on a Texas law requiring medical protections for women having abortions is yet another decision stemming from Roe v. Wade, the original case. Roe v. Wade has had a "profound" impact on our nation – over 58 million abortions. Yet, how many people know the reasoning behind this ruling? How many of those who passionately defend it have actually read the ruling? Since medical science and biology are in agreement that human life begins at fertilization, and because the 14th Amendment to the Constitution explicitly states "nor shall any state deprive any person of life, liberty, or property, without due process of law", I have wondered how Justice Blackmun rationalized terminating innocent human life. So I studied the decision. I encourage you to do the same.
I expected to find reference to current (circa 1973) medical journals, biology textbooks and testimony from doctors, scientists and other experts about when life begins. It is not there, but you will find reference to Aristotle. Aristotle reasoned that life in the womb began with a vegetative soul, then transitioned to an animal soul and finally took on a human soul. This is where the mistaken concept of "quickening" evolved from. I am not making this up. This is the equivalent of a Justice resorting to alchemy to adjudicate an environmental issue. If one wants to reference history, abortion was condemned by the Assyrians, Hittites, early Hindus, Buddhists of India, Egyptians, Persians, Greeks and Romans – all before Christianity. Have you noticed that opposition to abortion is part of becoming civilized? Justice Blackmun did recognize that the Hippocratic Oath, composed in ancient Greece, forbade the practice of abortion. But he then disregarded it. Please study the ruling. You will find he had to disregard a lot to write the decision he did.
Understandably, abortion was condemned by Christianity from the beginning, even when primitive biological knowledge made it almost impossible to ascertain when life begins. That changed in the second quarter of the nineteenth century when biological research lead to the modern understanding of the development of human life. The mammalian egg was discovered in 1827 and the cell was recognized as the structural unit of organisms in 1839. Within the next two decades physicians had an accurate scientific understanding of human development and when life begins. In 1857 the American Medical Association led a "physicians' crusade" to protect the unborn starting from the moment of conception. These statutory changes were not based on religion. They were based on the fundamental value placed on human life and a more complete scientific understanding of human development. By the end of the Civil War, twenty‐six of thirty‐six states and six of the ten territories had passed laws prohibiting abortion. Within three years, the states passed the 14th Amendment including the right to life for all persons. As noted earlier, this right is specifically enumerated, but Justice Blackmun ignored it along with the scientific discoveries and legislation that preceded it. He did, however, find a hidden right to an abortion in the same amendment. It is impossible to believe that the state legislatures intended to hide a right to an abortion in the 14th Amendment when they had just passed laws prohibiting it.
I hope I have identified enough problems with Roe v. Wade for you to decide to study it. These are not religious issues, but scientific and legal problems. Many scholars consider Roe v. Wade one of the most flawed Supreme Court decisions, ranking it alongside the Dred Scott Case. Of course the 14th Amendment overturned Dred Scott paving the way for advancements in the civil rights for the born. We can only hope that Roe v. Wade is superseded by rulings based on science and the 14th Amendment making way for a more compassionate country that recognizes the civil rights of all – born and unborn.
Sid Gutierrez is from Albuquerque, New Mexico and currently lives about 100 yards from where he grew up. He was a Distinguished Graduate of the USAF Academy with a BS in Aeronautical Engineering. He earned an MA in Management from Webster University. He is retired from the Air Force at the rank of Colonel where he flew the F-15, F-16, T-38 and many other aircraft while serving as a fighter pilot, test pilot, and instructor pilot. He joined NASA as an astronaut in 1984 and flew as the Pilot of Columbia on STS-40 and Commander of the Endevour on STS-59. He then served in several leadership positions at a national laboratory before retiring again to become an entrepreneur and spend more time with his grandchildren and the Pro-Life ministry. He and his wife of 39 years have three children and six grandchildren. They are devoted to the Sanctity of Human Life and are particularly interested in helping single Moms who have chosen life for their children. Sid has served on the Board of a state university, several for profit companies and multiple charities dedicated to helping those in need.