Save Your Seat: Year End Finale for Life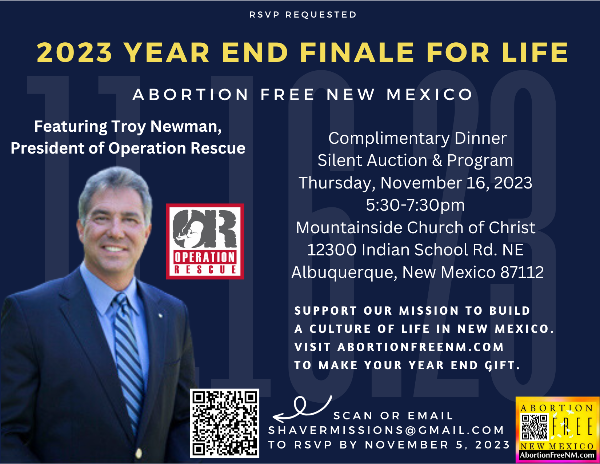 By Bud Shaver,
Albuquerque, NM– Abortion Free New Mexico will be hosting our 3rd Annual Year End Finale for Life Appreciation Fundraising Dinner on November 16, 2023. This year's guest speaker is Troy Newman, President of Operation Rescue, a long time friend and mentor of New Mexico's Pro-Life Missionaries, Bud and Tara Shaver.
In fact, Bud and Tara worked for Operation Rescue before arriving in Albuquerque where they learned how to effectively close down abortion facilities and to bring accountability to an unregulated abortion industry. For many years abortionists were shutting their doors and progress was being made as we exposed this grisly industry.
Unfortunately, abortions are now up 220% in New Mexico and we need some reinforcements and encouragement in this battle we are fighting for life. Please join us for our Year End Finale for Life and support our mission to build a culture of life in New Mexico. If you are unable to attend please make a year end gift to our ministry by clicking HERE.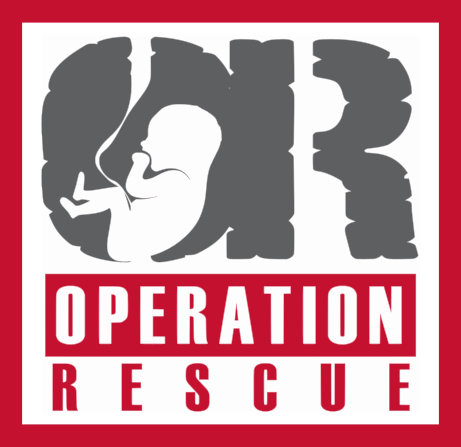 Operation Rescue® is one of the leading pro-life Christian activist organizations in the U.S. Their goal is to use all legal tools available to us to expose abortion abuses, demand enforcement, save innocent lives, and build an Abortion-Free America.
About our speaker, Troy Newman: Adopted at birth and raised in San Diego, Troy Newman has more than 27 years of experience and leadership in business and pro-life ministry with great success growing Christian organizations. Troy is an accomplished strategist with remarkable insight.
His vision, expertise, and leadership have brought about a dramatic reduction in the numbers of abortions and abortion providers nationally. His work has been featured in the Rolling Stone Magazine, GQ, USA Today, WND.com, Wall Street Journal, the LA Times, NYT, and a host of other print media. Troy is a sought after spokesperson for the pro-life cause who is regularly featured on radio programs and television news broadcasts. In addition, his one-minute audio commentaries are aired daily across the Bott Radio Network. Troy's unique insights have been published in nearly every newspaper in the United States.
Troy serves on boards for a number of pro-life groups and was a founding board member for the Center for Medical Progress, the organization that has made headlines with its hard-hitting videos exposing Planned Parenthood's participation in the illegal trafficking of fetal remains.
Troy is a published author of four books: Their Blood Cries Out, Am I Now Your Enemy for Telling You the Truth, Refocusing the Pro-Life Movement for Victory, and his newest book published by WND.com entitled Abortion Free.
As president of Operation Rescue since 1999, Troy offers a rare blend of theological wisdom and organizational strengths. Through his peaceful, proactive efforts, Troy has forged exciting bottom-line results. His work has permanently closed hundreds of abortion mills, led dozens of abortionists leave the killing industry, spared countless babies from abortion, and is changing lives through the public offering of the Gospel of Jesus Christ. He is especially recognized for his growing success in developing and applying cutting-edge pro-life strategies.
Troy was the architect and innovator of the "Truth Truck" campaign and the "Show the Truth" Tours. Troy worked for eight years in Wichita, KS, to close the nation's largest late-term abortion clinic.
Troy's other business interests include real estate development investments and rental properties. Troy's hobbies are hunting, ranching, and gardening, and he has two Black Belts in Martial Arts. Troy and his wife, Mellissa, homeschool their five children on a small hobby farm in Kansas.