Efforts to Install Safe Haven Baby Boxes Spread Throughout New Mexico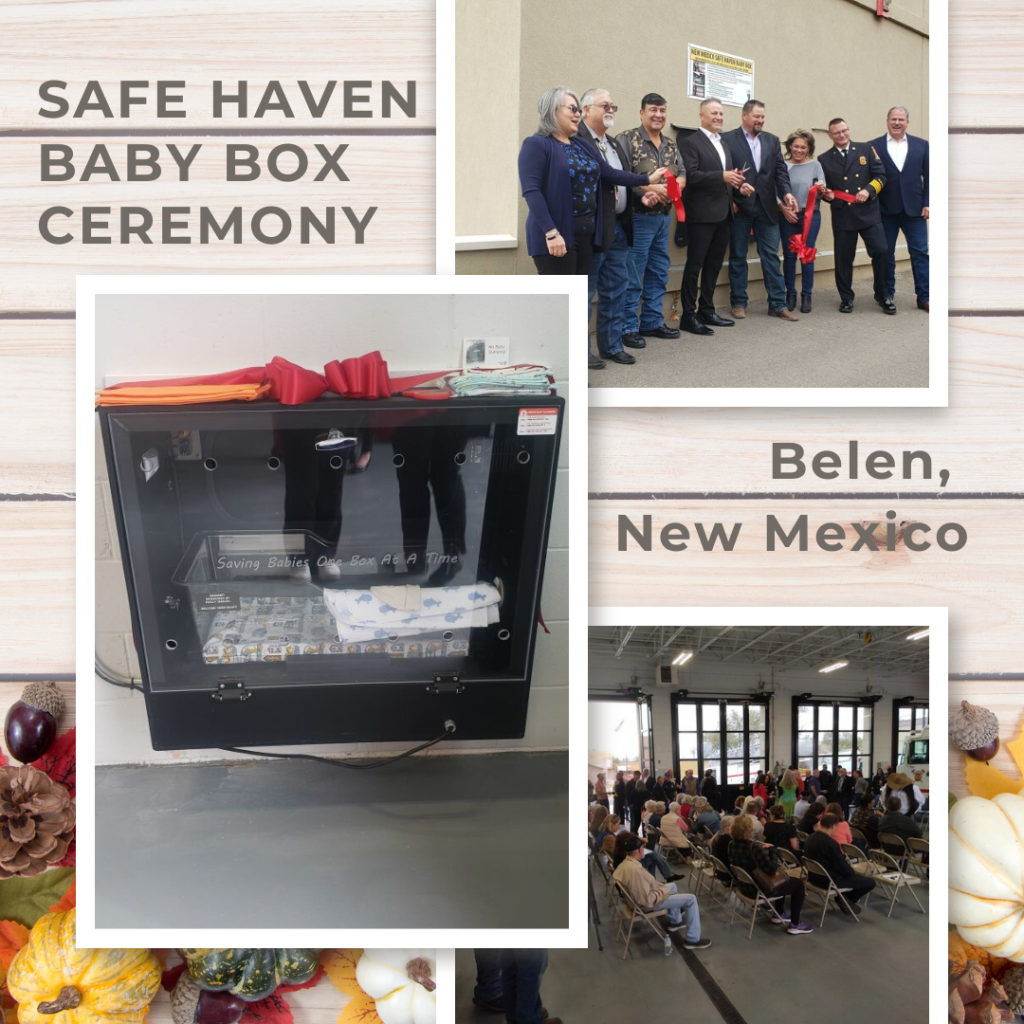 (Pictures provided by Annette Castillo)
By Bud Shaver,​
​Albuquerque, New Mexico- Two Safe Haven Baby Boxes were installed in New Mexico just days apart. On October 24, 2023, the city of Belen Fire Station held a ribbon cutting ceremony to debut their newly installed Safe Haven baby box.
On October 21 the Carlsbad Fire Station 1 had their Safe Haven Baby Box blessed at a ceremony that was open to the public.
This makes for the 4th Safe Haven Baby Box installed in the state of New Mexico, the others are located in Española and Hobbs.
The city of Farmington approved a resolution on October 11 of this year for a box to be installed at Fire Station 2 and other cities are considering installations.
Safe Haven Baby boxes provide an alternative to abandoning newborns or disposing of them in dumpsters or trash cans which happens far too often here in the Land of Enchantment. Newborns under 90 days old can be placed in these Safe Haven Baby Boxes or taken to a local church, hospital, fire station or police station with staff on site.
On September 23 of this year, a healthy baby boy was safely placed in the Hobbs Safe Haven baby box. This was the first life that has been saved in New Mexico and serves as proof that these boxes are an effective tool to save lives.
Tara Shaver, spokeswoman for Abortion Free New Mexico issued the following statement,
"It's beautiful to see that New Mexico has life affirming options for women who are simply overwhelmed or unprepared for motherhood. It is truly a sacrificial act of love that leads these moms to deposit their babies into a Safe Haven baby box, thereby giving them a hope and a future. Abortion Free New Mexico is in full support of these baby boxes and it is our hope that every county will install these as quickly as possible and that more awareness about their availability will spread like wildfire across the state. Every life is beautiful and is worth protecting, both inside and outside of the womb."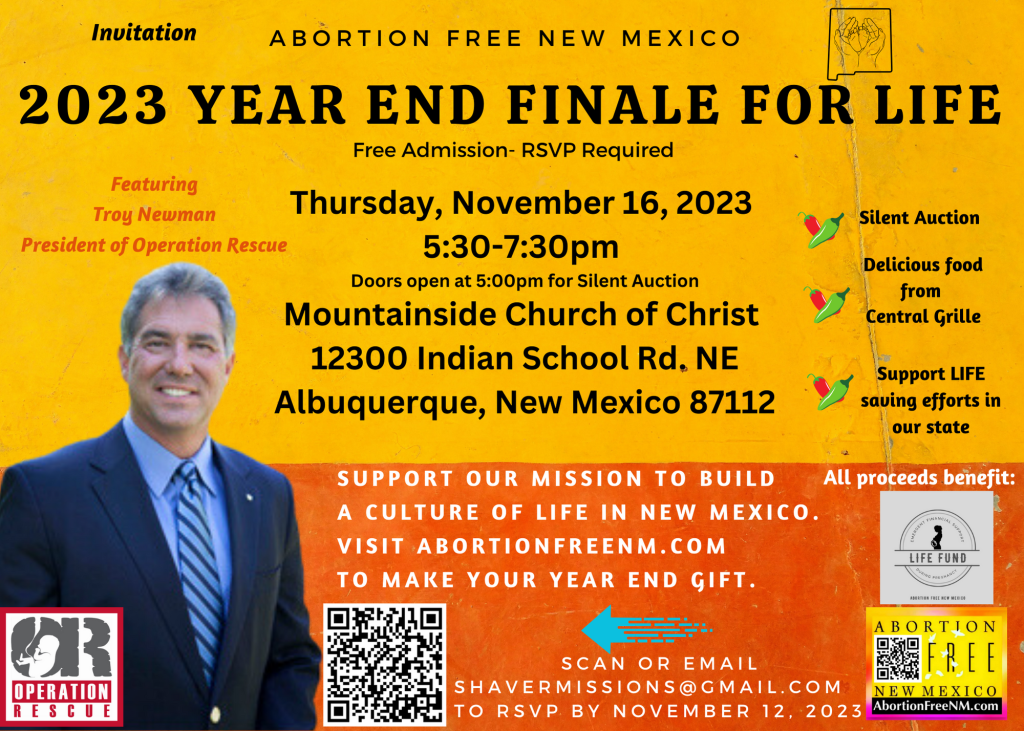 Join Abortion Free New Mexico for our 3rd Annual Year End Finale for Life Appreciation Fundraising Dinner on November 16, 2023. This year's guest speaker is Troy Newman, President of Operation Rescue, a long time friend and mentor of New Mexico's Pro-Life Missionaries, Bud and Tara Shaver.
Troy Newman is considered to be "Abortionists #1 Foe" by CNN and is the Founder of the Center for Medical Progress which exposed Planned Parenthood's aborted baby body parts selling scheme.
In fact, he's just been unjustly ordered to pay Planned Parenthood 18 million dollars!
This pro-life warrior is coming to New Mexico to give a talk like you've never heard before.
You won't want to miss this unique opportunity to meet Troy and hear from one of the most influential pro-life leaders in the nation- while supporting New Mexico's Pro-life Missionary family.
Don't delay, seating is limited.
RSVP is required to attend.
Event Attire is Business Casual
​If You are Unable to Attend Please Make a Year End Gift to Our Ministry TODAY