Planned Parenthood is Really Getting Desperate
(Pic by Fr. Stephen Imbarrato: The Protest Priest)

Fr. Stephen Imbarrato: The Protest Priest of Priests for Life issued the following statement,
"Give courageously to PlannedParenthood!???? 100 years of care and purpose!??? 'Give us your tired (moms), your poor (moms), your huddled masses (babies)…' We will rip your babies from their poor mother's womb, hack them up, and sell them for experimentation! AND THEY ARE JUST GETTING STARTED!?? Progress according to Planned Parenthood!? In a couple of decades or less, maybe they will be dismembering huddled newborns and ripping reproductive organs out of poor, tired moms! Defunding Planned Parenthood is like telling the devil he can't be evil. Shut Planned Parenthood down and lock Richards and her cronies up under RICO Statutes!"
By Tara ShaverAlbuquerque, NM- For two years Protest ABQ has held weekly overpass protests in Albuquerque. Our 4×8 feet banners, which are positioned above Interstate 25, have educated thousands of people about our silent state leaders on abortion, New Mexico Governor Susana Martinez and Albuquerque Mayor Richard Berry who likewise ignores abortion in his city, the tax payer funded University of New Mexico and Planned Parenthood's abortion  businesses.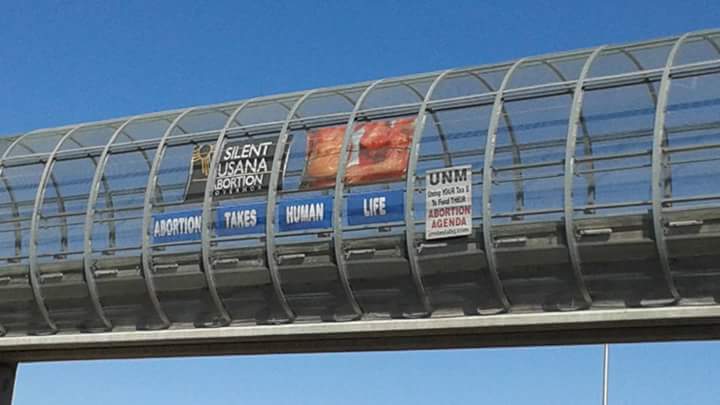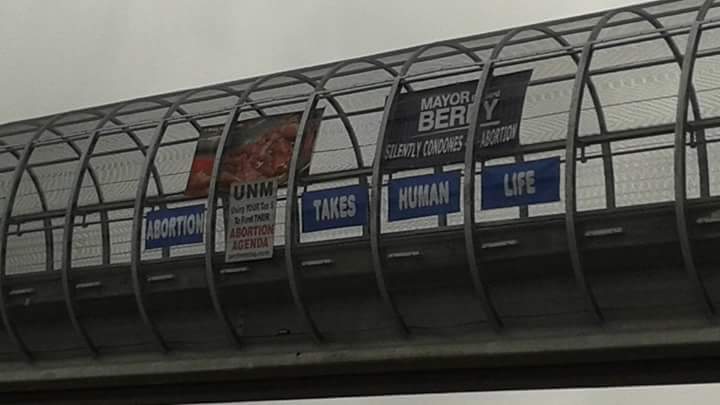 Those who may not have ever considered what abortion is have come face to face with it's brutality and many have thanked us for our presence. This week, however, we have encountered a new measure of success with this effort. Planned Parenthood has purchased a billboard that is strategically placed right before the overpass where we protest each week. This location is also in the vicinity of two strip clubs. The nature of PP's billboard is interesting which I will address but the fact that they have made this purchase between $5,000-$15,000 is nothing less than confirmation that our overpass protest presence is effective and that they are desperate.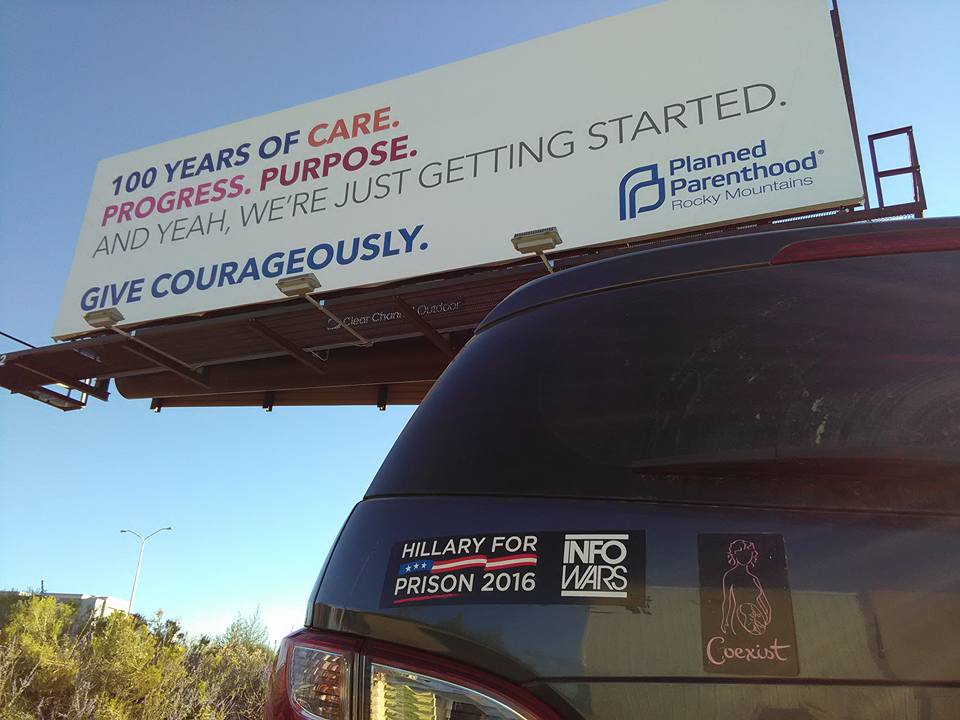 Their sterile looking billboard seen above shows their desperation, but for what? They claim to be a legitimate healthcare provider yet they are not seeking clients with a list of services they provide, nor are they focusing on the women that they claim so desperately need and want to kill their babies. Instead they are asking for your money.
Does Planned Parenthood Really Need Your Financial Donations?
Planned Parenthood is a "non-profit" that brings in over a billion dollars in profit each year and then gets money from the government as well, compliments of you and I, the taxpayer.
One commenter on Facebook rightly asked,
"Aren't our 1/2 billion dollars in taxes enough?"

The Abortion Cartel is ALL About the Money…
We are ALL about Prayer.
Pro-life billboards aim to educate about human life and offer assistance to pregnant women, our movement is truly concerned for people, not a profit.  In contrast, Planned Parenthood is more concerned about lining their own pockets than they are about helping and truly caring for women. Let's pray that those driving by see the truth about where Planned Parenthood stands and what their priority is.
The Abortion Industry Uses Lies and Deceptive Rhetoric…Protest ABQ Exposes Their Lies With the Light of the Truth.
During the past couple of years doing the overpass protests, we have endured harassment by city and state officials.  Watch these two videos: 
Protest ABQ to NM State Troopers, "It's Your Job to Protect Our Rights."
We have even been attacked and assaulted: Abortion Activists Assault Pro-Lifers, Throw Their Signs Off Highway Overpass
But we will not be deterred in our peaceful free-speech activities! This is about life and death.