This Postcard Drops Today, Contact UNM President Robert Frank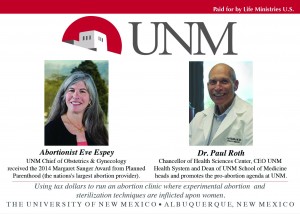 ​This postcard will be delivered by mail to multiple Albuquerque neighborhoods this weekend. The University of New Mexico is a publicly funded institution and the community deserves to know who is responsible for UNM's radical abortion agenda.
*UPDATE: OF ALL OF THE POSTCARDS WE'VE DROPPED THE BATTLE WAS ON TO DROP THIS ONE!
(Please contact UNM President. Contact info in the report.)
There was an attempt to prevent our postcard from going out, but free speech trumps and we will not be silenced! This postcard drops TODAY…Tuesday March 29, 2016
By Tara Shaver
Albuquerque, NM- Earlier this month we shared news stories announcing some abrupt changes at the University of New Mexico with regard to the Health Sciences Center board being dissolved by the UNM regents. In 2010, when we moved to Albuquerque this governing board was brand new, and it placed Dr. Paul Roth in a position of incredible control.
Some have criticized the UNM regents for acting so quickly to re-adjust leadership at UNM (even GOP leadership) by giving the President of the University, Robert Frank, appropriate authority while bringing Paul Roth more under control. It has been said that for the past five years the University has had two heads, these changes have "removed Roth's full oversight authority over HSC property, finances, staff and legal matters and subjected them to approval of UNM President Frank."
For 5 years we have been exposing and applying pressure to those with the ability to end the abortion agenda at UNM. Whether the motivation for change at UNM was rooted in money, a new hospital or damage control due to Paul Roth's leadership…It is hard for us to ignore the fact that UNM is currently under a congressional investigation regarding the use of fetal tissue and it's abortion agenda has become widely known during Dr. Paul Roth's tenure.
It seems as though UNM leadership is moving in the right direction in order to make substantial change, however, Dr. Paul Roth is still the motivating force behind their radical abortion agenda. As Dean of the School of Medicine Roth was the highest authority in giving abortionist Eve Espey the promotion to Chair of the Obgyn department, even though her agenda is to promote abortion here and abroad. Espey also received the Margaret Sanger award in 2014.
In order for UNM to completely abandon their pro-abortion agenda, a few things must be done. Roth and Espey must be terminated and now President Frank has the authority to bring the matter to the Regents for their approval. We are asking the public to contact President Frank and ask him to urge the regents to terminate the contracts of both Espey and Roth.
Please join us in contacting UNM President Robert Frank
*ACGME accreditation does not require that universities have their own free standing abortion facility
"Not only does UNM embrace abortion and run a free standing abortion facility in Albuquerque performing abortions up to 22 weeks of pregnancy, they have also recently been caught red handed using aborted baby body parts in medical research. Are you comfortable with your tax dollars being used to kill and experiment on pre-born babies?"
​
Please contact UNM President Robert Frank and ask him to urge the Board of Regents to terminate the contracts of Dr. Paul Roth and Dr. Eve Espey.
Robert G. Frank, UNM President
505-277-2626
unmpres@unm.edu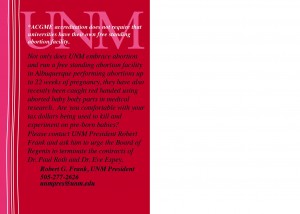 ​(Back of the Postcard)
*Life Ministries U.S. is an Umbrella Non-Profit Organization that includes: Protest ABQ, Pro-Life Witness, and Protest ChildKilling