(The Billboard featured above is going up on I-25 between Albuquerque and Santa Fe the first week of the 2019 Legislative session on January 15th!)
By Bud Shaver
Albuquerque, NM- On January 7, 2019 New Mexico Bishop, The Most Reverend James S. Wall, of Gallup issued the following letter urging opposition to the repeal of New Mexico's criminal abortion statute,
I, the Catholic bishop of the Diocese of Gallup, voice my strong opposition to a proposed bill aimed at repealing a New Mexico state law criminalizing abortion. While the law is currently not enforced due to federal legalization of abortion through the Supreme Court's ruling on Roe V. Wade, I nevertheless urge opposition to any bills that would loosen abortion restrictions.

The Governor has expressed concern that the current law would "punish women", should Roe vs. Wade ever be overturned, and I am in agreement that criminalization of abortion should not target women, many of whom find themselves in personally or financially dire circumstances. But abortion also targets and victimizes another deeply vulnerable population: unborn children and future generations. Our state must strive to protect and uphold the dignity of all peoples, from conception to natural death, and any effort to permit the killing of unborn children violates the sanctity of every human person, mother and child.

New Mexico consistently ranks low or last among other states in education results, economic opportunities, poverty, and childhood health. An abortion will not fix the obstacles many women and families face, such as economic instability, access to education, and a higher standard of living. I encourage our legislators to turn their efforts away from promoting abortion, and instead to policies and legislation which would promote the prosperity of human life at all stages of development.

 I also condemn any clauses or measures that would punish doctors and health care workers for refusing to participate in abortion procedures or other medical services that violate their beliefs, religious or otherwise.

As Pope St. John Paul II says: 'Even in the midst of difficulties and uncertainties, every person sincerely open to truth and goodness can, by the light of reason and the hidden action of grace, come to recognize in the natural law written in the heart the sacred value of human life from its very beginning until its end, and can affirm the right of every human being to have this primary good respected to the highest degree. Upon the recognition of this right, every human community and the political community itself are founded.'  

I encourage readers of this letter to make their voices heard on this issue by contacting their legislator at this link.

I remain sincerely yours in Christ,  
The Most Rev. James S. Wall
Bishop of the Diocese of Gallup
Abortion Free New Mexico stands in solidarity with Bishop Wall and announced last week, the launch of a statewide campaign urging New Mexicans to oppose House Bill (HB) 51: DECRIMINALIZE ABORTION, which would repeal New Mexico's Criminal Abortion Law. This statewide campaign includes the securing of a billboard located on I-25 between Albuquerque and Santa Fe and a statewide postcard mailer that will urge legislators from both parties, Democrat and Republican, to oppose this radical pro-death agenda.
If the Criminal Abortion Law is repealed, it will leave unsuspecting women vulnerable to dangerous late-term abortions being performed outside of a hospital and non physicians will be able to perform invasive surgical procedures on women without their consent.
Abortion Free New Mexico leaders have been quoted extensively regarding the implications of HB- 51. Read about our concerns in the following news reports:
Tara Shaver spokeswoman for Abortion Free New Mexico issued the following statement, 
"On Tuesday, January 1, 2018 Michelle Lujan Grisham (D) was inaugurated as New Mexico's new Governor. The theme of her inauguration was 'Imagine a Thriving New Mexico' but unfortunately, our new Governor doesn't realize that New Mexico will never thrive until the the killing of innocent unborn children comes to an end. As pro-life missionaries we DO want New Mexico to thrive, we want the very best for all children and we want New Mexicans to embrace life. While the legislature is controlled by the democratic party, whose platform 
states, 
"We believe unequivocally, that every woman should have access to abortion,"* we recognize that New Mexico's elected officials still need to hear from those who oppose their pro-abortion and pro-death agenda." *
Source: democrats.org
Take Action:
WE WANT EVERYONE GOING UP TO SANTA FE TO SEE THE BILLBOARD AND CONTACT THEIR LEGISLATOR TO URGE THEM TO OPPOSE THIS PRO-DEATH AGENDA IN NEW MEXICO 
We need your help. Here's your chance to sow into a life affirming message all across New Mexico.
THIS BILLBOARD COSTS $1,043.19
(It will be seen by over 261,000 people over a 4 week period)
CLICK HERE: TO HELP US KEEP THIS BILLBOARD UP 
(FOR AT LEAST THE FIRST 4 WEEKS OF THE SESSION)
TO OPPOSE PRO-DEATH LEGISLATION WITH A TAX FREE DONATION
​(Select Abortion Free New Mexico in the ministry tab and designate Billboard)
That's not all, there's more:
In addition to the billboard, we will launch a STATEWIDE postcard campaign as early as next week. We want EVERY pro-life person in New Mexico to be aware of these bills and to contact their legislators asking them to OPPOSE PRO-DEATH LEGISLATION!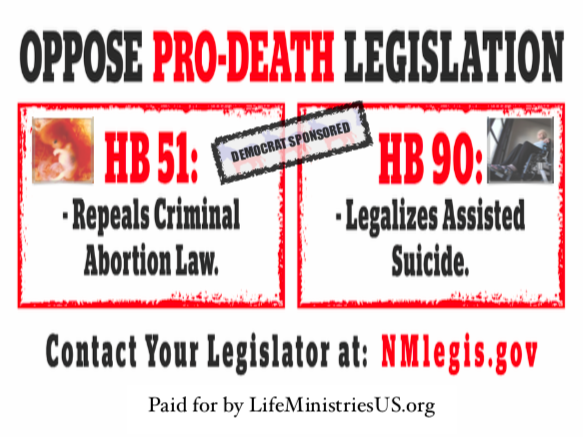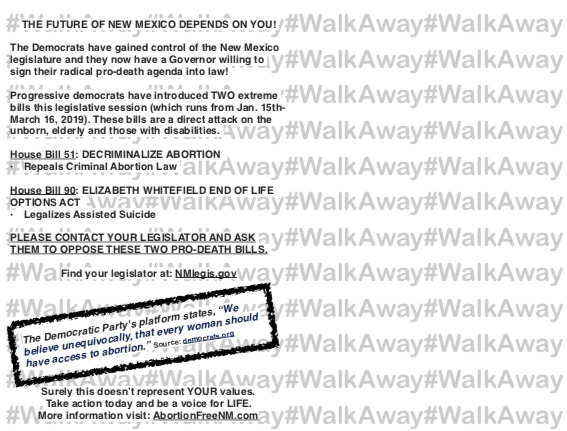 WE WOULD ALSO LIKE TO SEND POSTCARDS TO 1,200 CHURCHES ACROSS NEW MEXICO TO EDUCATE AND ACTIVATE THEM.
However, we can't REACH VOTERS OR THE CHURCHES without your help. Please prayerfully consider DONATING to help us REACH AS MANY PEOPLE AS POSSIBLE:
For more information about our umbrella non-profit and affiliate ministries visit: LifeMinistriesUS.org
Thank you for standing with us for life and truth!
"Therefore we ought to support people like these, that we may be fellow workers for the truth." (3 John 1:8) ​