Pro Death Committee Majority Advances HB 51 NOW Assisted Suicide HB 90 Scheduled For Vote Jan. 28th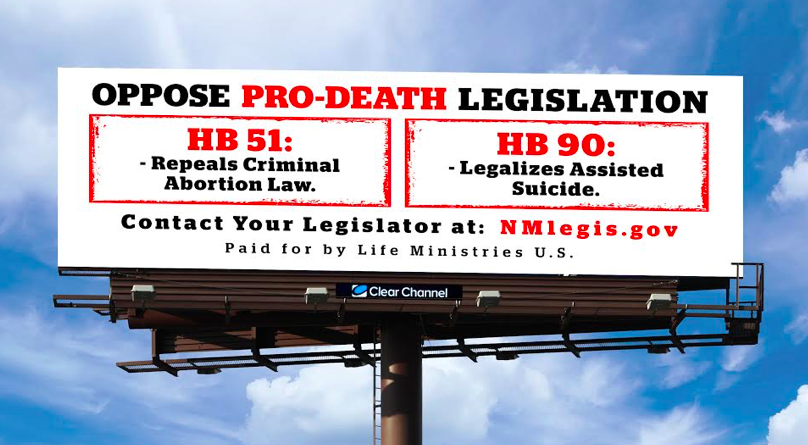 By Bud Shaver
Santa Fe, NM- The radical Pro-Death extremist majority advanced HB 51 DECRIMINALIZE ABORTION by a Committee vote of 2-3. 
The two representatives who voted to oppose HB 51 were:
Abortion Free New Mexico is grateful for their votes in opposition to HB 51.
Assisted Suicide bill HB 90 has NOW been Scheduled for a Committee Vote for Monday January 28, 2019
HB 90: (House Bill) ELIZABETH WHITEFIELD END OF LIFE OPTIONS ACT is Scheduled for HOUSE HEALTH & HUMAN SERVICES on Monday, January 28, 2019 – 8:30 a.m. – Room 315
Legalizes Assisted Suicide.
Sponsored by:
Deborah A. Armstrong
Elizabeth "Liz" Stefanics
PLEASE Contact the Following HOUSE HEALTH & HUMAN SERVICES Members and respectfully ask them to OPPOSE HB 90:
(Click their name for phone/email contact information)​​​
TIME Monday, January 28, 2019 – 8:30 a.m. – Room 315 (If you would like to be there for public comments)​
​HB 90 Has been called by experts as the MOST DANGEROUS Assisted Suicide Bill in the WORLD…EVER!

According to Alex Schadenberg of the Euthanasia Prevention Coalition,
"HB 90 [SB 153] is the most dangerous assisted suicide bill I have ever seen.
For more ​information about this troubling legislation and its implications on New Mexico:
RELATED NEWS:
Thank you for standing with us for life and truth!
"Therefore we ought to support people like these, that we may be fellow workers for the truth." (3 John 1:8)