CONSERVATIVE EVANGELICAL RIGHT POSE MORAL THREAT TO PRO-DEATH EXTREMISTS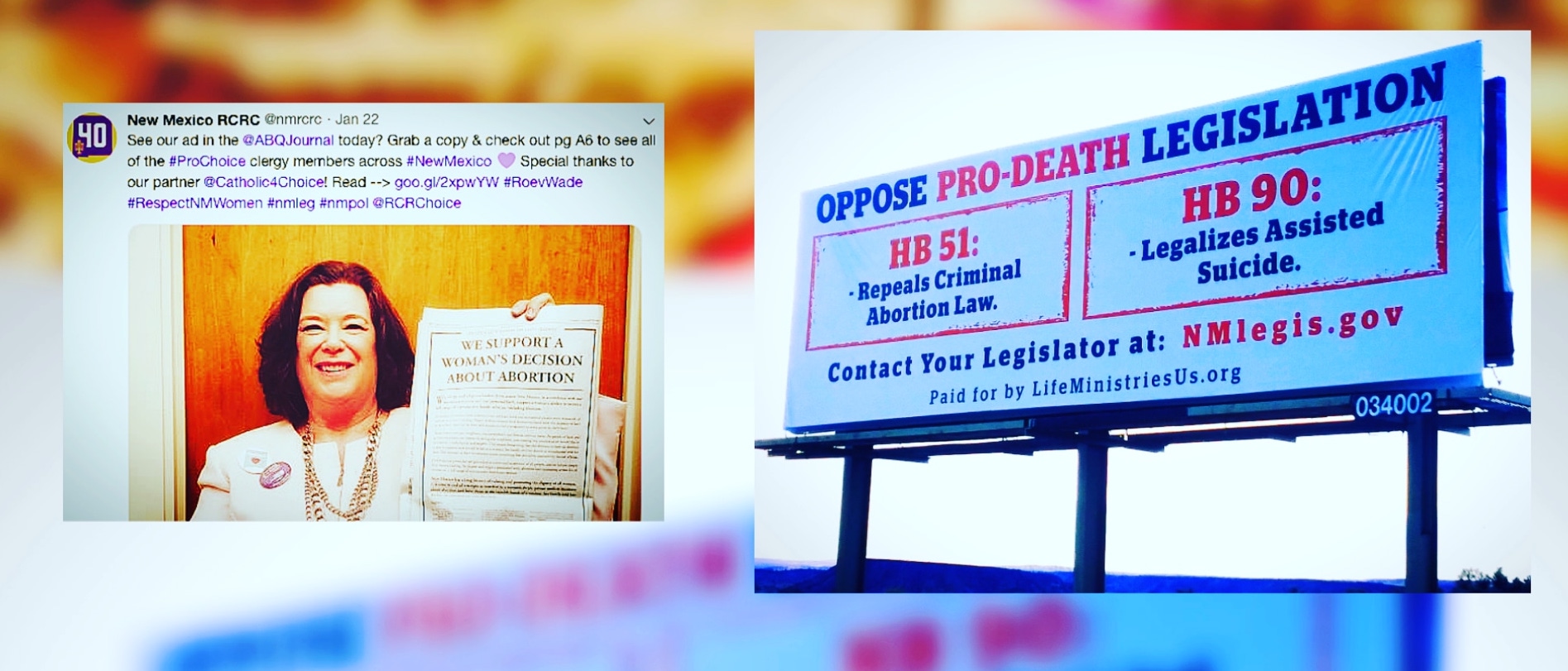 By Bud Shaver
Albuquerque, NM- New Mexico ranks in the top 5 states with the highest population of Catholics. The state has also been primarily run by democrats since 1930. Each legislative session, since our arrival as evangelical pro-life missionaries in 2010 by the invitation of catholic priest Fr. Stephen Imbarrato, it has been catholic democrats who consistently vote to kill pro-life legislation year after year. Voting democrat in New Mexico has become a generational curse that has produced the nations late term abortion capital and worst national rankings for violent crime, poverty and education.
At present democrats have a stranglehold of power over New Mexico, at virtually every level of government, and are attempting to maintain their pro-abortion standing should Roe vs. Wade be overturned. According to a recent article published by the Albuquerque Journal, the RADICAL PRO-DEATH EXTREMIST organization, New Mexico Religious Coalition for Reproductive Choice apparently doesn't view the Catholic Church in New Mexico as a cultural threat. They believe the moral high ground in New Mexico is now maintained by "the conservative evangelical right."
Joan Lamunyon Sanford, executive director of the New Mexico Religious Coalition for Reproductive Choice stated the following regarding a full spread add in the Albuquerque Journal on January 22, 2019 the anniversary of Roe vs. wade,
"People of faith have been supporting access to abortion and reproductive health care even before Roe v. Wade, and the conservative evangelical right does not own the moral argument on this issue."
Archbishop John C. Wester issued the following statement regarding the paid advertisement published in the Albuquerque Journal on January 22, 2019 entitled, "An open letter from New Mexico faith leaders 'We support a woman's decision about abortion'".
"1) Signatories to the Albuquerque Journal's paid advertisement are not affiliated with the Roman Catholic Church in New Mexico. 2) New Mexico's three dioceses: the Archdiocese of Santa Fe, the Diocese of Gallup and the Diocese of Las Cruces adamantly uphold the Church's historical belief in the sanctity of human life from conception to natural death. 3) The list of religious churches, communities and organizations NOT in communion with, nor sponsored by, the Archdiocese of Santa Fe or the Roman Catholic Church in New Mexico follows and is also available on the archdiocesan website at www.archdiosf.org."

Abortion Free New Mexico applauds Archbishop John C. Wester and the Archdiocese of Santa Fe for their swift response and stand in solidarity with them in their support for the sanctity of life from conception to natural death.
However, is there more they can do to hold professing Catholic state officials more accountable and to encourage catholic laity to vote more conscientiously regardless of political affiliation?
Fr. Stephen Imbarrato, the Protest Priest recently issued the following statement regarding the current scandal being created by professing Catholics holding public office in New Mexico and the public action needed to be taken by Catholic leadership,
"In New Mexico, the unborn, the elderly, the disabled, and the medically vulnerable are less than animals. Many of the democrats in New Mexico including the governor are Catholic. They should all be excommunicated if they support killing the elderly and the disabled and medically vulnerable as well as babies up till birth."
IF YOU DON'T USE YOUR MORAL AUTHORITY YOU'LL LOSE IT…
Tara Shaver, spokeswoman for Abortion Free New Mexico issued the following statement,
"As pro-life missionaries serving in New Mexico since 2010, Bud and I stand in solidarity with Fr. Stephen Imbarrato in calling for catholic leadership to take action against self professing catholic legislators that continue to defy their faith and promote a culture of death. It's simply not enough to make statements and not follow through with public reprimands when the lives of the unborn are on the line.
The democratic party platform is in opposition to catholic values by openly embracing abortion, it is time for catholics to break the generational curse that is keeping New Mexico from progressing by walking away from the democratic party. Every self professing Christian in New Mexico must be engaged in this culture war and we encourage catholic leadership to reclaim your moral authority in New Mexico by announcing that ANY Catholic Legislator INCLUDING Governor Michelle Lujan Grisham who openly supports PRO-DEATH LEGISLATION will be PUBLICLY EXCOMMUNICATED!"
TAKE ACTION TODAY
New Mexico is full of faithful catholics and evangelical Christians who must put their faith into action and  make their voices heard on behalf of life. New Mexico's reputation as the Late-Term Abortion Capital of the world will not change if we don't elect better leaders and hold current leaders accountable. Now is the time to speak up and take action to OPPOSE PRO-DEATH LEGISLATION.
Abortion Free New Mexico recently sent out postcards to 1,000 churches across New Mexico urging them to OPPOSE PRO-DEATH LEGISLATION. It is our hope that Christians all across this state will rise up and send a strong unified voice for LIFE to our elected officials. 
Thank you for standing with us for life and truth!
"Therefore we ought to support people like these, that we may be fellow workers for the truth." (3 John 1:8)