Manny is a Mighty Spiritual Warfare Warrior, Today He was Speechless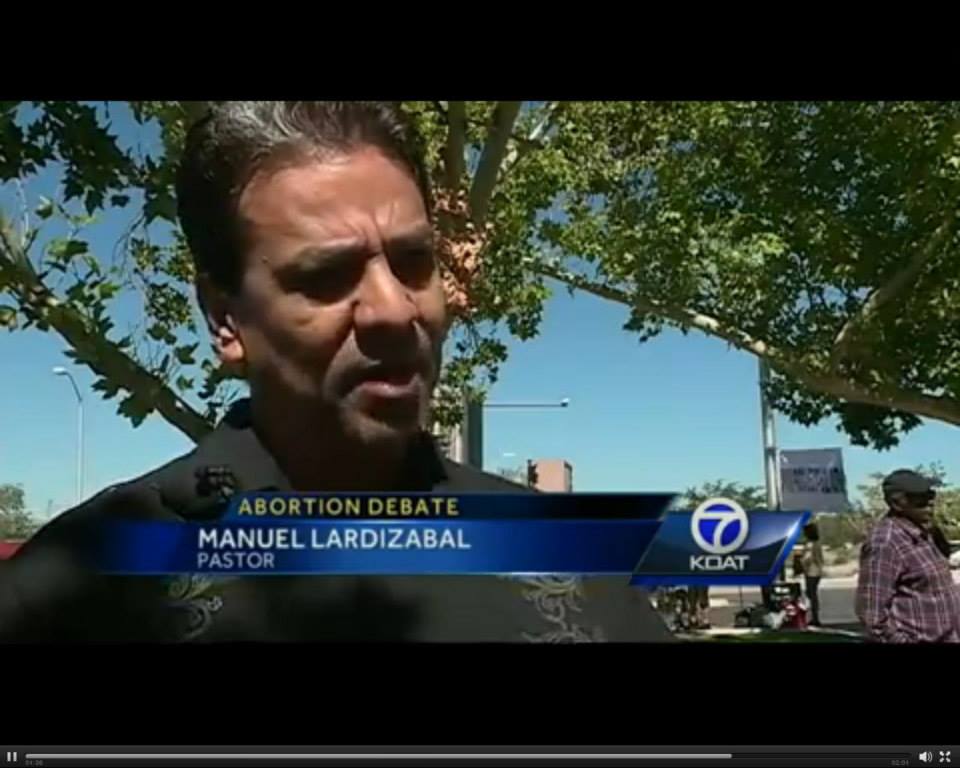 Today as I arrived at Southwestern Women's Options (SWO) driving the "Truth Truck" (A box truck fitted with images of abortion victims), I was greeted by Pastor Manny from Transformation Ministries. Manny had been out at SWO since they opened and had saved me a parking spot for the Truth Truck. After I parked he stated, "Wow, I never expected this ministry to be so tough! I never realized how intense this spiritual battle is at the abortion clinic! A couple pulled in as soon as I got here this morning, they were from Colorado. As they pulled into the parking lot I was able to stop them and they rolled down their window and I was literally speechless…I didn't know what to say, I couldn't say a word, so I just handed them some of the literature you had given me and they took it. They sat in their car reading the information I had handed them and then they looked at me and waved and said 'Thank you,' and indicated that they were leaving…and they drove out of the parking lot and left!"
Manny and his wife Grace were some of the first people we met when we moved to Albuquerque three years ago and we stumbled across their furniture store "Furniture Liquidators Corral." When you walk into their store you realize it is not simply a store, it is a christian bookstore, a prayer chapel, and church…all wrapped up in one. Manny shared his heart for Jesus with us and that from his experience is that its easier to get people to come to a furniture store than to church so he just made that his calling, business, and mission field! When we shared with him our ministry he and his wife were touched and they helped us get the furniture we needed for our apartment.
Manny is no stranger to intense spiritual warfare, we have done ministry together on the Native American reservations that he and his wife reach out to. We also joined them in ministry at "The House of Destruction," that they host every Halloween. They have some real intense rooms that the youth go through dealing with drug addiction, gang violence, suicide, bullying, an abortion scene and it culminates with the Crucifixion and Resurrection of Jesus! They asked if they could use our graphic image signs of abortion and some input on the abortion room. They also asked if we knew any hard core youth who wouldn't mind volunteering for some of the intense scenes…well Tara and I don't know any youth more hard core than the Survivors of the Abortion Holocaust and we just so happened to be hosting their Campus Life Team as they were passing through, so the Survivors helped out!
When Manny came to our Project 52 Pastor Summit he was the first pastor to commit to a full week of outreach for every hour that SWO was open! He didn't stop there, he has committed to covering every Tuesday for every hour SWO is opened for the rest of the year! He didn't stop there, he is committing to having church service two Sunday's a month on the sidewalk outside of SWO!
Manny is a mighty spiritual warfare warrior, today he was speechless. Welcome to the front lines out at one of the darkness places in the WORLD, welcome to ministry out at a Late-Term abortion clinic! He didn't remain speechless, God empowered him and all of us today there were 4 turnarounds including the couple from Colorado making a total of 7 in just the past two days…and this week is only halfway over! God is lighting up the darkness and drawing his people and accomplishing His victory through bold steps of faith!
My ministry day ended today with Manny dropping me off where I park the Truth Truck so I could pick up my car as Manny headed back to SWO in the Truth Truck to minister until they closed.
I overheard Manny on the phone while we were ministering out at SWO he closed his furniture store on Tuesdays permanently based on his commitment to cover SWO. This is a huge step of faith and he is laying it all on the line for LIFE and the advancement of God's Kingdom here in this city.
Please support this Christian family and their local business! His furniture store is:
Furniture Liquidators Corral
4011 Central Ave NE,
Albuquerque, NM 87108
(505) 907-3697
Manny and Grace are featured prominently in this news coverage of the Project 52 kick-off rally and press conference by local ABC station KOAT 7.  You can watch the video coverage here: Pastors gather to support late-term abortion ban
The vision of Project 52 is to activate 52 local churches to adopt the Late-Term abortion clinic, Southwestern Women's Options (SWO) for one week out of the year. Each church will have the freedom to minister as they see fit to each and every abortion minded woman. During their designated week, they will claim the Late-Term abortion clinic for every hour, every day SWO is open (Mon-Fri 9am-5pm).
Click here for more information about Project 52
Read these articles highlighting Pastor Manny's several years of Pro-Life ministry in Albuquerque, New Mexico:
Church Outside the Box…Sunday Church Service at Late-Term Abortion Clinic SWO