A New Season Has Begun at Southwestern Women's Options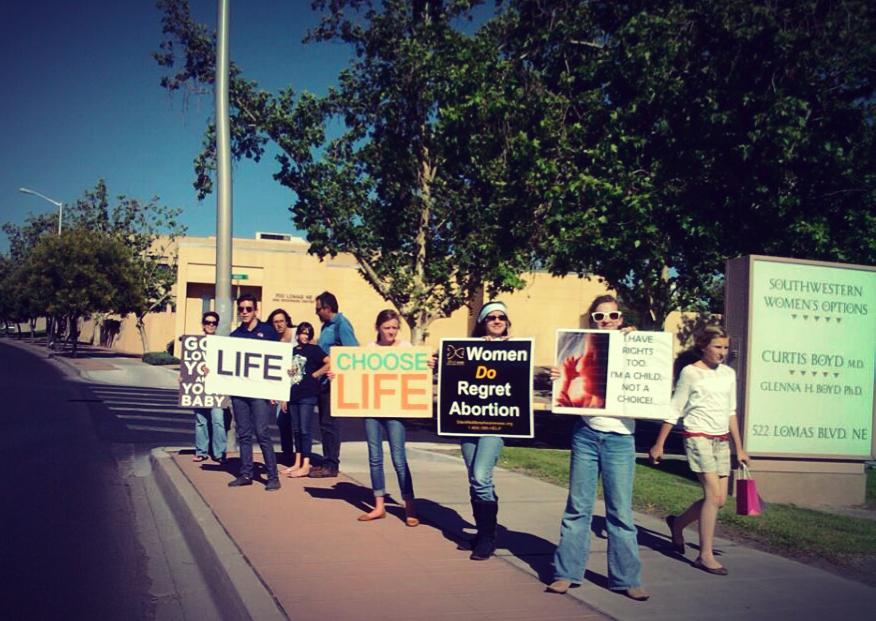 Bud Shaver, Project Defending Life
Sidewalk testimony: Tuesday October 1, 2013
As in everything, including sidewalk counseling, there are seasons. Over the past few weeks it has been quite difficult to even talk to anyone coming to Southwestern Women's Options (SWO) in ABQ. Possibly the heightened publicity both locally and nationally has factored in. While I have visibly noticed a decrease in women seeking abortions, in part I believe from the public awareness, those who still choose to go to SWO despite all the overflow of awareness are the hardest of hearts and the hardest to reach. Maybe this has been the case.
Today however, was different! This week kicked off Project 52 and there have been several new people including pastors and church leaders doing ministry, prayer and outreach at SWO for the first time ever! My mind has been distracted by all the focus on the referendum to end Late-term abortion in the city and all the details necessary for the launch of Project 52 I normally prepare myself to see God move in mighty ways when so many new, committed people come out to SWO for the first time!
Today was slow (which is a good thing!) however a car pulled up with Oklahoma plates and some of us each attempted to call the couple over to talk, to no avail. However a few minutes later the guy came out to smoke a cigarette and I called out to him and waved him over…and he did. He confirmed that they had driven all the way from Oklahoma and he stated that his wife was 5 months pregnant. He mentioned that they had a 3 year old child and that this was hard for them both but his wife needed the abortion or she would die.
This is pretty common to hear out at SWO. I asked if they were there to get the 3-4 day procedure and he said, "yes." I told him we were here to support them and had a lot of resources thanks to the ministry of Project Defending Life (PDL). I urged him to call PDL and speak with someone. We spoke for over 20 minutes I offered to pray with him but he declined, at the end of our conversation I told him to be sure to read and have his wife read the consent form they were obligated to sign. I pointed out how his wife had to sign that she understood that this abortion was actually more dangerous than pregnancy and I also highlighted that fact that the consent form also released their baby's remains to be used in medical research. I told him we were there for them both and we shook hands before he headed back inside.
There were several people out at SWO so we all gathered together for prayer.
About 20 minutes later they both came out and left as they pulled out of the parking lot one of the new sidewalk counselors asked them if they changed their mind, they responded that they were not going to have the abortion (something the sidewalk counselor conveyed about what they said led me to believe that after having the ultrasound she was further along than she had thought and couldn't do the fetal injection.) They were headed straight back to Oklahoma!
Literally two minutes later late-term abortionist, Shelley Sella, sped out and left SWO noticeably peeved! I'm guessing this couple from Oklahoma was the only reason she was there…she was counting on banking off of their late-term abortion!
NOPE!
Praise God…a new season has begun out at SWO!