2013 The Year of Public Awareness- ABQ Year In Review Top 5 Highlights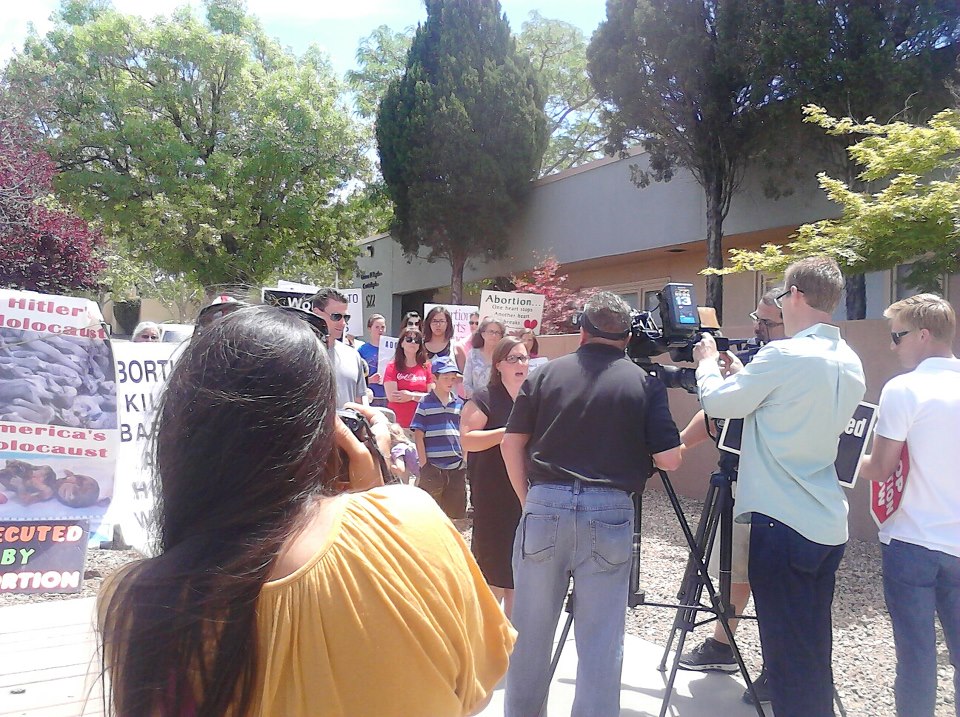 We have been so blessed and humbled to be a part of what God has accomplished in 2013. The citizens of ABQ have risen up in big ways and have brought so much awareness about late term abortions out into the open. This city is well on it's way to seeing an end to all abortions as we move forward sounding the alarm. We appreciate everyone who has stood by us this last year, lifting us up and encouraging us to keep going.
A special thank you as well to those at Project Defending Life for continuing to be the most active and comprehensive pro-life ministry in the state and for inviting us to come work alongside them.
#1- "New Mexico Pro-Life Training Conference & Public Awareness Campaign Aug. 2-9th"
Watch ALL of our guest speakers for the FIRST EVER, Survivors ABQ Pro-Life Training Conference, local and national news coverage, and many more interviews here: https://prolifewitness.org/2013-the-year-of-public-awareness-abq-year-in-review-highlight-1/
#2- "Historic Albuquerque citywide referendum, which was the first attempt in the country to restrict abortions at the local level."
Read about this historic effort and some great quotes from (just some of) the national news coverage over the past few months regarding this ballot initiative, which has LAUNCHED Albuquerque into the national spotlight, and has helped expose New Mexico's radical abortion agenda, here: https://prolifewitness.org/2013-the-year-of-public-awareness-abq-year-in-review-highlight-2-2/
#3- "In 2013, Project 52 was launched, Project 52 is an interdenominational church initiative engaging congregations for 52 weeks a year in promoting the sanctity of human life."
Back in May, Bud had the opportunity to speak at a National Day of Prayer event hosted here in Albuquerque, he encouraged local church leaders to become more active in our community as a voice for LIFE. In response to his talk, Bud met with local pastors about his vision for churches to become more active in our city. On September 30th, Project 52 was launched and we joined with local Pastors to host a press conference out at late-term abortion clinic Southwestern Women's Options. Click here to learn more about Project 52, listen to Bud's National Day of Prayer talk, news coverage and more: https://prolifewitness.org/2013-the-year-of-public-awareness-abq-year-in-review-highlight-3/
#4-"Exposed the fact that abortions are being done through all NINE months of pregnancy in ABQ, the reality that women who get abortions are putting their lives at risk…and oh yeah, put an abortionist under scrutiny by the New Mexico Medical Board for a botched 35 week abortion!"
2013 kicked off with the culmination of several years of hard work, investigations, and countless hours of research which produced a New Mexico Medical Board investigation into late-term abortionist Shelley Sella. Read all about it here: https://prolifewitness.org/2013-the-year-of-public-awareness-abq-year-in-review-highlight-4/
#5- "Last but definitely not least, wrapping up our, "Top 5 ABQ Year In Review Highlights"…Its YOU, your prayers, your support, and all of your efforts to help raise awareness here in ABQ- The late-term abortion capital of the country."
This year God answered our prayer to raise up workers for the harvest here in ABQ…and He answered it in a BIG way! We never would have guessed that in just one year so many people, churches, and church leaders would be activated to stand for life here in ABQ. Here are just some of the many testimonies of bold steps of faith from the christian community here in Albuquerque, New Mexico in 2013…and to God alone be the glory: https://prolifewitness.org/2013-the-year-of-public-awareness-abq-year-in-review-highlight-5/