Special Mother's Day Event In Front Of Late-Term Abortion Facility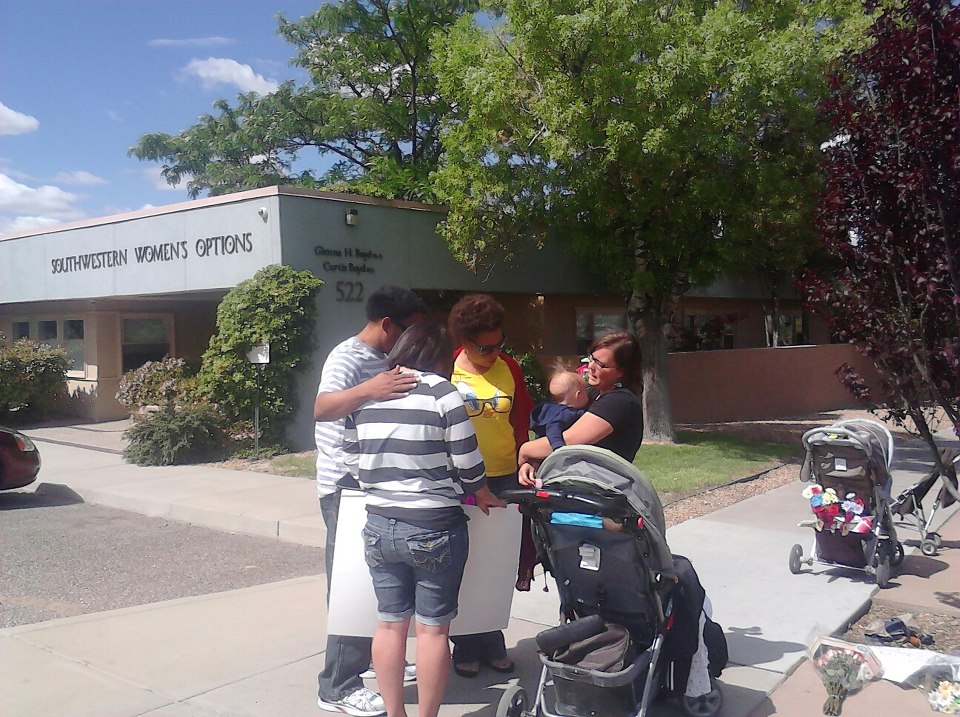 The sidewalk in front of the the late-term abortion facility in Albuquerque, New Mexico, was the setting on Friday for a special Mother's Day event. Over 60 people turned out for the Mother's Day Rally and Outreach in front of Southwestern Women's Options, and many showed up with homemade signs and also had flowers for the women going in.
Organizers Bud and Tara Shaver summed it up as follows:
"A lot goes into planning a successful event: buying flowers, making bouquets, getting all the literature that is passed out, signs, sending out event details, radio interviews, media press releases, etc.  With all the focus on the ministry directed at the women driving in and all the people driving by and the community at large, I was most struck today by how this event was successful as a ministry to us; those on the sidewalk, the pro-life community!  So many people connected with each other and realized the friends of friends that connect us all!  Everyone walked away uplifted, encouraged and wanting to do this again.  All in all, this event was a success for us, the pro-life community, and I look forward to all that God has in store for this city as we each step out in faith and commit to seeing lives changed and forever saved as we minister to this city and to one another.  To God be the glory!
This is how we light up the darkness and proclaim the love of Christ to our community!"
[slideshow_deploy id='1105′]
Here are a couple of comments made from pro-life people who attended the Mother's Day Rally and Outreach:
Nikki, "The best thing I did all week!  I can't wait to do it again!"
Sandi, "I thought I was going to minister and instead I came away encouraged and uplifted. God had a divine appointment for ME there today."
Bernadette, "I was blessed today at the Mother's Day Rally. Hey guys I was driving into my complex tonight and one of the ladies I meet for the first time ever at the Rally today Was coming out of the complex to her vehicle. I recognized this lady i meet at the rally and i said hi do you remember me from the rally today at the clinic she said yes then she said do you live here, i said I do. We exchanged apt. numbers. She said we'll have to knock on each other's door to visit. Now That's a God incident."