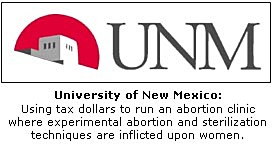 LATEST REPORTS ON UNM BY TARA SHAVER: 
UNM Pumps out Abortionists While the Overall Demand for Abortions Dwindle
UNM Doubles Down on Preventing The Truth From Coming Out About Their Abortion Involvement
This Postcard Drops Today, Contact UNM President Robert Frank 
EXCLUSIVE UPDATE: UNM Publicly Silent, Privately Scrambling in response to U.S. House Panel Investigation
How Much Money Does it Take For New Mexico GOP Leadership to Turn A Blind Eye?
New Mexico is one of 17 states where Medicaid currently pays for abortions and a new report today shows the state paid for well over 1,500 abortions in 2011 with more than one million in taxpayer funding using public funds.
Here are 4 reports about Tax Funded abortions in New Mexico by Tara Shaver:
New Mexico Forces Tax Payers to Fund 1,786 Abortions in 2011
New Albuquerque Investigation Reveals Tax-Funded Medicaid Pays for Hundreds of Late-term Abortions
Tax Funded Abortions on the Rise in New Mexico While Overall Abortions on the Decline
Hispanics Targeted for Death by Abortion According to 2013 New Mexico Vital Statistics
Also, Here are two undercover video's revealing the shocking truth about tax funded Late-Term abortion's at Southwestern Women's Options:

Call Reveals Medicaid Paying $16,000 to Abort 30-Week Down Syndrome Baby  (Click link for full report)
Undercover Calls Reveal Medicaid Pays For $9,000 Late-term Abortions With Our Tax Dollars  (Click link for full report)
In addition, here is a two part series by Tara Shaver about the University of New Mexico:
Exposé: Tax Funded Abortion Training and the Betrayal of True Medicine at UNM (Part 1)
A Look at the Radical Abortion Agenda at the University of New Mexico (Part 2)
Disturbing 911 Call Dramatically Confirms Abortion Dangers
UNM Lashes Out Over Release Of Disturbing 911 Recording of Abortion Emergency
UNMCRH Completely "Under the Radar"
According to Rick Pangborn, Medical Care Program Director with the Department of Health, there is no record at all of any kind of license for the UNM Center for Reproductive Health (UNMCRH). There is no record of UNMCRH ever having been inspected by any state regulator.
Read the full report here:
Injury-Prone New Mexico Abortion Clinics Operate In Shadows of Regulatory Gaps
We invite the public to voice concerns about the UNM's heavy involvement in abortion to Dr. Paul Roth.
Contact :
Paul B. Roth, MD, MS
Chancellor for Health Sciences
CEO, UNM Health System
Dean, School of Medicine
Phone: (505) 272-5849
E-mail: PRoth@salud.unm.edu