(VIDEO) #NewMexicoTrue: Land Of Unrestricted Abortion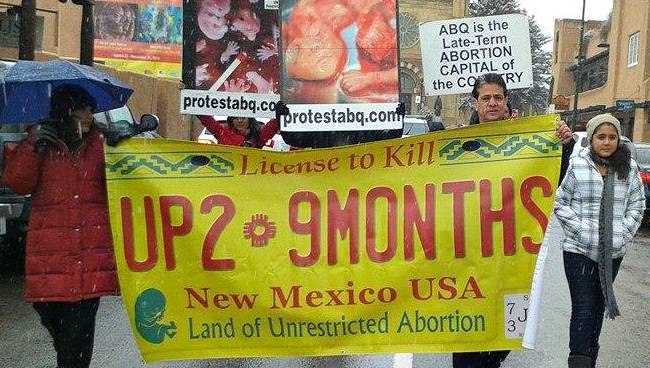 By Bud Shaver
Albuquerque, NM- New Mexico is one of the poorest states in the country and is consistently ranked lowest in education, child well being while also having one of the highest crime rates in the nation. The state is currently facing a budget crisis and is struggling to keep the government running.
According to a recent article by the Associated Press,
"Cash reserves are dwindling, which will soon leave state finance officials unable to cut checks. The governor warned that will affect the state's ability to make payroll and pay contracts."
However, if you need a late term abortion, New Mexico is the go to place. New Mexico may not be able to pay its state workers, but New Mexico Medicaid will pay over $15,000 to local abortionists to kill a child in the womb.
New Mexico is the land of unrestricted abortion. There are no limitations on when abortions may be performed and late term abortionists at Southwestern Women's Options have capitalized on the state's lack of protection for human life.
In a recorded phone call to Southwestern Women's Options on May 2, 2017, Abortion Free New Mexico confirmed that a late term abortion at 30 weeks of pregnancy was simple to obtain on the basis of a lost job and the prospect of another child adding more stress to the family unit. The life of the mother was not in danger and the baby was perfectly healthy.
Tara Shaver, spokeswoman for Abortion Free New Mexico issued the following statement:
"The myth that late term abortions only occur when a woman's life is at risk or when the baby has been diagnosed with an anomaly could not be further from the truth. Our latest video dispels this myth with proof that in New Mexico late term abortions are easy to come by.
New Mexicans deserve to hear the truth about the evil that is occurring in our state and our leaders must work to change the fact that New Mexico is the late-term abortion capital of the country."
Abortion Free New Mexico is working with Priests for Life to raise national awareness about late term abortion.
Father Pavone, National Director of Priests for Life noted that the majority of Americans do not support late-term abortion and do not want taxpayer money funding used to kill fully developed, well past viability children.
"Every abortion is an outrage, and we need to protect every baby. To educate our fellow citizens, let's start with the most obvious and outrageous part of the story: taxpayer-funded third-trimester abortions of healthy babies carried by healthy mothers."
Watch the video, inform yourself and others: #NewMexicoTrue: Land of Unrestricted Abortion
Abortion Free New Mexico is working with Priests for Life to raise national awareness about late term abortion and have released eight undercover recordings:

Priests for Life is the nation's largest Catholic pro-life organization dedicated to ending abortion and euthanasia. For more information, visit www.priestsforlife.org.