Praying for Peace After a Decade of War: What this Inauguration Means to Us…
By Bud Shaver
Albuquerque, NM- Eight years ago Tara and I joined a group of peaceful pro-life protesters in Washington D.C. at the crack of dawn onto the inauguration route of newly elected President, Barack Obama. In fact we (pro-lifers) were the very first presence allowed onto his inauguration route that day. Reverend Patrick Mahoney led the way through the check points with his secret service contacts amidst "boo's" from the massive crowds. We were protesting at an inauguration before it was a trendy thing to do but what did our banners say?
"Mr. President, 'Injustice anywhere is a threat to justice everywhere.'" ~Martin Luther King Jr.
We weren't violent or hateful though, in fact, we came in just the opposite spirit, we came peacefully and prayerfully to our nation's capital.
That inauguration ushered in the most radical pro-abortion administration in the history of America. We also had signs and trucks driving around the city stating and protesting,
"Obama, the Abortion President!"
Since then, Tara and I have traveled all across this great country starting with first moving from Flagstaff, Arizona to Los Angeles, California to work with the Survivors of the Abortion Holocaust. After working with Survivors, we moved from California to Wichita, Kansas to work as interns for Operation Rescue. After our internship with Operation Rescue, we moved to Albuquerque, New Mexico. In the past decade we have moved a total of 8 times! Between Tara and I, we have been unlawfully arrested over 14 times! We have been hacked, bombed, assaulted, death threatened, almost run over twice, slandered, designated as domestic terrorists, called extremists, cursed out by New Mexico GOP leadership, shunned, ostracized, fired from our Christian ministry, asked to leave churches we were attending and forced out of our home twice! (As Fr. Stephen Imbarrato always reminds us, Matthew 5:10-12)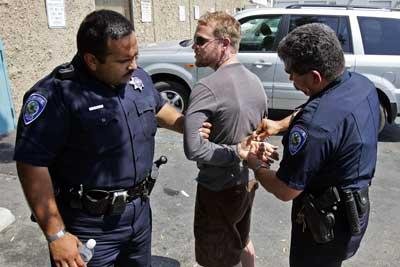 (2007 – Bud being illegally arrested in Los Angeles, CA)
Today, January 20, 2017,  Donald J. Trump was inaugurated as the 45th President of the United States of America and what a difference 8 years makes. With a brand new administration comes a new opportunity for hope! As Christians we are called to pray for our leaders. While we have offered countless prayers for our former president, Barack Obama, we have a glimpse at our prayers now being answered. Most Christians fail to realize that we are told what to specifically pray for regarding our leaders. Let's look at 1 Timothy 2: 1-2 …
"I urge, then, first of all, that petitions, prayers, intercession and thanksgiving be made for all people, for kings and all those in authority…
We are told specifically what to pray for…
"That we may live peaceful and quiet lives in all godliness and holiness."
While we will continue to hold our leaders, including Donald J. Trump and his administration accountable, our prayer is that our new president, will usher in a new season not just for our family, who is weary from battle, but also usher in a new season for our country. Vice President Mike Pence took his oath of office and placed his hand upon this verse in 2 Chronicles:
"If My people, who are called by My name, will humble themselves and pray, and seek My face and turn from their wicked ways, then I will hear from heaven, and will forgive their sin and will heal their land."
We are weary from a decade of being at war, our prayer is that God hears Vice President, Mike Pence's prayer and our prayer, that he will heal our land and that we can all live quietly and at peace, in all godliness and holiness.
(2007-2017) From Friendship Evangelists to Notorious Pro-Life Activists: Our battle in the trenches began a decade ago back in 2007…
Three Major Articles Documenting our pro-life efforts:
-VICE:  The New Face of the Anti-Abortion Movement
-New York Times: Albuquerque Becomes Latest Focal Point in Abortion Wars
-Albuquerque Journal: Albuquerque's anti-abortion crusaders: Bud and Tara Shaver take no prisoners in their 'culture of life' campaign

2007- 2008: From Friendship Evangelists to Notorious Pro-Life Activists-  Waking up Flagstaff Arizona
2008- 2009: Full-time Anti-Abortion Activists with Survivors of the Abortion Holocaust Los Angeles California
Starting in Washington D.C. at George Mason University after Barack Obama's Inauguration, we visited over 180 college and high school campuses all across the country educating our peers with the truth about abortion. We were invading Liberal "Safe-Spaces" before it was cool!
2009-2010: Interns With Operation Rescue In Wichita, Kansas
2010-Present (2017): Pro-Life Missionaries to Albuquerque, New Mexico
June 2010: Operation Rescue Sends Pro-life Missionaries To Albuquerque
August 2010: Protesters make a stand against anti-abortion group Operation Rescue
July 2011: Abortion Supporter Bloodies Peaceful Pro-Life Activist in Violent Beating
August 2012: Pro-Life Advocates in New Mexico Keep Fighting Abortion Industry
January 2013: New docs reveal horrific details of botched 35-Week abortion in New Mexico disciplinary case
February 2013: Late-Term Abortion Debate Turns to ABQ
September 2013: Albuquerque Becomes Latest Focal Point in Abortion Wars
November 2013: The right's scary new test lab: Antiabortion activists take over a major city- How one little-known couple helped turn Albuquerque into a petri dish for a new, national strategy to ban abortion
November 2013: Albuquerque Pro-Life Campaign Site Hacked, E-Mail Redirected to Pro-Abortion Campaign
January 2014: Did late term abortion campaign trigger pipe bomb attack by pro-choicers?
CNN, Albuquerque: New path for abortion opponents
MSNBC, The new frontier of the abortion wars 
New York Times: Albuquerque Becomes Latest Focal Point in Abortion Wars
The Washington Times, Abortion battle goes local in New Mexico as Albuquerque votes on 20-week ban
Los Angeles Times, Albuquerque becomes latest abortion battlefield
TIME, Albuquerque Abortion Battle Gains National Attention
Bloomberg, Abortion Battle Goes Local From Fairfax to Albuquerque
The Associated Press (AP), Albuquerque vote targets late-term abortion clinic
The Associated Press (AP), Anti-abortion groups to fight on after NM defeat
Talking Points Memo, Albuquerque's Anti-Abortion Activists Unfazed After 20-Week Ban Defeat
The Wall Street Journal, Albuquerque Voters Reject Bid to Ban Late-Term Abortions
December 2013: Bud and Tara Shaver 2013 pro-life persons of the year
December 2014: Documented At Least 17 Known Abortion Related Injuries At ABQ Abortion Clinics
2014- Present (2017): Protest ABQ Full-Time Protest Campaign With Fr. Stephen Imbarrato: The Protest Priest
Media Matters: What Media Should Know About The Anti-Choice Group Protest ABQ
October 2014: Are Anti-Abortion Activists Determined to Topple Their Pro-Life Governor?
March 2014: Abortion opponents picket UNMH boss's neighborhood
March 2014: Pro-Life Protests Force University of New Mexico Abortion Clinic to Relocate
September 2015: ABQ mayor denounces tactics from anti-abortion group
March 2015: "Crazy" Antics and Dirty Tricks Kill Hospital Admitting Privileges Bill in New Mexico
December 2015: Breaking: UNM Halts Abortion Rotation at Late-Term Abortion Facility But Continues to Break the Law
(Part 1) Exposé: Tax Funded Abortion Training and the Betrayal of True Medicine at UNM
(Part 2) Lobos of Death: A Look at the Radical Abortion Agenda at the University of New Mexico
January 2016: Albuquerque's anti-abortion crusaders
January 2016: Presentation to New Mexico Legislators "Inside NM Reproductive Health Clinics"
June 2016: Pro-lifers' discovery leads to exposure of baby parts trade in New Mexico
September 2016: Congressional Investigation Documents University of New Mexico's Use of Aborted Fetal Tissue
December 2016: New Mexico Baby Body Parts Scandal Timeline Recap
Bud and Tara Shaver's Highlights of 6 Years of Ministry in New Mexico:
2016 Year In Review: Top 5 Highlights 
2015 Bud and Tara Shaver's Year In Review
2014 Year In Review: Top 5 Highlights
2013 Year In Review (5 post highlights)
2013 The Year of Public Awareness- ABQ Year In Review Highlight #1
2013 The Year of Public Awareness- ABQ Year In Review Highlight #2
2013 The Year of Public Awareness- ABQ Year In Review Highlight #3
2013 The Year of Public Awareness- ABQ Year In Review Highlight #4
2013 The Year of Public Awareness- ABQ Year In Review Highlight #5
2012 Year in Review: Prayer and a Pro-Life Witness
2011 Year In Review: Prayer and a Pro-Life Witness
For more information visit our websites:
Also visit: