We Will Continue To Give It Our All For A Better New Mexico!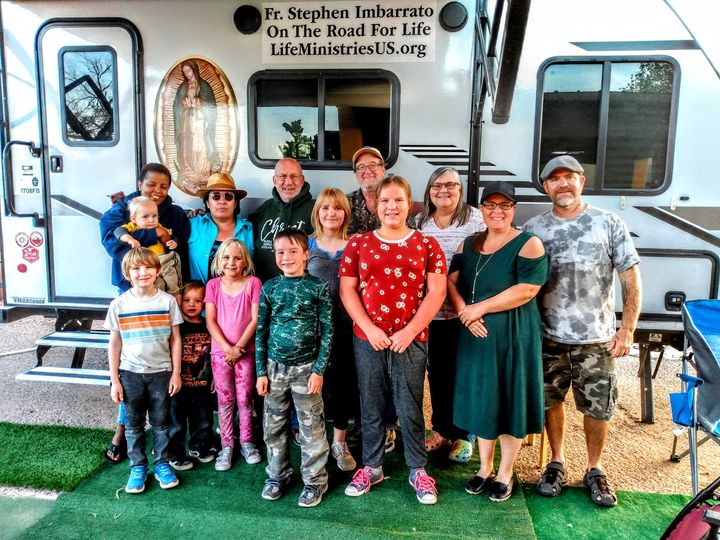 By Bud Shaver,

Albuquerque, New Mexico– Thank you for continuing to lift us up in prayer, for your encouragement and your support. With your help and God's provision, our family is doing everything we can to change the direction of our state. Just when we think we couldn't possibly add one more thing to our plate, the Lord opens the door for new opportunities.

This month, we have been blessed with the ability to work at the grassroots level to not only pray and be a light in the darkness but to be proactive in our community as salt to help elect good leadership and preserve our God given rights. Please join us in our efforts if you are local and if not please continue to pray that New Mexicans want a change in leadership that will represent our conservative values and will fight for them.

Between now and November we will give it our all for a better New Mexico, as we also raise our children to love the Lord and to love the mission field that we have been called to serve.

You are a blessing to the moms, babies and future generations we are working to protect. Thank you for making our efforts possible. God bless you!
BREAKING: UNM PAYS FAMILY $365,000 FOR NEGLIGENT REFERRAL IN ABORTION DEATH CASE
As reported by Operation Rescue- The University of New Mexico has settled a negligent referral case with the family of Keisha Atkins, who died on February 4, 2017, as the result of a septic abortion she obtained at Southwestern Women's Options in Albuquerque, New Mexico. UNM agreed to pay $365,000 for referring Atkins to Southwestern Women's Options (SWO) for an elective 24-week induction abortion that killed her. Operation Rescue first learned of Atkin's abortion death after Abortion Free New Mexico received a tip that Atkins had died as the result of an abortion. Abortion Free New Mexico requested and received Atkin's autopsy report then consulted with Operation Rescue over the confusing determination that she died from her pregnancy, not the abortion.
However, once the autopsy report was analyzed, it became obvious that the listed cause of death was untrue, and that UNM, which conducted Atkins' autopsy, was attempting to cover up for SWO's apparent negligence as well as their own liability in the tragedy. Over five years after Keisha Atkins' avoidable death, attorneys with Abortion On Trial, who discovered more information about Atkins' death and ensuing cover-up, were eventually able to reach a settlement agreement with UNM.
Successful Launch of No Sidewalk Without the Savior: Every Day Covered, Next Goal Every Hour!
On April 1, 2022 we launched our prayer initiative, "No Sidewalk Without the Savior" at the Isleta Church of Christ: Iglesia De Cristo which is he closest church, located 0.5 mile away, from the UNM Center for Reproductive Health- UNMCRH late-term abortion facility. Together we gathered for collective prayer & speakers, and prayer walked to the UNMCRH abortion facility.
​In Matthew 18:20 Jesus tells us that, "For where two or three gather in my name, there am I with them."
No Sidewalk Without the Savior is an effort to make sure that two people are prayerfully present outside of the UNM Center for Reproductive Health abortion facility every hour that they are open. When the body of Christ is present and available, God is able to open hearts and minds to the reality of what is happening in our community and to also bring conviction to the women seeking abortions there. Abortion Free New Mexico is asking the pro-life community to come together and volunteer for just a one-hour weekly or monthly commitment at a location where the hope of Christ is so desperately needed.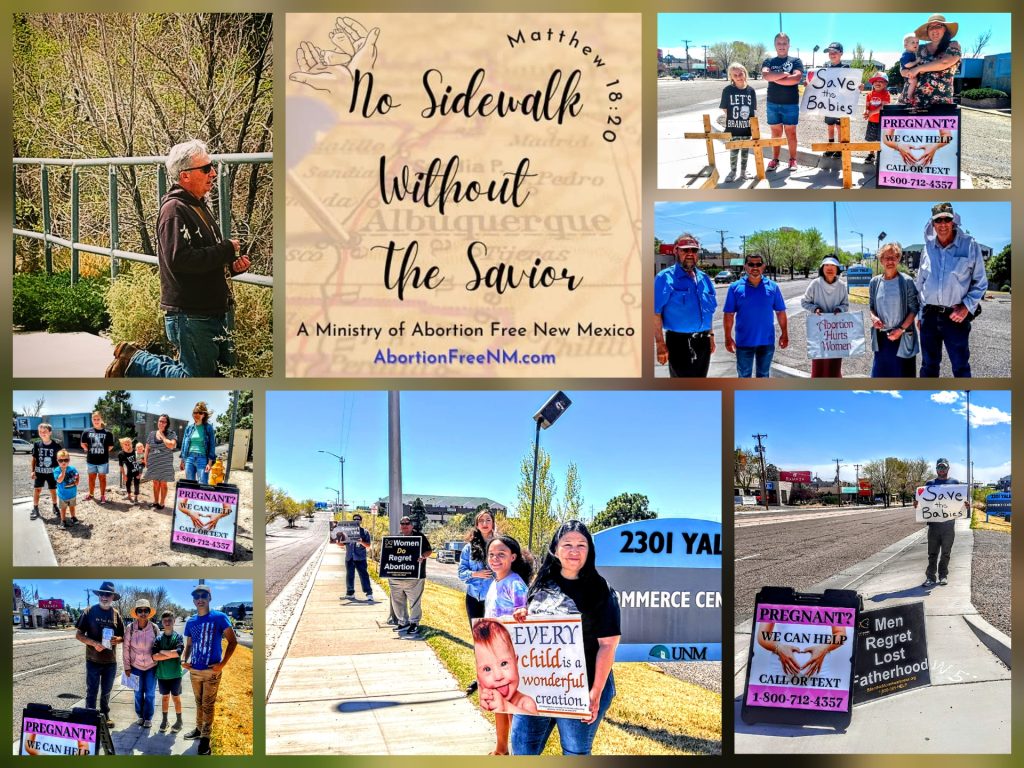 During the first month of our prayer campaign, "No Sidewalk Without the Savior," we are grateful to our volunteers and day coordinators who helped to make sure that the UNM late-term abortion facility had a prayerful presence every DAY they were open! Our next goal is to have prayer every HOUR that they are open. It's going to take a small army to accomplish this but our God is able. Volunteers Needed.
Knowledge is Power Forum
This month, Abortion Free New Mexico was grateful for the opportunity to present information at the "Knowledge is Power Forum" hosted by Off The Cuff ABQ Talk Radio to state and local Albuquerque candidates. It was a great opportunity to bring these candidates up to date on the abortion crisis we now face in the absence of pro-life laws.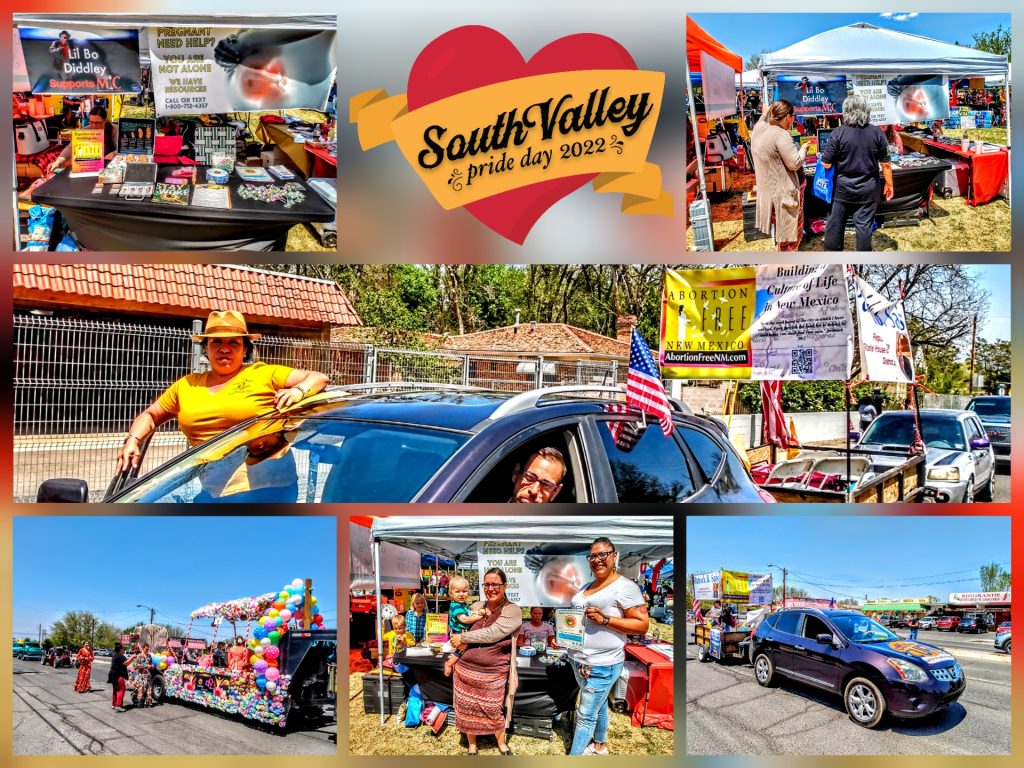 To Build a Culture of Life in New Mexico, you have to be where the people are! This month Abortion Free New Mexico represented our Pro-Life Values at the South Valley Pride Day 2022 with Options Beyond Adoption and Off The Cuff ABQ Talk Radio. This was a well attended parade and community event in celebration of Albuquerque's South Valley.
Pro-Life Training Seminar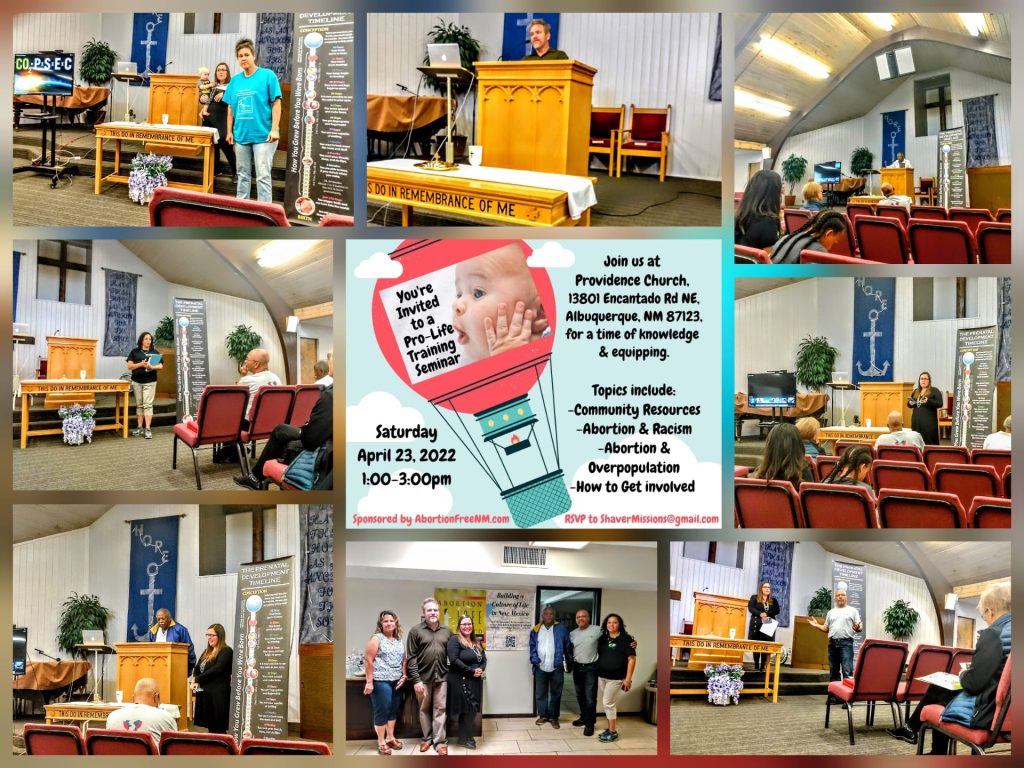 Abortion Free New Mexico's Pro-Life Training Seminar hosted at Providence Presbyterian Church this month was a huge success! Special thanks to our wonderful guest speakers: Doug Abrams of Casa De Mariposa, Rita Rodriguez of Options Beyond Adoption and Clarence Washington Sr. Author of, "Hijacked! How Dr. King's Dream Became a Nightmare".
Visit AbortionFreeNM.com for our latest updates, investigative reports and learn how you can get involved locally.
There is a place for everybody in the Pro-Life Movement.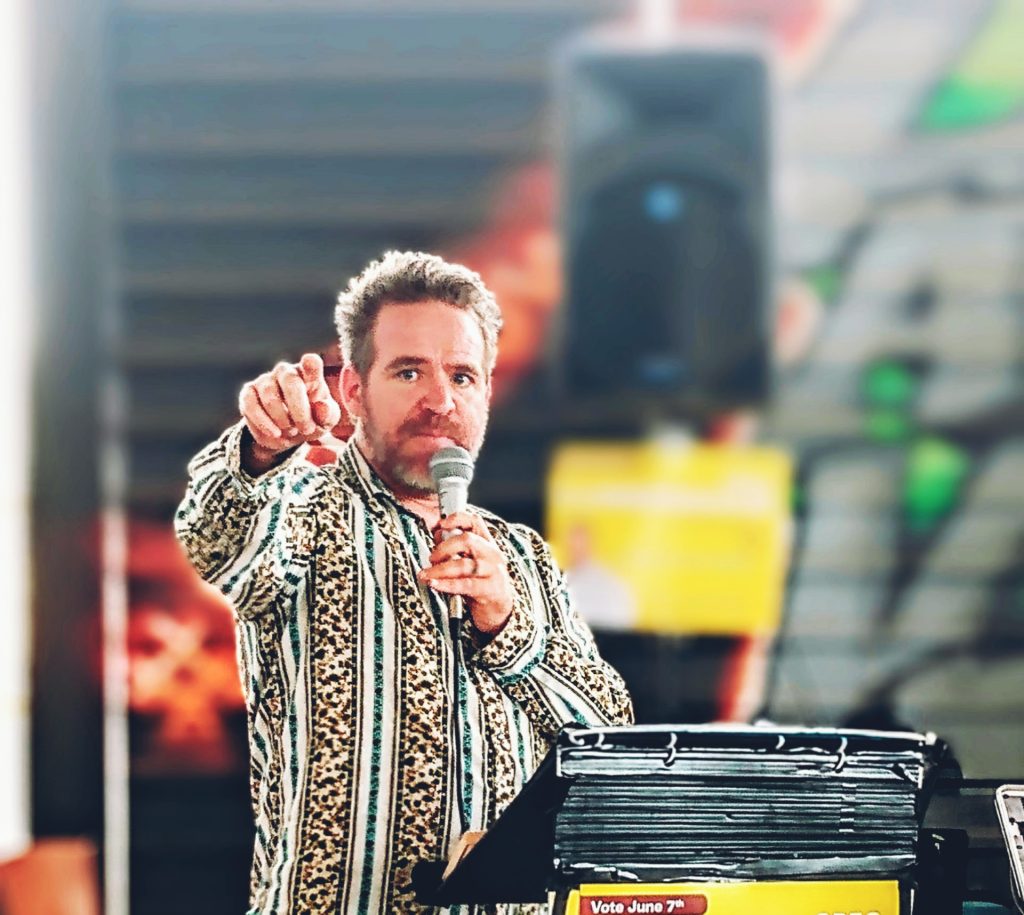 Bud is pleased to announce that he has been appointed as the Republican Party of Bernalillo County, Ward Chairman of District 29.  
Bud Shaver issued the following statement,
"My wife Tara and I are known for our pro-life ministry efforts and for several years now have worked diligently to support candidates in various ways. Whether serving on campaigns, or going door-to-door we have supported and worked for Republican candidates. I am excited to serve our Ward through recruiting, holding meetings, hosting events and ultimately working to make sure that Republicans are elected in our district."
Faith to Action Friday (May 6, 2022)
The University of New Mexico- UNM is at the heart of the abortion cartel in New Mexico, as a publicly funded institution UNM performs late-term abortions up to 6 month, consistently promotes a culture of death and is actively training the next generation of abortionists.
Join us for Prayer & Stand Up For Life at the University of New Mexico's free standing abortion facility.
Friday May 6, 2022
Time: 10-11am
Location: UNM Center for Reproductive Health (2301 Yale Blvd. SE. in Albuquerque.) Use street parking on Renard.
Your monthly and one time donations enable us to do this life saving work full-time. Click here if you would like to donate securely online. We use Cornerstone Payment Systems as a Christian alternative to Paypal. Also, now offering an e-check option.
Thank you for your continued prayers, support and for standing with us in this battle for LIFE.