Primary Election: 2022 New Mexico Candidate Pro-Life Pledge Signers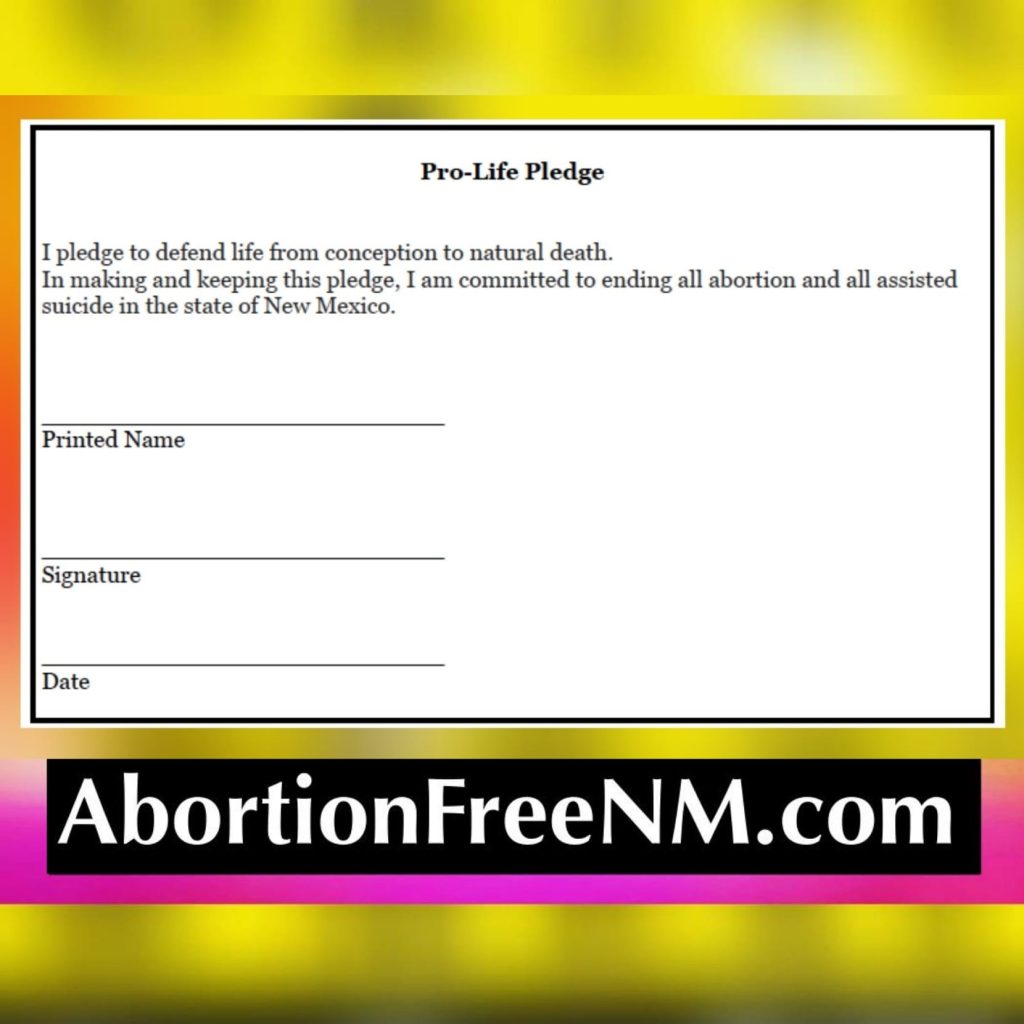 By Bud Shaver

Albuquerque, New Mexico- [UPDATED] Abortion Free New Mexico is pleased to release its most up to date list of candidates who will appear on the June 7, 2022 New Mexico primary ballot who have signed a simple yet solid pro-life pledge. This pledge serves as a tangible declaration that defending life is a priority to each candidate that signs it. It is an assurance for the voter to know where each candidate stands on the most fundamental right we are endowed by our Creator with, the right to life.
If you are currently running for office in New Mexico and have not signed our Pro-Life Pledge, there is still time! Click HERE and follow the instructions. (We will update this list as candidates sign!)

While Abortion Free New Mexico can not endorse candidates, we strongly urge support of these candidates with your vote, your time and by making a donation to their campaign. This election year it is crucial for New Mexico to elect new leaders to represent we the people across the state. With the potential of Roe v. Wade being overturned, New Mexico is poised as ground zero for abortions because we have no laws protecting women and children from the horrors and heartache of abortion.

Abortion Free New Mexico is committed to let you know who stands for life and just as Planned Parenthood pledges support for their candidates who oppose life, the pro-life community must get in the battle to save New Mexico and future generations.

​Abortion Free New Mexico's Pro-Life Pledge states:
"I pledge to defend life from conception to natural death. In making and keeping this pledge, I am committed to ending all abortion and all assisted suicide in the state of New Mexico."
​Tara Shaver of Abortion Free New Mexico issued the following statement,
"We are encouraged to have so many candidates sign Abortion Free New Mexico's pro-life pledge to defend life from conception until natural death. We have worked hard over the years to encourage all of the candidates to boldly stand for life. We are thankful that so many candidates in virtually every elected office are not shying away from boldly declaring their pro-life position. These candidates are proud to stand for life and we stand with them for a better New Mexico. Together we are a stronger voice for those who have none.
Let your voice be heard on Primary election day, Tuesday June 7th at these Bernalillo County locations. Early voting ends on June 4th, click here to find your statewide voting location.
Primary Election: 2022 New Mexico Candidate Pro-Life Pledge Signers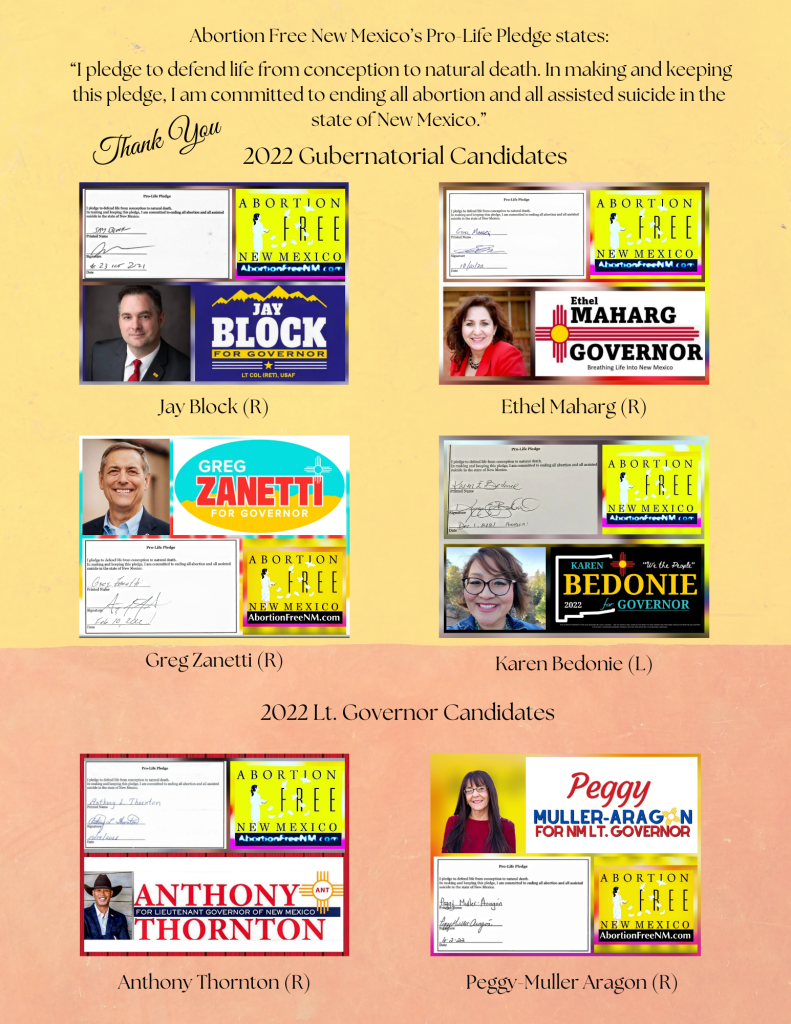 New Mexico 2022 Gubernatorial Candidate Pledge Signers on the Primary Ballot
New Mexico 2022 Lieutenant Governor Candidate Pledge Signer on the Primary Ballot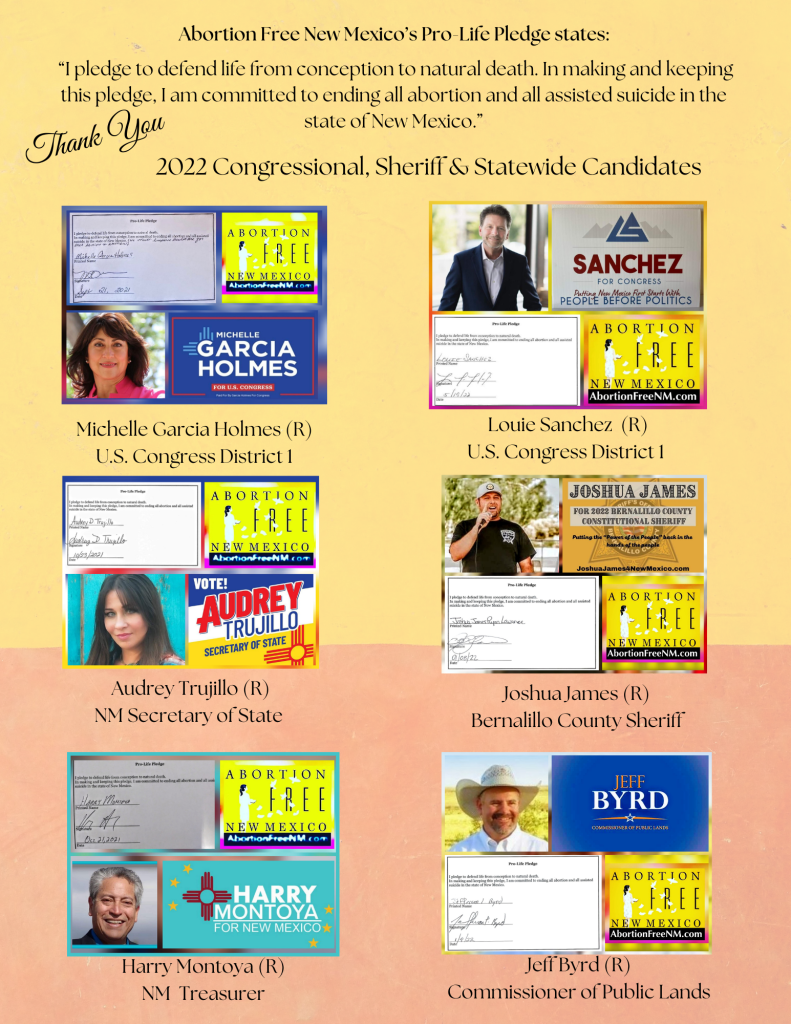 New Mexico 2022 Statewide Candidate Pledge Signers on the Primary Ballot
New Mexico 2022 U.S. Congressional Candidate Pledge Signers on the Primary Ballot
New Mexico 2022 Sheriff Candidate Pledge Signer on the Primary Ballot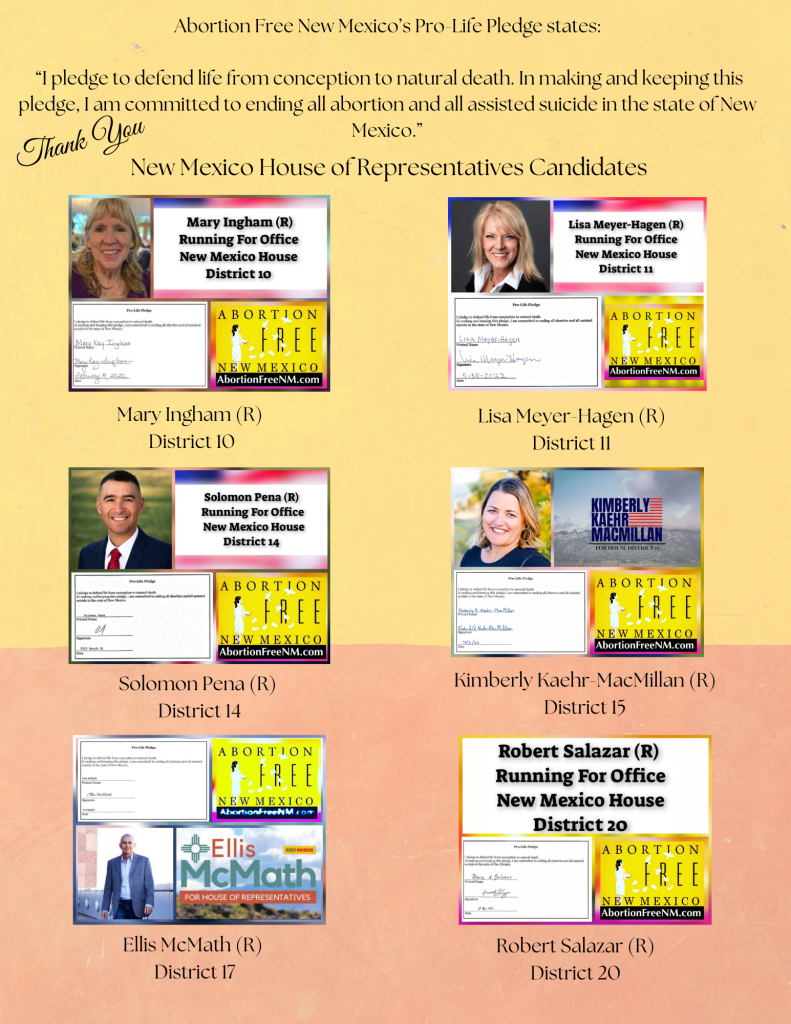 New Mexico 2022 House of Representatives Candidate Pledge Signers on the Primary Ballot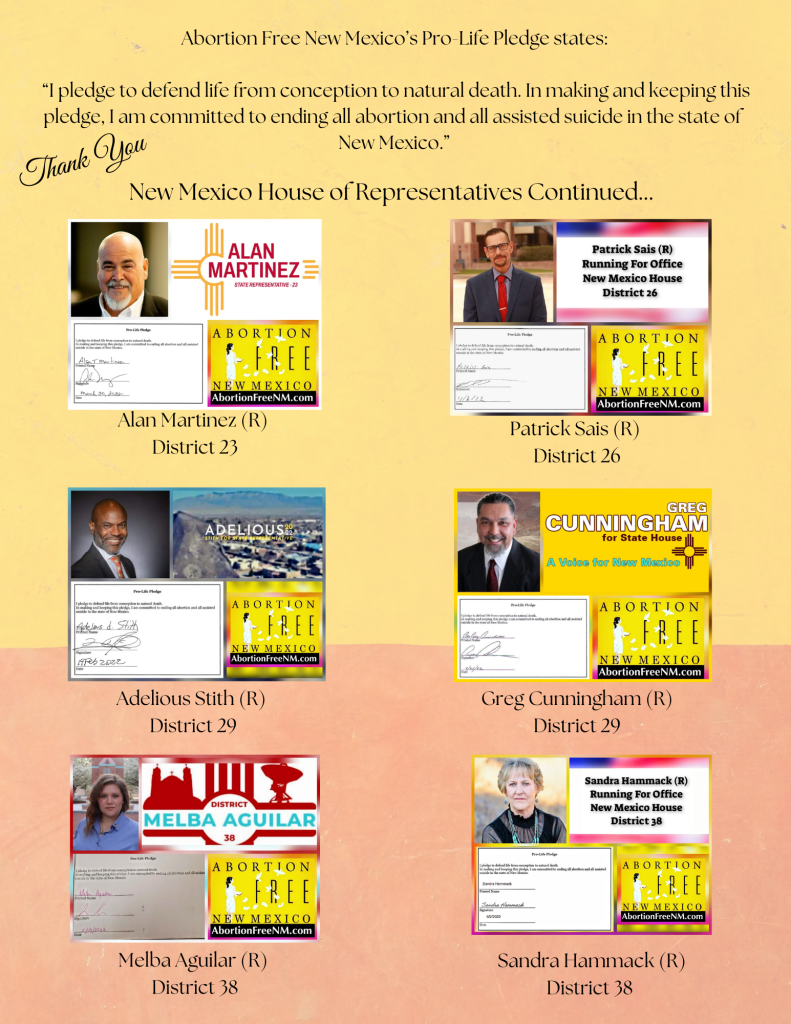 New Mexico 2022 House of Representatives Candidate Pledge Signers on the Primary Ballot Continued…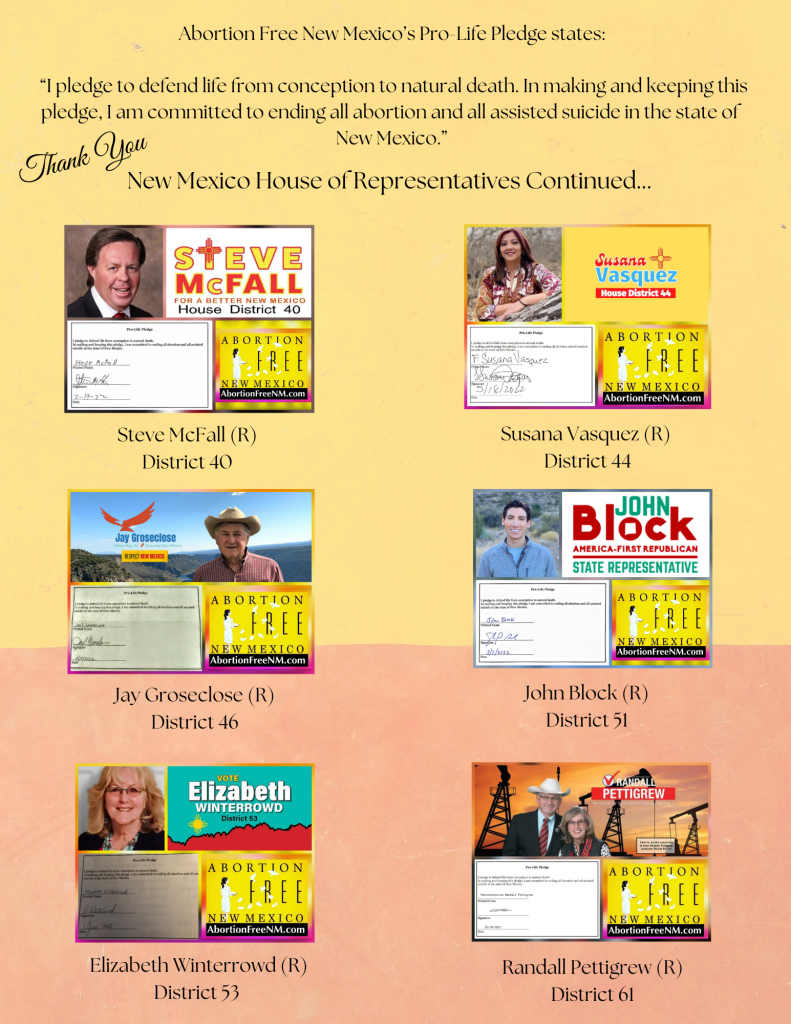 New Mexico 2022 House of Representatives Candidate Pledge Signers on the Primary Ballot Continued…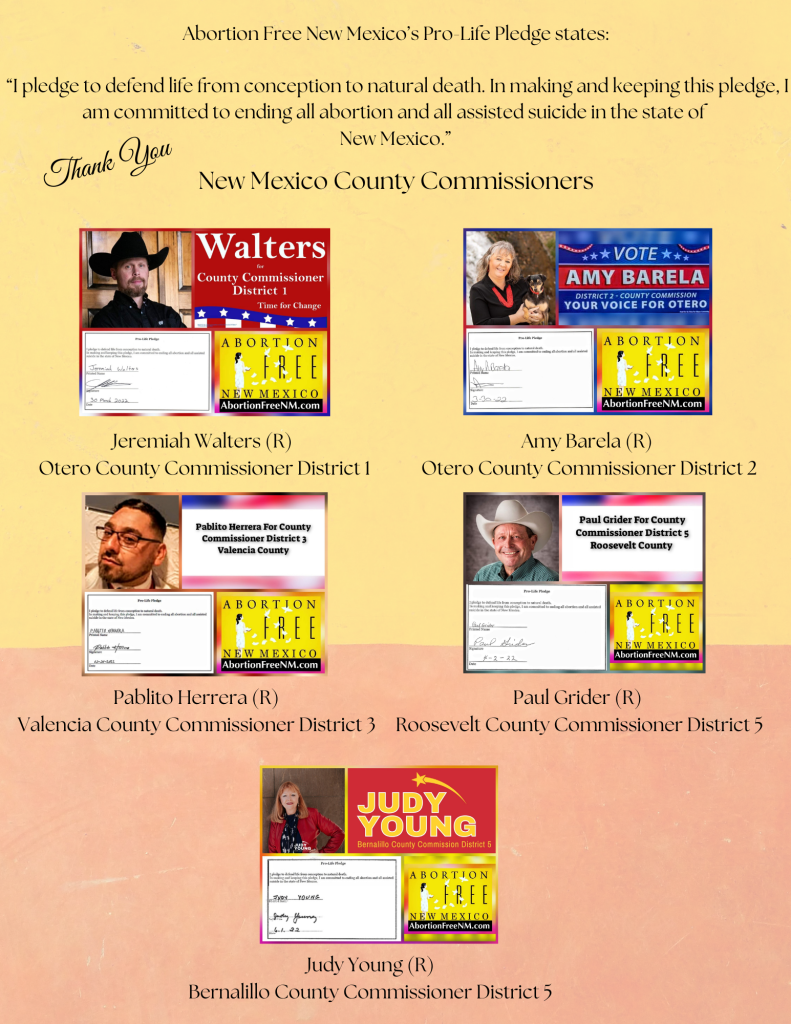 New Mexico 2022 County Commissioners Candidate Pledge Signers on the Primary Ballot
RELATED REPORTS:
TARA SHAVER ON LOCAL NEW MEXICO SHOW: THE PARADIGM SHIFT HOSTED BY JP