UNM Committed To Expand Abortion Services In New Mexico with Assistance from the Federal Government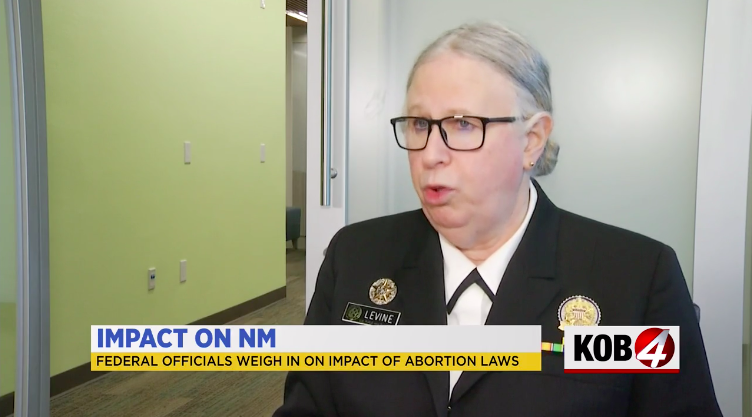 By Bud Shaver
Albuquerque, New Mexico- On Thursday May 26, 2022 transgender Assistant U.S. Health and Human Services Secretary "Rachel" Levine toured the UNM Center for Reproductive Health free-standing abortion facility and pledged that the Biden Administration was committed to expanding abortion services in New Mexico in light of the leaked Supreme Court memo revealing the potential overturning of Roe v. Wade.
This visit came just nine days after Tara Shaver of Abortion Free New Mexico appeared on the Infowars War Room with Owen Shroyer detailing how New Mexico is currently the late term abortion capital of our nation and is poised to be, "ground zero for abortion period" once Roe v. Wade is overturned. 
All-American Women Give Life To Their Children from Abortion Free New Mexico on Vimeo.
Levine, the Biden Administration representative, spoke to KOB 4 news and revealed the federal government's radical abortion expansion agenda:
"It is absolutely critical for New Mexico to continue to allow the full range of reproductive health services that women need, including abortion services," Levine said.

​UNM officials told KOB 4 they're committed to taking on extra patients.

"If the decision follows the outline of the draft, then it's going to severely impact women's reproductive health rights and the ability to receive the full range of services in many states," Levine said. "To be able to provide those services for women in New Mexico, and for many other states, they need to look to expand those services. We'll work to support them."
​Tara Shaver of Abortion Free New Mexico issued the following statement,
"While many Americans oppose the use of federal funds to pay for abortions, and this is prohibited by the Hyde Amendment, it is egregious that the Biden administration has plans to work with the University of New Mexico to prop up the collapsing abortion industry and to utilize federal assistance to fund abortion tourism. These actions will only serve to further the culture of death in our state and the devaluing of human life in the womb.

Just as the federal government is desperately working to enable the University of New Mexico to expand abortion in our state, Abortion Free New Mexico is equally committed to meet the real needs of women in our community. Every day volunteers prayerfully position themselves outside the University of New Mexico abortion center and are prepared to let women know that there is hope and an abundance of pregnancy resources available to them."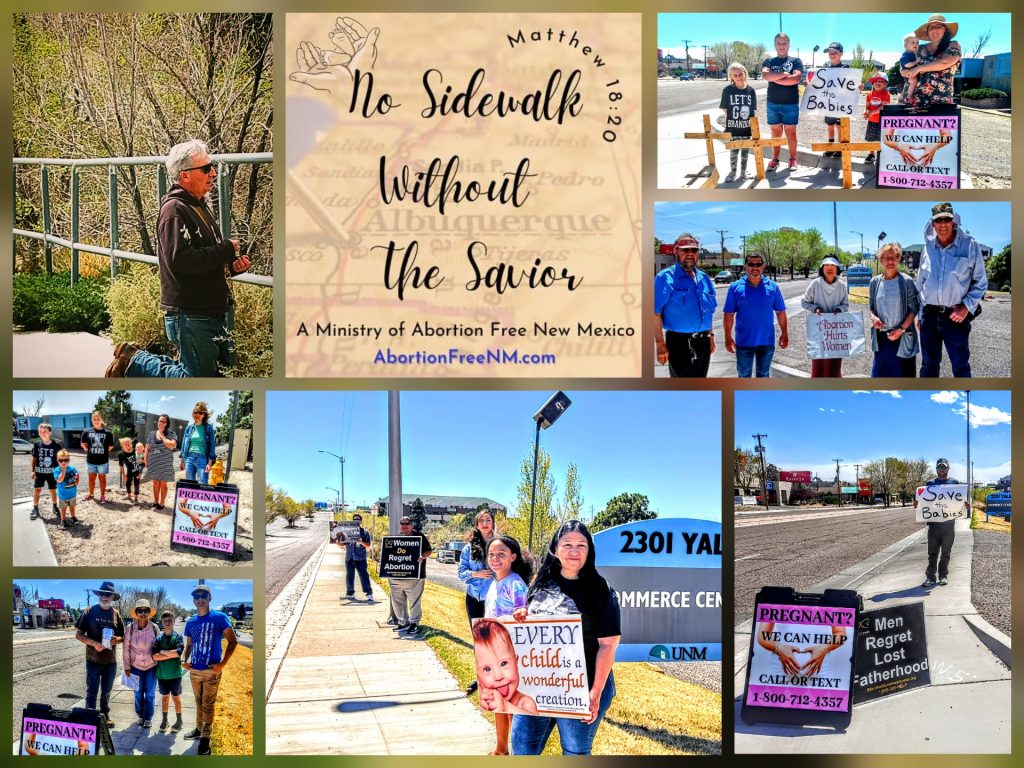 Abortion Free New Mexico is on the Front Lines 
The pro-life community has an amazing opportunity to grow together as a powerful life saving force. Abortion Free New Mexico's daily prayer campaign, No Sidewalk Without the Savior, is a practical way to bring the body of Christ onto the sidewalks in front of the UNM Center for Reproductive Health abortion facility.
Here are a few glimpses of how Abortion Free New Mexico's prayerful presence is making a difference:
From a Tuesday Volunteer: "A gentleman pulled up to the stop sign and called out to us telling us that he was not going to abort his baby, that he was going to keep his baby. He then did the sign of the cross and seemed so full of joy."
From a Thursday Volunteer: "We spoke with a gentleman about the Roe vs. Wade decision that so many are thinking and talking about right now. He seemed like maybe he was from another country but was very open to learn about the implications of this ruling. I know we gave him food for thought."
Dinah Vargas and Tara Shaver encountered a woman who was leaving the nearby motel. In a divine appointment she disclosed that she is pregnant, living in hotels and in desperate need of housing. We were able to give her resources and are keeping in touch with her to make sure she gets all of the help and support she needs. Please pray for the moms with housing needs as it can be a very long drawn out process for them.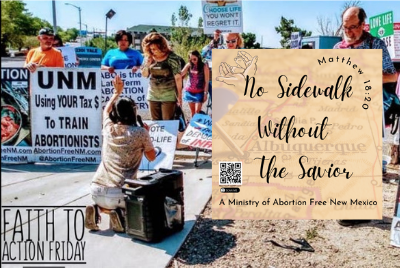 Join us for Prayer & Stand Up For Life at the University of New Mexico's free standing abortion facility.
When: Friday June 3, 2022
Time: 10-11am
Location: UNM Center for Reproductive Health (2301 Yale Blvd. SE. in Albuquerque.) Use street parking on Renard.