NEW DETAILS: Republican City Councilors Must Resign After Voting To Fund Planned Parenthood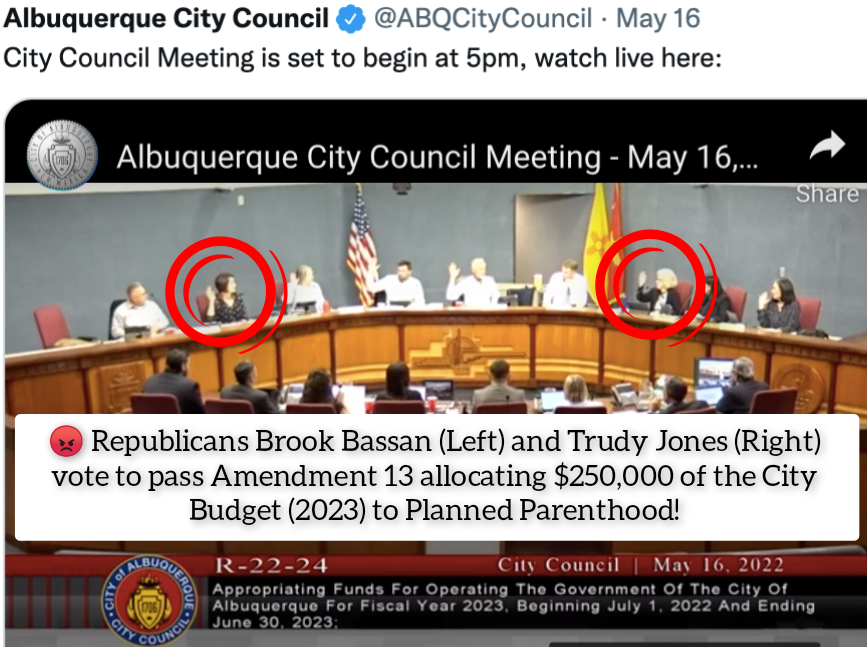 By Bud Shaver

Albuquerque, New Mexico- Abortion Free New Mexico has obtained additional information, including video and documentation, outlining how the Albuquerque City Council voted to give Planned Parenthood of New Mexico $250,000 for fiscal year 2023.
The vote in question was an amendment to the city's operating budget. Each amendment requires a separate vote to be either approved or denied. The final outcome for Floor Amendment 13 below specifically states, that it "adds $250,000 for a Council directed sponsorship to Planned Parenthood of New Mexico" and was sponsored by Councilor Tammy Feilbelkorn. The  amendment also shows exactly who voted for it and who voted against it and two republicans voted for its passgage.
Vote on Amendment 13 Giving… by Bud Shaver
This amendment vote was taken separately from the overall budget vote. The budget vote passed by a 7-2 margin and the entire step by step process can be seen in the Albuquerque City Council twitter feed below.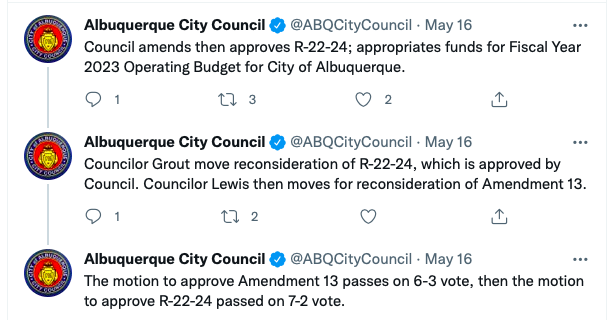 Albuquerque City Councilors: Isaac Benton (D-District 2), Klarissa Peña (D-District 3), Brook Bassan (R-District 4), Pat Davis, (D-District 6), Tammy Fiebelkorn (D-District 7), and Trudy Jones (R-District 8) voted in support of Amendment 13 and demonstrates to their constituents where they stand on the issue. These Councilors voted to give funds to the nations largest abortion provider and the organization that is at the forefront of promoting depraved sex education to minors as well as recently began offering gender affirming hormone therapy. Planned Parenthood has a radical anti-family and anti-life agenda that targets women and children and should never receive one dime from taxpayers.
😡 Republicans Brook Bassan (Left) and Trudy Jones (Right) vote to pass Amendment 13 allocating $250,000 of the City Budget (2023) to Planned Parenthood! pic.twitter.com/c5llnPIMiK

— 🇺🇲 Abortion Free New Mexico (@AbortionFreeNM) May 19, 2022
Abortion Free New Mexico would like to thank City Councilors Dan Lewis (R-District 5), Renée Grout (R-District 9) and Louie Sanchez (D-District 1) for voting against Amendment 13 in order to prevent the citizens of Albuquerque from forcible funding of the New Mexico abortion industry.
"Abortion Free New Mexico is renewing the call to republican City Councilors Brook Bassan and Trudy Jones to resign immediately and to issue a public apology to their constituents. There must be accountability for leaders that have made the citizens of Albuquerque involuntarily responsible for the atrocities occurring at Planned Parenthood of New Mexico. I'm sure that the constituents in City Council Districts 4 and 8 are not happy about this misuse of funds and should contact Bassan or Jones immediately to express disapproval and ask for their resignation," stated Tara Shaver of Abortion Free New Mexico.
TAKE ACTION: Abortion Free New Mexico urges you to contact councilors Bassan and Jones to express your disapproval of their actions and to urge them to resign immediately.