November Newsletter 2013: A New Season Has Begun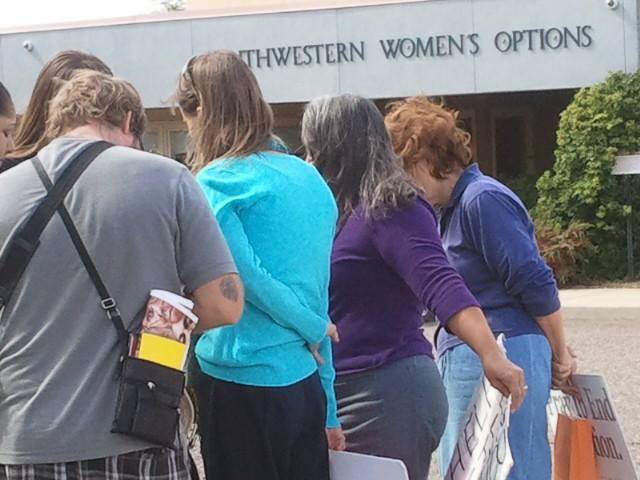 Since the launch of Project 52 at the Late-Term abortion clinic Southwestern Women's Options  we continue to work on making sure that it is being covered every hour, every day, reaching every woman!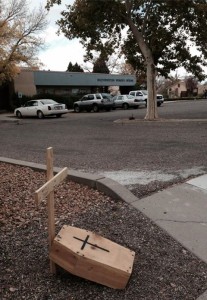 As in everything, including sidewalk counseling, there are seasons. We have endured many weeks of difficult to even talk to anyone coming to Southwestern Women's Options (SWO) in ABQ. We attribute this, in part, to the heightened publicity both locally and nationally has factored in. While we have visibly noticed a decrease in women seeking abortions, due to our public awareness efforts, those who still choose to go to SWO despite all the overflow of awareness are the hardest of hearts and the hardest to reach.
This first month of Project 52 was different! There have been several new people including pastors and church leaders doing ministry, prayer and outreach at SWO for the first time ever! I am always excited to see God move in mighty ways when so many new, committed people come out to SWO for the first time!
One day this month was slow (which is a good thing!) however, when  a car pulled up with Oklahoma plates a couple of us attempted to call the couple over to talk, to no avail. As is the usual scene, a couple of minutes later the guy came out to smoke a cigarette and I (Bud) called out to him and waved him over…and thankfully he did. He confirmed that they had driven all the way from Oklahoma and he stated that his wife was 5 months pregnant. He mentioned that they had a 3 year old child and that this was hard for them both but his wife needed to abortion or she would die.
This is pretty common to hear out at SWO. I asked if they were there to get the 3-4 day procedure and he said, "yes." I told him we were here to support them and had a lot of resources thanks to the ministry of Project Defending Life (PDL). I urged him to call PDL and speak with someone. We spoke for over 20 minutes I offered to pray with him but he declined, at the end of our conversation I told him to be sure that he and his wife carefully read the consent form that she would be obligated to sign. I explained that this form clearly states that carrying the baby to term is safer than having an abortion after 18 weeks. I also told him how this same form would  release their babies remains to be used in medical research. I reiterated to  him that we were there for them both and we shook hands before he headed back inside.
There were several people out at SWO so we all gathered together for prayer.
About 20 minutes later they both came out and left ! As they pulled out of the parking lot one of the new sidewalk counselors asked them if they changed their mind, "They responded that they were not going to have the abortion (something the sidewalk counselor conveyed about what they said led me to believe that after having the ultrasound she was further along than she had thought and couldn't do the fetal injection.) They were headed straight back to Oklahoma!
Praise God…a new season has begun out at SWO!
Final Victory Before Historic Local Election
In October we also fought our last battle to ensure that the late term abortion ban made it onto a city wide election ballot. Those who oppose us and oppose life pulled out all of the stops to try to thwart the city charter's process for direct legislation. In fact, city councilor Trudy Jones(R) drafted a resolution that would have re-quired a declaratory ruling from a judge on the ordinance's constitutionality before the people had a chance to vote on it. Thankfully, the resolution was postponed until after the election by two other city councilors, one being the president.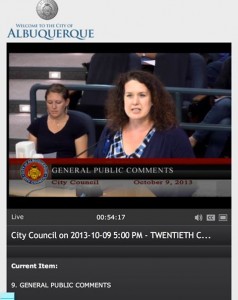 The night that Jones' resolution was to be introduced about 100 pro-lifers showed up at the meeting for public comment where heartfelt passion was expressed to all city councilors. To hear some of these public comments please click here: Speeches From The Heart: ABQ City Councilors Hear From Pro-Lifers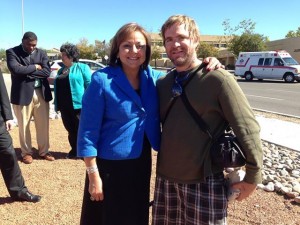 Another day in the life of a pro-life activist! You never know what or who to expect on…or across the street from the sidewalk outside a late-term abortion clinic in ABQ!  Bud is pictured here with Gov. Martinez after she holds a press conference about foster care/adoption across the street from SWO.
Here is a snapshot of how the church is redeeming this city!
 Sidewalk Testimony: A Life Saved
Since the launch of Project 52 Bud has been going to pray and minister to women outside of the UNM abortion clinic one extra day a week. One day in October a young woman walked up and asked Bud for directions to the abortion clinic! After a short conversation about why she was seeking an abortion he  asked her if she had walked here or taken the bus, she said she hitchhiked…Bud then put me on the phone with her and I was able to help her choose to leave and seek help at Project Defending Life. She certainly asked the right person where the abortion clinic was-it was a divine appointment. Bud gave her a ride to Project Defending Life where volunteers met with her and found a life affirming solution to he momentary crisis situation. Praise God that He  has freed Bud up to minister at UNMCRH on Tuesday's now. Simply being present on a sidewalk in front of an abortion clinic makes all the difference  between life and death.

The first ever municipal election to ban abortions at 20 weeks of pregnancy is on November 19th here in ABQ. For 3 years Bud and I have been on the ground in ABQ setting a strong foundation with investigative research, Christian community outreach, Sidewalk presence and more. All of this hard work has culminated to the point of history we are now actively participating in. We launched an official political campaign at the city level to be able to raise funds to use for religious "get out the vote" efforts.
If anyone would have ever told us that we'd be involved in a political campaign we never would have believed them. Ministry is our heart and our focus, however, God has called us to do our part to make sure that the city of ABQ wins this election. Our lives have been consumed by this campaign for most of the month of October and believe me, election day can't come soon enough.
We are proud to have lead a very fruitful campaign up to this point as our dedicated volunteers have helped us contact over 300 churches, we have supplied these churches with over 15,000 pieces of literature, 1950 yard signs, 2500 bumper stickers,  promotional videos, banners and more. This effort has been a blessing as it has opened the doors of many churches for education and has really motivated Christians to do something about late term abortions that are plaguing our city.
Please pray for the city of  ABQ to be victorious in ending late term abortions in what is currently the late term abortion capital of the nation. Visit www.latetermabortionban.com for more information.
Here are links to testimonies, undercover research projects, videos, and so much more…that we couldn't squeeze into our newsletter from this month!
Abortion ban ad hits air: Ballot question goes to voters Nov. 19
Vote in favor of love, life and family
Please Pray :
~Please keep us in your prayers as we continue to be advocates for the women and children of New Mexico.
~For an end to abortion in New Mexico.
~For the conversion of every abortion doctor and clinic worker.
~For softened hearts of the women we speak to each day at abortion clinics.
~For the moms who have already chosen life and for the means to continue to serve them.
~For a continued grace filled and Christ centered ministry focus.
~For more opportunities to share the truth about abortion and it's effects with the Christian community.
~For the Christian community to rise up out of apathy and a spiritual awakening.
~For more workers for this ripe harvest.
~For our safety in this spiritual battle.