All In a Month: Bringing Awareness, Discussing Hard Topics, Equipping Volunteers, and Battling on the Frontlines!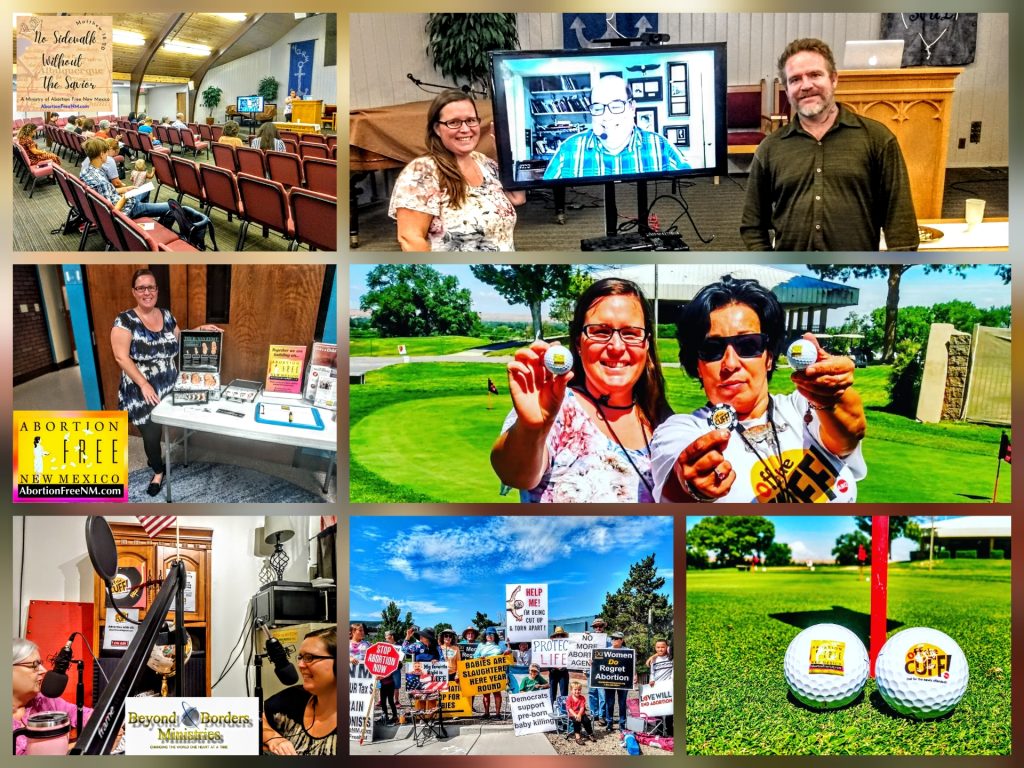 By Bud Shaver,
Your prayers and support are making it possible for us to make a big impact in our state. We have been in so many places bringing awareness, discussing the hard topics, equipping volunteers and battling on the frontlines. The highlight of the month was our Sidewalk Counseling Training seminar featuring long time pro-life warrior Don Blythe from At the Well Ministries. Don is the uncle of our late friend Kortney Blythe Gordon who was the inspiration for our prayer campaign No Sidewalk Without the Savior. It was encouraging to hear life saving stories from his ministry and to be better prepared for directly engaging women seeking abortions at the University of New Mexico's free standing abortion center. August is looking pretty busy already as we inch closer to Election Day in November.
We find comfort in knowing that with God all things are possible for a better New Mexico and we have you to thank for all that God is doing in and through our ministry. May God richly bless you for your partnership.
Our Month in Action
Abortion Free New Mexico hosted a Sidewalk Counseling Training with Don Blythe of At The Well Ministries this month. Additional guest speakers included: Paula Gonzales executive director of Care Net of Albuquerque and Lydia of Mourning to Joy, Care Net's post-abortion resource.
Watch Don Blythe's presentation:
Abortion Free New Mexico was a proud sponsor of the Valencia County Freedom Golf Tournament presented by Off The Cuff ABQ Talk Radio! About 70 golfers participated in the inaugural tournament.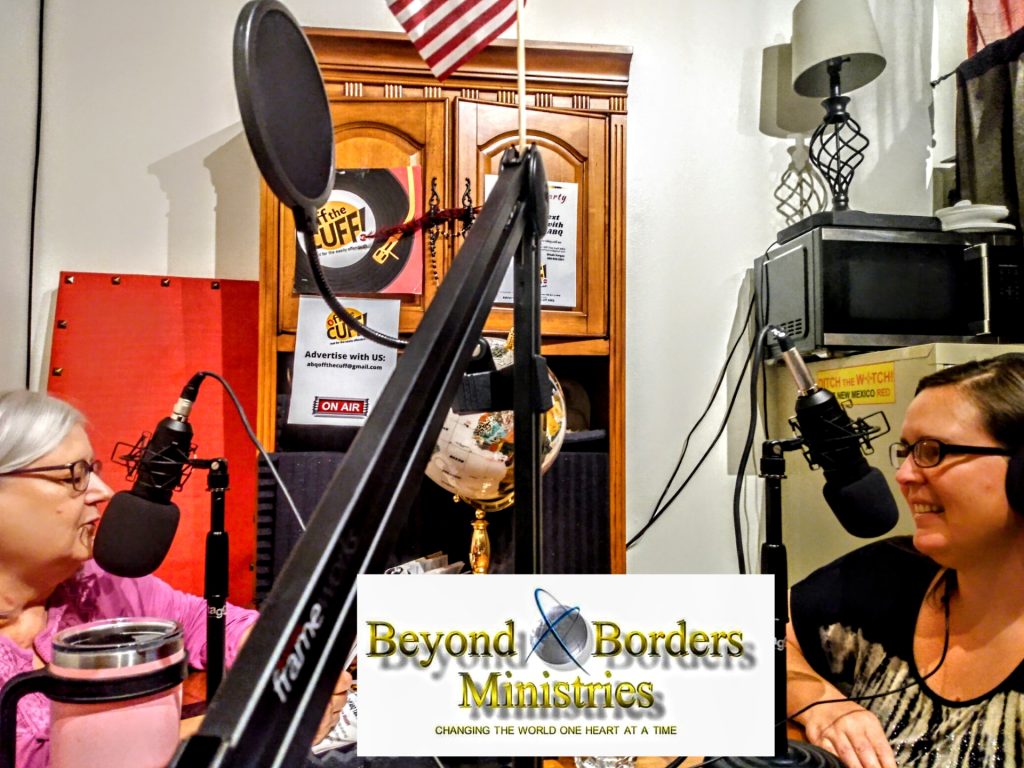 Tara joined Becky Harada of Beyond Borders Ministries to discuss the connection between abortion and human trafficking. In this interview Tara is asked how she would dialogue with a woman at an abortion clinic suspected of being a victim of human trafficking. They discuss how the abortion pill may be exploited by human traffickers as it potentially removes the human contact between sex trafficked women and their providers. Tara also shares some of the local pro-life resources readily available to young pregnant moms.
Local pro-life community resources endorsed by Abortion Free New Mexico:
Listen to the full interview: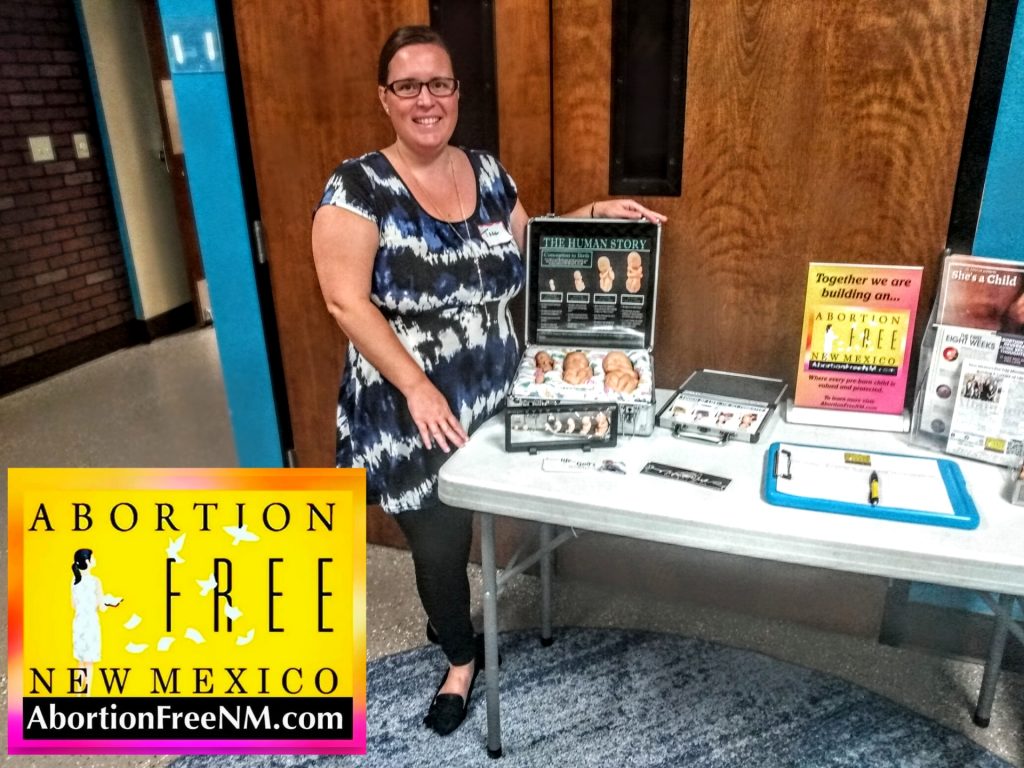 The group "New Mexico Did You Know?" invited Abortion Free New Mexico to their monthly meeting in the East Mountains to share about abortion in our state and what we're doing about it. It's always a blessing to inform new people and encourage them to be involved in the battle for precious lives.
No Sidewalk Without the Savior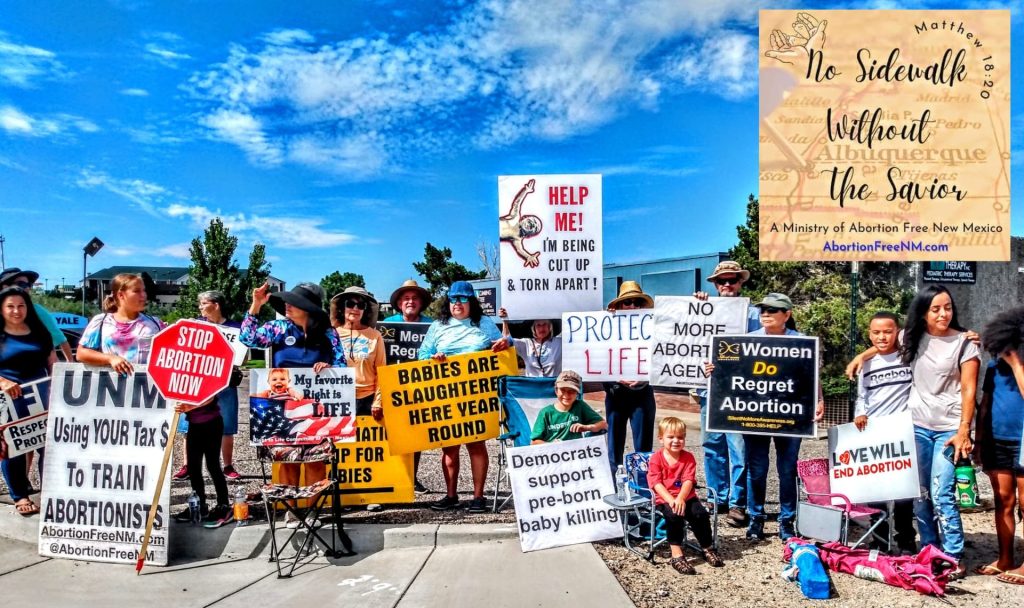 Our prayer campaign outside the University of New Mexico's free standing abortion center that performs abortions through 6 months of pregnancy has garnered over 60 volunteers of varying commitments since we launched in April. We still have the need for more volunteers but are thankful that people are praying everyday at this place of death in our city.
Our volunteers have shared with us how the Lord is working in them as they take a stand for life. They tell us that the majority of responses they get are positive by those passing by. In fact, one lady got out of her car, hugged and thanked our volunteers for being there and then brought them water.
Another volunteer told us that people stop and write down or take a picture of the Option Line number we have on our signs that point women to local pregnancy resources. Bud and I are so grateful to those who volunteer one hour every week to be present where abortion seeking women are.
Please join us and see what God will do when you put your faith into action.
Upcoming Events
Faith to Action Friday
(August 5th & September 2nd 2022)
Join us for Prayer & Stand Up For Life at the University of New Mexico's free standing abortion facility.
Time: 10-11am
Location: UNM Center for Reproductive Health (2301 Yale Blvd. SE. in Albuquerque.) Use street parking on Renard.
Off The Cuff ABQ Block Party sponsored by Abortion Free New Mexico
Saturday August 6, 2022
Time: 6-9PM
Location: Gerald Madrid Bail Bonds Parking lot Located at 507 5th Street NM, Albuquerque NM, 87102
Learn more at OffTheCuffABQ.com
Pray With Us…
For: New leadership to be elected in November. Leaders that will work diligently to protect pregnant moms and their babies in the womb.
For: Any abortion business that comes or tries to come to New Mexico, that they will face obstacles that can't be overcome and that their businesses don't flourish but run dry.
For: All Project Weak Link efforts to expose waste disposal companies to be fruitful and for them to stop enabling abortion centers that kill babies.
For: Our prayer campaign No Sidewalk Without the Savior to grow and become a powerful witness within our community.