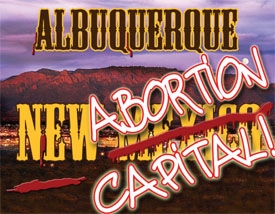 (Roberto E. Rosales/Albuquerque Journal)
As former interns with Operation Rescue Bud and Tara Shaver have learned the most cutting edge tactics and research skills. Since arriving to Albuquerque, in 2010, they have worked tirelessly with Operation Rescue to document, uncover, and EXPOSE the New Mexico Abortion Cartel.
Please familiarize yourself with the information contained in these links and share this information with others!
DID YOU KNOW? 
Albuquerque, New Mexico: Late-Term Abortion Capital
NM Joins List of States Demanding Investigations into Fetal Trafficking
Largest Protest Of Planned Parenthood EVER in New Mexico and Across USA
REPORTS ABOUT TAX FUNDED ABORTIONS IN NEW MEXICO:
2016- New Mexicans Forced To Fund The State's Abortion Industry
2015- Hispanics Targeted for Death by Abortion According to 2013 New Mexico Vital Statistics
2014- Tax Funded Abortions on the Rise in New Mexico While Overall Abortions on the Decline
2013- New Albuquerque Investigation Reveals Tax-Funded Medicaid Pays for Hundreds of Late-term Abortions
2012- New Mexico Forces Tax Payers to Fund 1,786 Abortions in 2011 
Undercover Calls Reveal Medicaid Pays For $9,000 Late-term Abortions With Our Tax Dollars
Call Reveals Medicaid Paying $16,000 to Abort 30-Week Down Syndrome Baby
FULL FEATURE- Inside NM Reproductive Health Clinics:
IRREFUTABLE PROOF THAT ABORTION IS NOT HEALTHCARE:
Gosnell-Like Abortion Practices are Business as Usual in New Mexico
New Investigation Shows that the Heart of Abortion Clinics Is Not "Healthcare"
New Docs Reveal Horrific Details of Botched 35-Week Abortion, Gross Negligence in NM Disciplinary Case
New Mexico Disciplinary Hearing Spotlights Dangerous Full Term Abortions
Caught Red-Handed: New Mexico Abortion Business Was Operating Illegally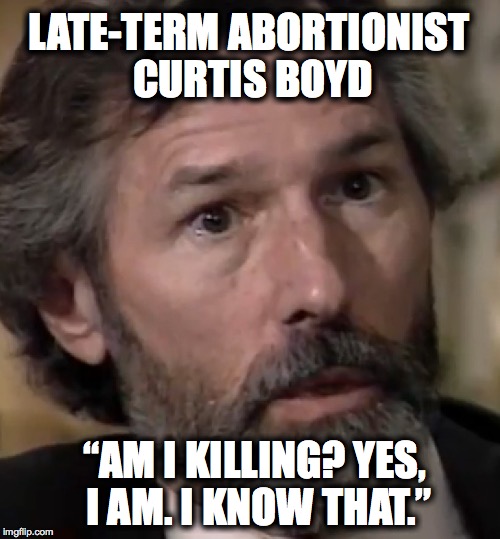 REPORTS ON THE UNIVERSITY OF NEW MEXICO (UNM):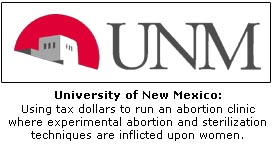 Exposé: Part 1- Tax Funded Abortion Training and the Betrayal of True Medicine at UNM
Exposé: Part 2- Lobos of Death: A Look at the Radical Abortion Agenda at the University of New Mexico
Injury-Prone New Mexico Abortion Clinics Operate In Shadows of Regulatory Gaps
This Postcard Drops Today, Contact UNM President Robert Frank 
EXCLUSIVE UPDATE: UNM Publicly Silent, Privately Scrambling in response to U.S. House Panel Investigation
How Much Money Does it Take For New Mexico GOP Leadership to Turn A Blind Eye?
REPORTS ON PLANNED PARENTHOOD OF NEW MEXICO: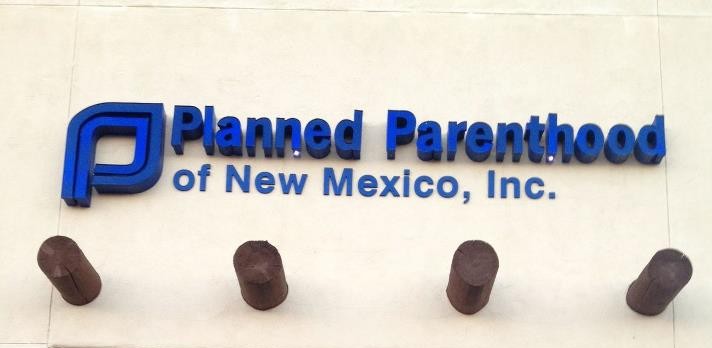 Planned Parenthood Profits From and Covers Up Sexual Exploitation of Minors!
Can Women Trust Planned Parenthood With Their Healthcare?
New Mexico Medical Board Ignores Injury, Negligence at Planned Parenthood
Bud and Tara Shaver have uncovered HORRIFIC abortion related injuries at local Albuquerque abortion clinics read all of the shocking details here:
Disturbing 911 Call Dramatically Confirms Abortion Dangers
Eight New Abortion Tapes Reveal Causalities, Callousness, and Cover-up
Botched Abortion Crisis Deepens As New 911 Call Reveals Continuing Dangers at Albuquerque Clinics
Informant Tells of Abortion Death While New Mexico Medical Board Members Obstruct Investigation of 13 Abortion Injuries
Ambulances Transport Two Patients from Nation's Largest Late-term Abortion Clinic in Albuquerque
Ambulance Video: Seventeenth Known Medical Emergency at New Mexico Late-Term Abortion Clinic
Comparison of Peaceful Pro-Life Efforts in ABQ over the Past 5 Years Vs. Violence from Abortion Advocates:
Albuquerque Pro-Life group speaks out against Colorado Springs shooting
Acts of Violence by Abortion Advocates in Albuquerque, NM over the Past 5 Years
Man Arrested After Threatening To Gun Down Pro-life Activists At Late-Term Abortion Clinic 
Pro-abortion Driver Escalates Abuse to Violence, Tries To Run Down Pro-lifer
Abortion Supporter Bloodies Peaceful Pro-Life Activist in Violent Beating …later arrested.
Did late term abortion campaign trigger pipe bomb attack by pro-choicers?
Abortion Activist Uses Vehicle as Weapon Against Pro-Lifers, Jumps Curb to Run Over Them
Pro-abortion woman throws pro-life signs from bridge in New Mexico
Pro-Life PEACEFUL and LEGAL efforts in Albuquerque over the past 5 years…and the response by City and State officials!
-We obtained 14 calls placed to 911 which document serious abortion injuries at two local abortion clinics. 11 of them were from Late-Term abortion clinic Southwestern Women's Options!
Response of the City of Albuquerque…"Requests for [additional] 911 records have recently been denied under a new policy change!"
-Medical Board complaints were filed based on the serious abortion related injuries.
Response by the New Mexico Medical Board…The New Mexico Medical Board [seeks] to change Board Regulations on Complaint Procedures!
-Historic effort to end Late-Term abortion in the Late-Term Abortion Capital of the nation, Albuquerque became the first city EVER to attempt to restrict abortion at the city level, through a city referendum
Response by City Officials…After the abortion vote, Albuquerque looks to change initiative process!
"Honestly I don't understand how we are labeled, 'Violent extremists attempting to circumvent settled law,' when we are using every peaceful and legal avenue available to expose the violent atrocities perpetuated against babies in the womb. In fact, every legal option we have attempted here in New Mexico has in turn been circumvented by the pro-abortion advocates deeply entrenched in government at both the city and state level. Abortion is the ultimate act of violence and from our experience here in New Mexico, those who advocate for the extreme position of killing a baby for any reason through all nine months of pregnancy are the violent ones." Bud Shaver, Executive Director of Protest ABQ