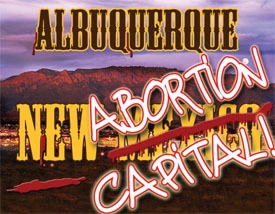 By Tara Shaver
You may be surprised to know that according to an article that ran in the Albuquerque Journal, New Mexico ranks "No. 1 in the nation for providing equal access to sexual and reproductive health services"…[ABORTION!]
New Mexico does not have any laws restricting abortion whatsoever and it is one of 17 states that currently uses state tax dollars to fully fund abortions for women who have NM Medicaid. In 2011 alone 1,786 abortions were paid for in NM by Medicaid costing taxpayers over 1.1 million dollars.
New Mexico is the "Late Term Abortion Capital of the Country" and is the abortion capital of the Southwest. Every week, women come from all across the world to Albuquerque to obtain dangerous and risky late term abortions through all nine months of pregnancy.
New Mexico law criminalizes the practice of late term abortions that are performed outside of hospitals. However, this law is not being enforced, leaving women to suffer at the hands of unregulated abortionists. New Mexico is also one of 10 states that have no common sense laws such as parental notification, informed consent or any gestational restrictions on abortion. Abortion clinics in New Mexico are under regulated and the surgical portion of each clinic is not currently being inspected by the NM Health Department-ever.
In 2011-12, Tara Shaver and Operation Rescue filed Medical Board complaints against the abortionists' at all three abortion clinics in Albuquerque. These complaints were based on fourteen 911 calls that documented serious abortion injuries as well as a lawsuit filed against Planned Parenthood of NM.  As a result, in November of 2012, late term abortionist Shelley Sella faced a Medical Board hearing after she violated the patient standard of care during a 35 week full term abortion in Albuquerque. Governor Martinez and Mayor Berry have been informed of these facts, yet abortion abuses still continue in Albuquerque.
The New Mexico Medical Board has refused an investigation into a complication that took place at the Planned Parenthood surgical abortion center in Albuquerque. The New Mexico Medical Board and the Board itself has shown that they are unwilling to do what it takes to protect the public.
The University of New Mexico runs its own free standing abortion clinic in Albuquerque. This clinic is being used to train Resident students to perform abortions up to 22 weeks gestation. Several women have endured serious injuries at this clinic. Tara Shaver and other pro-life advocates have met with UNM Board of Regents to bring awareness to all of the Regents about UNM's abortion agenda. The Dean of the UNM School of Medicine Paul Roth is also fully aware of the danger the UNM abortion clinic poses to the public. None of these men have made an effort to bring about change at UNM and women's lives continue to be in danger.
Please familiarize yourself with the information contained in these links and share this information with others!
DID YOU KNOW? 
REPORTS ABOUT TAX FUNDED ABORTIONS IN NEW MEXICO:
FULL FEATURE- Inside NM Reproductive Health Clinics:
IRREFUTABLE PROOF THAT ABORTION IS NOT HEALTHCARE: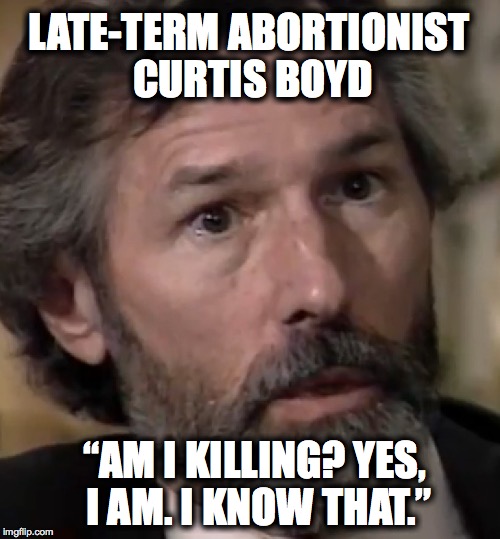 REPORTS ON THE UNIVERSITY OF NEW MEXICO (UNM):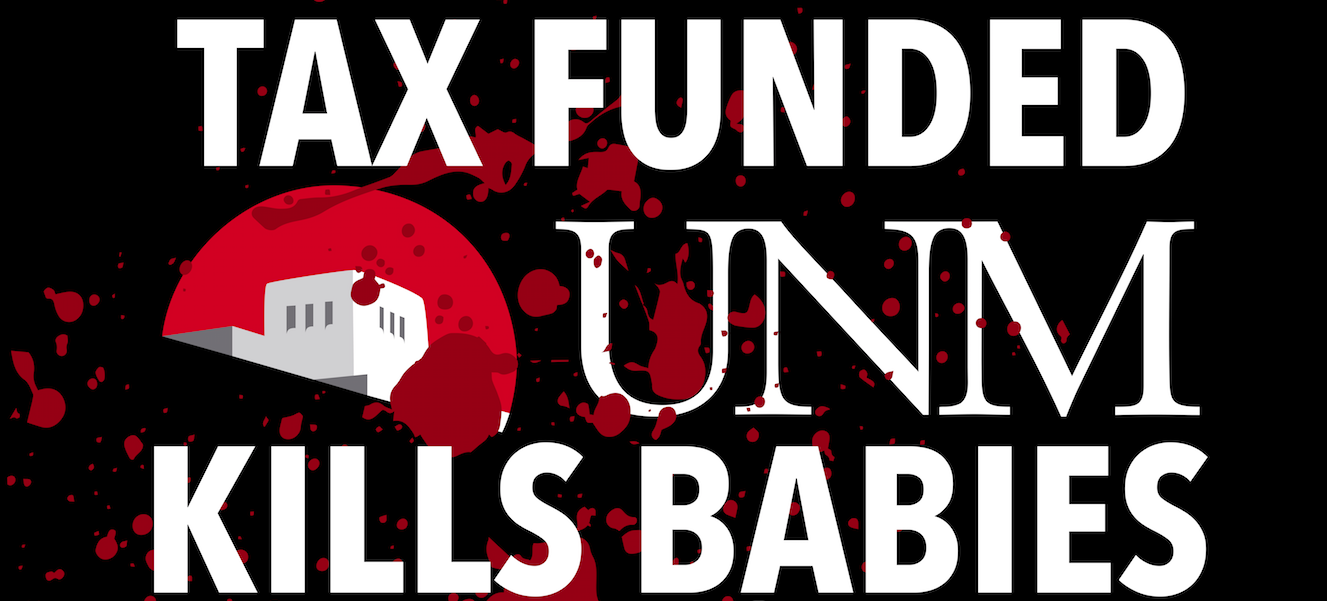 REPORTS ON PLANNED PARENTHOOD OF NEW MEXICO: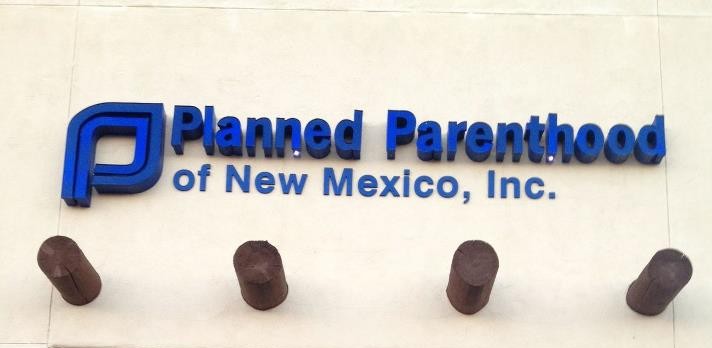 Bud and Tara Shaver have uncovered HORRIFIC abortion related injuries at local Albuquerque abortion clinics read all of the shocking details here:
Comparison of Peaceful Pro-Life Efforts in ABQ over the Past 5 Years Vs. Violence from Abortion Advocates:
Albuquerque Pro-Life group speaks out against Colorado Springs shooting
Acts of Violence by Abortion Advocates in Albuquerque, NM over the Past 5 Years
Pro-Life PEACEFUL and LEGAL efforts in Albuquerque over the past 5 years…and the response by City and State officials!
Response of the City of Albuquerque…"Requests for [additional] 911 records have recently been denied under a new policy change!"
Response by the New Mexico Medical Board…The New Mexico Medical Board [seeks] to change Board Regulations on Complaint Procedures!
Response by City Officials…After the abortion vote, Albuquerque looks to change initiative process!
"Honestly I don't understand how we are labeled, 'Violent extremists attempting to circumvent settled law,' when we are using every peaceful and legal avenue available to expose the violent atrocities perpetuated against babies in the womb. In fact, every legal option we have attempted here in New Mexico has in turn been circumvented by the pro-abortion advocates deeply entrenched in government at both the city and state level. Abortion is the ultimate act of violence and from our experience here in New Mexico, those who advocate for the extreme position of killing a baby for any reason through all nine months of pregnancy are the violent ones." Bud Shaver