Year In Review: What Matters Most As We End 2022?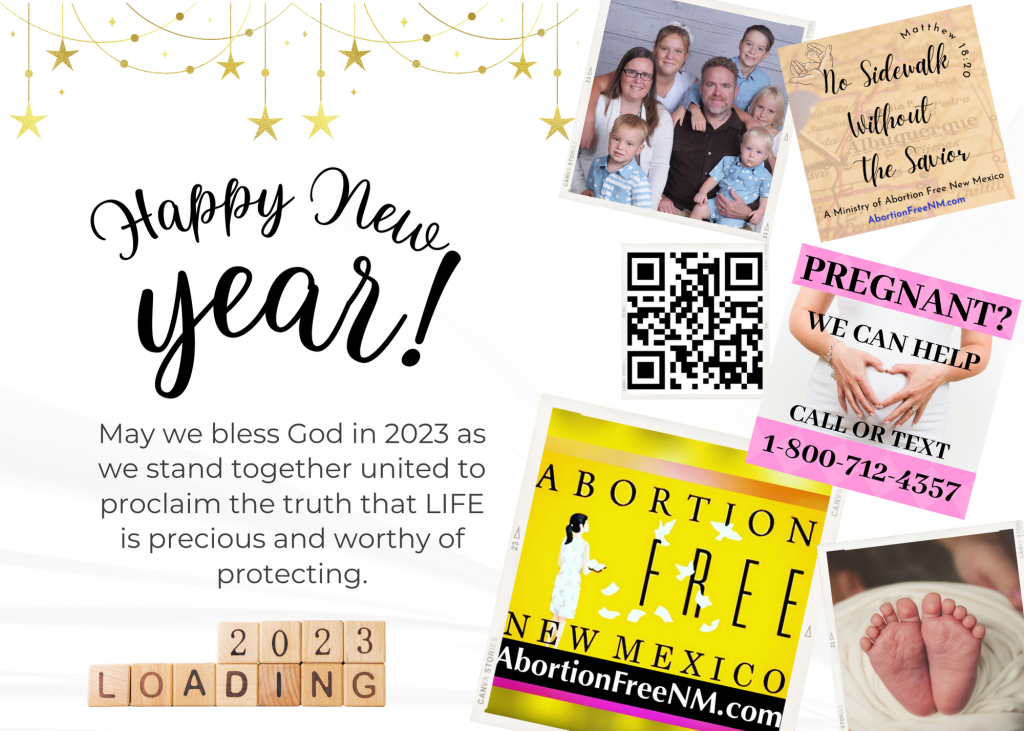 Albuquerque, New Mexico- As Abortion Free New Mexico wraps up 2022 we want to acknowledge some of the highlights of what the Lord has done through our ministry this year. The Lord has used our generous supporters and prayer partners to make this a very productive and fruitful year. Thank you!
First, we built a team of committed volunteers that recruited and held the line in prayer EVERY day that the UNM abortion facility was open in 2022! These prayer warriors pushed back the darkness and brought the love of Christ to the sidewalk! Our prayer initiative, No Sidewalk Without the Savior was a huge success.
We worked to build a community with our volunteers of over 70 people by hosting fellowship meals, gatherings and trainings every other month. Through these efforts we have also built stronger relationships with local churches and grown and served together as the body of Christ with a spirit of unity.
This year we also continued our groundbreaking research bringing you key reports about the New Mexico abortion industry and it's collaborators. Our reports and information about the New Mexico abortion industry was utilized by several political campaigns to expose the extreme agenda of the radical pro-abortion democrats. In fact, the Democratic Party of New Mexico was so threatened by our efforts, that they attacked us publicly!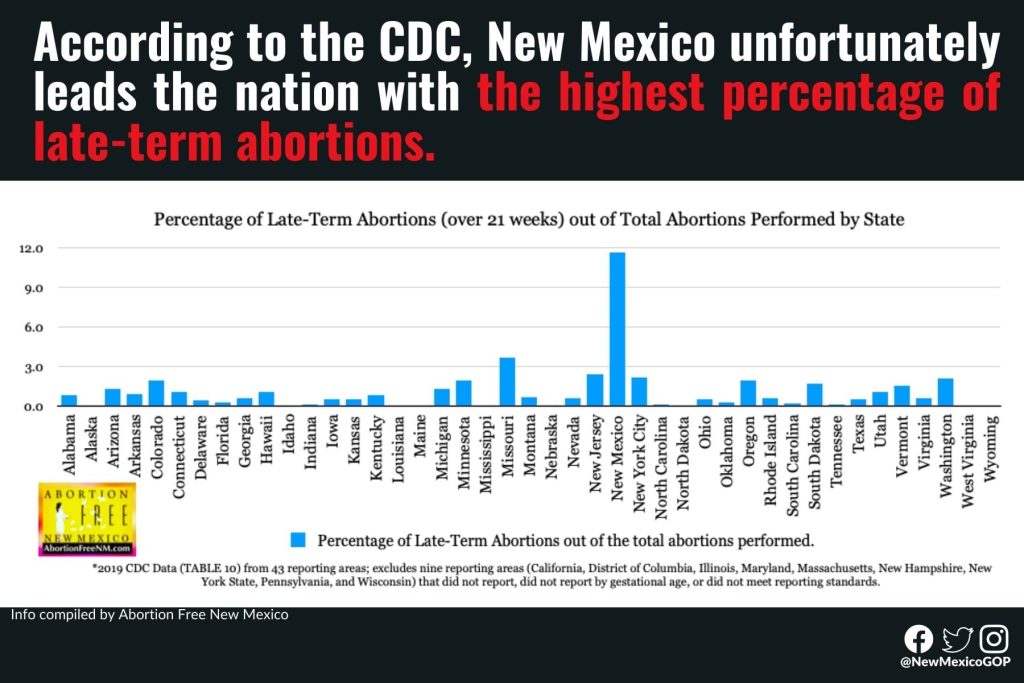 What matters most is that we worked to build community with our volunteers, maintained a prayerful presence at the UNM abortion facility and continued our ministry efforts which ultimately helped the following moms choose life. Read the testimonies below:
Mom #1- In late September a woman reached out to us to see if there would be anyone present at the UNM abortion Center. She was concerned because her daughter was traveling from the Dallas, TX area to Albuquerque for an abortion.
After a full day of conversations Tara was finally put in touch with the pregnant mom and was able to meet with her at about 9pm the night before her abortion. After talking a praying and going separate ways Tara followed up with her by phone to schedule and ultrasound for her locally the next day. During that call the pregnant mom said that she would be continuing her pregnancy and would get an ultrasound when she went back home.
Over the next few days the pregnant mom spent time exploring our state and enjoying herself, even buying some New Mexican jewelry for the baby. She went home and has been getting prenatal care and ultrasounds. She found out that she is expecting a baby boy which is due to arrive in the Spring. Abortion Free New Mexico volunteers organized a care package for the mom and sent it to her and Tara continues to keep in touch with both the pregnant mom and her mother who reached out initially.
Please keep this family in your prayers, for guidance and wellbeing for the birth mom and that the family draws near to the Lord during this time.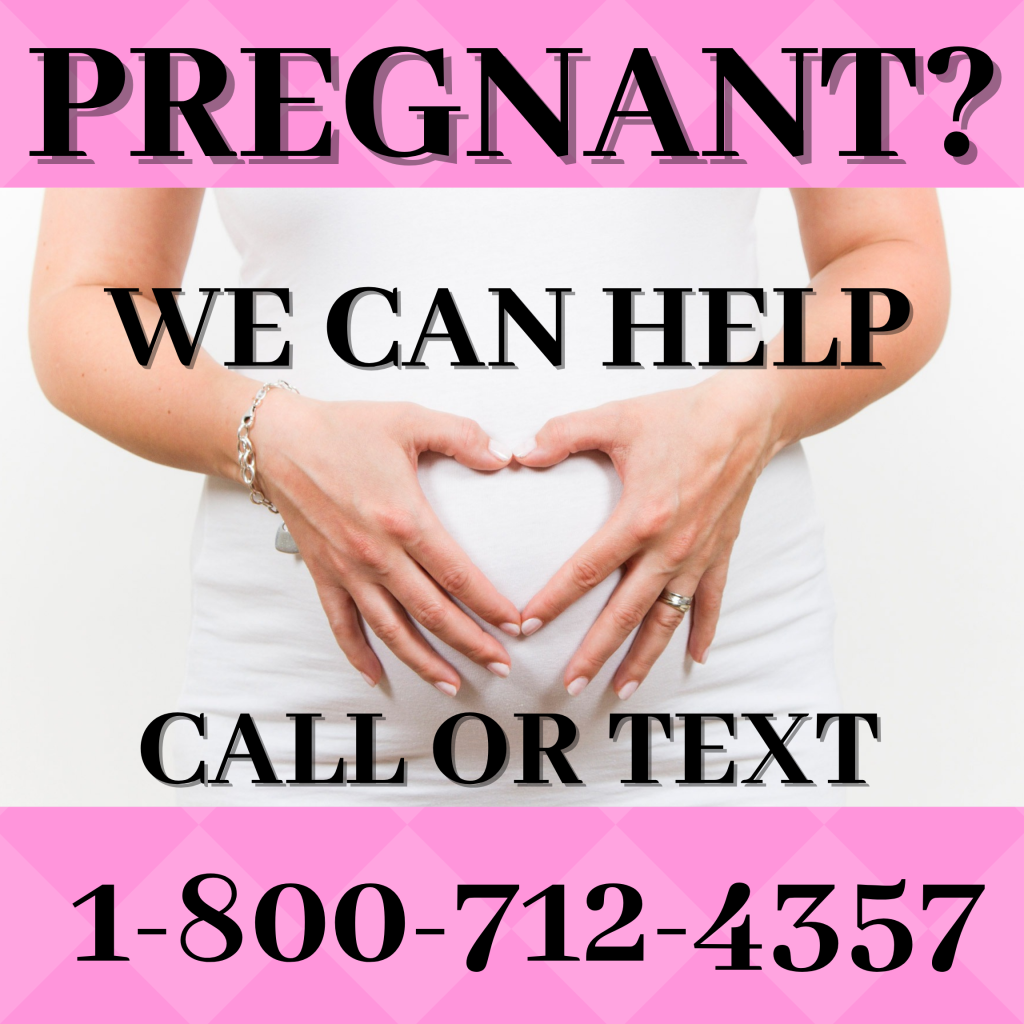 Mom#2- In November our Tuesday volunteers were approached by a gentleman who brought a woman from the El Paso, TX area for an abortion. She was told in Texas that she was 15 weeks pregnant but when she went into the UNM abortion facility they told her that she was 28 weeks and referred her to the later abortion facility here in Albuquerque. However, her driver was able to find encouragement from our volunteers to further encourage the mom to choose life. Our volunteers kept up the encouragement by taking the couple to breakfast and by talking face to face with the pregnant mom about the baby, her life and how to move forward with help and resources.
Thankfully, the pregnant mom chose life and went back home to prepare for her little arrival due in a matter or days now. Abortion Free New Mexico volunteers organized a care package for the mom and sent it to her and our volunteers continue to keep in touch with the driver who brought her and is helping her.
Please pray for a safe delivery and that this mom is blessed on her journey as a new mom.
Mom #3- Abortion Free New Mexico purchased a crib and mattress for a family that was intercepted by a fellow sidewalk counselor who ministers at the late term abortion center, Southwestern Women's Options. A 15 year old pregnant mom from the Longview area of Texas came for an abortion at 33 weeks of pregnancy.
Upon leaving the abortion facility Tara was able to talk with the pregnant mom's (mother who brought her for the abortion) by phone and encouraged her to create an Amazon baby registry so that we could purchase the items that were urgently needed. Since they have been home they've held a baby shower and the family seems very supportive.
Thank you to Abortion Free New Mexico's volunteers who purchased additional items for this family!
Please pray for this young mom and her parents as they prepare for this baby boy's arrival.
Join Us as we Start 2023 Strong!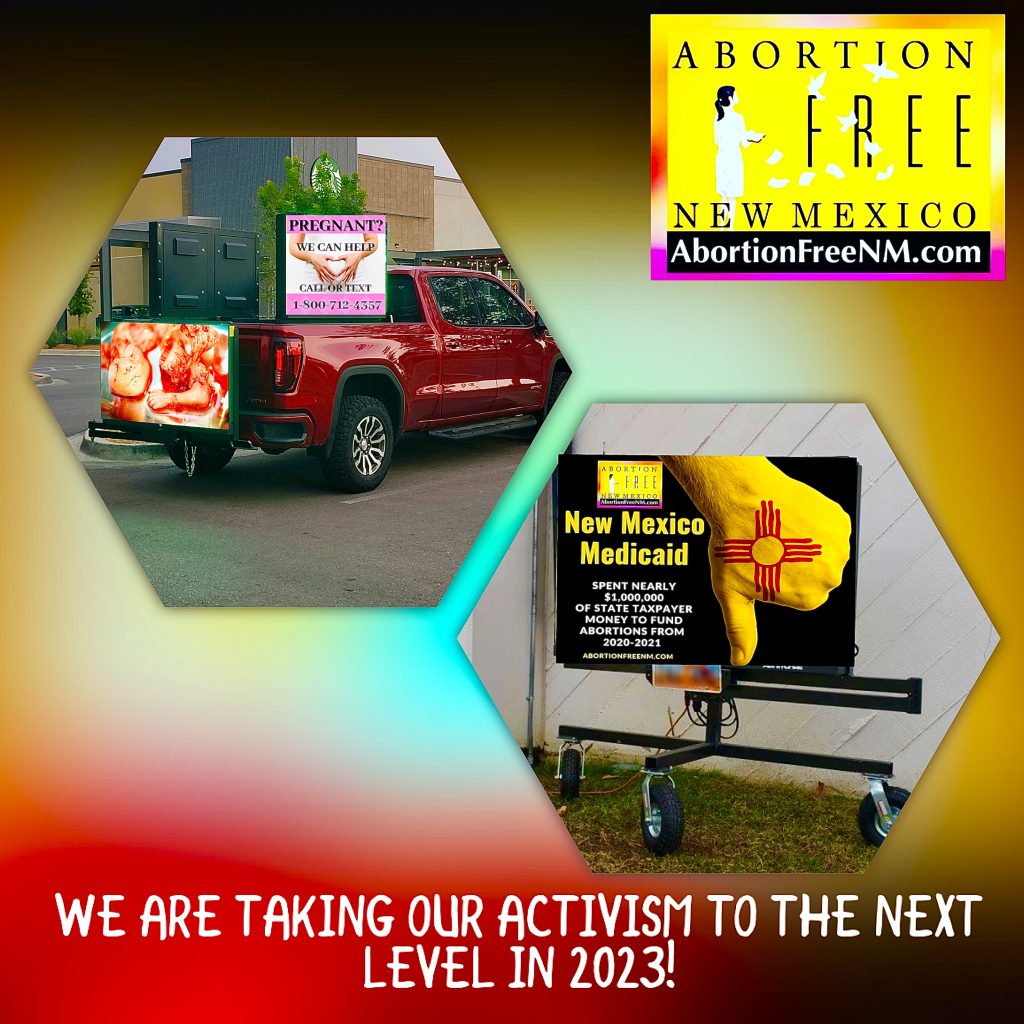 Abortion Free New Mexico and Created Equal have teamed up to bring our activism to the next level in New Mexico in 2023 by upgrading our Truth Truck with a mobile LED screen that can feature ANY message and even play videos!
This unique set up allows the back LED screen to be unhitched from the truck to become a portable LED screen that we can use ANYWHERE! (See pictures above)
In today's culture everything is digital and in the new year we plan to utilize these screens not only in the public square but also at local high schools and colleges. We now have an amazing opportunity to engage our community in a new innovative way to restore meaning to the word abortion and also to let pregnant women know that there are many positive alternatives to abortion.
We secured the screen for the back of the truck! Praise God! We still need funds to get the essential supplies and accessories to get it on the road. Please consider a year end tax deductible gift to make this effort a reality.
P.S. Now more than ever before New Mexico is the abortion destination, especially for women in neighboring Texas and Arizona. We are already witnessing the influx of these women as local abortion facility parking lots are full of cars with Texas license plates.

We believe that we can help more women choose life with this new technology on the sidewalks. Please pray for us and give a tax deductible donation today.

God bless you!
WATCH Our Year In Review 2022 Slideshow
We premiered our "Year In Review 2022" slideshow at Abortion Free New Mexico's Year End Finale For Life. Look at what the Lord has done in 2022… Together we are building an Abortion Free New Mexico. Thank you for standing with us for LIFE!
Thank you for partnering with us to build a culture of Life in New Mexico.
Blessings,
Bud and Tara Shaver, Pro-Life Missionaries
Abortion Free New Mexico