Latest Updates & Faith To Action Friday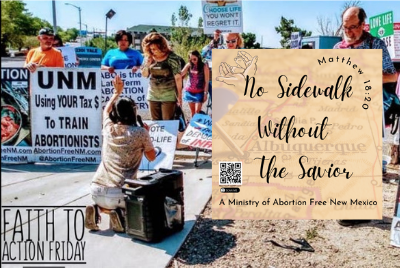 By Bud Shaver,
Join Abortion Free New Mexico for Faith to Action Friday at the UNM Abortion Center located at 2301 Yale Blvd. SE. in Albuquerque. At this location babies are killed up to 24 weeks of pregnancy, some of these babies may even be viable from 22-24 weeks. Let's come together for prayer and a pro-life witness to bring awareness to the community and to be a light for those seeking to end their child's life. 
Faith to Action Friday
February 3, 2023
NEW! Time: 12:00-1:00pm
Location: 2301 Yale Blvd SE
Use street parking on Renard
Make your own signs or use ours
"Whatever you do, work at it with all your heart, as working for the Lord, not for human masters, since you know that you will receive an inheritance from the Lord as a reward. It is the Lord Christ you are serving." Colossians 3:23-24
The Governor Wants to Use Your Tax Money to Build an Abortion Clinic
In her State of the State speech, Governor Michelle Lujan Grisham stated she wants to use $10 million of taxpayer dollars to build an abortion clinic in southern New Mexico. This facility would allow abortions in any term of pregnancy, even abortions up to birth!
In light of abortion restrictions in neighboring states, the proposed clinic is already being touted as a potential magnet for those seeking abortions from other states. Do we really need to be paying for abortions for people from other states?
New Mexico currently has 2 communities that don't even have an OBGYN! The money could be used there for real healthcare for these women. We need every New Mexican who cherishes life to speak out boldly against this proposal.
Tell lawmakers to NOT SPEND taxpayer money on a for-profit abortion clinic in New Mexico! Click to Sign Below!
NM Attorney General Sues Sanctuary Cities and Counties
On January 23rd, KOAT Action 7 News reported that New Mexico Attorney General Raul Torrez filed an emergency petition with the New Mexico Supreme Court to "push back" and essentially sue the Board of County Commissioners for Lea and Roosevelt Counties as well as the City of Clovis and Hobbs for the ordinances they have put into law to protect their cities from the grisly abortion industry.
Torrez is quoted as stating that, 
"This, ladies and gentlemen, is not Texas. In this state, a woman's right to choose is guaranteed by the New Mexico Constitution." 
New Mexico is not Texas, but New Mexicans could certainly learn from Texas' actions to make abortion illegal since every abortion kills a human being.
It's important to note that counties and cities independently have the authority to decide whether or not to permit the sale of alcohol and whether to restrict the sale of cannabis – both, ostensibly for health reasons, so why should they not be permitted to restrict the taking of a human life within their jurisdictions? Will the New Mexico Supreme Court recognize their authority to protect unborn childrens lives?
These localities will ultimately have the opportunity to appeal the AG's actions and Abortion Free New Mexico stands with these leaders to be able to protect their citizens, born and unborn.