UPDATE: BANNER REMOVED! YOUR VOICE MATTERS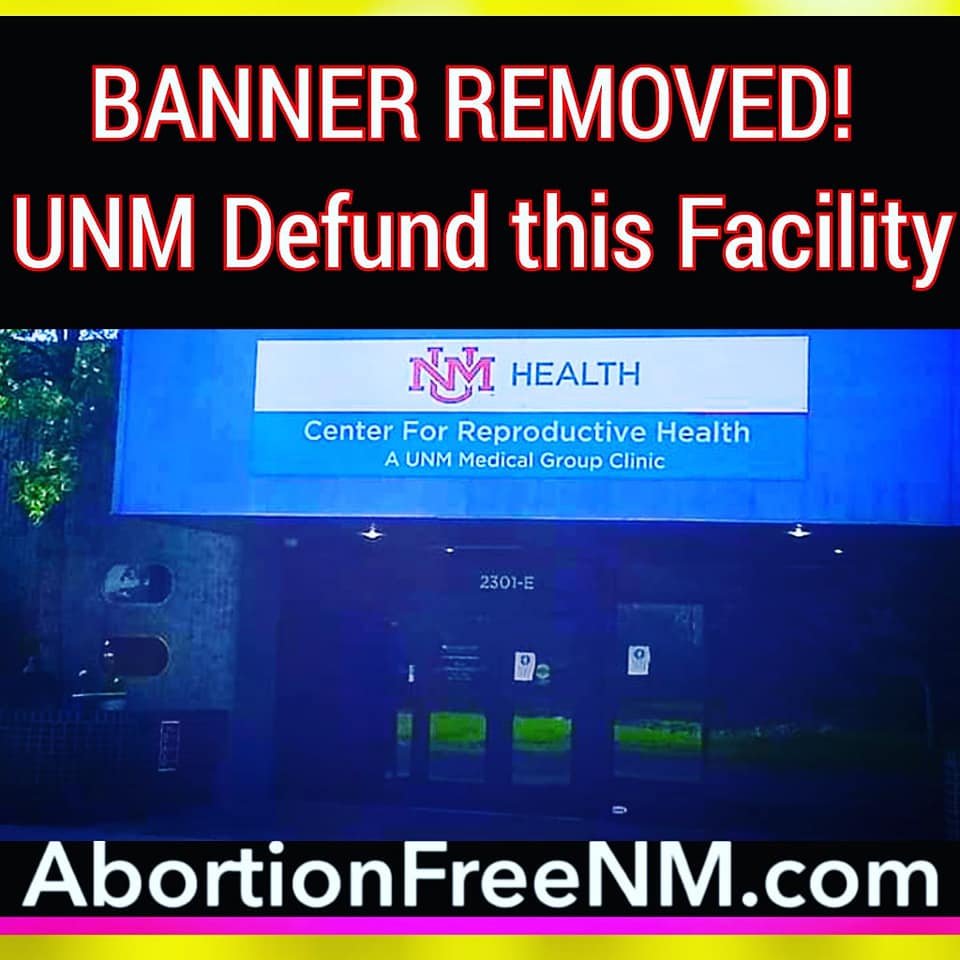 By Bud Shaver
Albuquerque, New Mexico- On Friday, July 10, 2020 Abortion Free New Mexico joined Michelle Garcia Holmes for U.S. Congress, Dinah Vargas for New Mexico House of Representatives District 10 and Stefani Lord for New Mexico House District 22 on location at the UNM free-standing abortion facility to let the community know that abortionists are not heroes. Within 24 hours of announcing a press conference at the UNM Center for Reproductive Health, launching an online petition with emails going directly to UNM President Garnett Stokes, in addition to weeks of overflowing public outcry, we received word that the "Heroes Work Here" banner had been taken down!
Our collective voices matter, thank you for letting yours be heard by calling, emailing and signing our petition! Your voice matters.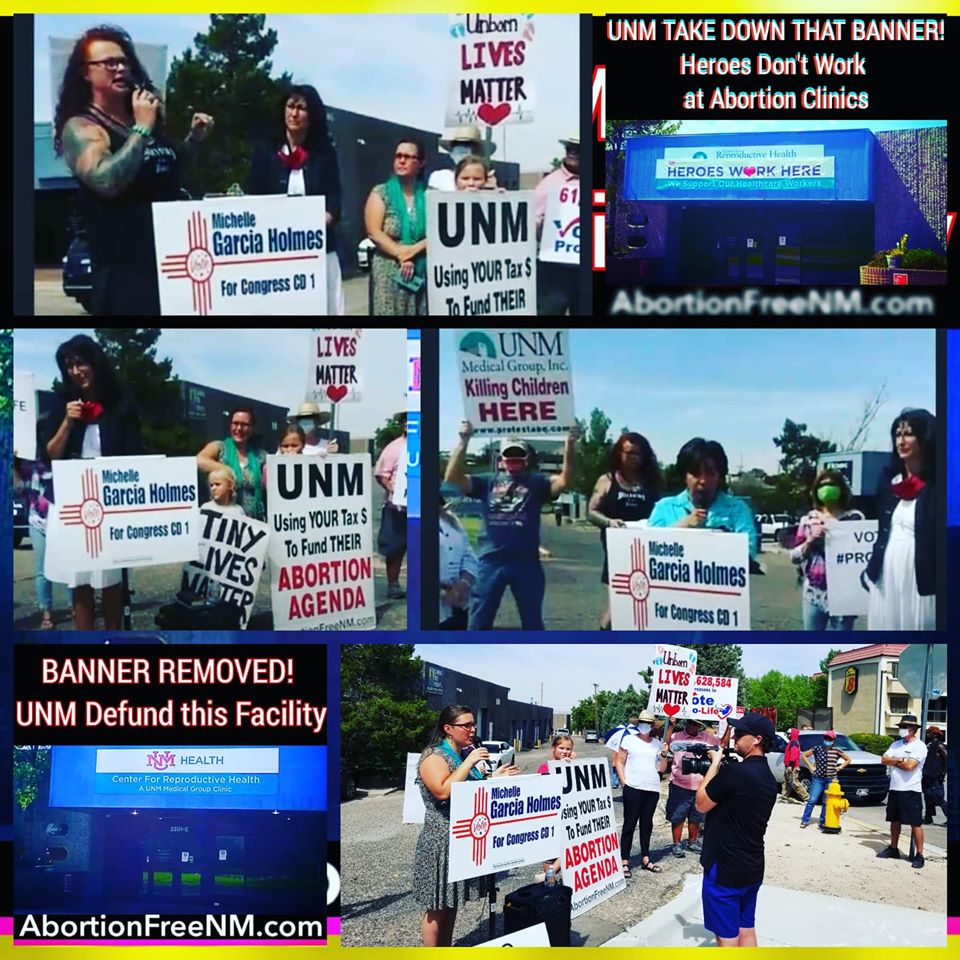 At the press conference Michelle Garcia Holmes announced that in response to the University of New Mexico's removal of the "Heroes Work Here" banner that the UNM President and the UNM Regents now need to defund and close down the UNMCRH abortion facility,
"We are once again going to take our plea to the people and encourage them to call, write, email all of the UNM Board of Regents. The University of New Mexico is an institution of higher learning, our hope is that the regents disassociate the university from this facility because the intentional taking of an innocent persons life should never be associated with our university's policies or mission. Let's keep the fight going, let's shut this clinic down, let's defund this facility. The University of New Mexico is currently thirteen million dollars in debt, let's start here."
Sign our NEW online petition below. Doing so will automatically generate an email to the UNM President and the UNM Regents.
Click Here To Sign The Petition
Dinah Vargas, candidate for New Mexico House of Representatives District 10, where the UNM Center for Reproductive Health is located, issued the following statement today,
"It's real simple for me, I'm against abortion because God is against abortion. For far too long it seems that New Mexicans have been pushed around and been told that the unborn aren't human beings and all that the world hears about New Mexico is that we kill the unborn in great numbers. This abortion clinic happens to be in my district and I want to end abortion. I am ready to do my part in ending abortion. Today I commit myself to never be silent, never to be passive and never to be forgetful of the unborn. I commit myself to be active in the pro-life movement and to never stop defending life until all of my brothers and sisters are protected and we are a nation that is about liberty and justice, not just for some but, for all. As a campaign promise I will do my part to end abortion."
As a strong woman and pro-life defender, Stefani Lord, candidate for New Mexico House of Representatives District 22. shared her personal testimony. She is opposed to abortion because her birth mother went to an abortion facility to abort her life, but the state in which she was born had restrictions that prevented her from being killed, unlike New Mexico where you can be aborted through all nine months. She shared how her adopted mom was the abortionist who would have killed her and that she grew up and saw first hand the devastation that abortion took on women's lives. She stated,
"My adopted mom was an abortionist, and she was no hero. It tore her up inside, I saw their faces and I saw their tears. I know exactly first hand from birth on, how abortion affects people including the doctors, the nurses and the staff that are doing it. They can pretend all they want, but it is eating them up inside. No matter how much they want to say that killing a child is normal, it's not normal. I want to be very clear, abortion doctors are not heroes and this abortion facility should never have had that banner on there. It's an insult to people like me. It's offensive. Abortion is not normal and abortionists are not heroes."
For 10 years Abortion Free New Mexico has exposed UNM as the heart of the New Mexico abortion cartel. The removal of the "Heroes Work Here" banner was the first step in the right direction and it is our hope that UNM will abandon it's radical abortion agenda. Together we are a stronger voice for LIFE in New Mexico.
Abortion Free New Mexico fully supports and endorses their campaigns! Learn how you can support them and start by making a donation to their campaigns.