BREAKING: UNM Press Conference And Sign The Petition!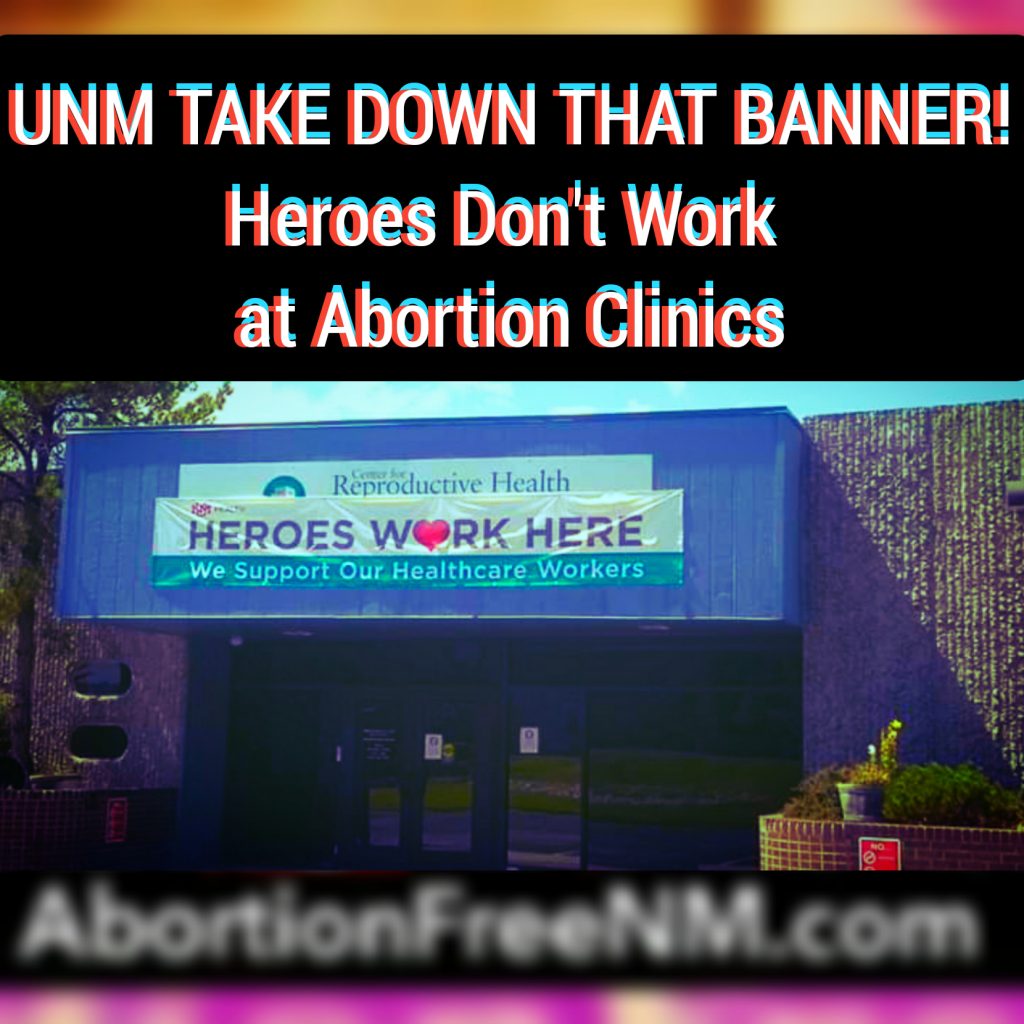 By Bud Shaver
Albuquerque, New Mexico- Abortion Free New Mexico joins the Garcia Holmes for Congress campaign in calling for the University of New Mexico (UNM) to remove the "Heroes Work Here" banner from their free-standing abortion facility. This banner was placed on the building sometime after the coronavirus outbreak.
A press conference will be held Friday, July 10th at 10:30am at the UNM Center for Reproductive Health located at 2301 Yale Blvd. SE.
"This banner that currently hangs at the University of New Mexico's free-standing abortion clinic is simply promoting a falsehood that abortionists are heroes. Just the opposite is true, abortionists have betrayed true medicine and take innocent lives everyday. Join us in contacting UNM President Garnett S. Stokes by signing our online petition. When you do, an email will be sent to her requesting that the banner be removed. This is a small step in letting leadership at UNM know that the pro-life community expects more from the states flagship university," stated Tara Shaver spokeswoman for Abortion Free New Mexico.
UNM TAKE DOWN THAT BANNER!
Click Here To Sign The Petition
Here is a press release sent out today by Congressional candidate Michelle Garcia Holmes.
PRESS CONFERENCE
Date: Friday, July 10, 2020
Time: 10:30 AM
Location: 2301 Yale SE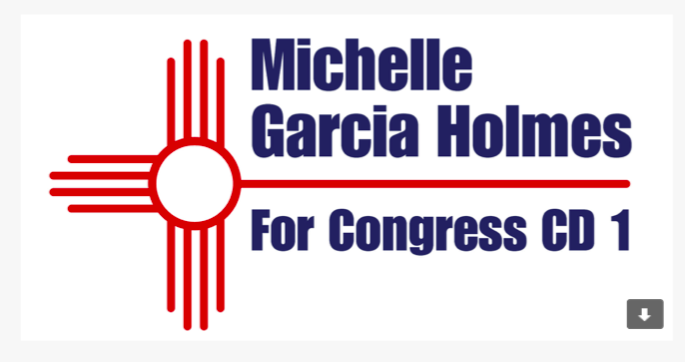 The Michelle Garcia Holmes Congressional Campaign Calls for the "Heroes Work Here" Banner to be Removed from University of New Mexico Abortion Clinic
The University of New Mexico tax payer funded abortion clinic, (University of New Mexico Center for Reproductive Health) is claiming that they are heroes for providing abortions during the Covid-19 crisis. The clinic hoisted a large banner with the message "Heroes Work Here" covering their permanent sign. Our Congressional Campaign found out the clinic proudly posted the banner several weeks ago. The clinic is located at 2301 Yale SE in Albuquerque, New Mexico.
Michelle Garcia Holmes said, "My shock quickly turned to sadness when I saw this banner." "I know so many heroes in our community who are fighting to save lives amidst this pandemic. The work our doctors, nurses and healthcare professionals have been doing, has been challenging, high-risk and a huge personal sacrifice. Many are working long hours and have been separated from their families for extended periods of time."
From the start of the Covid-19 lockdown, our Governor deemed abortion clinics as essential businesses. "I disagree, at a critical time such as this, I believe the clinics should have been closed and deemed non-essential." "We have had numerous people coming in from out of state to visit the abortion clinics in our state, because they are open and will do abortions up to a baby's date of birth."
"For an abortion clinic, whose sole purpose is to take life, to blatantly compare itself to hospital medical staff caring for covid-19 patients is shocking and insulting." Garcia Holmes continued, "We do have medical heroes, saving lives every day while risking their own safety and well-being, however they are not working at these abortion clinics. I have the highest respect for our medical community and the work they have done to protect all New Mexicans during these difficult times."
The Garcia Holmes Congressional Campaign and our supporters have notified by telephone and mail, asking the University of New Mexico President, Garnett Stokes, to immediately have the management of the UNM sponsored abortion clinic to take down that banner. As of today, the offensive banner remains posted. Garcia Holmes stated, "This attempt for the UNM abortion clinic to steal the honor and praise of truly dedicated medical staff at our hospitals and clinics should stop now. The intentional taking of another innocent person's life should never be rewarded, celebrated or honored."
###