UNM Abandons Experimental Research BUT Radical Abortion Agenda Unabated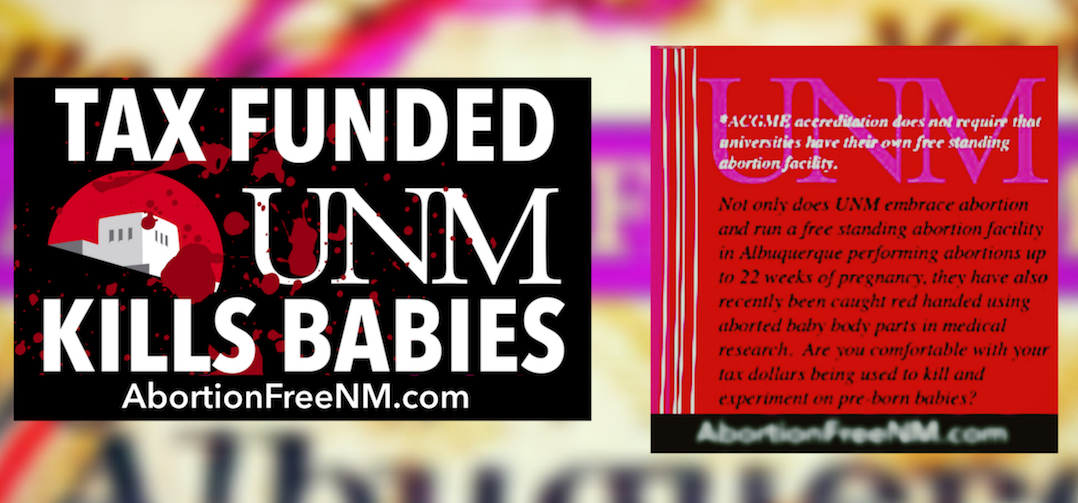 By Bud Shaver
Albuquerque, NM- For years, members of Abortion Free New Mexico have worked with Operation Rescue to expose that the University of New Mexico (UNM) is at the heart of the New Mexico abortion cartel. Through investigative research Abortion Free New Mexico has exposed that UNM is actively training up the next generation of abortionists and running their own free standing abortion facility. After a formal complaint filed by Tara Shaver, in 2015, with the New Mexico Attorney General's office based on consent forms (1),(2) she obtained from Southwestern Women's Options (SWO), in addition to pressure and awareness from Abortion Free New Mexico, other local pro-life groups, and a U.S. Congressional inquiry, the nefarious nature of the collaboration between UNM and SWO has finally come to light.
SHOCKING REVELATION COMES TO LIGHT
According to an Albuquerque Journal article published this week, Dr. Robin Ohls, a neonatologist at University of New Mexico Hospital, who specializes in caring for ill newborns, has been conducting experimental research using aborted babies for years.
"[Ohls] said her UNM lab has used fetal tissue to explore various 'developmental questions,' evaluating issues that affect premature infants, such as heart and eye disease and brain growth."
Due to the public scrutiny generated by these shocking revelations and two internal investigations by the University of New Mexico, this week, the Albuquerque Journal announced:
"an indefinite end to any such research at the state's largest university."
The abortion industry has attempted to justify the use of aborted babies in medical research as some kind of "greater good" that can come from their barbaric practices, but instead Americans have been horrified and appalled by these shocking realities.
Tara Shaver issued the following statement,
"While it is good that the University of New Mexico is abandoning their experimental research using aborted babies, they now need to close their free standing late term abortion facility, the UNM Center for Reproductive Health (UNMCRH). This would be a good next step toward ending their radical abortion agenda that is killing babies up to 24 weeks of pregnancy. In addition to the babies being killed at UNMCRH, Abortion Free New Mexico has also documented that women have been injured obtaining abortions at this facility. Nothing good can come from abortion, and the facts remain that UNM is still in the business of killing babies, maiming women and in the process they are only destroying their own reputation."