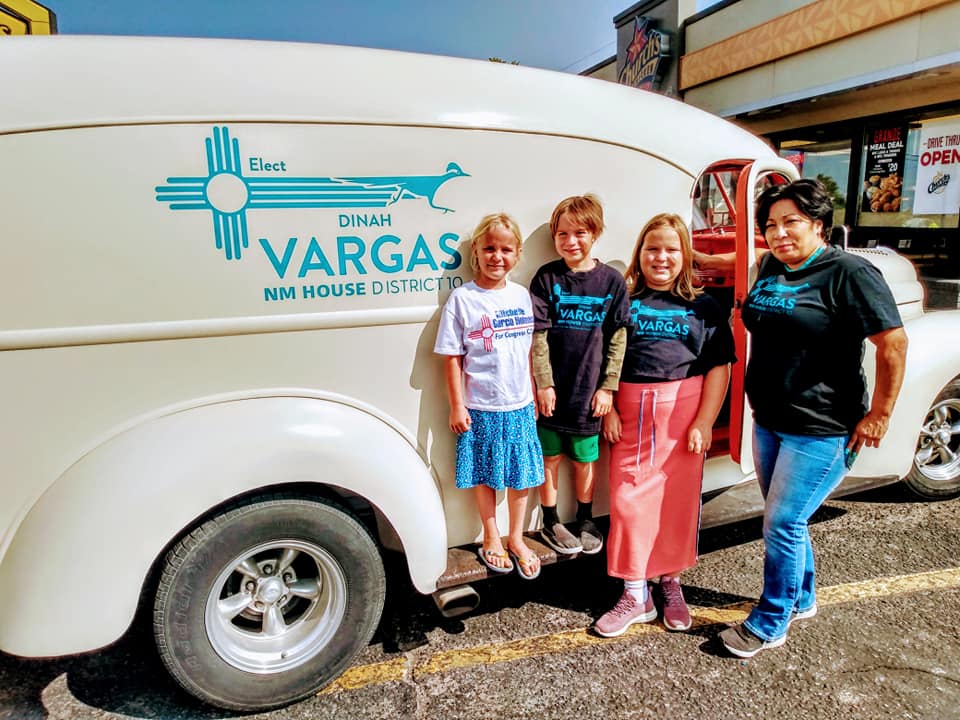 Dear Friends,
We hope that September was a very blessed month for you and your family. This month has been fruitful as we continue to work several strategies to make New Mexico Abortion Free.
One thing that struck us this month was just how far New Mexico has come over the last 10 years of our ministry. As we listened to candidates speak this month about their passion for life and the realization that until we address the abortion crisis our state is facing that nothing else will change. It confirmed for us that our work to educate and inspire others on the issue of abortion, is helping to transform New Mexico in many other relevant ways as candidates are stepping up to build every component of the culture of life.
Sometimes it is hard work and frustrating in the moment but we are now witnessing how important perseverance truly is. We really have the opportunity to change the direction of the late term abortion capital of the nation so that babies and their mothers are protected from the brutality of abortion.
Thank you for standing with us as we serve New Mexico as pro-life missionaries. Everything we do helps us to get closer to our goal of an abortion free state. You are a blessing and together we are a stronger voice for the Lord and His precious children.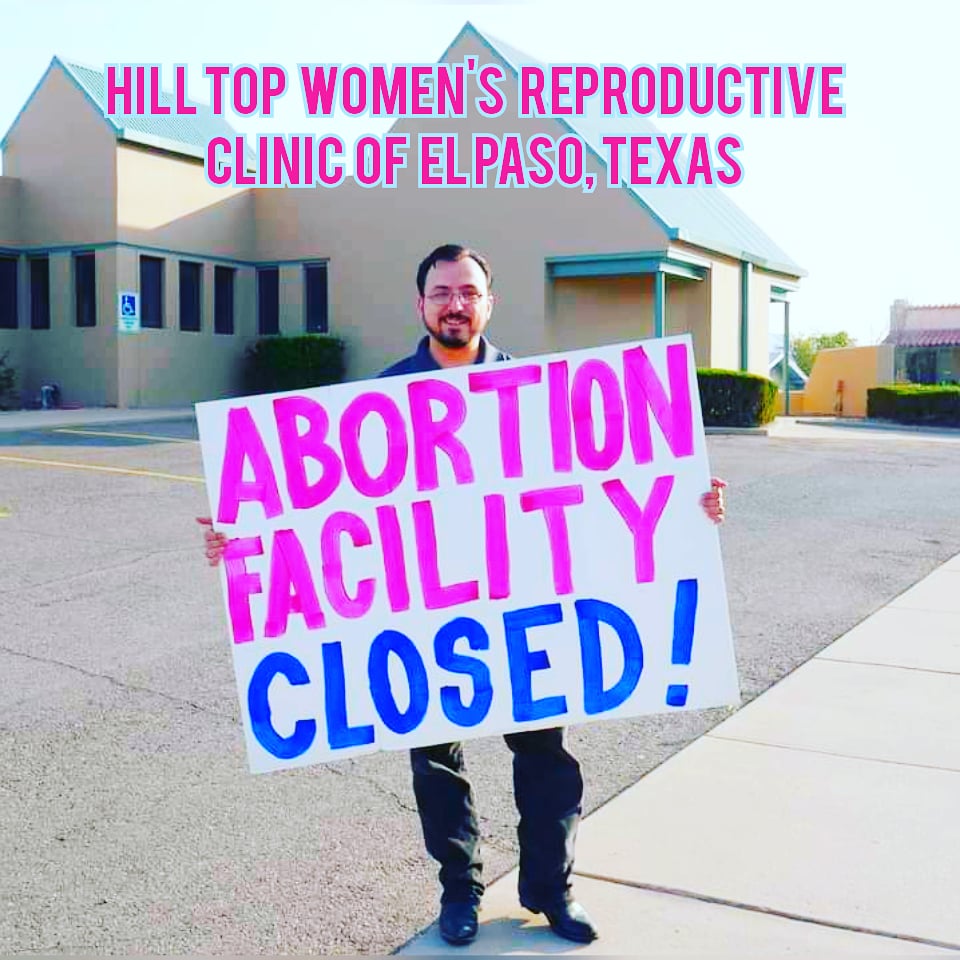 A perfect storm created by formal medical and nursing board complaints filed against abortionist Franz Theard and his clinic manager, Gloria Martinez, in addition to Texas deeming abortions non-essential, has caused Hill Top Women's Reproductive Clinic, an abortion facility in El Paso, TX to close its doors for good!
Exactly one year ago (September of 2019) Abortion Free New Mexico announced Hill Top as the weak link of the abortion cartel in New Mexico. Franz Theard, an abortionist of 36 years, has dominated the borderland region of New Mexico and Texas with his abortion businesses in El Paso, TX and right across the border in Santa Theresa, NM. While his New Mexico facility will remain open, it is an answer to prayer and the fruit of a lot of hard work done by the pro-life community, that his El Paso facility will no longer be killing innocent children.
Hitting The Streets, Mobilizing Districts Throughout Albuquerque, To Get Out The Vote for Pro-Life Candidates and President Trump.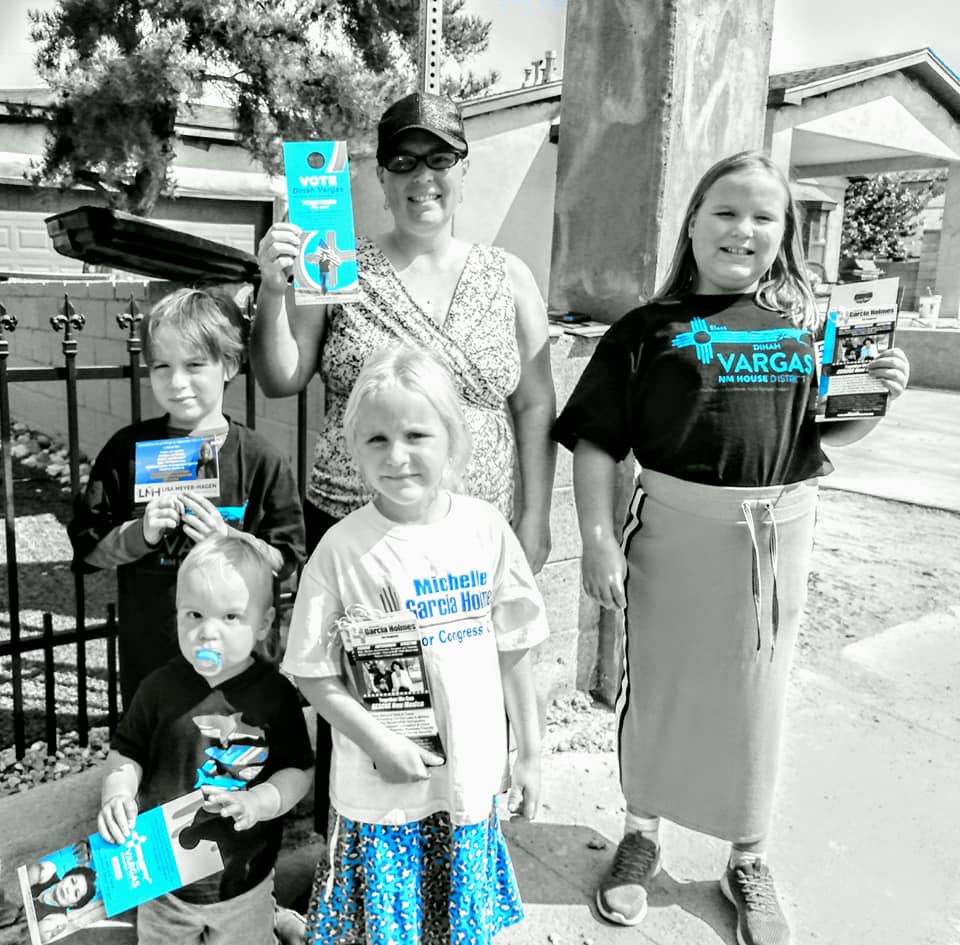 This month we went door to door in an area of Albuquerque, that overlaps for pro-life candidates Dinah Vargas for HD10, Lisa Meyer-Hagen for SD12, Michelle Garcia Holmes for Congress CD1 and the conservative judges. These NM House and Senate Districts are home to Southwestern Women's Options the nation's largest late-term abortion mill and the UNM Center for Reproductive Health the UNM's tax funded abortion mill. By flipping these crucial seats in November, it will have the greatest impact of building a culture of Life in New Mexico.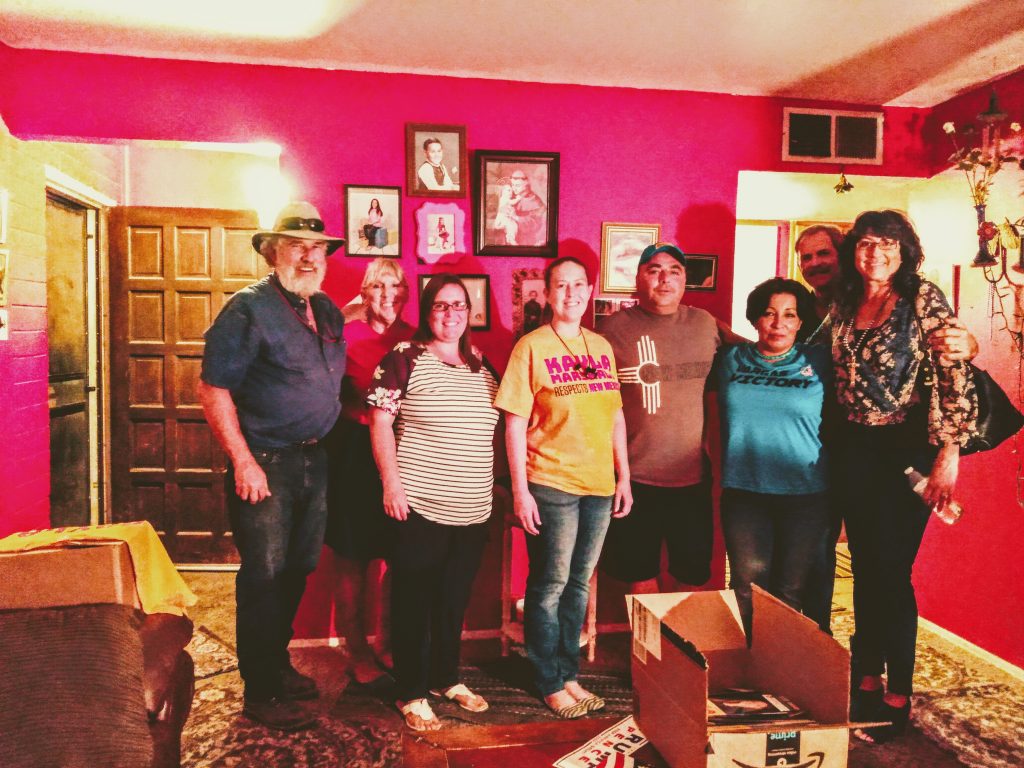 Tara continues to plan district meetings across Albuquerque to help mobilize get out the vote efforts for several pro-life candidates. Getting our base to the polls is crucial on November 3rd.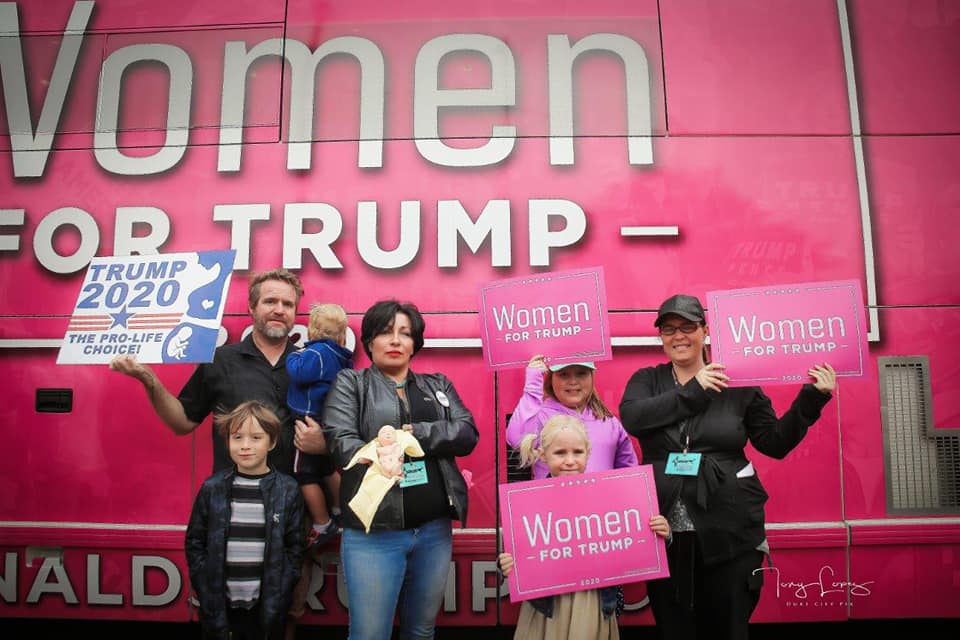 The "Women For Trump" get out the vote bus stopped in New Mexico, one of only 10 states visited during the tour. President Trump has invested so much into our state and his team is mobilized with statewide door to door and several other get out the vote efforts that are sure to turn New Mexico RED!
Press Conference: Sign The Petition, UNM Take Down That Banner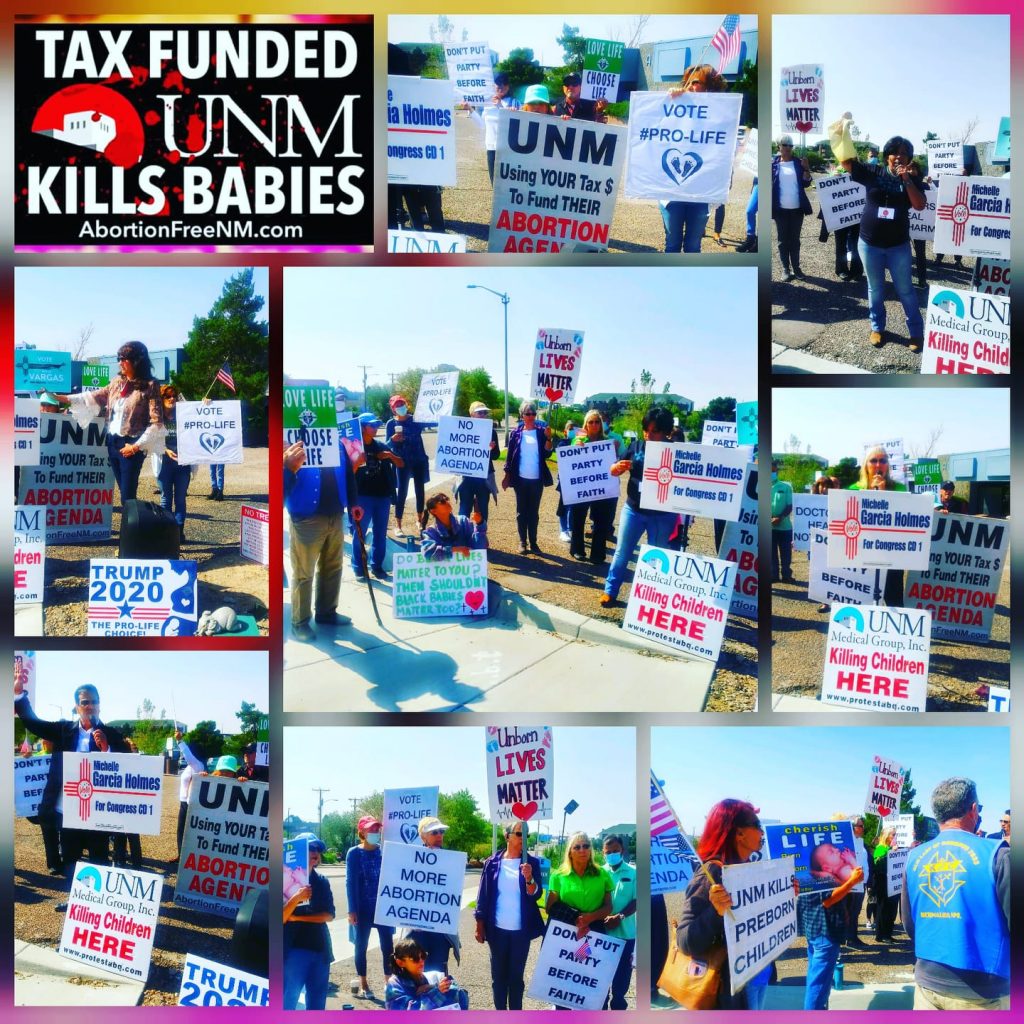 Abortion Free New Mexico will be held a press conference this month,September 11th at 10:30am at the UNM Center for Reproductive Health located at 2301 Yale Blvd. SE. Local candidates including the Garcia Holmes for Congress campaign, Dinah Vargas for House District 10, and Manuel Lardizabal for Senate District 26 will spoke and called for the University of New Mexico (UNM) to remove the "Heroes Work Here" banner from their free-standing abortion facility. This banner was placed on the building within the last few months as abortions were deemed essential services in New Mexico.
"The banner that currently hangs at the University of New Mexico's free-standing abortion clinic is simply promoting a falsehood that abortionists are heroes. Just the opposite is true, abortionists have betrayed true medicine and take innocent lives everyday. Join us in contacting UNM President Garnett S. Stokes, UNM Medical Group and the UNM Regents by signing our online petition. When you do, an email will be sent to them requesting that the banner be removed. This is a small step in letting leadership at UNM know that the pro-life community expects more from the states flagship university," stated Tara Shaver spokeswoman for Abortion Free New Mexico.
The petition reads in part, ​
"We the People of New Mexico, citizens, taxpayers, University of New Mexico Alumni, are disgusted that the University of New Mexico, our state's flagship institution, has publicly deemed abortionists heroes by means of a banner attached to one of its buildings with the message "Heroes Work Here". This facility is located at 2301 Yale SE in Albuquerque, New Mexico. Heroes do not work at abortion clinics.
​
For an abortion facility, whose main purpose is to take life, to blatantly compare itself to hospital medical staff caring for COVID-19 patients is shocking and insulting. We do have medical heroes, saving lives every day while risking their own safety and well-being, however, they are not working at this abortion clinic. The UNM Center for Reproductive Health performs late term abortions through 6 months gestation!

The University of New Mexico is an institution of higher learning, in addition to removing the "Heroes Work Here" banner, our hope is that UNM will disassociate the university from this facility because the intentional taking of an innocent person's life should never be associated with our university's policies or mission."…. ​
National Day of Remembrance for Aborted Children Recap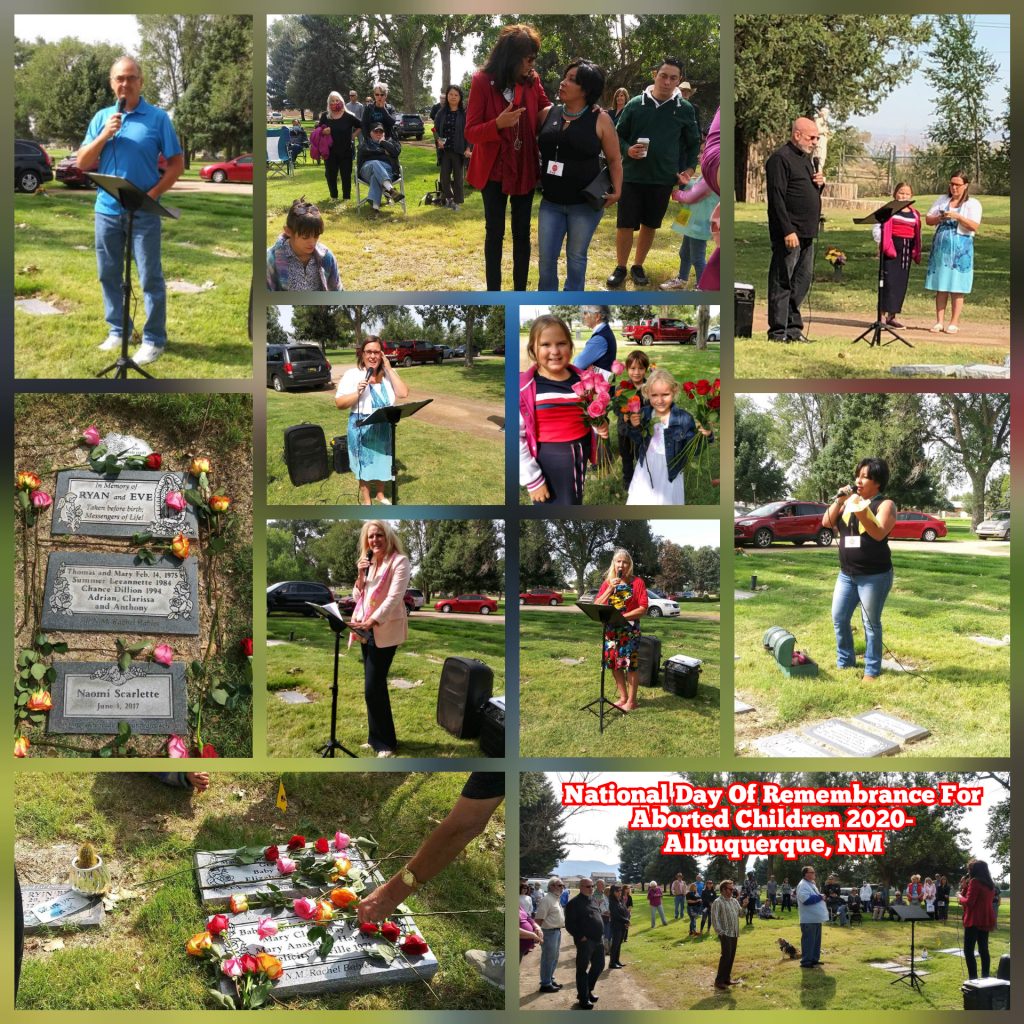 On Saturday, September 12, 2020 at the burial location of two aborted babies, Ryan and Eve, 70 participants in Albuquerque, NM gathered for a time to remember and honor the victims of abortion throughout our nation.
This annual event was sponsored by Abortion Free New Mexico, and those in attendance were blessed to hear from passionate speakers such as Michelle Garcia Holmes for CD1, Lisa Meyer-Hagen for SD12, Dinah Vargas for HD10 and Mary Ingham for SD14.
These women are such an inspiration and an answer to prayer for godly leaders to rise up in New Mexico.
Faith To Action Friday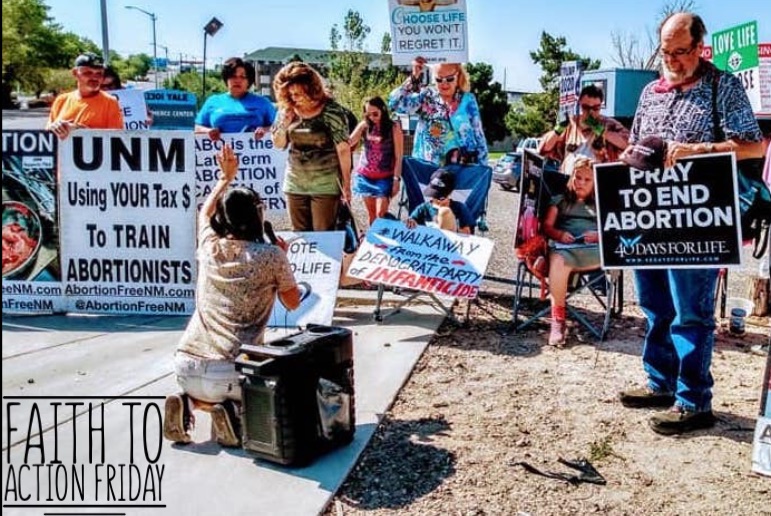 Abortion Free New Mexico conducts a weekly prayer and protest presence at the University of New Mexico's free standing abortion facility. Let's stand together for life and strategically step out in faith to transform our community.
PRAYER REQUEST: Freydis (pictured in prayer on her knees), who joins us each week has a friend who is considering an abortion. This mom spoke with Tara Shaver, she is in an abusive relationship and addicted to drugs. Pray that she will turn her heart towards her unborn child and receive the help and resources offered to her.
Join Us In October!
Stand Up For Life in front of the University of New Mexico's free standing abortion facility.
Faith to Action Fridays, 2nd, 9th, 16th, 23rd, and 30th.
Time: 10-11am
Location: 2301 Yale Blvd. SE. in Albuquerque.
Use street parking on Renard.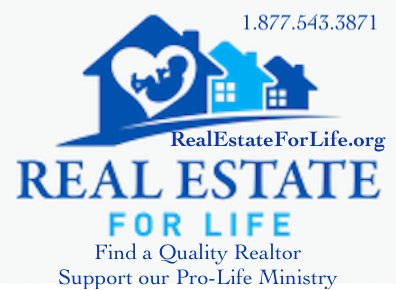 Support Our Pro-Life Ministry by Using Real Estate for LIFE!
Buying or Selling a House or Property?
Use a Pro-Life realtor and support our ministry at no cost to you!
Just mention that you want to support Pro-Life Missionaries Bud and Tara Shaver
Call Real Estate for Life: 1-877-543-3781
Email: info@RealEstateForLife.org
Visit their website for more information: RealEstateForLife.org
Please pray with us for New Mexico
For: The University of New Mexico to hire a pro-life person for their Health Sciences Center position and for them to defund and close their free standing abortion facility.
The Texas Board of Nursing complaint that we have filed against Gloria Martinez to result in the loss of her license. UPDATE: Theard's El Paso mill closed! Pray that his NM mill will follow suit!
For: Our latest collaborative project with Created Equal: Project Weak Link, New Mexico. We will be launching phase 2 this month…
For: New Mexicans to vote for godly candidates on November 3rd.
For: Fellowship and unity for the pro-life community in New Mexico.
Thank you for standing with us for life!
We are a Christian missionary family serving in Albuquerque, NM. Putting our faith into action, for the past 10 years we have exposed Albuquerque as the late term abortion capital of the nation and have worked to bring accountability to an unregulated abortion industry that is killing children in their mothers wombs up to the day of birth.
In order to be the most effective in our pro-life ministry, we do this important work full time while homeschooling our children and raising them to have a biblical worldview. We rely solely on the provision of the Lord and individuals like you to provide for our daily needs.
We are pursuing and working toward an abortion free New Mexico, where every pre-born child is valued and protected.
We couldn't do this important work without God's calling and hand upon us as well as your faithful prayers and support.
We would be blessed to have you partner with us in this ministry. Your prayers and support are invaluable.
Ways to partner with us as we work to build an Abortion Free New Mexico