Franz Theard No-Show and Upcoming Events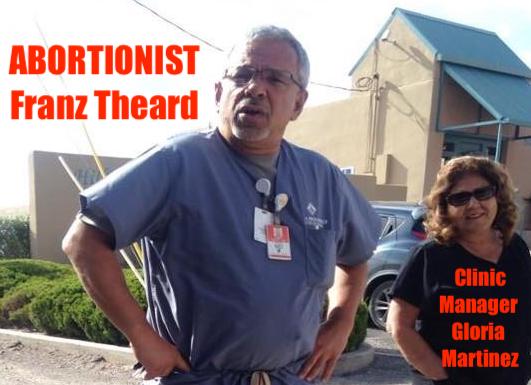 By Bud Shaver
Albuquerque, NM- After Abortion Free New Mexico revealed that it has filed a formal FDA complaint against abortionist Franz Theard, local pro-life advocates from Southwest Coalition for Life have announced that he has not shown up to perform abortions this week!
We will be traveling down to Southern New Mexico with Fr. Stephen Imbarrato of Life Ministries US and several other pro-life advocates from Albuquerque next week to join forces with the Southwest Coalition for Life!
In addition to our public presence on the ground in El Paso, TX and Santa Teresa, NM we are also mailing over 2,000 postcards throughout the two communities letting them them know about Franz Theard's double life as an abortionist and OBGYN doctor delivering babies at TWO local hospitals!
Southwest Coalition for Life Director Mark Cavaliere issued the following statement,
"Abortion Free NM will be visiting the El Paso area September 16-17 as part of a public awareness campaign to help expose Theard's double life as a notorious abortionist while also working for The Hospitals of Providence and Las Palmas Del Sol Healthcare to deliver babies. Theard also has his own private obstetrics office just a half-mile down the road from his abortion center on Schuster. While his HilltopWomensReproductive.com website only offers abortion and does not use the word "baby" or his name, his ObGyn office has a separate website at DrTheard.com which includes his service of "guiding your baby into this world."

As part of their public awareness, they will be holding multiple protests of Theard's ObGyn office at 1201 Schuster, as well as at the two hospitals which employ the abortionist to deliver babies. Event details are listed below. Joining them also will be Fr. Stephen Imbarrato of Life Ministries US who will be offering Mass outside the Santa Teresa abortion facility at 5290 McNutt on Tuesday Sept 17 at 9AM as part of his 6-week On the Road for Life campaign across the nation.

The timing of this news is providential as we are ready to embark on our largest 40 Days for Life campaign yet! Your prayers and fasting are working to continue putting pressure on Hill Top which has been performing abortions for 35 years in El Paso. Let's take advantage of this window of opportunity to make this our most fervent vigil yet and finally see the infamous Hill Top center shut down for good!"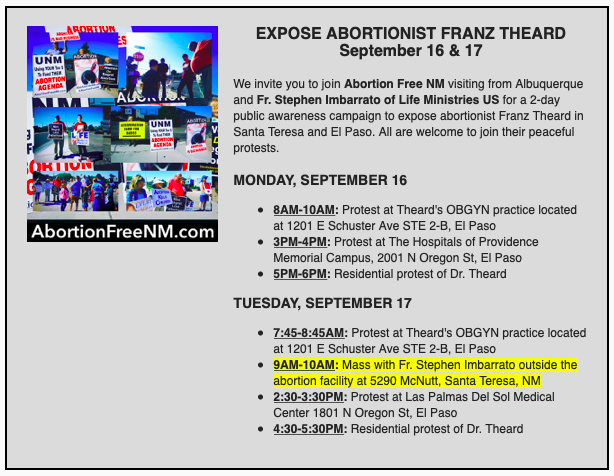 If you are in the Santa Teresa, NM/El Paso, TX area please join us for some or all of these events.
If you are not in the area, please pray for our efforts and for Franz Theard to abandon his abortion businesses.
Upcoming Events this Week…
Join us for Faith to Action Friday (September 13th) and for the National Day of Remembrance for Aborted Children (Saturday September 14th):