Unified Collaboration In The Borderland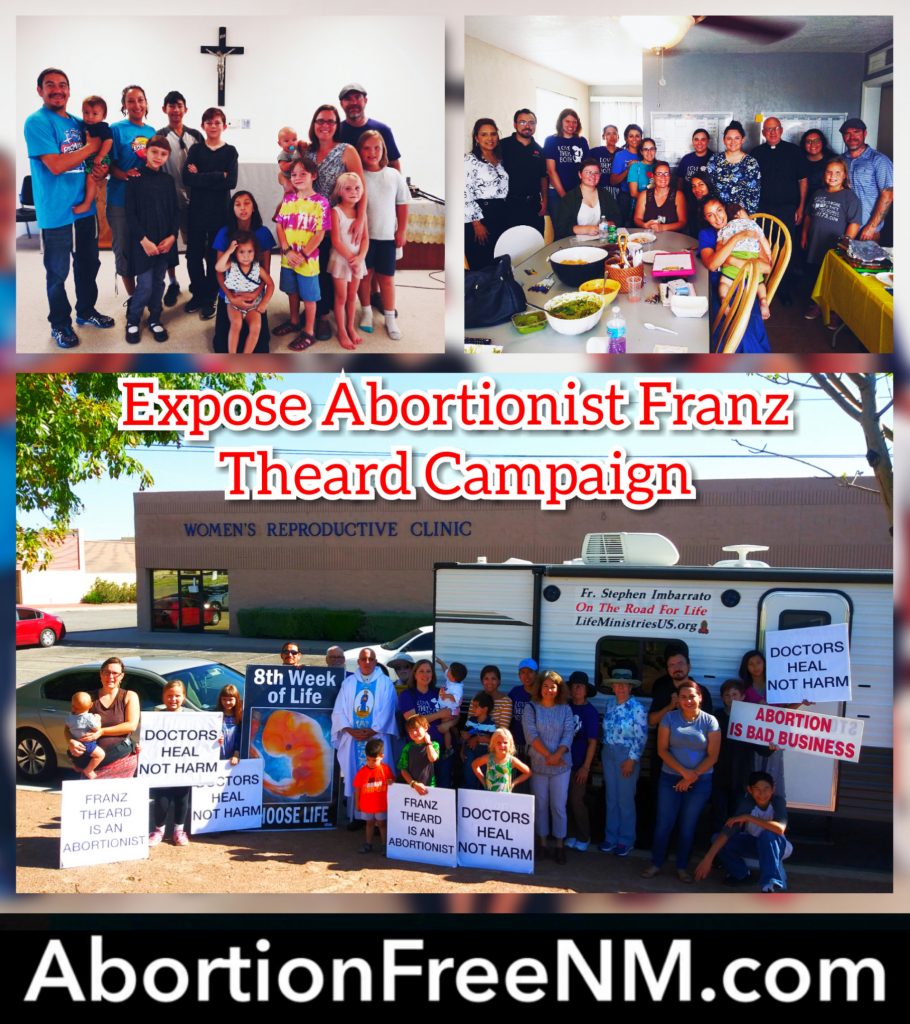 By Bud Shaver
Santa Teresa, NM/ El Paso, TX- Effective collaboration, unity, fellowship and community are just some of the things that Abortion Free New Mexico and Fr. Stephen Imbarrato, director of Life Ministries US experienced the past two days doing pro-life outreach in the borderland. The pro-life community of Southeastern New Mexico and El Paso were such a blessing as they welcomed us with open arms and fully recognized the need to work together in unison, complimenting each other in an effort to make their communities abortion free. Abortion Free New Mexico would also like to thank the Martin family from Rio Rancho who joined us for this trip to light up the darkness, our families combined totaled four adults and ten children, a truly powerful presence and witness for life.
Revealing Drive Along Schuster Ave.
As you exit I-10 onto Schuster Ave. in El Paso, Texas you immediately pass the University of Texas at El Paso (UTEP) on the left, directly past UTEP are the two hospitals where abortionist Theard delivers babies when he's not killing other women's babies, then on the right is his abortion mill "Hill Top Women's Reproductive Clinic", 1000 feet away is El Paso High School. Each afternoon these high school students walk on the sidewalks right in front of Franz Theard's abortion business as they make their way home.
1500 feet in the other direction, Franz Theard has his very separate OBGYN practice, where Abortion Free New Mexico spent time each morning to let his patients know that he is an abortionist. Many were surprised and appalled. What woman would want an abortionist to deliver their baby? One mile up the road, with a scenic overlook, is Theard's home. Being on the ground in El Paso and exposing Franz Theard's abortion business helped us to see who his targeted client base is and how his grisly abortion business has infiltrated this part of El Paso.
Just 11 miles down I-10 and across the Texas/ New Mexico border is Hill Top Women's Reproductive Clinic in Santa Teresa, New Mexico. This clinic is being strategically utilized to evade Texas abortion laws regarding minors. Theard readily sends minors to this clinic from his El Paso location and continues to put these girls lives at risk while prescribing the deadly abortion drug Mifepristone (RU486).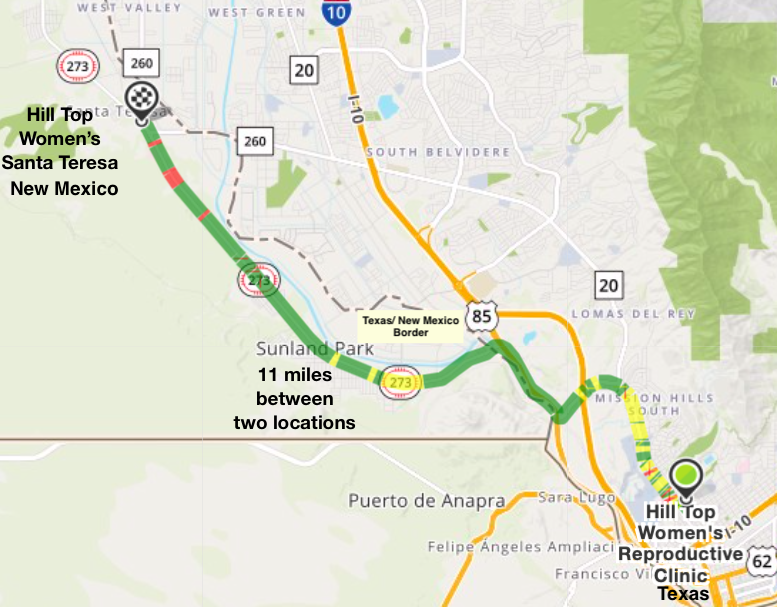 Even though members of our group asked to meet and pray with him, Theard refused. This hardened heart, we hope, will change as we continue to reach out to him and educate the community about who he is and how his abortion businesses are bad for New Mexico and Texas.
After our visit, Southwest Coalition for Life Director, Mark Cavaliere, issued the following statement,
"We are extremely humbled and grateful to Abortion Free New Mexico for generously traveling from Albuquerque to invest two days of their time and expertise to help our local mission by drawing attention to El Paso abortionist Franz Theard's FDA violations and double-life of delivering babies at his ObGyn office while killing them just a half mile down the road at his Hill Top abortion center. Their gracious collaboration and dedicated focus on accountability has helped to fill a void in El Paso which complements our specific ministry focus of crisis intervention through sidewalk advocacy and prayer, and Guiding Star El Paso's focus on crisis management through ongoing client care. We sometimes forget that unity does not mean uniformity, but God gives us each unique callings and talents to suffer and rejoice together as one Body (1 Cor 12:18-27)."
Snapshot of our extensive protest efforts that covered two states in two days!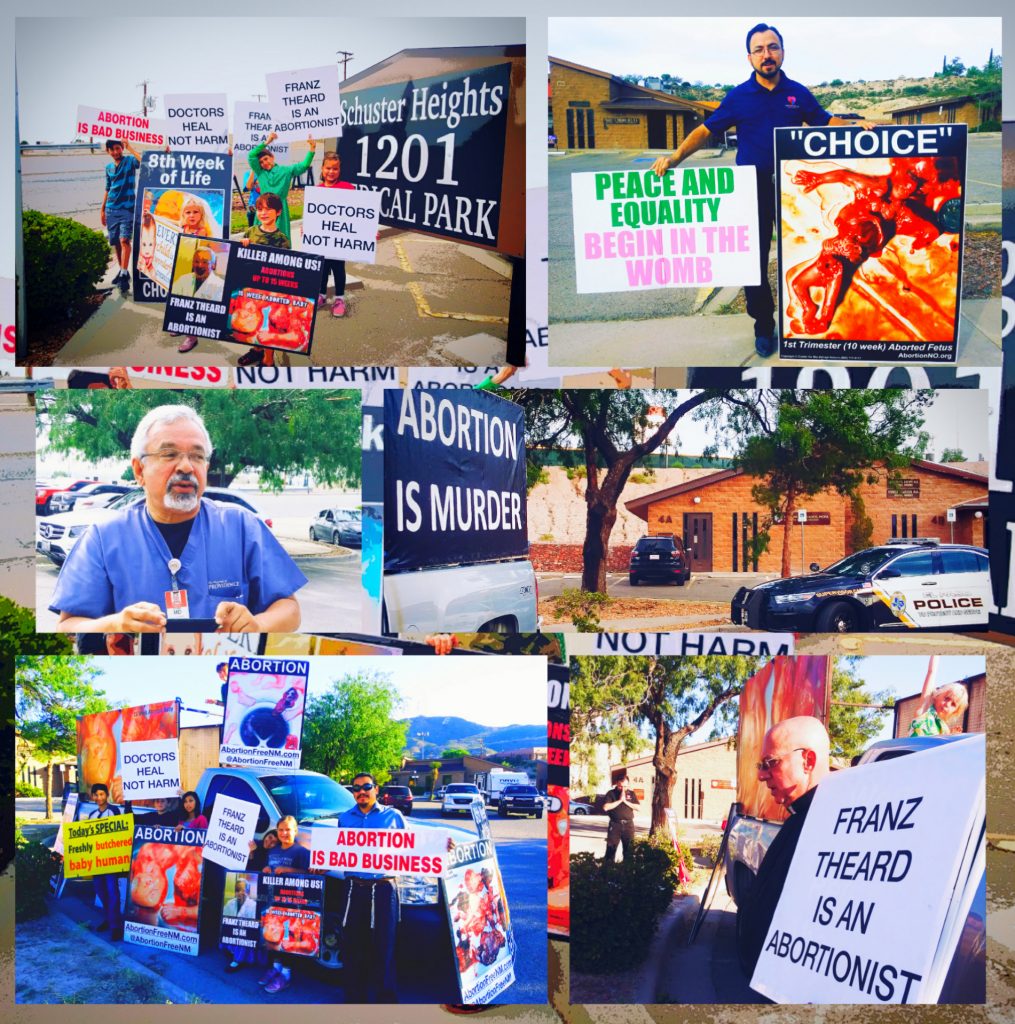 Abortion Free New Mexico, Fr. Stephen Imbarrato: The Protest Priest and Southwest Coalition for Life join forces at Franz Theard's OBGYN office located only a half a mile down the street from his abortion killing center.
Franz Theard is living a double life where he delivers babies at one location and kills babies at the other!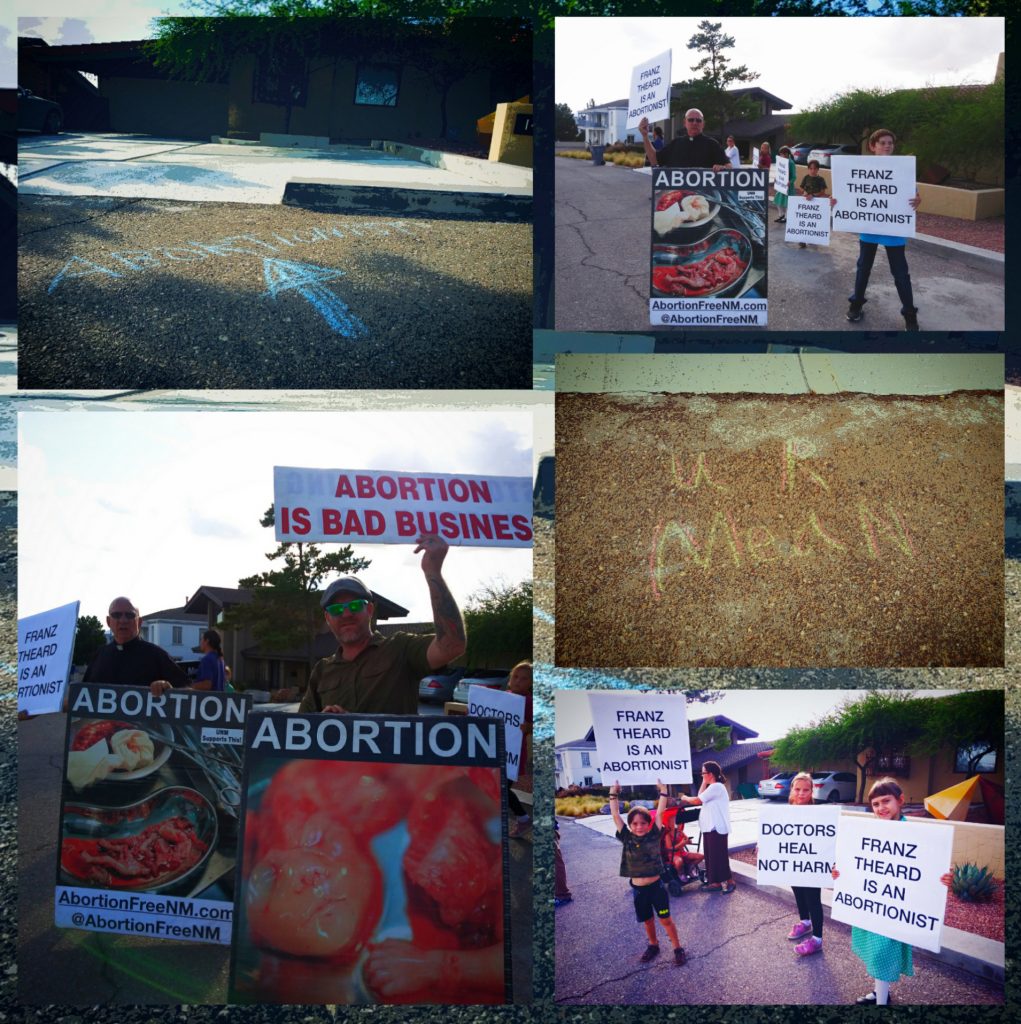 Residential protest combined with "Chalk and Awe" throughout Franz Theard's posh neighborhood exposing that fact that Franz Theard has been making his money for decades off of the blood of defenseless children and that they have a killer living among them!
Abortion Free New Mexico, Fr. Stephen Imbarrato: The Protest Priest and Southwest Coalition for Life protested outside of two El Paso hospitals, The Los Palmas Medical Center and The Hospitals of Providence Memorial Campus, where abortionist Franz Theard has admitting privileges to deliver babies on the days he's not killing them.
Tara Shaver of Abortion Free New Mexico spoke to representatives of both hospitals to follow up with them since they refused to release a statement earlier this month. On both of their websites abortionist Franz Theard is listed as a "Physician affiliated" with their hospitals "in good standing". While both hospitals confirmed that in fact Franz Theard does deliver babies at both hospitals.
Abortion Free New Mexico, Southwest Coalition for Life and Fr. Stephen Imbarrato director of Life Ministries US who's "On the Road for Life" then teamed for prayer and protest in Santa Teresa, NM at Hill Top Women's Reproductive Clinic located just across the Texas border in New Mexico. Fr. Stephen Imbarrato lead Mass and prayers of minor exorcism on location!
Abortion Free New Mexico filed a joint complaint last week against abortionist Franz Theard with the Food and Drug Administration (FDA) and other federal and state agencies regarding a violation of the Risk and Evaluation and Mitigation Strategies (REMS) and prescriber agreement for the drug Mifeprex, also known as Mifepristone and the RU486 abortion pill.
Tara Shaver spokeswoman for Abortion Free New Mexico issued the following statement,
"We look forward to future outreaches in the Borderland to keep the pressure on Franz Theard and his abortion businesses. Abortion is bad for our communities and Abortion Free New Mexico is fully committed to honing in on the weak links of the abortion cartel in our state. Pregnant women, the residents of Santa Teresa and El Paso, and his colleagues deserve to know about Franz Theard's abortion businesses and must be made aware that he has betrayed true medicine and is doing harm instead of healing."
Postcard Campaign…
In addition to being on the ground, Abortion Free New Mexico has mailed postcards throughout both communities in El Paso, TX and Santa Teresa, NM to both residences and businesses surrounding his abortion killing centers, his OBGYN office and both hospitals!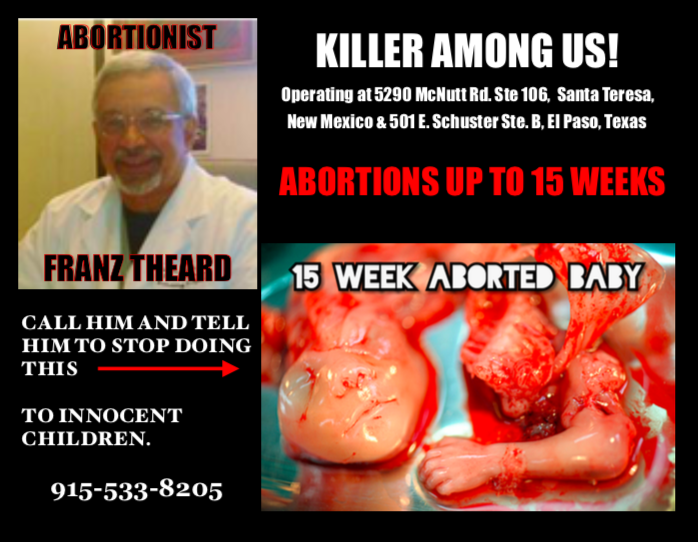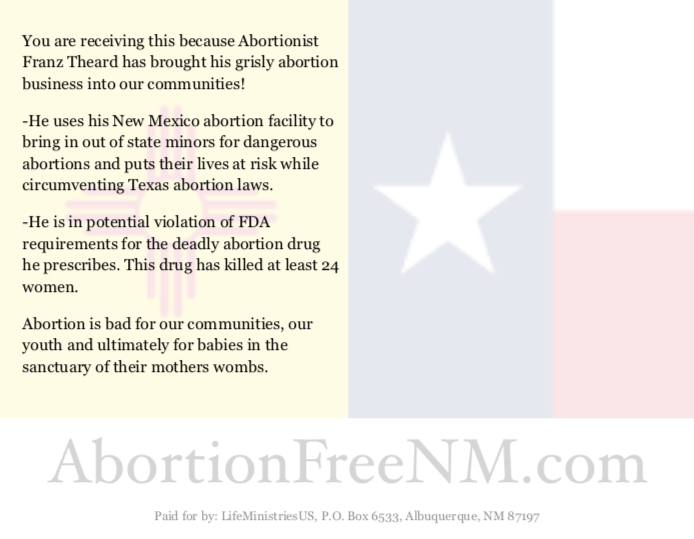 ACTION ITEM: Abortion Free New Mexico is asking people to call Franz Theard and ask him to get out of the abortion business.
Call Franz Theard today:
915-533-8205
Upcoming Events this Week…
Join us for Faith to Action Friday (September 20th)