Civil Disobedience Is In Season

By Bud Shaver
Albuquerque, New Mexico- With the latest pandemic lockdown in full force here in New Mexico, civil disobedience has gone mainstream! Our governor has deemed Church non-essential and gatherings of more than 5 people are illegal, so our family of six is technically illegal! With unreasonable mask mandates (our governor even stated that we must wear our masks in our homes), social distancing and tyrannical regulations for small businesses, it seems that everyone is civilly disobeying some order routinely.
So now that civil disobedience is in season, why not do so for the babies scheduled to die in abortion clinics across our country?
The National Red Rose Rescue Conference
Intrigued? Interested? Learn more about Red Rose Rescue the latest most creative, innovative and bold efforts to defend and save the unborn. Register Now for this Exciting Conference. You can attend in person in St. Charles, Missouri or you can attend virtually in the comfort of your own home online.
 When: Saturday, Dec. 12th  From 8:30am to 6:00pm (CT) 
Where: At the Embassy Suites Hotel Two Convention Center Plaza St. Charles, MO. 
How much: Attend in Person- Only $75.00 Includes Breakfast and Lunch or Attend Virtually—Only $25.00​
Abortion Free New Mexico is a proud sponsor of the Red Rose Rescue National Conference
Reserve your room Under Citizens for a Pro-Life Society Dec 11th Only $99.00 —or Call the Hotel—636-946-5544 — And all info is available under Events Tab at RedRoseRescue.com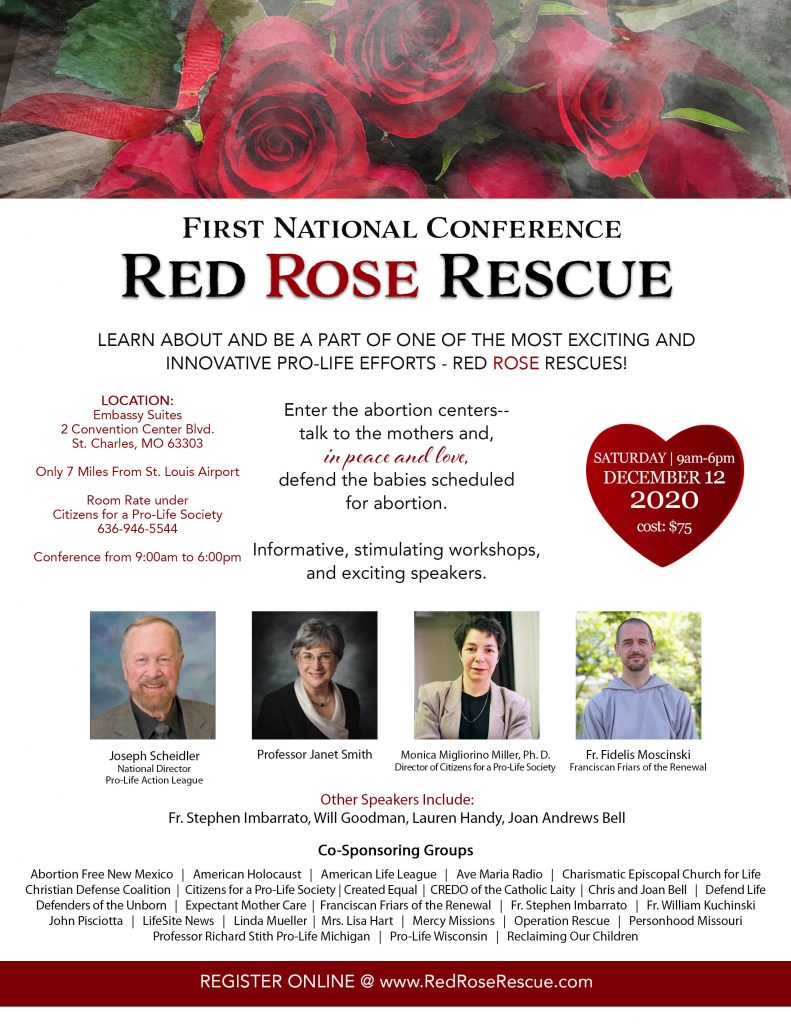 WHY RED ROSE RESCUE? WHY WASHINGTON D.C.?
​Bud joined Fr. Stephen Imbarrato for a Red Rose Rescue in Washington D.C.
FULL REPORT: OVERTURN ROE: RED ROSE RESCUE IN WASHINGTON D.C.
Faith to Action Friday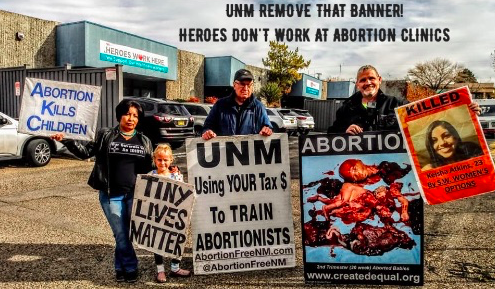 Stand Up For Life in front of the University of New Mexico's free standing abortion facility.
Join Us: Faith to Action Friday November 20th.
Time: 10-11am
Location: 2301 Yale Blvd. SE. in Albuquerque.
Use street parking on Renard.
UNM REMOVE "HEROES WORK HERE" BANNER AND CLOSE ABORTION FACILITY (UNMCRH)
"If we accomplish nothing else, we must succeed in protesting the evil of our generation! One hour a week is all it takes to save a baby's life and to light up the darkness in your community." Bud Shaver, Abortion Free New Mexico