2021 Year In Review: Top 10 Highlights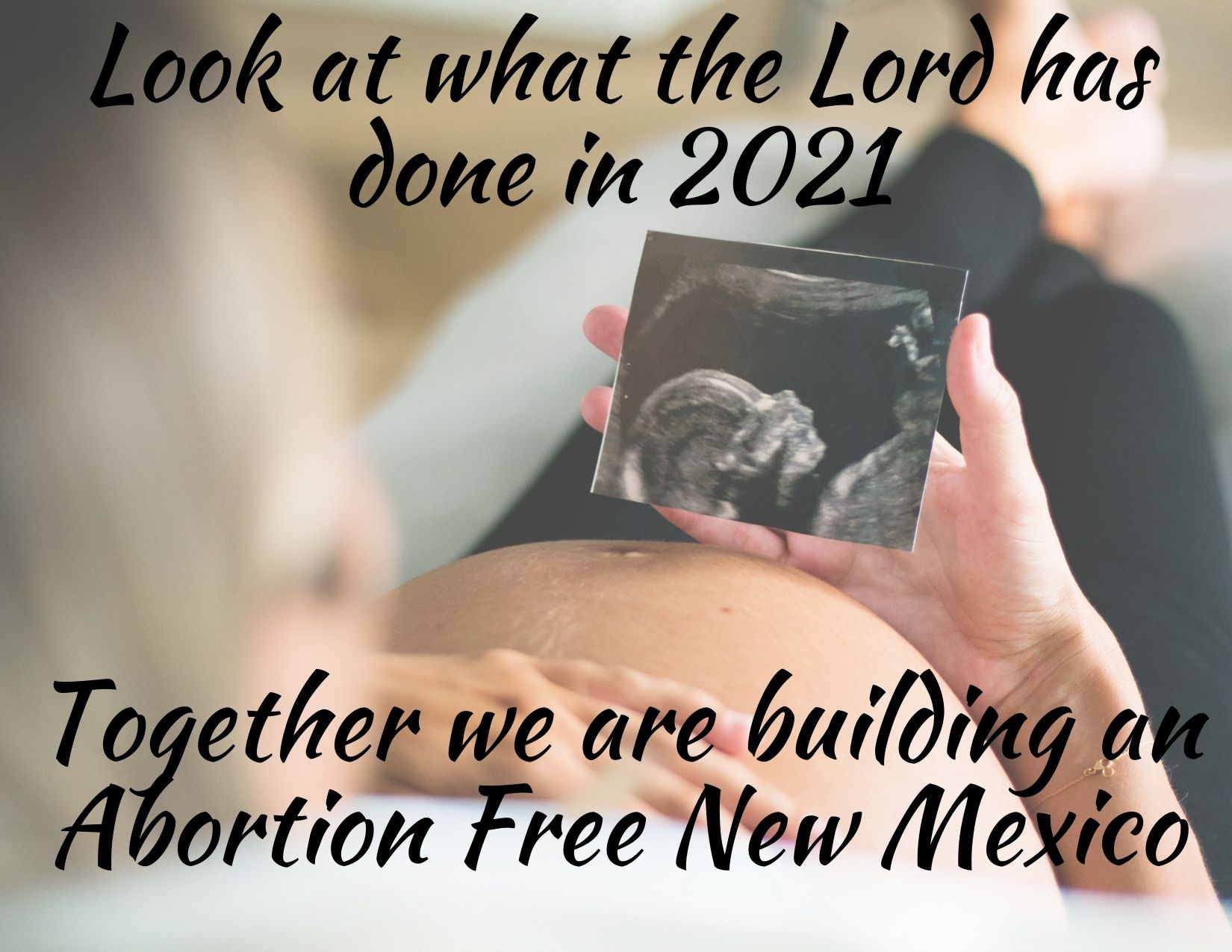 By Bud Shaver,
Albuquerque, New Mexico- Thank you so much for your prayers and support in 2021, it has been another blessed year of service to our Lord here in Albuquerque, NM. In spite of all of the chaos the Lord has done a mighty work in and through us. He has enabled us to remain faithful on this mission field and as a result we have seen mountains moved.
Your prayers have been answered as the pro-life community becomes more unified and as candidates rise up to run for office. The "Heroes Work Here" banner did come down and pro-life city councilors who signed our pro-life pledge will now govern our city. We look forward to the fruit that will come from our Project Weak Linkefforts in 2022 as well as all that God has in store.
Here's a peek at our top 10 highlights of 2021. You are essential and we couldn't do this important work without you. God bless you in the new year and always!
2021 Year In Review: Top 10 Highlights
#10)
Overturn Roe Prayer Rally held in Albuquerque, the late term abortion capital of the nation.
#9)
We asked for the "Heroes Work Here" banner to be removed and it finally came down, because abortionists are not heroes. Unfortunately, UNM celebrates abortion, according to Regent.
#8)
Project Weak Link produces results, Monarch stops doing business with Chris Morton of New Mexico Waste Recovery. Our investigation also reveals violations against Planned Parenthood New Mexico.
#7)
COVID-19 Whistleblower reports reveal that COVID shots cause harm, especially to babies in the womb. Now this information is common knowledge thanks to our reporting and whistleblower findings.
#6)
Documented 36th abortion injury at late term facility and held subsequent training seminar.
#5)
We partnered With Off The Cuff ABQ Talk Radio and Dinah Vargas both on and off the airwaves holding block parties and building a culture of life across Albuquerque.
#4)
Unprecedented number of candidates sign our Pro-Life Pledge from Mayoral, Gubernatorial, Lt. Governor, Secretary of State, NM Treasurer, U.S. Congress, NM House of Representatives, School Board and City Council. (Pictured are 2022 candidates that signed)
#3)
Pro-Life Candidates Win on Albuquerque City Council! Councilors elect Renee Grout and Dan Lewis will take office in 2022.
#2)
Our efforts make local & national news which helps us spread the pro-life message nationwide.
(April 7, 2021) Tara Shaver was on Info Wars to discuss the current state of abortions in New Mexico, and how a culture of tourism to Albuquerque has led to a skyrocketing rise in abortion since the pandemic began.
#1)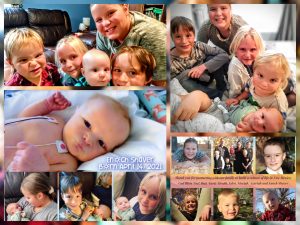 Enoch joined our family in April. Every life is God's masterpiece and brings so much joy into the world. We love him so much!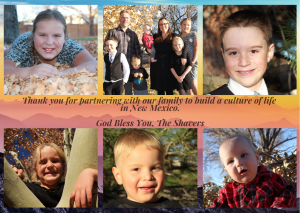 We are a Christian missionary family serving in Albuquerque, NM. Putting our faith into action, for the past 10 years we have exposed Albuquerque as the late term abortion capital of the nation and have worked to bring accountability to an unregulated abortion industry that is killing children in their mothers wombs up to the day of birth.
In order to be the most effective in our pro-life ministry, we do this important work full time while homeschooling our children and raising them to have a biblical worldview. We rely solely on the provision of the Lord and individuals like you to provide for our daily needs.
We are pursuing and working toward an abortion free New Mexico, where every pre-born child is valued and protected. We would be blessed to have you partner with us in this ministry.
You can be a blessing for life in New Mexico by becoming a partner with us in our ministry.
Your monthly and one time donations enable us to do this life saving work full-time. Click here if you would like to donate securely online. We use Cornerstone Payment Systems as a Christian alternative to Paypal. Also, now offering an e-check option.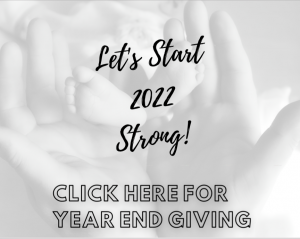 Other Ways to Bless Our Ministry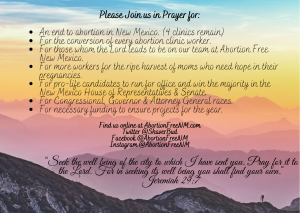 Year End Giving helps us start the year strong. Please consider giving a year end tax deductible gift online. Thank you for your generosity.
2021 Year In Review Slideshow Look at what the Lord has done in 2021. Together we are building an Abortion Free New Mexico. Thank you for standing with us for LIFE!