Saving Lives One Woman, One Child, One Day at a Time

By Bud Shaver
Albuquerque, New Mexico- The Lord continues to be gracious to us and we know that He is at work in ways that we cannot see.
This month we hosted a Pro-Life Training and Equipping Seminar at Transformation Epicenter in Albuquerque, New Mexico. We had a great turnout that included both former and current candidates for various state and local offices throughout New Mexico as well as new passionate pro-life individuals looking to make New Mexico Abortion Free, one woman, one child, one day at a time!
It was great to reconnect and once again fellowship with one another after a year of lock-down in New Mexico.
Being on the sidewalk in front of an abortion center guarantees interaction with abortion bound women and we want others to be empowered to share the love of Christ at our modern day Calvary, where the most innocent blood of our culture is shed.
Thank you to all who attended and we look forward to other training sessions in the coming months.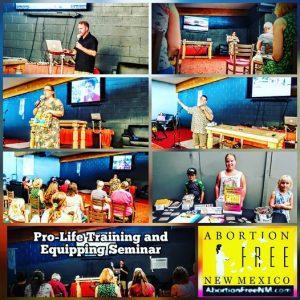 For Mary! Radio Interview and Protest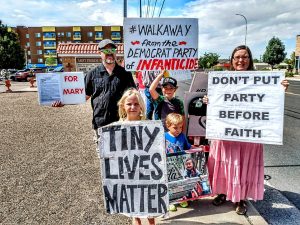 Tara Shaver was a special guest on Off The Cuff ABQ Talk Radio 96.9AM/700FM along with Janice Arnold-Jones and Joleen Chavez (pic below) to discuss the tragic hot air ballon death of Mary Martinez and the horrible treatment she recieved by her liberal parish Priest for her pro-life conservative views. She was persecuted while radical pro-abortion politicians at her parish are embraced!
Listen to the full interview below:
(Pictured: Janice Arnold-Jones, Joleen Chavez, and Tara Shaver)
Abortion Free New Mexico is a proud sponsor of Off The Cuff ABQ Talk Radio Hosted by Dinah Vargas OffTheCuffABQ.com
We also had another radio spot airing this month titled, "You Are The Experiment" warning of the dangers posed by the COVID-19 injections (based on our research) that have not yet been approved by the FDA for pregnant women or children!
Recap of Reports from this month:
IN THE NEWS THIS MONTH:
Join Us for Faith to Action Friday this Month (August 6th), 1st Friday of the month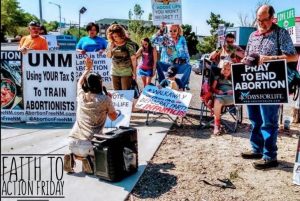 "It's important for us to remember that even in the midst of a crisis we must maintain our unalienable rights as American citizens. We forfeit these rights if we don't use them. It only takes an hour to make a lasting difference and have an impact for LIFE. Now more than ever, we need to pray collectively, publicly, and strategically. Our presence has the ability to reform The University of New Mexico – UNM so that they get out of the abortion business!" Bud Shaver, Abortion Free New Mexico 
Stand Up For Life in front of the University of New Mexico's free standing abortion facility.
Faith to Action Friday: August 6th
Time: 10-11am
Location: UNM Center for Reproductive Health (2301 Yale Blvd. SE. in Albuquerque)
Use street parking on Renard.
We are full-time pro-life missionaries working to make New Mexico Abortion Free.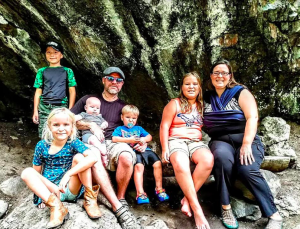 "Therefore we ought to support people like these, that we may be fellow workers for the truth." (3 John 1:8)
Thank you for standing with us for life and truth! 
We are a Christian missionary family serving in Albuquerque, NM. Putting our faith into action, for the past 10 years we have exposed Albuquerque as the late term abortion capital of the nation and have worked to bring accountability to an unregulated abortion industry that is killing children in their mothers wombs up to the day of birth.
In order to be the most effective in our pro-life ministry, we do this important work full time while homeschooling our children and raising them to have a biblical worldview. We rely solely on the provision of the Lord and individuals like you to provide for our daily needs.
Your monthly and one time donations enable us to do this life saving work full-time.
Click here if you would like to donate securely online.
We use Cornerstone Payment Systems as a Christian alternative to Paypal. Also, now offering an e-check option.
Thank you for your continued prayers, support and for standing with us in this battle for LIFE.
Other Ways to Bless Our Ministry