(VIDEO) 36th Woman Injured At Late Term Abortion Center In Albuquerque, NM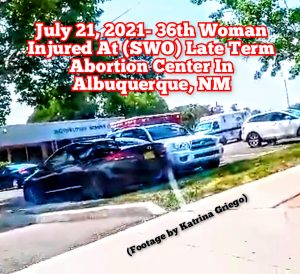 By Bud Shaver
Albuquerque, New Mexico- Ambulances witnessed at abortion facilities are not at all uncommon and unfortunately one was recorded today at one of the three surgical abortion facilities located in Albuquerque. This is the 36th abortion related injury at Southwestern Women's Options documented by Abortion Free New Mexico with the help of Operation Rescue and local pro-life street activists, which includes at least one confirmed woman's death! In the past women have suffered heavy hemorrhages, ruptured uteruses and other horrific injuries including signs of sepsis in a 17 year old minor.
The fate of this latest woman is unknown at this time.
In previous years, Abortion Free New Mexico has been able to document the tragic details of these injuries through public records requests. But now Southwestern Women's Options abortion business apparently no longer calls 911 directly and instead they contact private ambulance companies. This potentially delays care to these women who could be in a dire life threatening situation sustained during a botched abortion. Abortion Free New Mexico will file a public records request to see if Southwestern Women's Options is still willfully obstructing the public from knowing what is happening behind their closed doors.
Tara Shaver of Abortion Free New Mexico issued the following statement,
"The pro-life community knows all too well that abortion always ends with a dead child and leaves many women maimed and some injured for life. Every abortion is a human tragedy and in New Mexico we have late term abortions through all nine months of pregnancy, which makes our state the late term abortion capital of the nation. Since abortion facilities have no oversight in New Mexico and are never inspected by the department of health all we can say with certainty is that women continue to be  subjected to dangerous abortion practices that have killed at least one woman."
Watch the video below!