WOMAN INJURED BY BOTCHED ABORTION IN 2010, SIX YEARS LATER HER SISTER WOULD DIE AT THE VERY SAME LATE TERM ABORTION FACILITY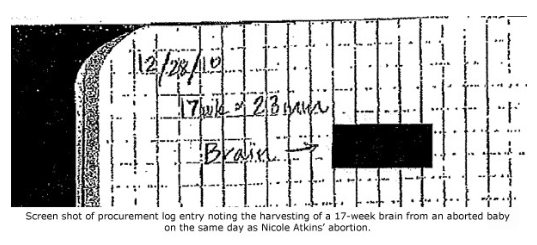 Special Report By Cheryl Sullenger, Operation Rescue
Albuquerque, NM – A New Mexico woman who unknowingly suffered injuries that led to a hysterectomy after a bungled abortion filed suit against an Albuquerque abortion business last month for medical malpractice.
But this is not just a run-of-the-mill abortion-related malpractice suit. This story takes surprising twists and turns into the dark world of aborted baby organ trafficking and a devastating personal family tragedy.
According to court records obtained by Operation Rescue, Nicole Atkins was 24-years old when she visited Southwestern Women's Options (SWO), on December 27, 2010, for a consultation regarding an abortion in her second trimester of pregnancy.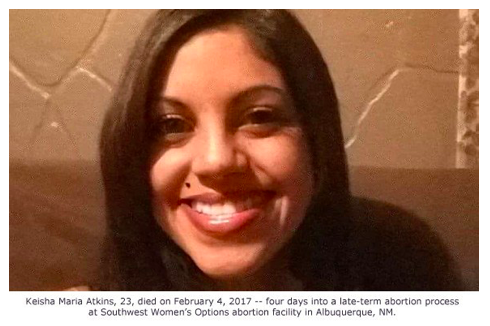 Just over six years later, misfortune would once again strike the Atkins family when Nicole's sister, Keisha, would also seek a 24-week second trimester abortion at Southwestern Women's Options.
Keisha's abortion proved fatal.Her autopsy report was obtained by the pro-life group Abortion Free New Mexico,who was tipped off to the death by another family member. Abortion Free New Mexico provided the report to Operation Rescue for review.
Tara Shaver of Abortion Free New Mexico released the following statement,

"When Abortion Free New Mexico obtained the autopsy for Keisha Atkins and alerted the public to her death, back in 2017, we hoped that women would be shocked by this tragedy and choose life for their babies and for themselves. To learn that abortion has devastated this family more than once is heartbreaking. We hope and pray that Southwestern Women's Options and those implicated in both Keisha's death and her sister Nicole's horrific botched abortion are held accountable. May those who learn about the true nature of abortion and all of it's consequences reject this barbaric practice and affirm life so that our community may become a safe haven for the pre-born and their moms."