We Survived COVID-19 and Are Still Going Strong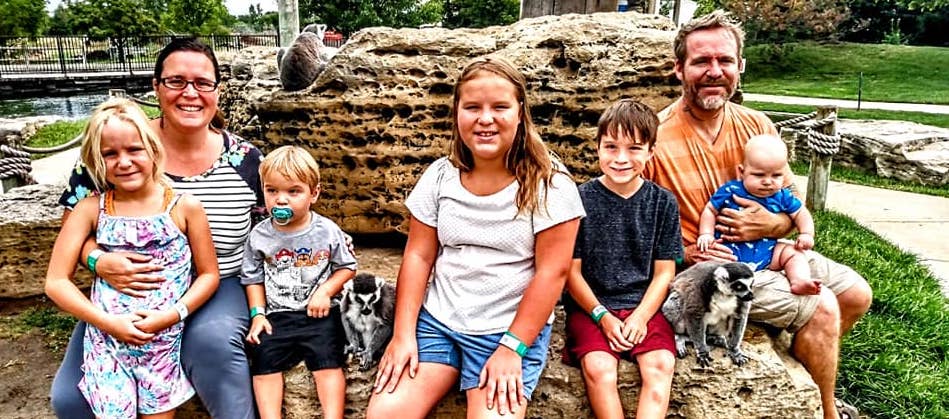 By Bud Shaver
We hope that this newsletter finds you all well and richly blessed! This month we did a little traveling to reconnect with old friends and explore new opportunities. Before we left though our family all got and fully recovered from COVID-19.
While it was certainly no fun being sick with a pretty intense lingering flu, we are glad to have it behind us. Thankfully we were already on a good supplement regiment so our immune systems were able to fight the virus.
We'd like to share with you a preventative protocol that we found from Dr. Zelenko who alerted the White House and President Trump about the use of hydroxychloroquine in treating COVID-19. You can see both preventative as well as treatment protocols at VladimirZelenkoMD.com.
Here are the supplements that he recommends for low and moderate risk individuals but keep in mind that he states,
"In young and healthy people, this infection causes mild cold-like symptoms. It is advantageous for these patients to be exposed to Covid-19, build up their antibodies and have their immune system clear the virus. This will facilitate the development of herd immunity and help prevent future Covid-19 pandemics."
Elemental Zinc 25mg 1 time a day
Vitamin D3 5000iu 1 time a day
Vitamin C 1000mg 1 time a day
Quercetin 500mg 1 time a day
If Quercetin is unavailable, then use Epigallocatechin-gallate (EGCG) 400mg 1 time a day.
Thank you so much to those who brought us food and medicine when we were sick. Thank all of you for your continued prayers and support. May you be encouraged by the following scripture as we stand together for the word of God and do good works for His glory.
"For we are God's handiwork, created in Christ Jesus to do good works, which God prepared in advance for us to do." (Eph.2:10)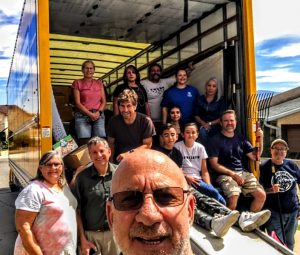 It was Fr. Stephen Imbarrato who invited us to come and work in Albuquerque as pro-life missionaries. He commissioned us to help get Evangelical Christians more involved in the local pro-life community and to peel away the layers of the abortion businesses in the state. 
We have been so blessed to work with him over the years and have subsequently laid a strong foundation in which other pro-life groups are building upon. 
This month, Fr. Stephen left his home base of Albuquerque to live in Florida. A group of us helped load his moving truck and he will be greatly missed by us and many other local pro-lifers.
There is much work to be done in Florida and we plan to continue to work with Fr. Stephen under the banner of Life Ministries US as we remain in Albuquerque. Please keep all of our efforts in your prayers.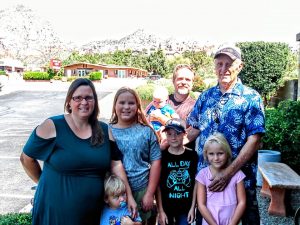 Our pro-life journey began 14 years ago after Tara visited a pro-life booth at Spirit West Coast. At that time we were working with an apartment ministry in Flagstaff, AZ. We left Arizona in 2007 to tour the country with Survivors of the Abortion Holocaust engaging our peers on College campuses with the pro-life message. We visited over 180 colleges and high schools all across the country! We then moved to Kansas to work with Operation Rescue in 2009. This month we returned to Flagstaff to visit with friends and gave a ministry update of our efforts in New Mexico to our home congregation.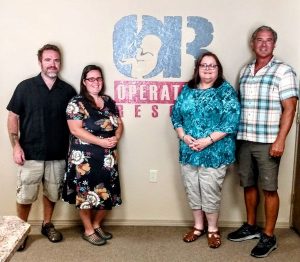 After serving for one year as interns with Operation Rescue, 11 years ago we left Kansas to come to Albuquerque as pro-life missionaries.
Since 2010 with the help of Operation Rescue​ and Fr. Stephen Imbarrato we exposed New Mexico to the world as the "Late-Term Abortion Capital" a designation we coined based on our ground breaking research. Our work as pro-life missionaries in New Mexico has been featured in virtually every major news site in America.
This month we travelled back to the Sunflower state to visit our friends Cheryl Sullenger and Troy Newman. It was great reconnecting with them and showing our oldest daughter Tirzah where she was born.
National Day of Remembrance for Aborted Children 2021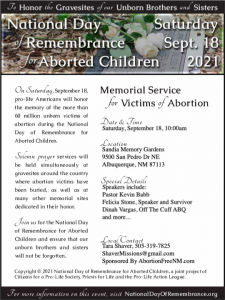 UPDATE: The Heroes Work Here Banner Is GONE!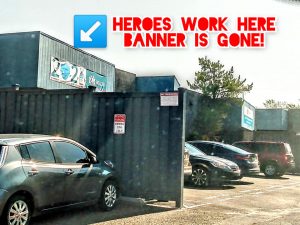 As an encouraging update, the "Heroes Work Here" banner is gone off of the UNM abortion clinic. In New Mexico we will claim all of the silver linings and small victories, IN JESUS' NAME .
"For where two or three gather in my name, there am I with them." (Matthew 18:20)
Thank you for your prayers, calls and for signing our petition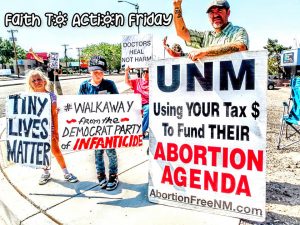 Join Us for Faith to Action Friday this Month (September 3rd), 1st Friday of the month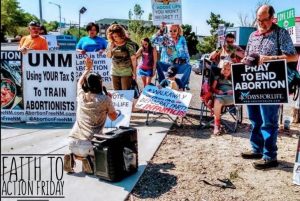 "It's important for us to remember that even in the midst of a crisis we must maintain our unalienable rights as American citizens. We forfeit these rights if we don't use them. It only takes an hour to make a lasting difference and have an impact for LIFE. Now more than ever, we need to pray collectively, publicly, and strategically. Our presence has the ability to reform The University of New Mexico – UNM so that they get out of the abortion business!" Bud Shaver, Abortion Free New Mexico 
Stand Up For Life in front of the University of New Mexico's free standing abortion facility.
Faith to Action Friday: September 3rd
Time: 10-11am
Location: UNM Center for Reproductive Health (2301 Yale Blvd. SE. in Albuquerque)
Use street parking on Renard.
We are full-time pro-life missionaries working to make New Mexico Abortion Free.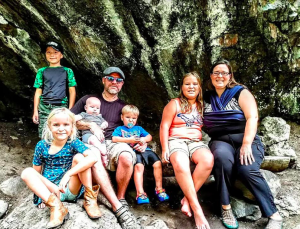 "Therefore we ought to support people like these, that we may be fellow workers for the truth." (3 John 1:8)
Thank you for standing with us for life and truth! 
We are a Christian missionary family serving in Albuquerque, NM. Putting our faith into action, for the past 11 years we have exposed Albuquerque as the late term abortion capital of the nation and have worked to bring accountability to an unregulated abortion industry that is killing children in their mothers wombs up to the day of birth.
In order to be the most effective in our pro-life ministry, we do this important work full time while homeschooling our children and raising them to have a biblical worldview. We rely solely on the provision of the Lord and individuals like you to provide for our daily needs.
Your monthly and one time donations enable us to do this life saving work full-time.
Click here if you would like to donate securely online.
We use Cornerstone Payment Systems as a Christian alternative to Paypal. Also, now offering an e-check option.
Thank you for your continued prayers, support and for standing with us in this battle for LIFE.
Other Ways to Bless Our Ministry