We Are Too Mr. President!

Dear Pro- Life Friends and Ministry Partners,
As 2019 comes to an end we want to thank you for your prayers and support on behalf of our family and our pro-life ministry.
Our 2019 Year In Review: Top Ten Highlights are coming soon…
Being a full time pro-life missionary family serving in New Mexico since 2010 has been a blessing in so many ways. We have laid a firm foundation by identifying and exposing the key players in the New Mexico abortion cartel, held leaders accountable on both sides of the aisle and have put Albuquerque on the map as the late term abortion capital- a reputation that we're working so hard to get rid of.
With your help over the years four abortion facilities in New Mexico have closed, leaving only five in the state. Together we will see these facilities close as Bud and I work to uncover their weak links and file complaints with authorities who can strip away the abortionists licenses and close their doors for good.
President Donald Trump recently tweeted,
"25 Million Evangelical Christians are not registered to vote. We are working hard to get them registered! Robert Jeffress, Lou Dobbs."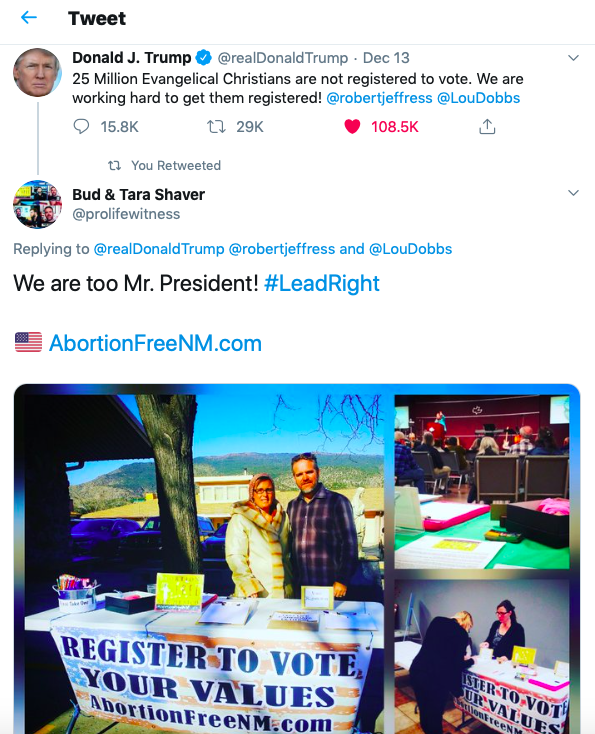 WE ARE TOO MR. PRESIDENT!
This year, Tara became more active in registering New Mexico voters as we have visited numerous churches. So far, she has registered 51 voters. In addition, we have helped Michelle Garcia Holmes collect hundreds of signatures to help get her on the ballot for the 2020 election. We look forward to visiting even more churches to register voters and to educate the body of Christ about how we're working to end abortion in our state and how they can be involved.
Please contact us if you'd like to invite us to your church anytime between now and November 2020.
There is still so much to be done, but with your one-time and monthly support we will be able to keep going strong in our efforts to make New Mexico Abortion Free.
We are so grateful for your support, and hope to see you in the new year.
If you'd like to sow into our Ministry with a year-end gift you can do so here. Your gift is fully tax-deductible and helps us continue in our mission.
P.S. Resolve to Protest More in the New Year 2020!
Please join us this Friday, January 3rd from 12PM-1PM for Faith to Action Friday, as we pray and peacefully protest outside of the University of New Mexico's free standing abortion facility.
The UNMCRH free standing abortion clinic is located at 2301 Yale Blvd in Albuquerque, New Mexico.
Parking is available on Renard (off Yale)
​Everyone is welcome to join us for this peaceful presence.​
"It only takes an hour to make a lasting difference and have an impact for LIFE. Now more than ever, we need to pray collectively, publicly, and strategically. Our presence has the ability to reform The University of New Mexico – UNM so that they get out of the abortion business!" Bud Shaver, Abortion Free New Mexico

Abortion is their dirty little secret that must be exposed.