Two Leading Voices in New Mexico Call On Gov. Susana Martinez to Resign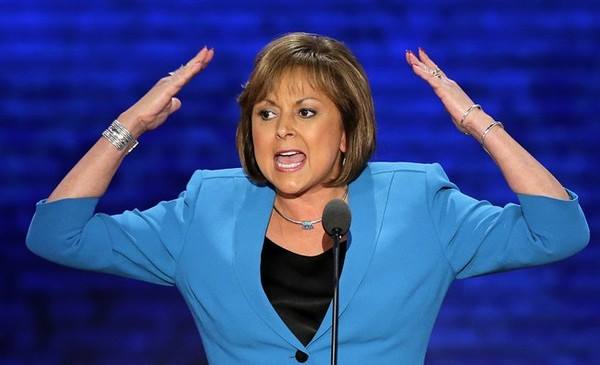 By Bud Shaver
Two prominent leaders in New Mexico, Pastor Dewey Moede and Fr. Stephen Imbarrato, are leading the charge by calling on New Mexico Governor Susana Martinez to resign.
Pastor Dewey Moede, News Director at fggam.org For God's Glory Alone Ministries- FGGAM reported that according to Peter St. Cyr, an award winning watchdog journalist, Gov. Susana Martinez may have committed a fourth degree felony when she pressured an emergency dispatcher and repeatedly demanded witness information after a noise complaint was made to hotel staff during an after-party hosted by the Governor at a posh Santa Fe hotel.
"10-16-3. Ethical principles of public service; certain official acts prohibited; penalty.
A. A legislator or public officer or employee shall treat the legislator's or public officer's or employee's government position as a public trust. The legislator or public officer or employee shall use the powers and resources of public office ONLY TO ADVANCE THE PUBLIC INTEREST and NOT to OBTAIN PERSONAL BENEFITS or PURSUE PRIVATE INTERESTS. Note: It's a fourth degree felony."
On December 22, 2015 Pastor Dewey Moede issued the following statement after new information came to light contradicting Gov. Susana Martinez's account of the events that took place after a hotel staff party:
"Time  for Gov. Martinez to resign. Her story does not add up. I no longer trust her to lead our state, our Children and the effort to defeat drunk driving and work with Law Enforcement Officials."
According to audio captured by Santa Fe police Sgt. Anthony Tapia contradicts Governor Martinez's account and indicated that she was clearly "inebriated." (Audio files released by New Mexico Political Report)
[soundcloud url="https://api.soundcloud.com/tracks/238676514″ params="auto_play=false&hide_related=false&show_comments=true&show_user=true&show_reposts=false&visual=true" width="100%" height='150′ iframe="true" /]
KRQE 13- Audio: Santa Fe police, hotel security agree governor 'inebriated'
[youtube https://www.youtube.com/watch?v=XKBT3Lp2Rpw]
KRQE-13 reported that Governor Martinez's actions could warrant, "disciplinary action."
Fr. Stephen Imbarrato, Local and National Pro-Life Activist on staff with Priests For Life also publicly called on Governor Martinez to resign on December 23, 2015 issuing the following statement,
"Isn't it time for New Mexican conservatives especially the Prolife community to unite and demand Susana Martinez's resignation. It is time to let [Lieutenant Governor] John Sanchez restore integrity and true family and life values to our state. Will the Prolife community remain as silent about Martinez as she has been about the out of control abortion industry in our state? John Sanchez would be a much more respectable Governor and leader of the Republican Party. Please resign so the Republican Party can regroup from your embarrassing tenure as Governor."
In addition to this current scandal, Protest ABQ has been sounding the alarm about Governor Susana Martinez and her administration. Find out why here: Silent Susana
Also,
New Mexico is currently ranked the worst state in the nation in almost all the polls…and Albuquerque is known nationally as the Late-Term Abortion Capital of America. 
–Albuquerque is the Late-Term Abortion Capital of America
–New Mexico ranks as the worst-run state in the nation! 
–NM has nation's highest unemployment
–New Mexico ranks worst in U.S. for poverty
–Report: NM ranks 2nd in nation for violent crime
–NM still ranks 49th in child well-being
–New Mexico ranks near the bottom in yet another national report on educational achievement.
–Albuquerque ranks near bottom in list of best, worst cities for families
–Fortune: ABQ rock bottom for home ownership
–New Mexico drivers rank second-worst in U.S.