Support the People's Convoy Overpass Meetup Friday 2/25 at 10AM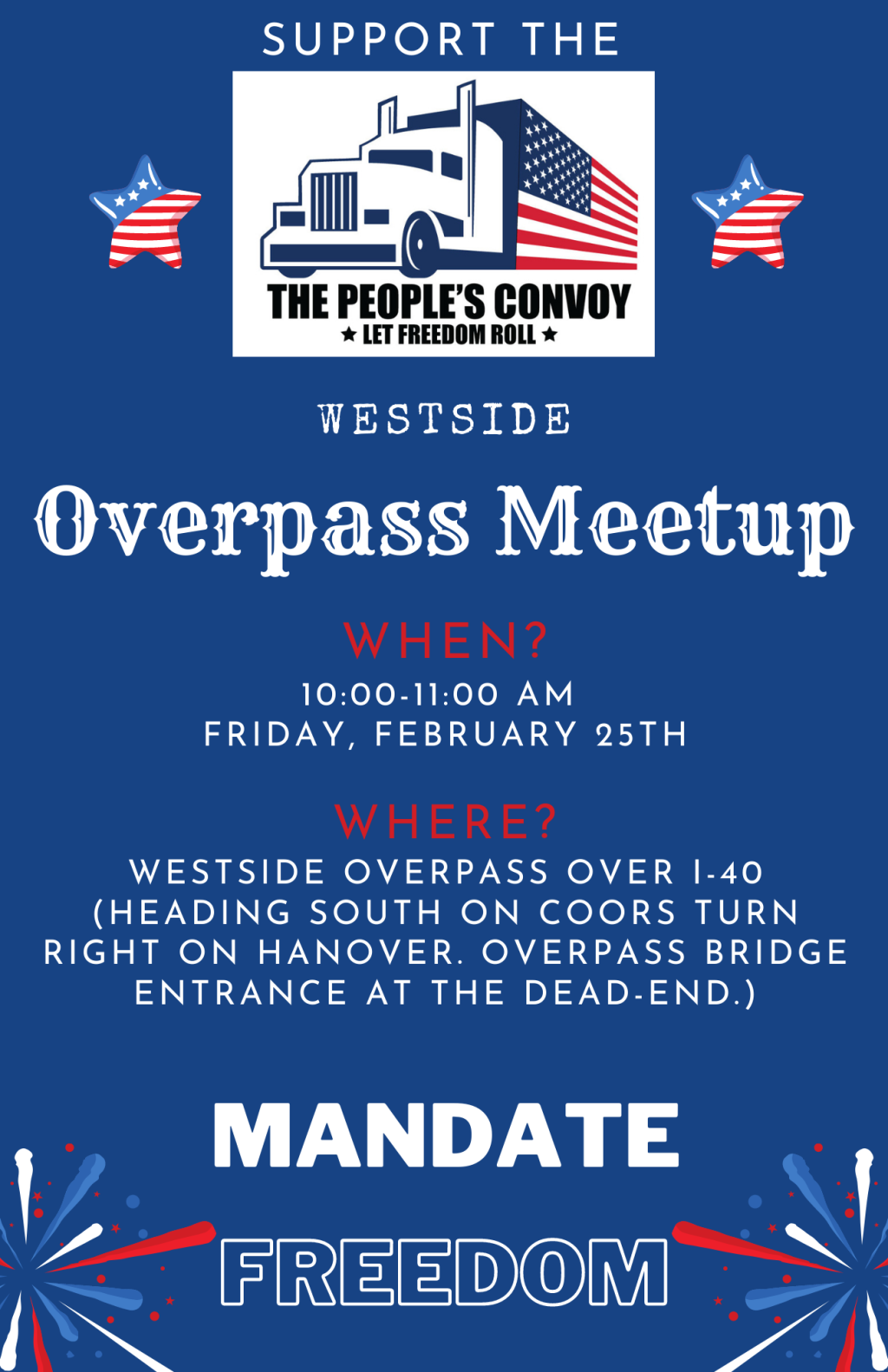 By Bud Shaver,
​
Albuquerque, New Mexico- Join Abortion Free New Mexico as we stand in solidarity with fellow patriots and allies in support of the People's Convoy. The convoy will be passing through Albuquerque on their way to Washington DC, this Friday morning and we want to welcome them with our signs and flags.
WHERE?
Westside Overpass over I-40 (Heading South on Coors Turn Right on Hanover. Overpass Bridge Entrance at the dead-end.)
WHEN?
10:00-11:00 AM Friday, February 25th
"To our elected officials that believe they rule us: YOU work for US. Our constitution was written to provide enough power to act on a national level, but not enough to deprive the people of fundamental rights. The people are prepared to see this challenge through — as we have seen through all challenges to our Freedom in the past. And we will prevail and prosper. To our brave and courageous neighbors to the North — our Canadian brothers and sisters who led the charge — we join your call to Freedom with THE PEOPLE'S CONVOY." AMERICAN TRUCKERS AND ALLIES
​Tara Shaver spokeswoman for Abortion Free New Mexico issued the following statement,
"It's time to restore our nation's constitution and to mandate freedom. Abortion Free New Mexico stands in solidarity with the People's Convoy and supports their peaceful and unified transcontinental movement. Join us as we welcome them as they pass through Albuquerque on Friday February 25th at the Westside Overpass over I-40 at 10:00AM. Bring your flags, signs, and patriotism."