Together We Are Building An Abortion Free New Mexico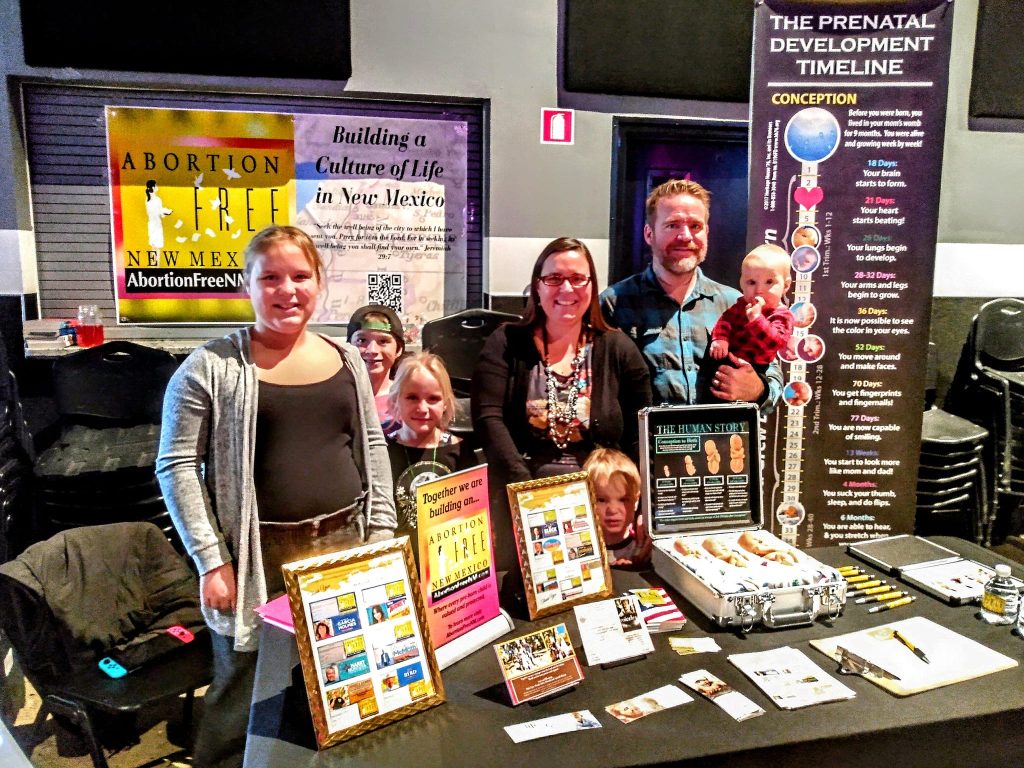 By Bud Shaver,

Albuquerque, New Mexico– Thank you for making all of our efforts here in the beautiful state of New Mexico possible and we would like to welcome our new subscribers! When we arrived in 2010 as pro-life missionaries, we never imagined how the Lord would move to awaken hearts and minds to life. Nor did we think that so much could be accomplished to build a culture of life and preserve the lives of the most vulnerable in our communities: Babies in the Womb. We are humbled to serve and are excited to share with you our next steps. This month we were busy lighting up the darkness, being active politically by encouraging New Mexico's statewide 2022 candidates to sign our pro-life pledge and standing up for our freedoms.
As you will see we have a powerful movie screening coming up as well as a new prayer initiative launching on April 1st. In the absence of pro-life laws, being strategic and being unified is key. Every step forward helps us reach our goal of an Abortion Free state. God bless you all.
Your monthly and one time donations enable us to do this life saving work full-time. Click hereif you would like to donate securely online. We use Cornerstone Payment Systems as a Christian alternative to Paypal. Also, now offering an e-check option.
Upcoming Event: Save The Date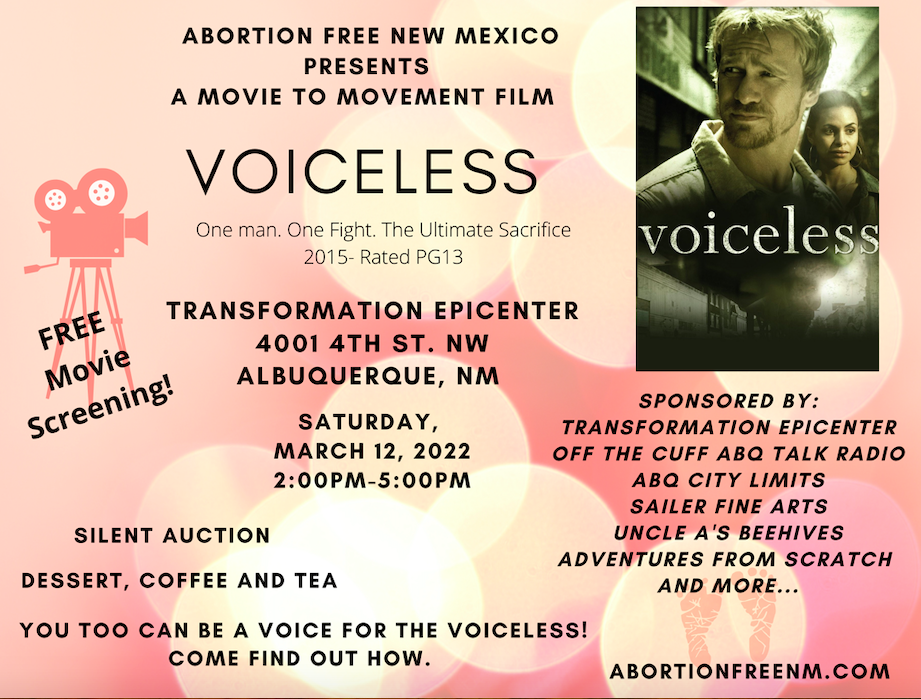 Please Join us for a free screening of the movie Voiceless on March 12th from 2-5pm at Transformation Epicenter (click here for Google Map directions). We will have dessert, a silent auction, powerful personal testimonies and learn about local pregnancy resources. Proceeds benefit No Sidewalk Without the Savior.
Announcing, "No Sidewalk Without The Savior"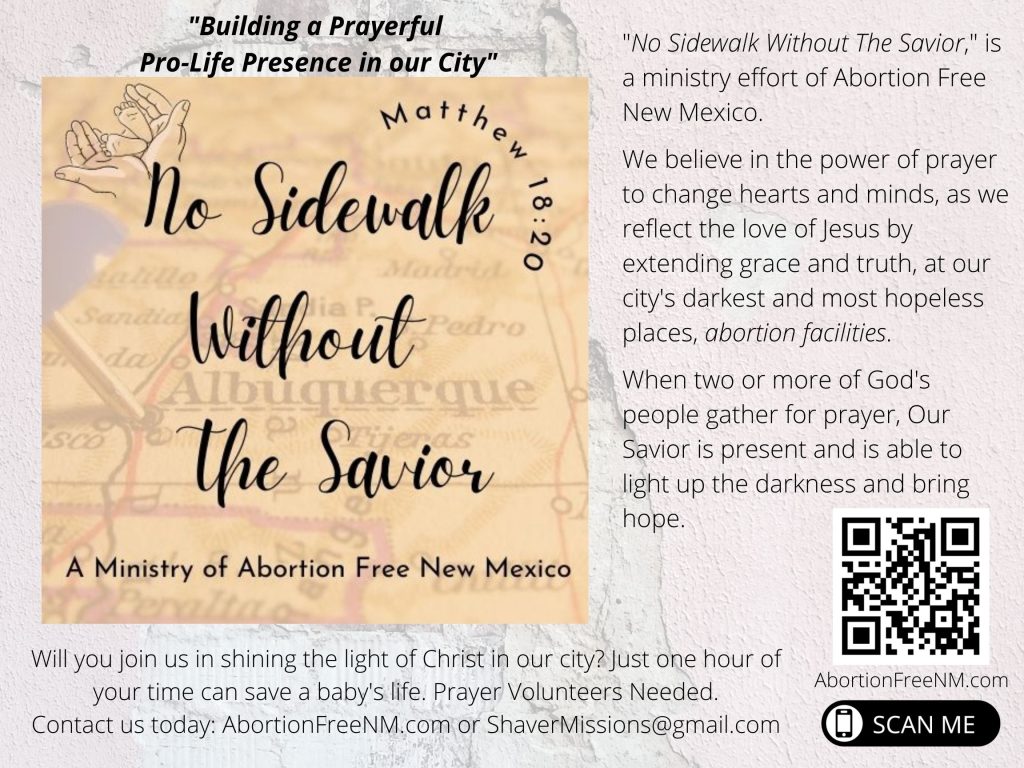 We are committed to continue our work to make New Mexico Abortion Free, as we increase our efforts in Albuquerque by establishing a stronger pro-life presence in our city. "No Sidewalk Without The Savior" is one way we can accomplish this and is currently being organized, by our amazing volunteers, as a month to month prayer initiative-launching on April 1st. The goal is to have two people praying every hour that the UNM Center for Reproductive Health is open, because we believe in the power of prayer to change hearts and minds. Have you ever thought about what the very last line of defense is for the baby in the womb who is scheduled to die? It lies with those who faithfully stand on the sidewalks ready and armed with love and resources.
IN THE NEWS THIS MONTH: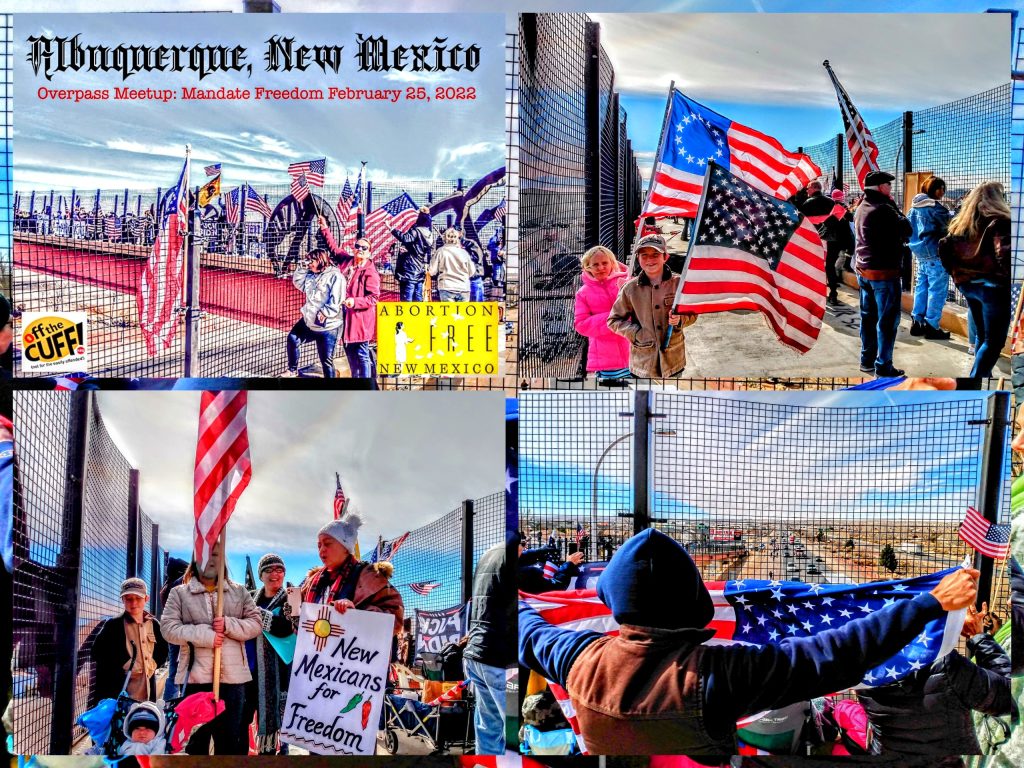 Support the People's Convoy Overpass Meetup hosted by Abortion Free New Mexico brought nearly 200 people out to greet the trucker convoy on their way to Washington D.C. We The People stood united for freedom.
"It's time to restore our nation's constitution and to mandate freedom. Abortion Free New Mexico stands in solidarity with the People's Convoy and supports their peaceful and unified transcontinental movement," stated Tara Shaver of Abortion Free New Mexico
Stop Complying UNM!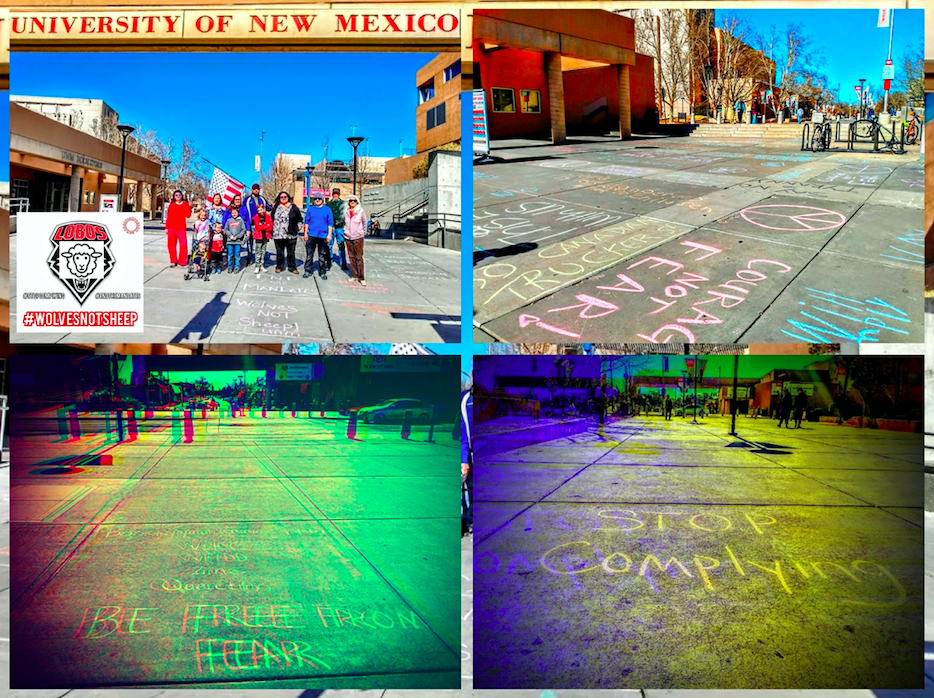 This month Abortion Free New Mexico collaborated with New Mexico Peacekeepers in chalking at the University of New Mexico- UNM to urge the students to be "Wolves Not Sheep" (UNM mascot is a lobo wolf) and wrote messages of truth about health freedom.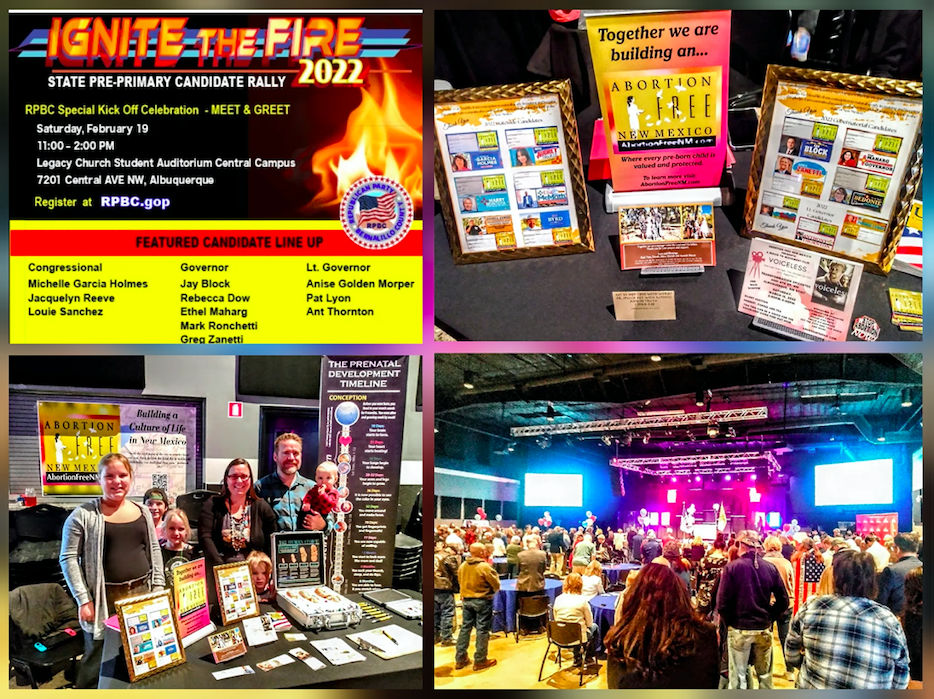 This month we were able to have a table at the Republican Party of Bernalillo County "Ignite the Fire Rally" at Legacy Church in Albuquerque and educate about how we are working to build a culture of life in our state.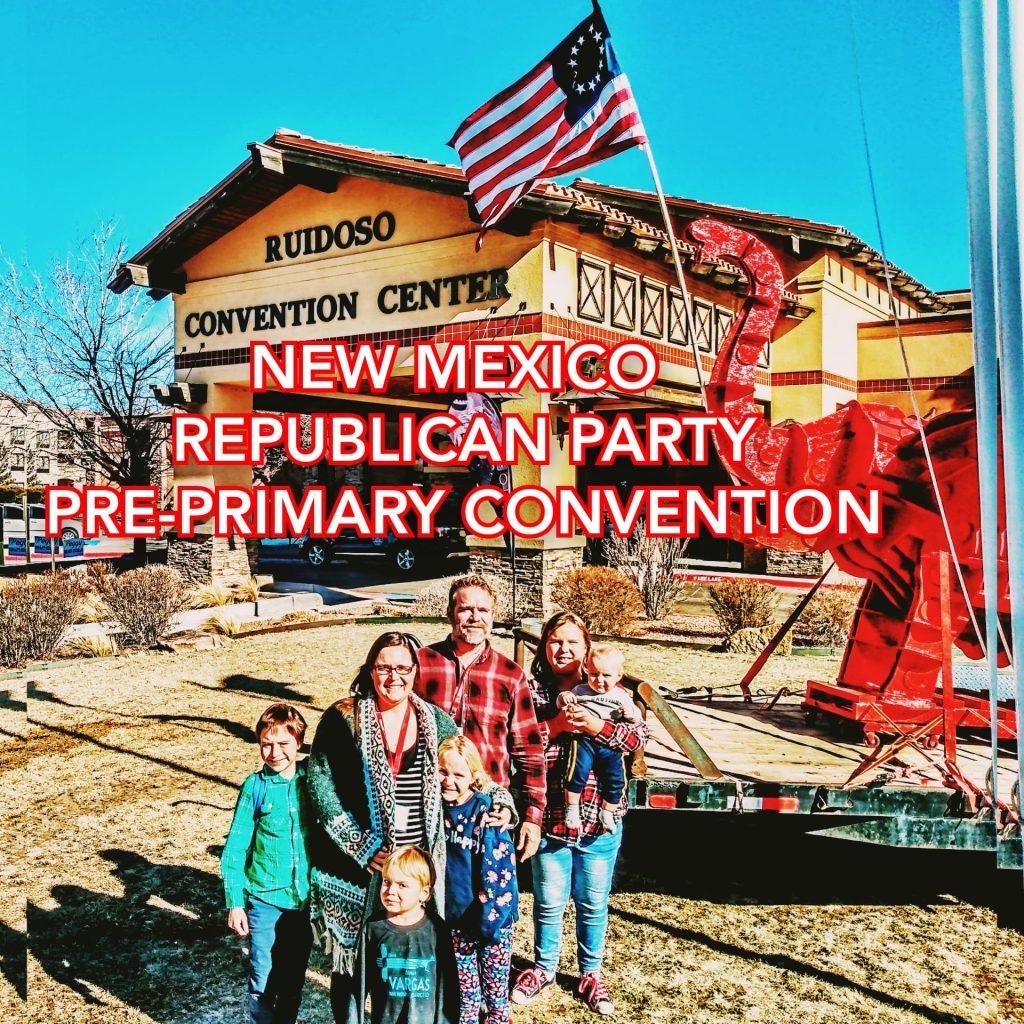 This month our family attended the Republican Party of New Mexico Pre-Primary Convention as delegates. We were proud to support the many candidates who signed our pro-life pledge.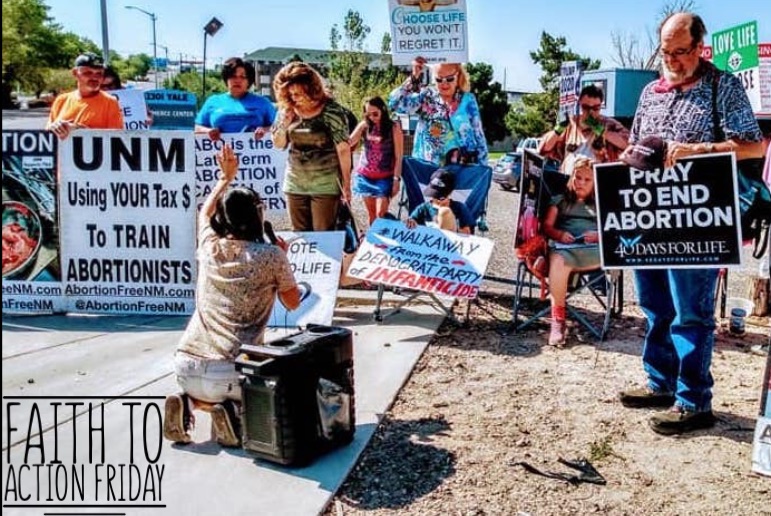 Thank you for your continued prayers, support and for standing with us in this battle for LIFE.