Still Here, Still Going Strong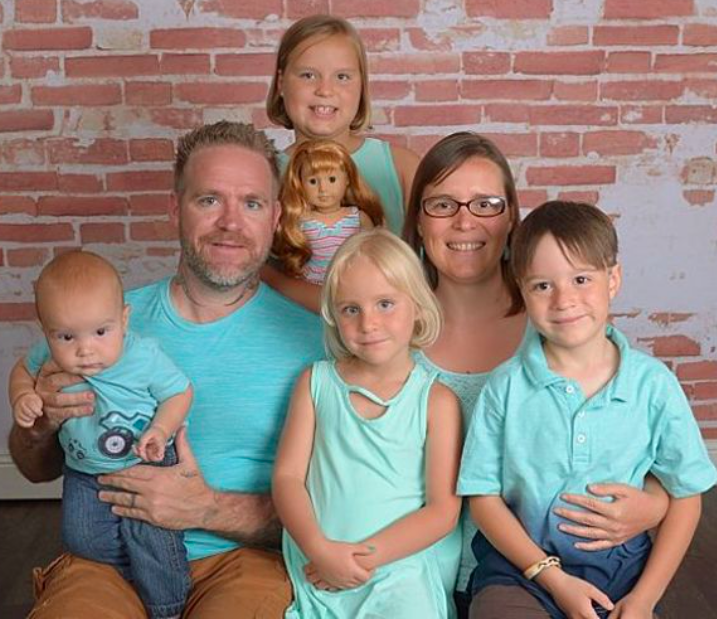 By Bud Shaver
Dear Friends, 
Thank you so much for standing with us for LIFE in New Mexico! June marked 9 years of ministry for us in New Mexico.
Thanks to your prayers and support we are still going strong!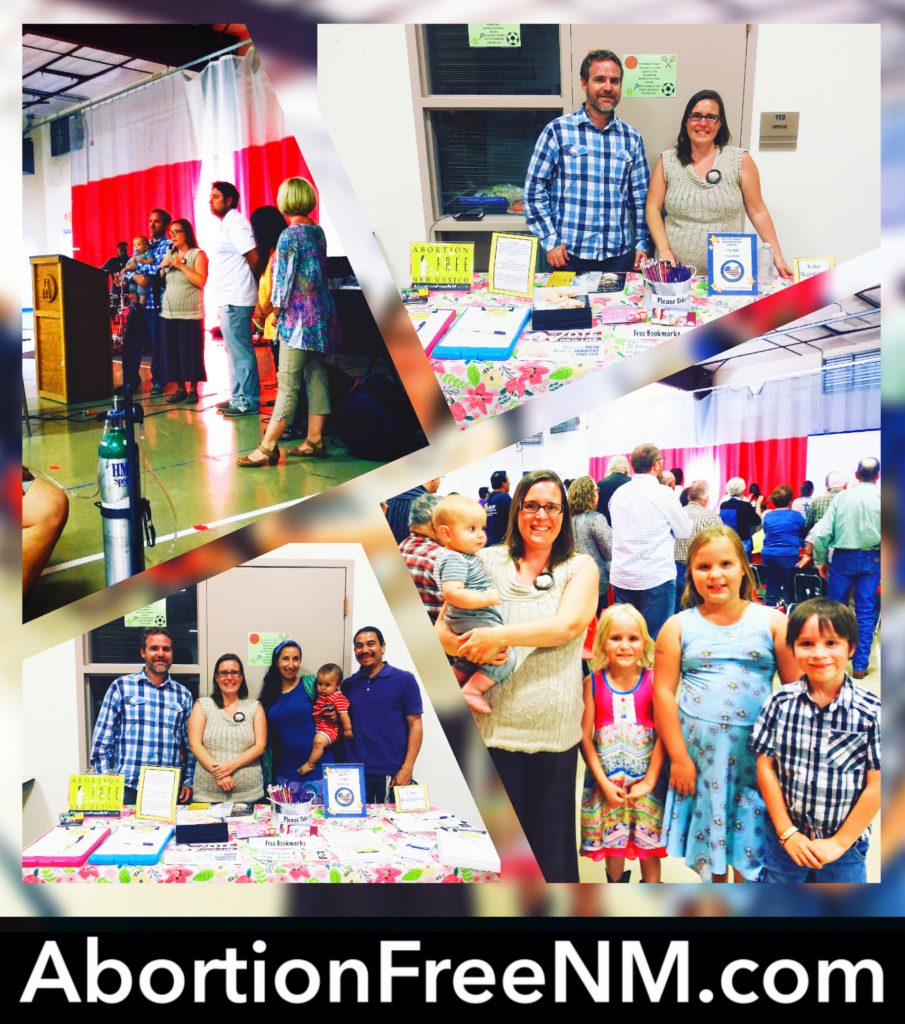 This month, our family joined our friends the Martin's (new leaders of Sidewalk Advocates for Life ABQ) for a special prayer and repentance service in Mountainair, NM. This community is taking seriously the spiritual implications of the illegal abortions that were performed there and how a culture of death is impacting them so many years later.
Stay tuned for all the details in an expose coming soon…
As a missionary family we are always blessed to have the opportunity to connect with local Christians who are passionately engaging our community with the gospel of Christ and are committed to pray and work alongside us as we strive to build an Abortion Free New Mexico. Believing together, that our God is able to transform this city and state as we boldly step out in faith.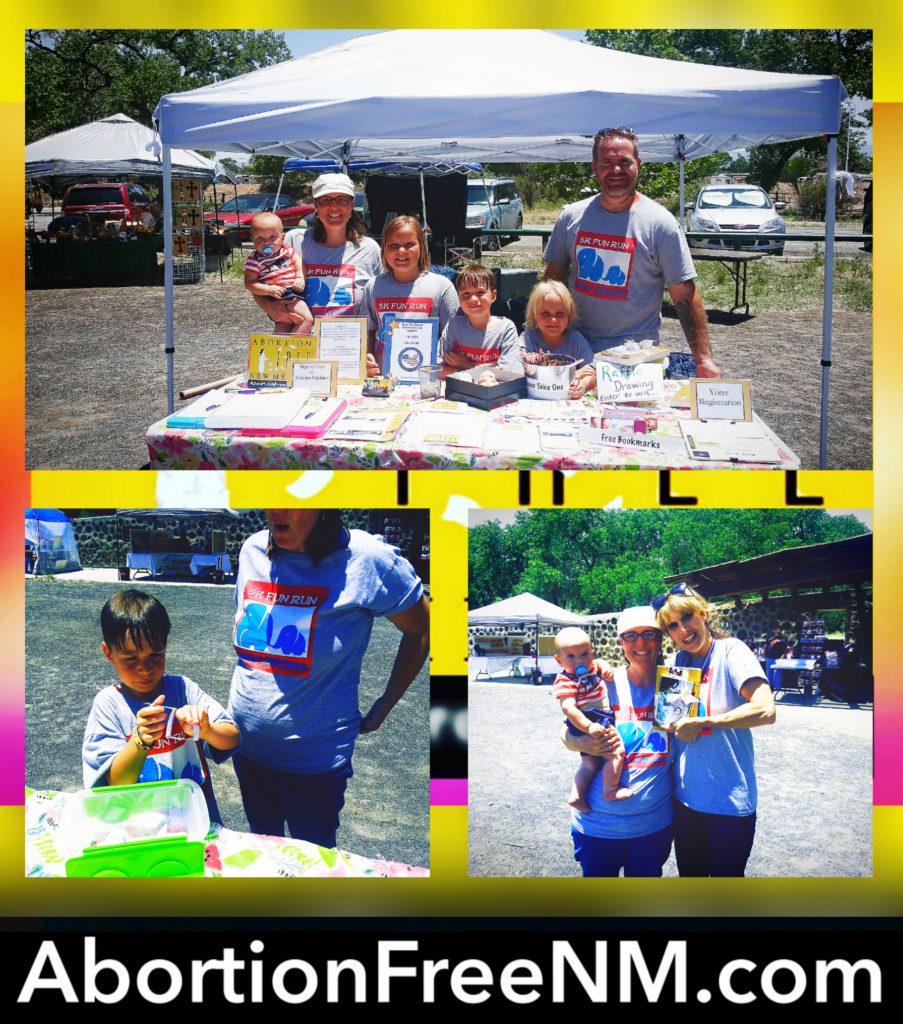 We had a table this month in Valencia County, south of ABQ, to meet folks attending a fundraiser for the Federated Republican Women whose primary goal is to elect pro-life candidates. We met lots of new friends and had a raffle for a pro-life bundle that included the book "Abortion Free" written by our friends Troy Newman and Cheryl Sullenger of Operation Rescue.
PRO-LIFE WITNESS RADIO SHOW, YOU ARE THE SOLUTION
Tara and I have pretty much done a little of everything over the past 9 years of pro-life ministry here in Albuquerque, New Mexico… including hosting our own Pro-Life Radio Show! This wasn't an online based show but a live weekly radio show hosted locally in Albuquerque on El Camino ABQ Radio AM 1310!
New Mexico is known nationally as theLate-Term Abortion Capital of the World, and while there really hasn't been any legislative solutions to stop abortions, we discuss stats with Fr. Stephen Imbarrato: The Protest Priest on our radio show back in 2014 that indicate that there has been significant decrease in abortions in New Mexico (from 2010-2014) that can ONLY be attributed to faithful pro-life public awareness campaigns and sidewalk counseling efforts over the years. We also discuss the University of New Mexico's radical abortion agenda.
While we may be powerless to stop all abortions in New Mexico legislatively we can end abortion ONE WOMAN, ONE BABY, ONE DAY AT A TIME; standing together in solidarity bringing the love and unity of Christ out to the abortion killing centers in our community! This month we continued our prayerful, public outreach out at the University of New Mexico's freestanding abortion killing center, UNM Center for Reproductive Health.
Faith To Action Friday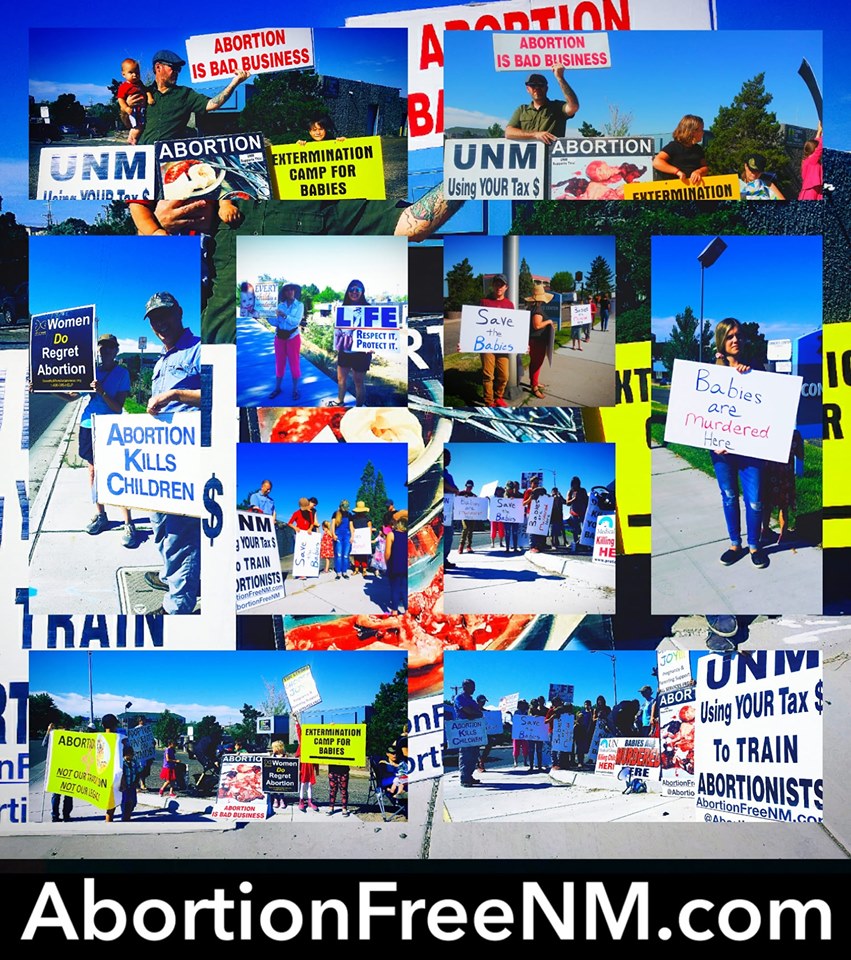 Abortion Free New Mexico was joined by Sidewalk Advocates for Life ABQ, Abolish Human Abortion ABQ, the Knights of Columbus, Connection Church, Olive Tree Messianic Fellowship, Calvary Chapel East and other pro-life groups and Churches for public prayer and outreach this month.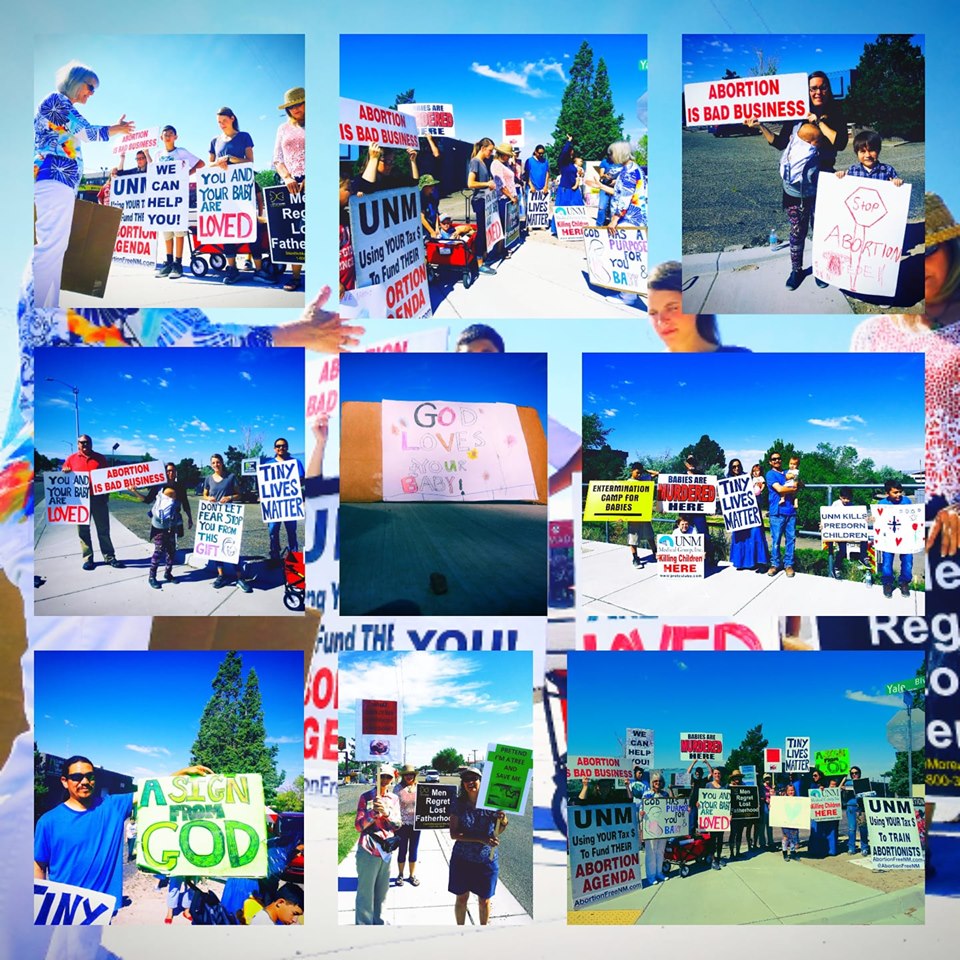 Light up the darkness and transforming culture through unified prayer and action…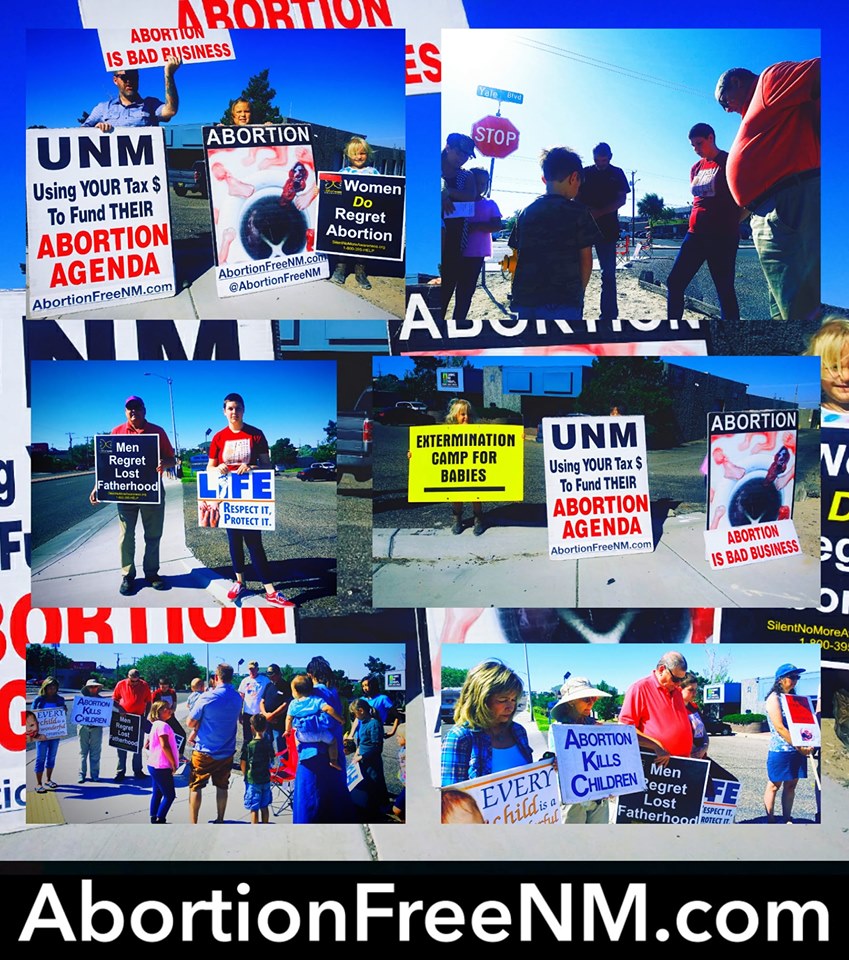 UNM is at the heartof the abortion cartel in New Mexico, as a publicly funded institution UNM consistently promotes a culture of death and is actively training the next generation of abortionists through the Ryan Residency training program. Babies are killed each week at this location up to 24 weeks of pregnancy, many of whom could survive outside the womb if born this late in the pregnancy.

Please Join Us for Faith to Action Fridays:
Time: 9-10am 
Location: 2301 Yale Blvd SE. Albuquerque, NM 87106 (Park on Renard St.)
Tara exposed UNM's radical abortion agenda in a 3 part series.
Look What Survivors Camp Did For Us!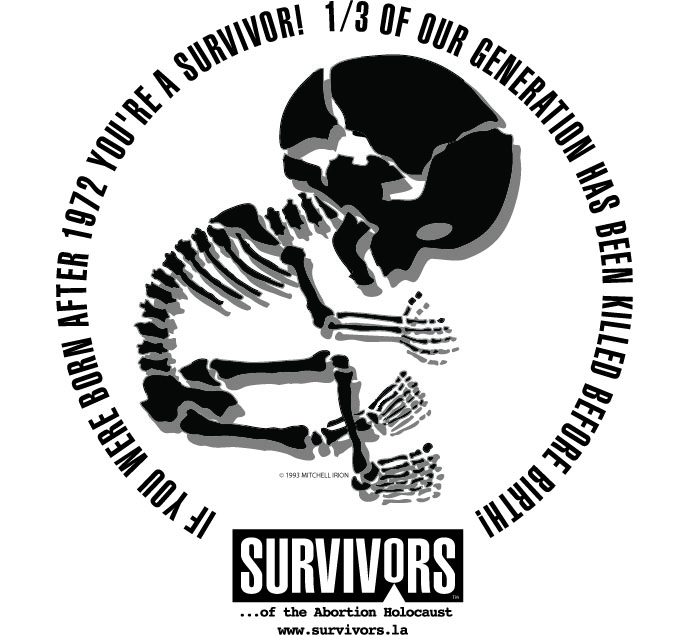 Twelve years ago in 2007 our lives were forever changed! Tara and I were working in an apartment ministry in Flagstaff, Arizona when we went to Spirit West Coast with a group of college students. After watching our favorite Christian bands…
Tara simply took information at a pro-life booth and the rest is history!
Driving back to Flagstaff, AZ from San Diego, California our hearts were penetrated with the reality of the Abortion Holocaust that has taken 1/3rd of our generation!
We prayed a simple prayer,
 "Lord we commit our lives to your service to work to end this grave injustice until you call us home with you, or until abortion is ended in America. Use us as you see fit we humbly pray."
The pro-life booth that Tara took information from was Survivors of the Abortion Holocaustand in addition to pro-life facts, it included an invitation to their annual pro-life training camp. We attended their camp in 2007 and our lives have never been the same. We never looked back and have been fulfilling our commitment to God, to work to end abortion, ever since!
After attending the pro-life training camp in 2007 we moved to Riverside California in 2008 to work with Survivors as assistant Directors of the Campus Life Tour where we toured the country visiting over 180 college campuses and High Schools from 2008-2009. After that, we moved to Wichita Kansas to work as interns with Operation Rescue from 2009-2010 and have been full-time pro-life missionaries working in Albuquerque New Mexico from 2010 until the present (2019).
Join Bud Shaver in Washington D.C. This Year!  

Bud Shaver ofAbortion Free New Mexico and Fr. Stephen Imbarrato director of Life Ministries US will be leaders at this years camp in our nation's capital and they would like you to join them in the action! Life Ministries US is providing a full scholarship to THREE pro-life youth from Albuquerque, New Mexico and would like to sponsor at least TWO more! 
Do you know any young people who you'd like to see activated to stand up for the pre-born? There are still open spots available at camp and on the van that is driving from California to DC.
Please share this information with any pro-life families you know!
Survivors Annual Pro-Life Bootcamp will forever change the lives of the young people who attend! They will build lifelong friendships with other young people who want to do more than "Be Pro-life" they will want to "Act Pro-life"!!!
WHEN: July 16 – 26, 2019  
WHERE: Washington D.C.  
WHO: High school and college-age youth (ages 14 -25 yrs. old)  
HOW MUCH: Camp fee is $475, but there are many ways to come to camp at little or no cost to you. Camp fee includes food, lodging, training materials, and transportation once you have arrived at camp.
For More information visit: ProLifeCamp.com
Thank you for standing with us for life!
We are a Christian missionary family serving in Albuquerque, NM. Putting our faith into action, for the past 8 years we have exposed Albuquerque as the late term abortion capital of the nation and have worked to bring accountability to an unregulated abortion industry that is killing children in their mothers wombs up to the day of birth.
In order to be the most effective in our pro-life ministry, we do this important work full time while homeschooling our children and raising them to have a biblical worldview. We rely solely on the provision of the Lord and individuals like you to provide for our daily needs.
We are pursuing and working toward an abortion free New Mexico, where every pre-born child is valued and protected.
We would be blessed to have you partner with us in this ministry. Your prayers and support are invaluable.
*You can schedule a secure monthly or one time tax deductible donation online. Simply select Bud and Tara- Pro-Life Witness from the drop down ministry menu.

Or mail checks made out to Life Ministries U.S. to:
P.O. Box 50351
Albuquerque, NM 87181
Earmark: Pro-Life Pin
*Checks made out to Life Ministries U.S. are tax deductible.
We thank the Lord for you and pray for you. Please feel free to send us your specific prayer requests in the return envelope or by email.
Blessings, Bud and Tara Shaver
Please pray with us for New Mexico and our Nation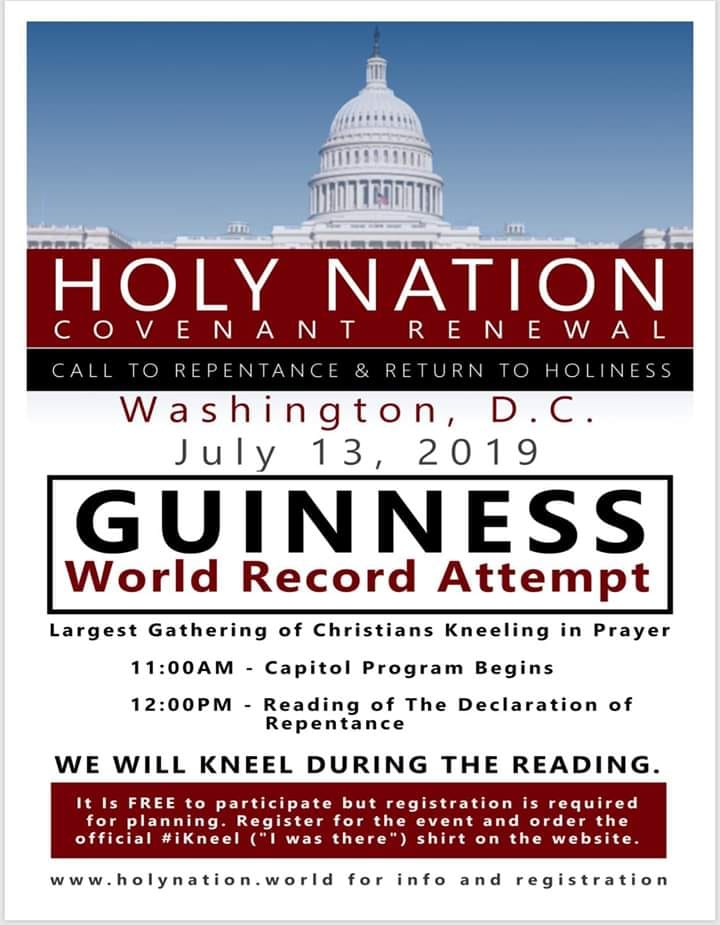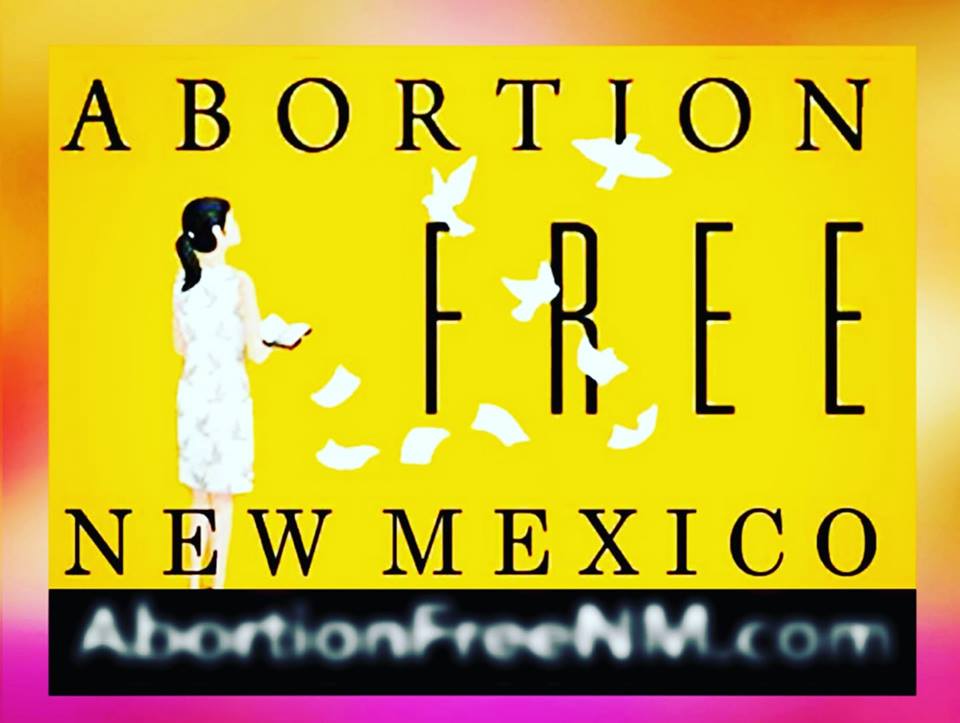 God to show us the weakest links of the last 5 of New Mexico's abortion facilities so that we can effectively work toward the closure of New Mexico's last remaining abortion facilities.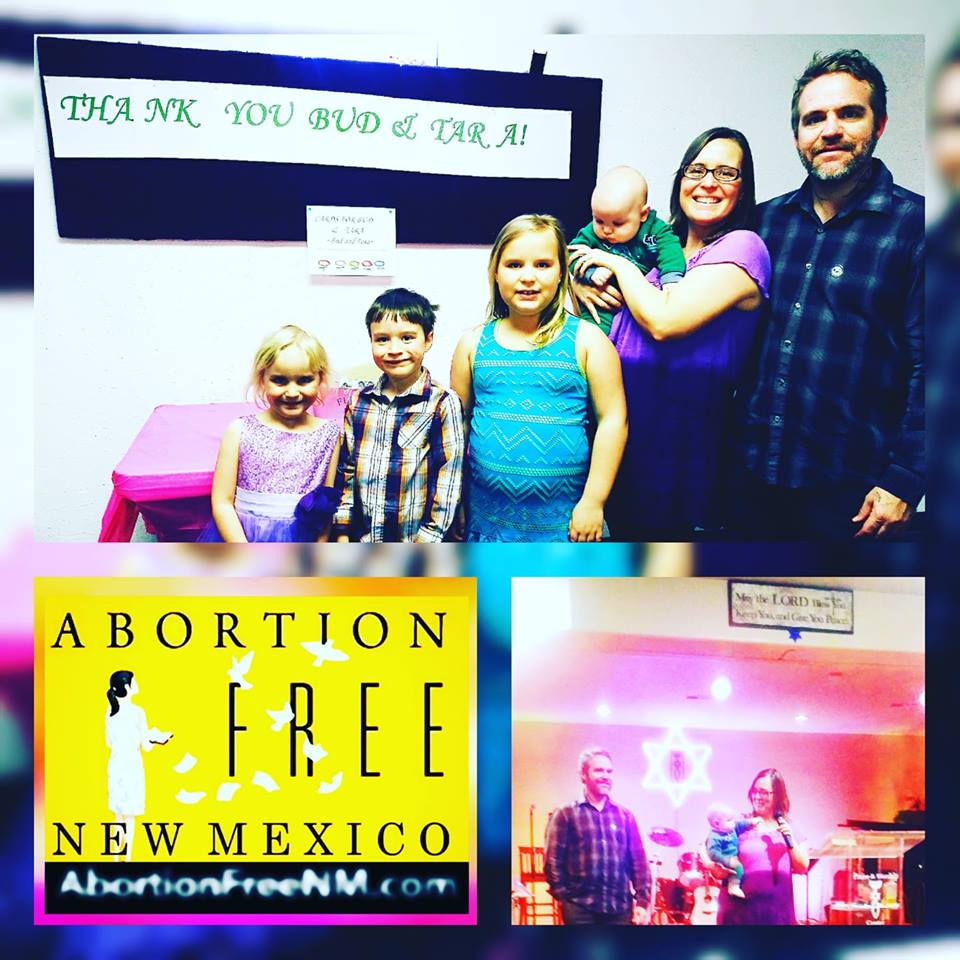 Christians to engage the culture war and for churches to be open to education and voter registration.
Please pray for wisdom, guidance and strategy for us as parents and as missionaries.
Effective collaboration between like minded groups in New Mexico to end abortion, educate and effect future elections.
"Behold, how good and how pleasant it is for God's people to dwell together in unity!" (Psalm 133)
Thank you!
We couldn't do this important work without God's calling and hand upon us as well as your faithful prayers and support.
Please pray for wisdom, guidance and strategy for us as parents and as missionaries.
We couldn't do this important work without God's calling and hand upon us as well as your faithful prayers and support.
Other ways to sow into an Abortion Free New Mexico
We're humbled to have you partner with us in our ministry here in New Mexico.
May the Lord bless you and your family. Know that you are always in our prayers.