Standing For LIFE Across New Mexico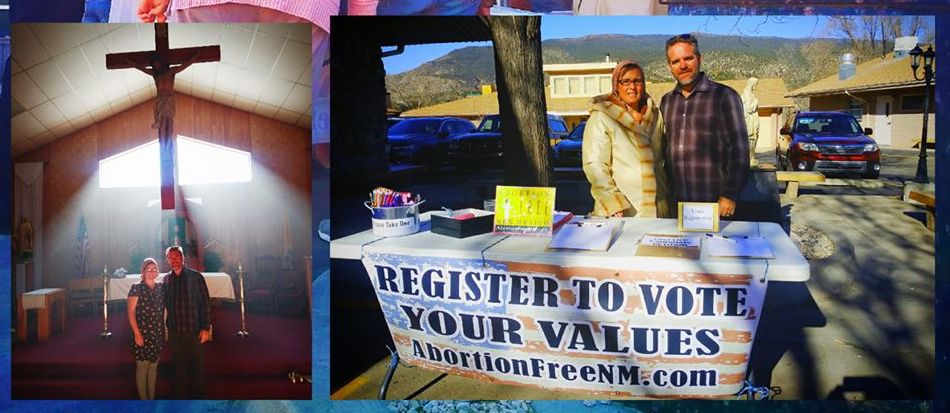 By Bud Shaver
Dear Friends,
We hope your family enjoyed a blessed Thanksgiving. We were happy to stay home, cook together, eat and just relax. In November we were blessed with so many opportunities to stand for LIFE across New Mexico. Our team took another trip to Santa Teresa in southern New Mexico, we hosted an Appreciation Luncheon to thank our supporters, we visited various churches to register voters for the 2020 election and to get solid candidates on the ballot, our family stood against child abuse and we continued to protest the evil of abortion in our community.
We couldn't do any of this without your prayers, encouragement and support. Thank you for keeping us in this battle for the lives of innocent babies and for believing in what we are working toward, an Abortion Free New Mexico. We are finishing 2019 strong and anticipate amazing things in the new year. May God bless you, your family and we pray that you are equally encouraged by what we have to share with you this month.
Round 2: Protest Abortionist Franz Theard Campaign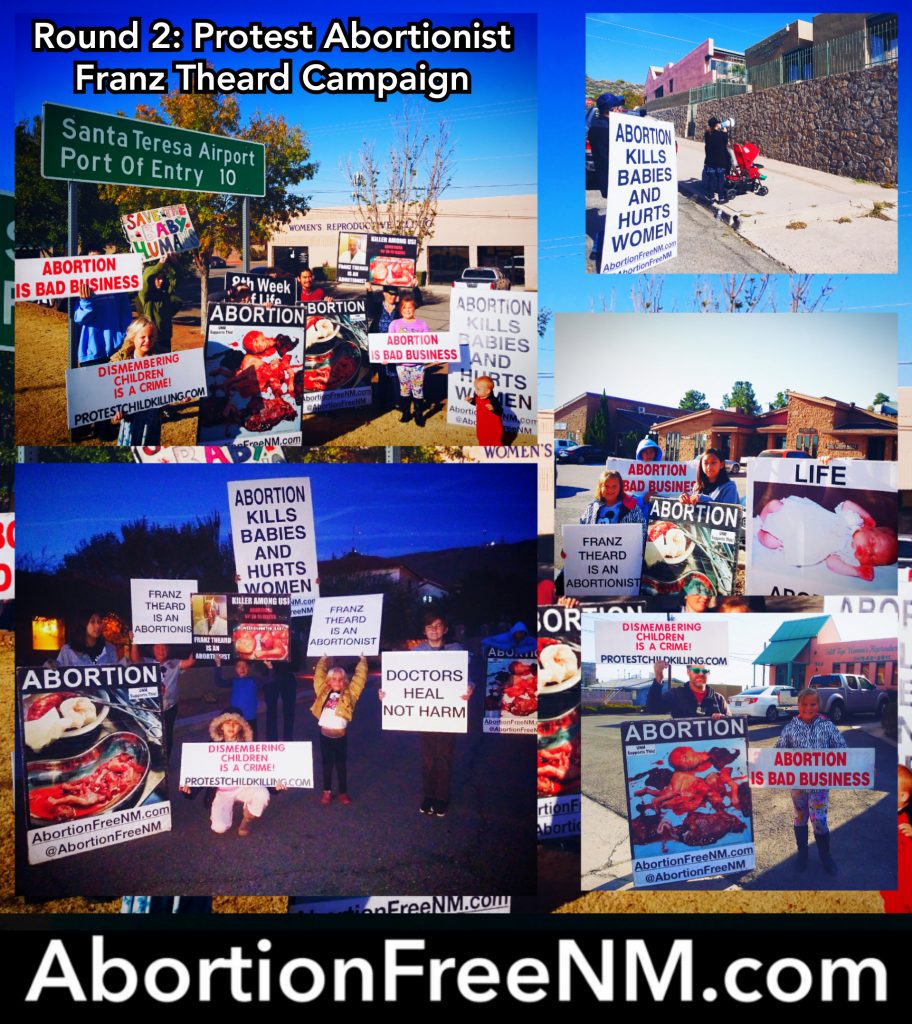 Our second trip to the borderland was eventful and fruitful. Our team, which included the Martin family and our friend Joe, lit up the darkness and were a strong voice for the babies killed in Santa Teresa, NM and El Paso, TX by abortionist Franz Theard.
Not only did we spend time outside his separate OBGYN office to inform his prenatal patients that he kills babies, we also had a presence outside of his surgical abortion center in El Paso. While local interns and sidewalk counselors ministered to the women as they entered the facility, we stood on the opposite side of the building to speak to the women as they were inside the facility.
We know that the women could hear us inside and our message was, that it's never too late to change their minds, that even though they are inside the devils domain, they can be strong, get up and walk out of the clinic and that we were there to help them!
"Speak up for those who cannot speak for themselves, for the rights of all who are destitute. Speak up and judge fairly; defend the rights of the poor and needy." Proverbs 31:8-9
One News Now Coverage of our Protest efforts in the borderland...
"Abortion Free New Mexico spokesperson Tara Shaver says the goal of the protest is to raise public awareness that Theard is not just a popular El Paso OB/GYN but is also an abortionist. 'He's doing abortions on minors in New Mexico who are evading Texas laws,' Shaver advises.
Texas is bordered on the north and east by states that, like Texas, place strict limits on abortions, but Shaver says the abortionist has found a way around it: an abortion clinic in New Mexico."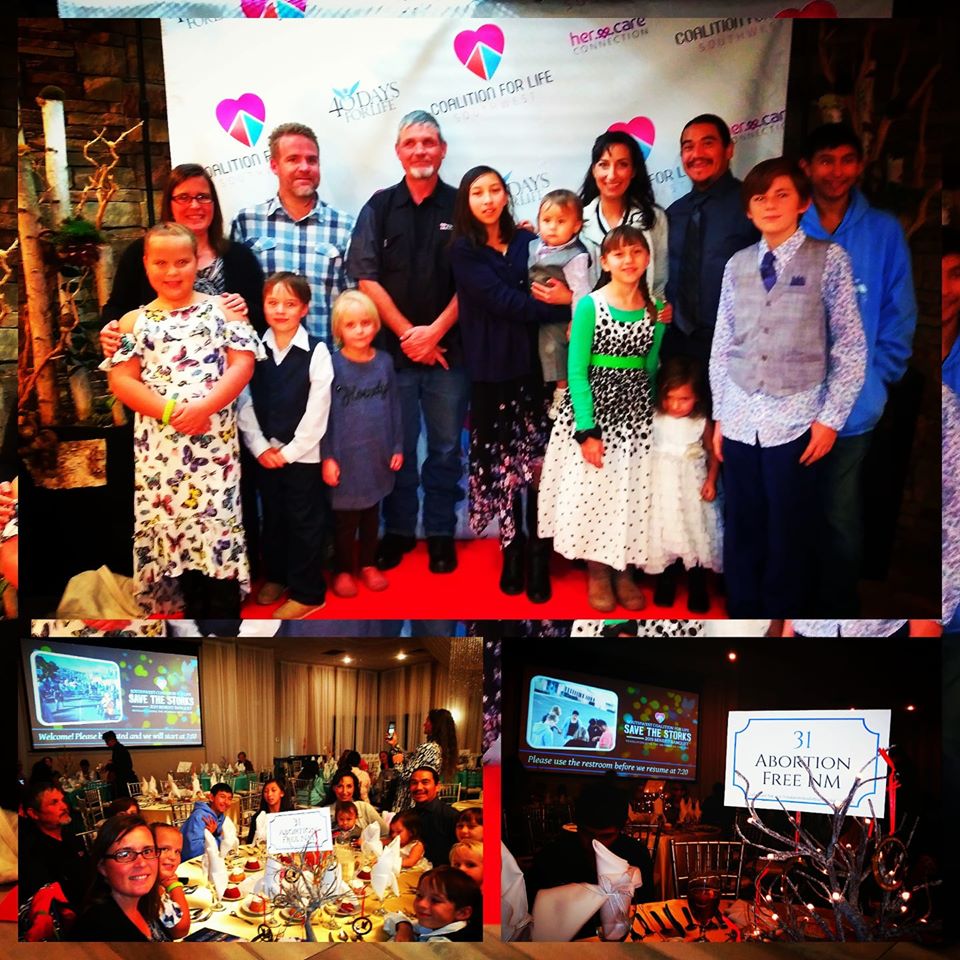 Protest Planned Parenthood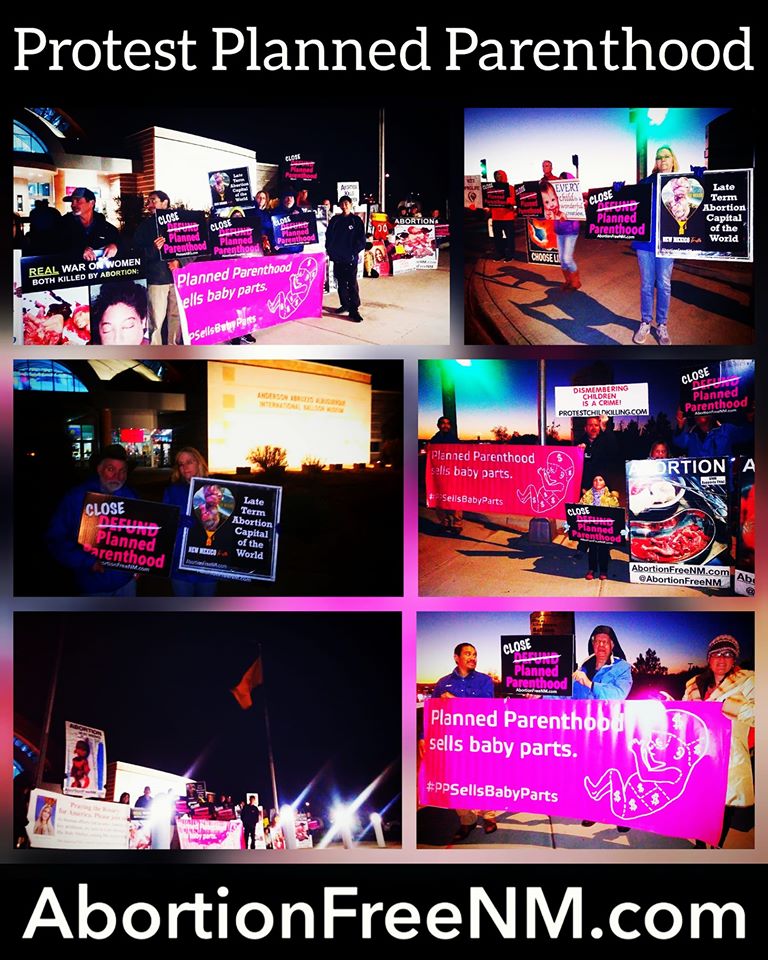 When we received leaked information about a political fundraiser that was being held by Planned Parenthood of the Rocky Mountain Region, we organized a protest presence of about 30 people to stand outside. Planned Parenthood is not just killing babies under the guise of a non-profit offering "health care" they are also a political machine that uses the MILLIONS of tax dollars it receives annually to funnel back into political campaigns to ensure that their killing agenda goes unimpeded.
Bud Shaver of Abortion Free New Mexico issued the following statement,
"Planned Parenthood and their minions are mobilized and unified in their child killing agenda and we must be prepared to out work, out give, and ultimately vote out the radical leftist democrats destroying our values, our country and the great state of New Mexico! New Mexicans want true leaders that will represent our values and who will support our President in Washington D.C."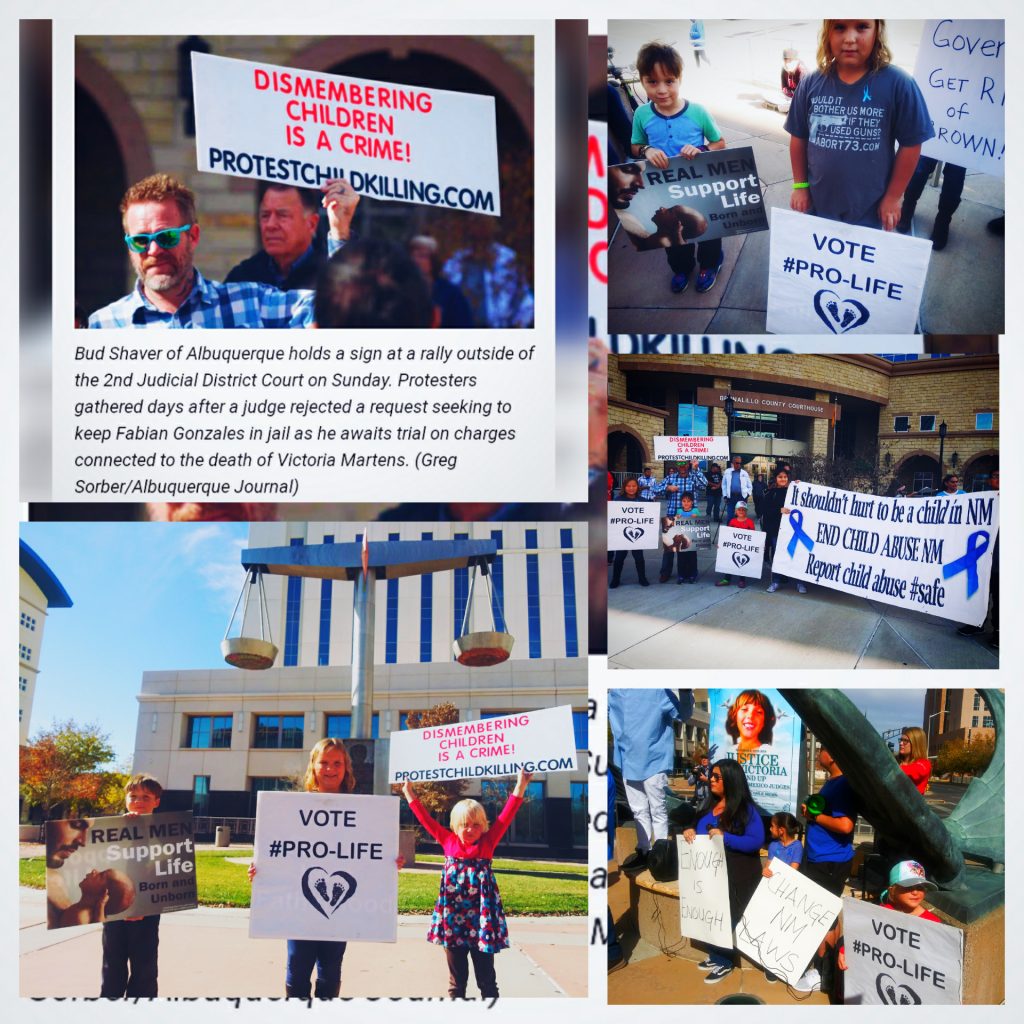 Our family stood in solidarity with New Mexicans Against Child Abuse at a local protest. A 10 year old girl was killed and dismembered in 2016 and one of the suspects in her case was just released. We wanted to remind the community that dismembering children is a crime in and out of the womb.
One News Now Coverage…
"Her death and dismemberment has really just caused such an outrage," reports Tara Shaver of Abortion Free New Mexico, an organization that recently participated in a demonstration at the Albuquerque courthouse. "People are even more outraged that this judge is thinking about letting one of the people who is involved in this crime go free. Anyone with common sense is not going to want criminals back on the street once they've been arrested," Shaver asserts. "But unfortunately when you're dealing with a state like New Mexico, where there's so much corruption, there is no rule of law."
Vote Your Values!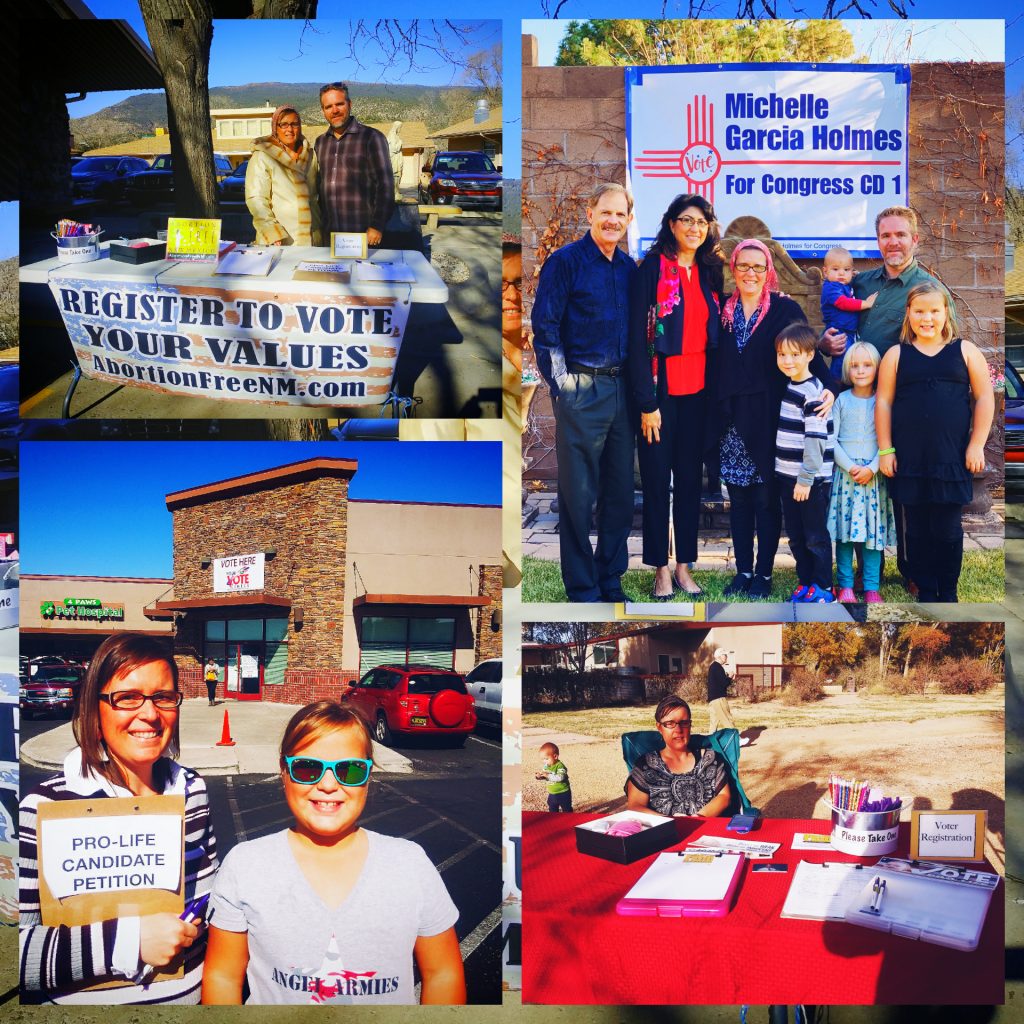 Our family visited several churches this month to register voters and we spent election election day 2019 out at the polls helping to Michelle Garcia Holmes on the 2020 ballot.
Michelle Garcia Holmes is a 20 year veteran of the Albuquerque Police Department (APD) 10 years of which was spent as a Detective with APD. In addition, Michelle served 8 years as the Chief of Staff for the New Mexico Attorney General's office, for Attorney General, Gary King. Where she worked on the creation of the first Government Corruption Division, legislation against child predators and human traffickers, as well as overseeing agency grants, budget review, hiring, and training.
There was great enthusiasm exhibited by the Christian community to support candidates that will represent our pro-life, pro-family and pro-faith values and who will support our President in Washington D.C. In fact, since the democratic party has abandoned their values, several people updated their voter registration and changed their party affiliation!
Nothing More Americana!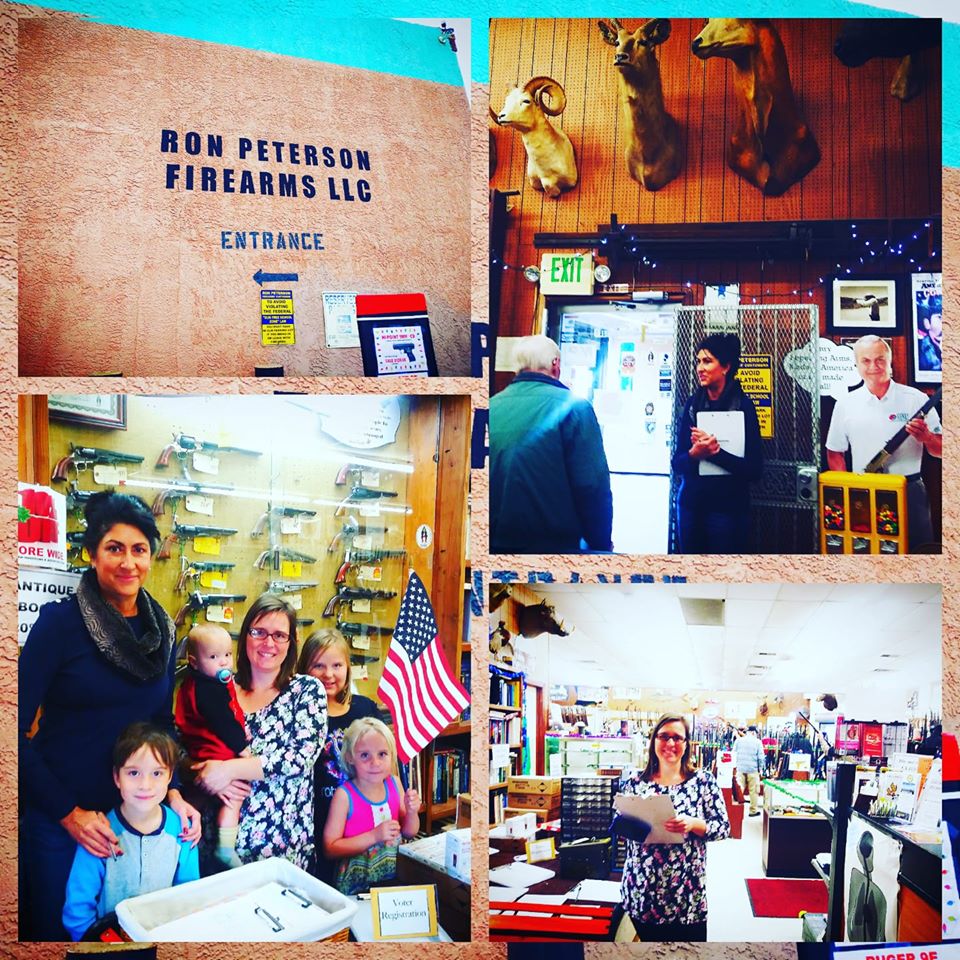 I can't think of a more "Americana" way to spend Black Friday than registering voters and hosting a signature drive with U.S. Congressional candidate (CD1) Michelle Garcia Holmes (R) at a gun store in New Mexico… which is still the untamed Wild, Wild West!
Thank You!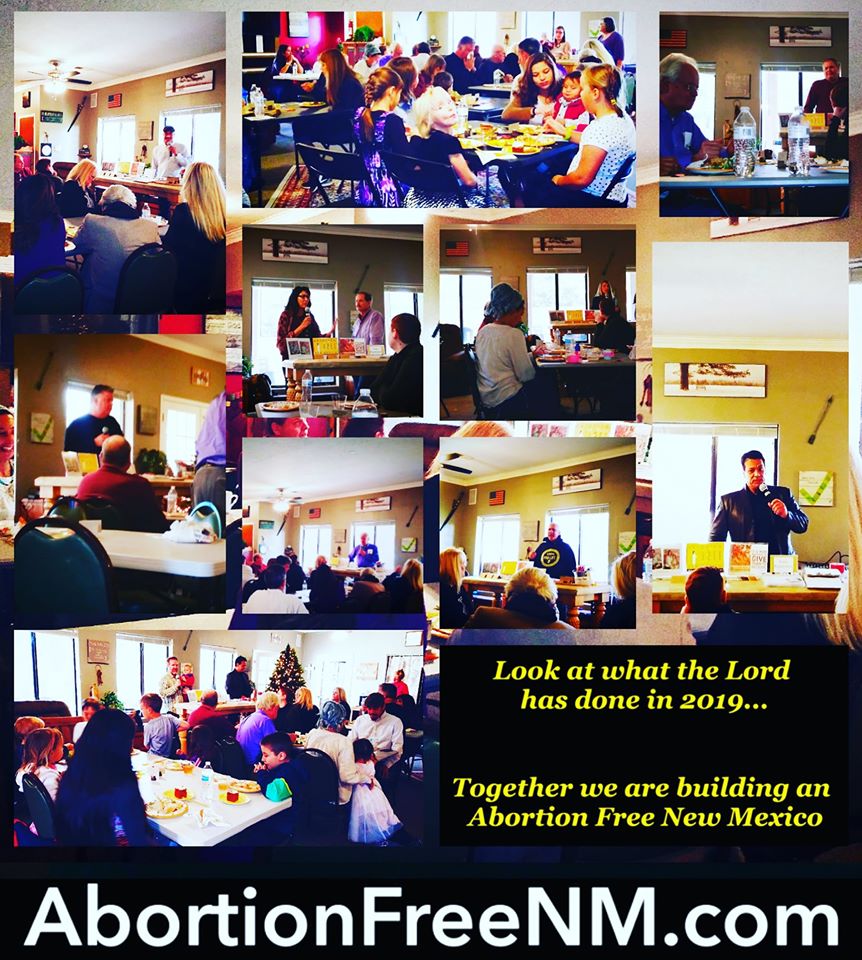 We were blessed to host an appreciation luncheon for our friends to say "Thank You" for being such an important part of our ministry.
We complied a 2019 Year in Review Slideshow highlighting all that the Lord has accomplished in New Mexico. Thank you for your continued prayer and support!
Faith to Action Friday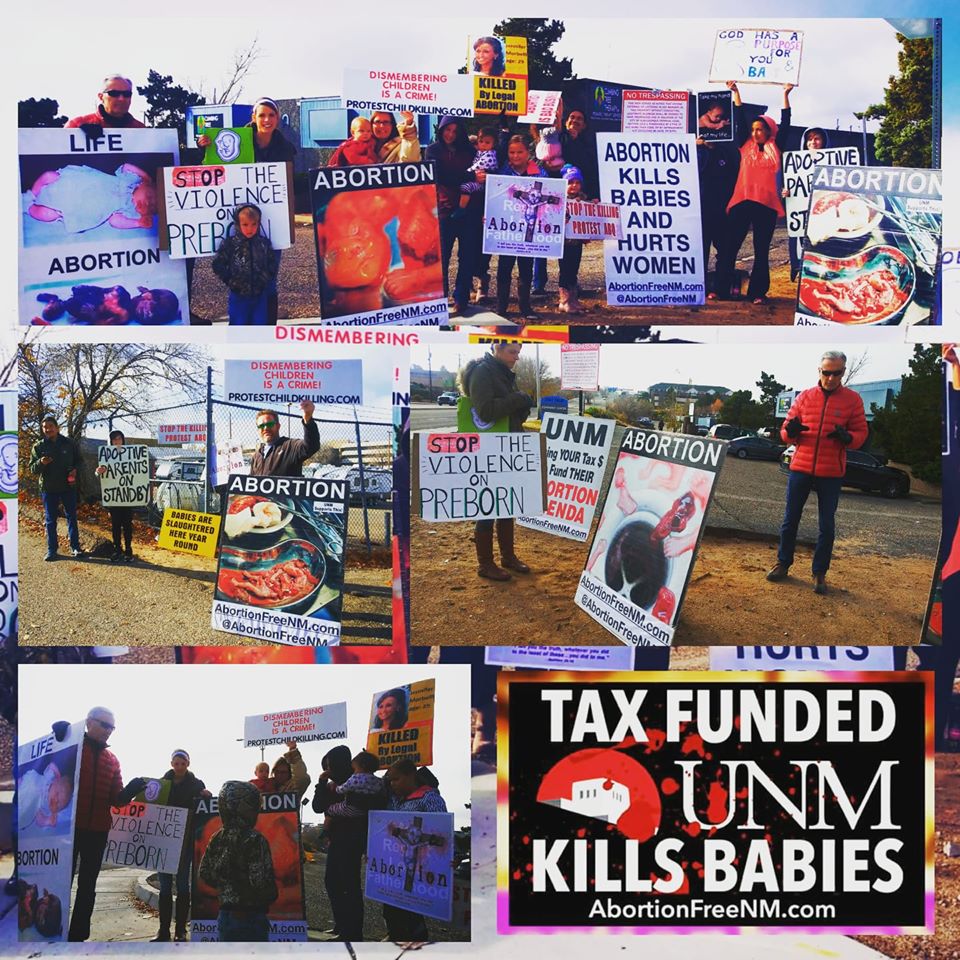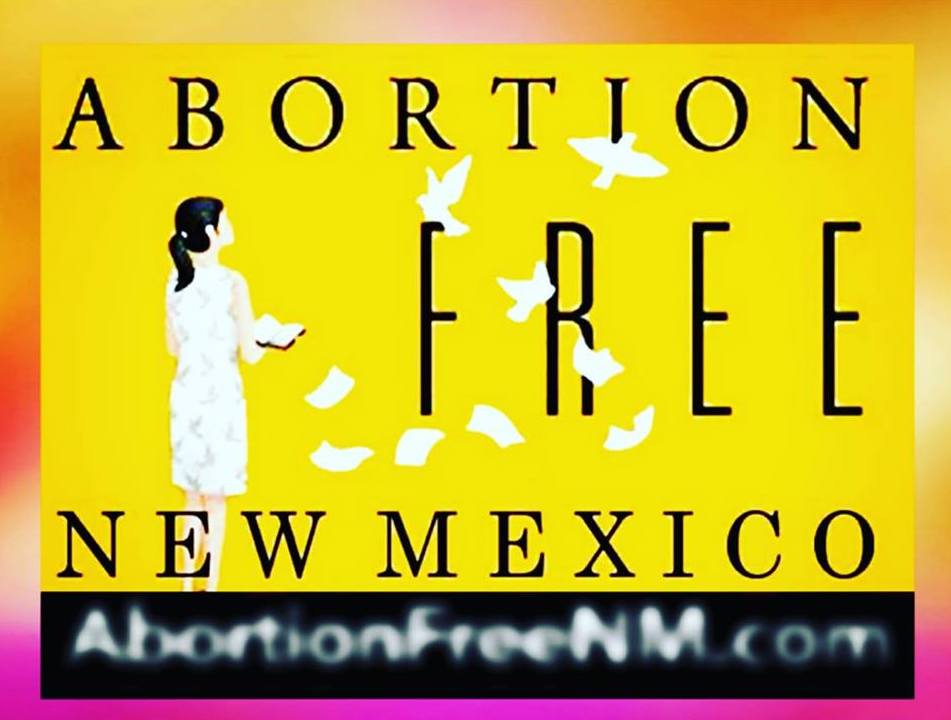 Please pray with us for New Mexico
For: Abortionist Franz Theard's conversion and for him to abandon his abortion businesses. (1 in NM and 1 in TX)
For: The Pro-Life candidates that are collecting signatures and getting ready to launch their campaigns for the 2020 election.
For: Christians to engage the culture war and for more churches to welcome us in to educate and register voters.
For: Effective collaboration between like minded groups in New Mexico to end abortion, educate and effect future elections.
Please pray for wisdom for us in our marriage, as parents and for our ministry to be fruitful.
Thank you for standing with us for life!
We are a Christian missionary family serving in Albuquerque, NM. Putting our faith into action, for the past 9 years we have exposed Albuquerque as the late term abortion capital of the nation and have worked to bring accountability to an unregulated abortion industry that is killing children in their mothers wombs up to the day of birth.
In order to be the most effective in our pro-life ministry, we do this important work full time while homeschooling our children and raising them to have a biblical worldview. We rely solely on the provision of the Lord and individuals like you to provide for our daily needs.
We are pursuing and working toward an abortion free New Mexico, where every pre-born child is valued and protected.
We couldn't do this important work without God's calling and hand upon us as well as your faithful prayers and support.
We would be blessed to have you partner with us in this ministry. Your prayers and support are invaluable.
Ways to partner with us as we work to build an Abortion Free New Mexico
Thank You for your Year End Gift
This year we have worked hard to expose the weak links of New Mexico's abortion facilities. We travelled to the southern part of the state to inform a community about their local abortionist and have plans to return in November. Our research and undercover projects are on the cutting edge of the pro-life movement.

Your year end gift helps us wrap up an eventful and productive 2019 strong and allows us to prepare for an even more fruitful 2020.
Whichever way you give is a blessing to our family and our ministry.