Simply Being Present Is All It Takes To Save A Life…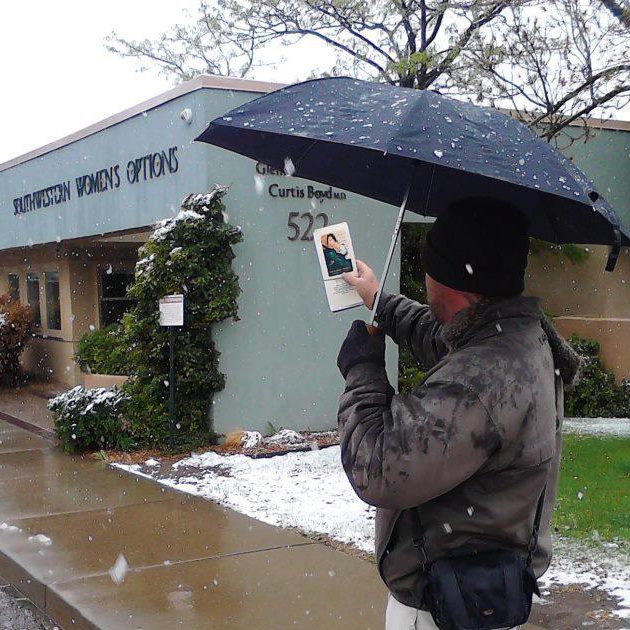 By Bud Shaver
Today (June 27th, 2012) I was able to talk to a woman who had pulled up in another car, but was sitting in a car that was parked at late-term abortion mill Southwestern Women's Options (SWO). She told me that her daughter was inside, but that she had changed her mind and was not going to have the abortion. I shared with her about the resources we provide at Project Defending Life (PDL) and encouraged them to go to PDL. She asked me to wait and share this information with her daughter and she went inside (SWO) to get her.
They both came out and the daughter was holding a clipboard and talking to a guy who was the driver of the car parked in the parking lot. The mother came over and whispered that the driver was her daughter's boyfriend and that he was upset that she had changed her mind and was trying to pressure her to go through with the abortion. I waved the young woman over and she immediately stated that she had come there for an abortion, but that we had changed her mind. She pointed at our signs and mentioned that they had penetrated her heart as she was going inside and once inside she felt conviction and a burden on her heart. She stated that she was Catholic and that once she felt this conviction she knew that she could not have the abortion! She thanked us for being there for her and told us that our presence there today had changed her mind. She told her mom that she could not go back inside so her mom went in and returned the clipboard. Her mom returned a few minutes later and told us that the staff at SWO were very upset that she had changed her mind about having the abortion…so much for a woman's right to choose and I guess they should change their name to Southwestern Women's Option (instead of Option's)!
I called PDL and asked a volunteer with the Gabriel Project to share with the young woman all the help PDL could offer her. While she was on the phone I spoke with her mother and she was very thankful for us being there for her daughter and she told me that she had gotten pregnant with her at 15 and considered abortion and was so glad that she didn't…now she was even more happy that her daughter did not go through with her abortion!
The boyfriend drove away and the young woman finished talking with the Gabriel Project volunteer and she reassured me that she would be in contact with PDL. Her mom was on her way to cancer treatments when her daughter had called her from inside SWO. They left together both very appreciative for us simply being there. Our presence alone, had made all the difference!
God can use us as we step out in faith and out of obedience to "Rescue those being led away to death." (Proverb 24:11) Simply being present for women in crisis can make the difference between life and death! Having the opportunity to share how much God loves them, and all the ways we can serve them is…"Icing on the cake"!